Mark Cuban says he would consider giving Brittney Griner a shot in the NBA. Geno Auriemma, among others, doesn't think it's realistic. Here's what our panel thinks about Griner's chances and the idea of a woman playing NBA ball.
1. Should the Mavs give Brittney Griner a look in summer league?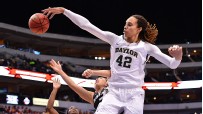 Kevin Arnovitz, ESPN.com: Sure. The Lakers gave Nancy Lieberman a shot at summer league in 1981 and she held her own for assistant Pat Riley, who was coaching the Lakers' summer-league team. Summer league has always been about aspiration, and Griner's presence should be welcomed.
Kate Fagan, espnW: If I truly believed a female player possessed the athleticism and skills to compete for an NBA roster spot, I would want every door opened for her. But I don't believe any current female player -- and there are a number of awesome ones -- can play in the NBA. I can't help but feel that this would be a marketing ploy, and one that would compromise Griner's rookie season in the WNBA, should she choose to pursue this opportunity.
Carla Peay, special to ESPN.com: It depends on what the Mavs want to accomplish in summer league. If they're using the games to look at prospects for the upcoming season and get their rookies and second-year players in shape, then the answer is no. If they're looking to generate publicity, fan interest and media attention, then by all means invite her to play.
Marc Stein, ESPN.com: A tryout for the summer-league squad? Absolutely. Why not? Burning a draft pick on her, even if it were No. 60, is another matter. Ditto for simply handing her a spot on the summer-league team, which the Mavs have already said they wouldn't do. But to not let her come in and audition, individually or in a full-fledged practice setting, is needlessly small-minded if she wants to give it a whirl. If any college player in the women's game has earned the right, it's Griner. (Or the one and only Elena Delle Donne!)
Ethan Sherwood Strauss, HoopSpeak: Not really, and I say it as a Brittney Griner fan. She is listed at 6-8 in shoes, 207 pounds, and plays center. She's great, but much of her production stems from a physical advantage over opponents. It's just hard to see why this wouldn't be a waste of everybody's time.
---
2. How seriously do you take Mark Cuban's interest in Griner?
Arnovitz: Cuban values innovation and the entrepreneur's pursuit of possibility. I don't imagine he'd sign Griner to a guaranteed contract if he felt that would compromise the Mavericks' chances at success, but he's a man who enjoys stretching the boundaries of tradition.
Fagan: I don't believe he would use a draft pick on Griner, but I do believe he would sign her to the Mavs' summer-league team. And why shouldn't he? Signing Griner would create publicity for his team, without any risk. The burden of performing well, and the embarrassment if she did not, would fall solely on Griner.
Peay: I don't take it too seriously. Cuban is a well-known publicity hound and all the talk about Griner playing in the NBA makes for an interesting discussion. Cuban looks like he's being forward-thinking and progressive, willing to give Griner a shot, but in reality he just enjoys generating more publicity for him and his struggling, lottery-bound team.
Stein: We're talking about Mark Cuban here. Which is to say that, yes, he's one zillion percent interested in seeing if there's any merit to the idea … especially when so many outsiders are telling him how dumb it sounds. It's also worth noting that Baylor's campus is about two hours from Dallas. The Mavs are on the brink of missing the playoffs for the first time in 13 seasons. So the notion that Brittney Griner could help the Mavs, no matter how far removed from reality that statement actually is, had been playfully raised in North Texas long before Cuban's comments on the subject this week. So I don't doubt for a second when he said that he's already pondered it.
Strauss: The guy from "Shark Tank"? How could I ever question his motives? I'm sure his interest is purely pragmatic, as Mark Cuban has never been one to seek publicity before. Either way, it's odd that he expressed less interest in keeping Tyson Chandler.
---
3. How soon do you expect to see a woman as a serious NBA prospect?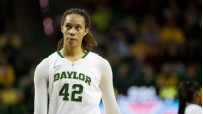 Arnovitz: In our lifetime, we will see a woman or a transgendered person (male-to-female or female-to-male) regarded as a serious NBA prospect. Science is taking us to a future where genders will be less immutable than we ever imagined.
Fagan: I don't. Yes, the female athlete is evolving. But so are male athletes. In a few years, we'll probably see a female player of Griner's size who can also face up on the perimeter and shoot the 3. And guess what? The men's game will have that same kind of player, but even taller and with a 40-inch vertical.
Peay: I don't know if we'll ever see a woman as a serious NBA prospect. Unlike golf or tennis, basketball is a sport where men and women have to match up against one another physically, and men are just bigger, faster and stronger in general. Even the best women who have ever played the game -- Cheryl Miller, Lisa Leslie, Teresa Edwards -- would still have to guard the likes of Kobe Bryant, LeBron James and Kevin Durant. It's not going to happen.
Stein: Not in my lifetime, sadly. "Planets away" is one of the comments I heard Wednesday night when I did some asking around with folks around the league with enough experience in both hoop universes to weigh in. The differences in size, strength, athleticism and overall physical makeup, in this sport, simply make it an impossibility. Just think about how many NBA rookies -- reigning No. 1 overall pick Anthony Davis is just one example -- struggle with the physical nature of the NBA game when they first get to the league.
Strauss: Probably never. The system's set up to work against shooters, due to the different-sized basketball between leagues. The height disparity between the sexes works against frontcourt players like Griner, too. To make the NBA as a man, you have to be quite an outlier in the first place. It's difficult to envision somebody being that much of an outlier within an outlier. I hope I'm wrong, though.
---
4. Among star women players, what type would have the best shot?
Arnovitz: A long-distance shooter with speed who can use a flare screen or pin-down to find space for open looks.
Fagan: I would say perimeter players, because they could at least operate in open space and maximize certain skills, such as superior ballhandling and outside shooting ability. Right now, I think the female player most suited to the NBA game is Elena Delle Donne, who possesses size and is also crafty with the ball. But she's not quick enough or strong enough for the league.
Peay: I'd have to give the nod to a point guard or a 2-guard, someone whose game relies on speed, playmaking or the ability to stand outside and drain jumpers. Someone like Sue Bird or Diana Taurasi or Cynthia Cooper. As great as Brittney Griner is, or Lisa Leslie was, post players would just get outmuscled by NBA power forwards and centers who outweigh them by 80 to 100 pounds.
Stein: It would have to be a smallish but super quick guard. Insanely quick. Someone with Spud Webb/Michael Adams/Muggsy Bogues quickness who's not only hard to chase but also sports a great perimeter game, too. Tall, tall, TALL order.
Strauss: I believe she'd have to be a shooter with a fast release. Again, the use of differently sized basketballs provides a transitional obstacle, but perhaps there are players whose shooting form wouldn't be too impacted. There's a much larger female talent pool to draw from among perimeter players than from among Griner types, too.
---
5. Does this discussion do a disservice to the women's game?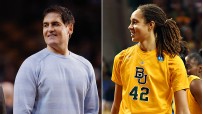 Arnovitz: I don't think so, but I think intelligent people can disagree on this point. Women's basketball has worked tirelessly to carve out a place for itself on the landscape, and the product is a whole lot better than a lot of dismissive fans might realize.
Fagan: Yes. The constant comparisons to the men's game just reinforce the notion that these women are somehow second-class athletes instead of world-class in their own right. It would be nice to appreciate female players for being great athletes and great players within the context of their own game.
Peay: I don't think so. Women's college basketball and the WNBA have some incredibly talented players. Any discussion that highlights their talent and their accomplishments just helps to draw attention to that. Griner is already being talked about as a future Hall of Famer who may be the best ever when it's all said and done. It doesn't mean she belongs on the court with LeBron James unless they're playing a pickup game.
Stein: I've heard that point raised and I totally understand why. And the pessimistic nature of some of my answers might seem to support that argument. But I'm not buying it. Not when a pioneer like Nancy Lieberman, in a chat we had Wednesday night, acknowledged that women "cannot compensate" for their physical differences from men but also said she doesn't regret anything about her two summer-league stints in the early 1980s with the Lakers and Jazz. If someone who's done as much for the women's game as Lieberman sees Griner trying out for the Mavs' summer-league squad as a move with "no downside" -- since it'll unequivocally make her a "better player" -- I'm not going to try to manufacture outrage for her.
Strauss: It all depends on which women's game we're talking about. The NCAA women's game is quite healthfully popular and the WNBA isn't. It's hard to do the latter a disservice because the NBA keeps trying to market its women's game as an ersatz NBA, thus accidentally encouraging unflattering comparisons. It's also hard to do the WNBA a disservice because it really isn't helping itself with a wholly different interest-sparking format from what the NBA does. I'm more concerned with how the NBA runs the WNBA than how we talk about women's versus men's basketball.


ESPN.com and the TrueHoop Network
Marc Stein is a senior writer for ESPN.com. Kevin Arnovitz covers the NBA for ESPN.com Kate Fagan is a columnist for ESPNW. Ethan Sherwood Strauss contributes to the TrueHoop Network. Carla Peay is a special contributor to ESPN.com.
• Follow the NBA on ESPN on Twitter | On Facebook | On Google+