On a dramatic Friday night, the Los Angeles Lakers won a thriller over the Golden State Warriors -- but lost Kobe Bryant to what the team said was "a probable torn Achilles tendon."
In the wake of this news, we asked a half-dozen writers to share their thoughts and look into the future for Kobe and the Lakers.
1. Your first thoughts on seeing Kobe go down with an injury?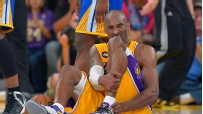 J.A. Adande, ESPN.com: The first thought was the immediate impact ... on the Lakers' attempt to get into the playoffs. And then if it matters whether or not they make it, because their long odds of advancing were just stretched to the horizon.
Then came the long term: Is this the end? It can't be. No way he's going out like this. It's impossible to imagine him stopping when he's within triple digits of passing Michael Jordan on the all-time scoring list, when he still craves one more championship ring.
D.J. Foster, ClipperBlog: It didn't feel real. You expected Kobe to keep playing through it like he somehow always does. When he limped toward the tunnel, though, it suddenly became impossible to escape the gravity of the situation. You knew right then that it was bad.
Chris Palmer, ESPN The Magazine: The surreal scene of Kobe being walked off the floor by Robert Sacre gave me one specific, unexpected thought: I love basketball. Kind of came out of nowhere. The drama, the theater, the disbelief of the moment, all delivered by whether or not a guy could fight on. The tie score, the significance of the circumstances, the unknown. I was just kind of taken aback that a game I've been watching for 30 years can still deliver all that.
Ramona Shelburne, ESPN Los Angeles: Having covered Kobe for the past decade, I've learned to disregard my initial instinct. It always looks worse than it is. And even when it is bad, he finds a way to get back up. It wasn't until the Lakers confirmed the injury after the game that the reality of the situation sunk in, and even then, because of his track record, you had to ask whether there was any way he might play through it.
Marc Stein, ESPN.com: Won't soon forget the sight of Kobe vigorously rubbing his foot when he went down. As if he thought he could generate friction to untear the Achilles. His quote afterward was so telling, too: "I was just hoping it wasn't what I knew it was."
Ethan Sherwood Strauss, ESPN Insider: If you look at Kobe as a mythical figure, it was fitting. I don't mean that I was happy about the injury. It's awful. It's just that Kobe is such a larger than life figure that the connection to Achilles was in concert with an incredible career that evokes Greek mythology.
---
2. Is Kobe the victim of bad luck or too much work?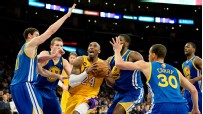 Adande: Bad luck. Sure, he invited it, testing fate and the limits of his body by pushing so hard these past couple of weeks. But it's possible his Achilles could have torn at any time. Maybe it would have popped after a 30-minute night. We'd need to know the state of his body before April to know for certain whether this exhausting run brought this on.
Foster: Time remains undefeated. Bryant has played well more than 53,000 NBA minutes (including playoffs) in his illustrious career, and that doesn't even consider Olympic basketball and the countless hours of practice time. If any player was prone to this specific injury, it was him.
Palmer: An Achilles injury is always bad luck. Most of the time, it's a noncontact injury. Kobe was being overworked, no question, but Mike D'Antoni's reluctance to pull him out is not to blame. Kobe's body is unusual in that it can handle abnormal workloads. But his Achilles is very much human.
Shelburne: Bad luck. I know that sounds crazy, but if there's one athlete on the planet who could handle the kind of minutes Kobe played this season, it's him. The stories of his training programs are legendary. Six-hour shooting sessions in the middle of the night. Three-hour bike rides or swim workouts before practice. Yes, he played an ungodly number of minutes this season, but that's not why the Achilles apparently snapped.
Stein: Yes. It's everything. Way too many minutes this month, which is on both Kobe and his coach, but too many minutes all season and for his whole career.
The number from ESPN's Stats & Information that circulated around the office only a day before all this happened was 3.2. As in, Kobe has played the equivalent of 3.2 extra seasons when you factor in all his postseason and Team USA minutes. Which is to say this could have happened even if his minutes were being monitored Tim Duncan-style.
Strauss: I don't think Kobe is a victim in this instance. Injuries happen, especially to older players. It feels aberrational only because Kobe has been so indestructible prior to Friday night. People will blame D'Antoni, but more out of retroactive anger than anything else.
---
3. Does this effectively end the Lakers' season?
Adande: Yes. Not only have they lost Kobe Bryant, but they've lost their Steve Nash as well. Kobe has played both roles with Nash out, and often when Nash was in the lineup, too. With Nash's body breaking down -- and with everyone in Lakerland justifiably paranoid about extracting the most possible minutes from another aging player, particularly one with two years remaining on his contract -- the Lakers can't ask Nash to rush back and try to play both roles himself.
Foster: Not quite yet (Bill Simmons' Ewing Theory alert). We've seen too many stars go down, only to have their teammates step up and win games. The Lakers can ride pure adrenaline to the 8-seed, but the realities of playoff basketball will be too much to overcome.
Palmer: Actually, no. It's a rallying point. I expect the Lakers to pull together and win out, thereby sneaking into the playoffs. They owe it to Kobe to do as much. But with or without Kobe, they were destined to be bounced out of the first round.
Although stranger things have happened. Heck, maybe they'll be so inspired they'll knock off the Thunder or the Spurs. Does anything with the Lakers surprise you at this point?
Shelburne: No. If Steve Nash can give them anything the rest of the way -- and that's still a big "if," considering how problematic his hamstring has been -- the Lakers can make some noise if they get into the playoffs. Pau Gasol and Dwight Howard have found their games, Metta World Peace seems to be effective just two weeks after knee surgery, and there's a chance of a Ewing effect in the short term as the rest of the team tries to prove it can win without Kobe.
Stein: To the contrary, strange as it sounds, Kobe's sad exit actually shifts the focus from what has been a season of for-the-ages underachievement and gives the Lakers something of an out when they were realistically doomed regardless. The Lakers now have an alibi for the first-round exit they weren't going to be able to avoid even with a healthy Kobe.
You watch: Kobe's uncertain future will overshadow Dwight Howard's now. Folks will talk about that more than anything else in Lakerland.
Strauss: No. The Lakers were dead on arrival in this postseason, assuming they were in it. The injury does make this perpetually fascinating team only half as fun, though. It will bring a swifter end to our interest and infatuation with this doomed team, that's for sure.
---
4. Should the Lakers consider using the amnesty clause on Kobe?
Factors the Lakers might consider in making a decision this offseason:
• Bryant will be 35 in August.
• He will be in the final year of his contract.
• The Lakers could save an estimated $80 million in luxury tax.
• He might miss all of next season or a large portion of it.
• Achilles injuries are notoriously difficult to overcome.
• L.A. could sign Kobe in the summer of 2014, even after using the amnesty clause in 2013.
Adande: Yes. It's best for everyone involved. It wouldn't be fair to ask the Lakers to take a hit of almost $80 million, including the luxury tax penalties, to get Kobe's services for a couple of months or so. Either way, Kobe gets to pocket his $30 million.
He can take a full year to rehabilitate, then come back and sign a new contract with the Lakers. It was a scenario at least worth considering when Mark Cuban mentioned it before the injury, even if it didn't seem likely. Now it's a no-brainer. It's the most practical move for a franchise that suddenly needs to think about the bottom line, not championship parade possibilities.
Foster: Yes. Betting all that coin on Bryant to make even a partial contribution to next season's team would be a foolish gamble. No one doubts Bryant's incredible will or the advances of modern science, but no one doubted that with Chauncey Billups, either, and his return from a similar injury has been difficult. Using the amnesty on Bryant is the right move.
Palmer: Absolutely not. The financial benefits are obvious. But the PR ramifications would be disastrous. Discarding a legendary franchise superstar, able-bodied or otherwise, is poor form. The blowback from the Lakers' fan base, the most vocal in the league, would be tremendous and just not worth it.
Yes, business decisions are made with the head and not the heart, but Bryant shouldn't be made to suffer this particular indignity.
Shelburne: Yes. It's crazy to say it out loud or even think it. And a lot will depend on how severe this tear is. But the typical Achilles tendon rupture takes nine to 12 months of recovery. That means it's no sure thing Kobe can come back next season at all.
In some ways, the team and Kobe might be better served writing off next season completely -- using the savings from exercising the amnesty on him to land a complementary piece for the future -- and focusing on making an epic comeback in 2014-15. Wow, that felt so weird even typing that.
Stein: It's a little early in the game to give a firm forecast on this one, but the Lakers surely have to "consider" it. They have to explore every option at their disposal because the luxury tax bill is way out of hand.
But Kobe already has made it clear that he fully intends to come back from this, as long as it takes him, which means he's coming back to the Lakers because there's no one else he's going to play for at this point. So amnesty just isn't a step I can imagine the Lakers going through with no matter how appealing those tax breaks might look on paper.
Strauss: Practically speaking, it's a consideration. So yes, they should at least think on the matter. But after thinking, they'll likely conclude that cutting Kobe loose just isn't worth angering fans and sending the message that vets won't get taken care of in Los Angeles.
---
5. When and in what uniform will Kobe next play in the NBA?
Adande: The scenario I described in the previous answer leaves no alternative: in that Lakers jersey in 2014-15. He deserves to come back to his own team, then leave on his own terms. And basketball fans deserve another look at Kobe Bryant on the court.
Foster: It's hard to deal with the basketball mortality of Kobe Bryant, but it might be even harder to imagine him in another uniform after 17 years as a Laker. He'll find a way to come back from this, and the Lakers will find a way to bring him back. It's Kobe we're talking about.
Palmer: I could see Kobe back by the All-Star break next season. Keep in mind, we don't know the severity of the injury. But his return would be in the purple and gold. No. 24 on the front. That or nothing. Kobe has told me explicitly that he'll never suit up for another team. And I believe him.
Shelburne: I firmly believe Kobe Bryant will retire as a Laker. It's too important to him and the franchise for that to happen. I also firmly believe that there's no way this is the last we'll see of Kobe Bryant. It might be a while before he comes back. A lot might happen in the interim. But this is not how it ends for him.
Stein: He'll be back on the floor with the Lakers at some stage next season. Lakers super fan David Beckham needed a little less than a year, at age 34, to get back on the soccer pitch ... and Kobe is even more of a maniacal fitness guy. We'll see him in less than a year.
Strauss: Kobe will play for the Lakers again, probably next season. I'm no doctor, but it's difficult to see both sides deciding against giving that Achilles another run in purple and gold.


ESPN.com and the TrueHoop Network
J.A. Adande, Chris Palmer, Ramona Shelburne, Marc Stein and Ethan Sherwood Strauss cover the NBA for ESPN.com. D.J. Foster contributes to the TrueHoop Network.
• Follow the NBA on ESPN on Twitter | On Facebook | On Google+