An NBA ownership relocation committee unanimously voted Monday against moving the Sacramento Kings. While there's still the matter of the Kings getting a new arena built, it was a clear victory for fans in California's capital. We go 5-on-5:
1. Are you surprised by the committee's decision?
J.A. Adande, ESPN.com: Yes. I knew the Sacramento bid had momentum, but I didn't think it was enough to catch the Seattle bid at this stage. Thought it would have to be drawn out longer and placed before the full league ownership. I'm also surprised to see them rebuke their own members; clearly the Maloofs wanted the sale to go through to the Seattle group, but their ownership brethren didn't follow their wishes.
Larry Coon, ESPN Insider: No. A lot of people jumped the gun and assumed the Seattle move was a foregone conclusion. But that's not the way the NBA works. The league's preferred option, all things considered, is to leave a franchise where it is. Just look at the Hornets -- the league took the extraordinary measure of purchasing the team in order to wait for a buyer who would leave it in New Orleans, rather than sell right away to a buyer who wanted to move it.
Kevin Pelton, ESPN Insider: I took David Stern at his word when he described this as an agonizing choice and a 50-50 decision. To that extent, the biggest surprise wasn't the choice but the unanimous nature of the vote by the relocation committee.
Marc Stein, ESPN.com: Not after the last 48 to 72 hours. For two reasons. (A) There were persistent rumblings over the weekend that all of the Sacramento money had checked out and thus nudged the group from the California capital back into the lead. (B) Jason Collins pretty much cornered the market on NBA suspense on this particular Monday.
Brian Windhorst, ESPN.com: Yes. I went back-and-forth here. First I thought it was surely going Seattle. Then the wind changed and Sacramento had momentum and energy. Then after the Board of Governors meeting, I shifted again because it was clear some owners weren't sure how solid the Sacramento financing was. Ultimately, I felt the owners would vote with their pocket. The Seattle group was more likely to pay into the revenue-sharing system while Sacramento is likely to be receiving money from fellow owners. Not to mention the free relocation fee money the owners would get from a Seattle move. But they didn't, they voted for loyalty.
---
2. Do you agree with the committee's decision?
Adande: No, because it's not in the league's best interests for the long term. Did you see the $2 billion local TV deal the Seattle Mariners just landed? That kind of money isn't available in Sacramento. If the city brings fewer TV sets to the league and lacks the local revenue-generating ability to help it be competitive financially, what's the benefit to the NBA?
Coon: Seattle deserves an NBA franchise, to be sure. And they'll get one in the future -- just not the Kings. As the incumbent, Sacramento deserved the opportunity to do all the things necessary to keep the team in town, which it appears they did. The committee made the right decision in recommending that the Board of Governors deny the team's request to move to Seattle. Pelton: As a Seattleite, I'm obligated to say no. But that's simply an emotional response, and I would feel just as strongly the opposite direction were I in Sacramento.
Stein: I never liked the idea of taking the Kings away from Sacramento. Years of mismanagement of that franchise are what drove the crowds away after the early 2000s glory days, nothing else. So when Kevin Johnson found a way to get a group together so quickly that could basically match the sort of money that the Maloofs were promised in Seattle, I could see how hard it was for the league to turn its back on that community.
Windhorst: Yes. I'm from the Cleveland area and I personally felt the loss when the Browns left despite strong fan support and a promise to build a new stadium. I'm predisposed to fend for the little guy especially since there's a new building coming. Seattle is a better market and if you were placing an expansion team between the cities, you'd pick Seattle. But Sacramento did everything it could do to keep the team, something Seattle did not do in 2008.
---
3. If they stay, do you expect major changes for the Kings?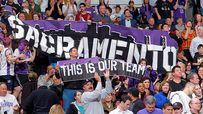 Adande: Absolutely. The new owners overpaid for a fixer-upper. You better believe they won't do some remodeling. Geoff Petrie ate a lot of meals off those teams he put together around the turn of the century. He's about to get the tab. New GMs lead to new coaches and players. This can involve the roster, coaching, the front office or other areas.
Coon: Yes. This isn't just a relocation -- this is a sale to a new ownership group. The Kings haven't been in the playoffs since 2006, and that kind of track record is usually a precursor to sweeping changes. I doubt the new owners will leave the team to languish after setting a new standard for franchise sale prices and re-committing to the city of Sacramento. My guess is that the burning roster decisions -- such as whether to double down with mercurial center DeMarcus Cousins -- will be left to Geoff Petrie's successor.
Pelton: Yes. Petrie's contract is up, and it looks like both sides are ready to move on. Whoever replaces Petrie will probably want to bring in his own coach, which means wholesale changes in both the front office and on the sidelines. And given the number of important decisions to be made with Tyreke Evans a restricted free agent and Cousins eligible for a contract extension next fall, I think we'll see a different team on the court, too.
Stein: This has been the only certainty in the whole process over these past few months of limbo. There will be new owners of the Kings soon and they are going to clean house. New GM. New coach. They will be starting over completely from a basketball perspective and searching for the authority figure or two who has a shot at convincing Cousins to start taking the game seriously and stop wasting his prodigious talents.
Windhorst: Yes. It will be a cleaned house and perhaps close to a cleaned roster. I'm not sure how much of the Maloofs' meddling had to do with basketball decisions over the last few years but there were a number of unfortunate ones made. Petrie has an excellent draft record but he's whiffed on two very high picks in a row and his gamble on a third (Cousins) is shaky. That's crushing to that franchise. The coach has been a revolving door since the bad decision to fire Rick Adelman. Time to start over and aim for a turnaround when the new arena opens.
---
4. Do you expect Seattle to have a team within five years?
Adande: No. It's hard to get everything aligned as well as it was this go-round, and I don't see a better opportunity coming right up. The retention of the Hornets/Pelicans in New Olreans in addition to this Kings rescue shows the league does not want freewheeling relocation. There's no momentum for expansion -- nor should there be, coming off a season when eight teams won fewer than 30 games. The last thing the NBA needs is more talent dilution.
Coon: Seattle will once again be the home of an NBA franchise, of this I am certain. I'm just not so sure about the five-year timetable. It isn't that I'm not expecting to see teams relocate in the near future -- on average, a team moves every 2.3 years, and four teams have permanently relocated since 2000 alone. But there are lots of cities pining for an NBA team of their own. Seattle will have certain advantages with a new arena in place, but the decision has more to do with where owners want their teams to play.
Pelton: Yes, more likely than not. Stern has repeatedly gone out of his way to praise the strength of the Seattle ownership group, which puts them at the head of the list when and if a team does move. The next endangered team may not have the political will of Kevin Johnson to find local ownership and fund a new arena, which apparently saved the Kings.
Stein: I truly hope so because, like pretty much everyone else out there with any interest in the NBA, I think Seattle deserves one. But not through expansion. This league doesn't need even one more team ... and you have to know how seriously against expansion I am when I'm likewise protesting the concept of adding four overseas franchises to make my lifelong NBA-in-Europe dream come true. I know it looks bleak for Seattle right now, but let's see what happens. Don't think it's so outlandish to predict that a team or two can suddenly emerge as a candidate for relocation in the next half-decade when we presently see none.
Windhorst: Yes, as long as Chris Hansen and Steve Ballmer continue to want to own a team. They were willing to pay a record-setting price and have an arena deal in place. For the short term, I don't see expansion. Though don't think other owners didn't consider it, at their final offer of $550 million it would've been $18 million per team in an expansion payout. In another year or two, maybe the offer goes to $600 million. Trust me, they are quite popular with the other NBA owners -- they made the bid that increased the value of all of their teams. In the shorter term, the most ripe team to go after is the Milwaukee Bucks but their owner, Herb Kohl, is one of Wisconsin's favorite sons and I don't see him selling out his home state ever.
---
5. What insights about the NBA do you take from this decision?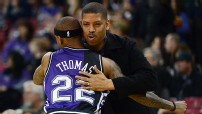 Adande: If the politicians play along, the league will work things out for them. And that's the message the NBA wanted to send, in case other cities have any misgivings about funding arenas. It helped to have a former player in the mayor's office. The NBA didn't want Kevin Johnson to look bad after he made retaining the Kings his top priority. David Stern didn't want another team swapping cities in his final year as commissioner. You always hear people talking about how the pro game is a business. This time it was political.
Coon: That Stern still has a significant amount of pull. It's no secret he wanted to keep the team in Sacramento, but that required a lot of behind-the-scenes work with the city, the relocation committee and the other owners. This was mission accomplished, and reaffirmation of the power and influence he continues to wield, even in his lame-duck year. But we're entering a new era as the torch passes from Stern to Adam Silver -- I don't know if the commissioner's office will have the same pull with the league's owners in the future.
Pelton: Smaller, single-team markets have historically been good to the NBA -- think Portland (pre-MLS, at least), San Antonio and Utah. And Sacramento, for that matter. By passing on the opportunity to move to a bigger market, the NBA has reinforced the value of these markets to the league.
Stein: Let's just say that I never bought the notion that Stern was just going to sit this one out and let the owners make this decision. We apparently had it way wrong with those forecasts that Stern desperately wanted a team in Seattle before the end of his tenure, because it sounds as though he was almost as important to Sacramento's tremendous rally as Mayor Johnson. Stern has historically been strongly opposed to the concept of relocation, views each past relocation as a failure for the league and, by all accounts, was stressing behind the scenes that Sacramento should get every chance to keep the Kings even after all of ups and downs with the Maloofs over the past five years.
P.S. -- One veteran observer of these matters and this saga in particular warned me Monday night that he wouldn't be surprised at all if something went haywire again -- most likely with Sacramento's arena deal -- to drag Seattle back into the game one more time. After what we've witnessed on the Kings' front since January, I think I'm going to heed that warning.
Windhorst: Stern's days as boss may be numbered, but the man is still in full control. He was upset when it was reported he was favoring the Sacramento bid, denying he did. But there is no doubt he did plenty to buy Johnson time to get an offer together and greased the wheels a bit for the Sacramento group. He's not a billionaire and technically he works for the owners but he's always had all the power and he still does.


ESPN.com and the TrueHoop Network
J.A. Adande, Marc Stein and Brian Windhorst are senior writers for ESPN.com. Kevin Pelton and Larry Coon write for ESPN Insider.
• Follow the NBA on ESPN on Twitter | On Facebook | On Google+