After three seasons together, the Los Angeles Clippers and Vinny Del Negro have parted ways, according to sources. What's next in Lob City? Our panel weighs in.
1. Was removing Vinny Del Negro the right move?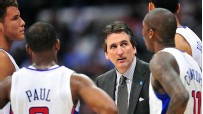 Kevin Arnovitz, ESPN.com: Yes. There's no guarantee the next head coach will be any more successful than Del Negro, but windows to contend are precious. The next few years with Chris Paul represent the team's best chance in its history and there's enough evidence to suggest sticking with Del Negro was a risk-averse move at a time when the Clippers need to be aggressive.
Andrew Han, ClipperBlog: Yes. Del Negro was tasked with shepherding a young nucleus around Blake Griffin to respectability. Instead, the league's best point guard arrived and "being respectable" turned into expectations for deep playoff runs. It wasn't what Del Negro was hired for, and that's not his fault, but that's where the Clippers are now.
Arash Markazi, ESPN LA: Yes. It was the only move that made sense after the Clippers lost four straight games to Memphis in the first round after winning the first two and having home-court advantage. Del Negro was already on the hot seat and his ineffective adjustments didn't do him any favors. Del Negro is a good coach but not a great coach, and certainly not a championship coach.
Ramona Shelburne, ESPN LA: Probably. Nobody within the organization disliked Vinny. The problem is after three years no one within the organization really went to bat for him, either. That's what it was going to take for him to be retained. It's not enough for owner Donald Sterling to be his biggest fan. Everyone needs to be on board, and clearly, they weren't.
Marc Stein, ESPN.com: Yup. It had reached the point in Clipperland where Del Negro was the easy, instant scapegoat for everything that went wrong. The franchise needs a fresh start ... and to take that alibi away from the players.
---
2. Who should be the next coach of the Clippers?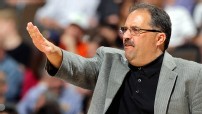 Arnovitz: If they want the best coach available, Stan Van Gundy. If they want the best guy at their price range, Alvin Gentry. If they want someone who will be well-received both inside the locker room and out, Lionel Hollins, though they're unlikely to win a bidding war for the Grizzlies coach.
Han: As boring as the Clippers' offense gets at times, their defense is what has consistently suffered over the past two years. Stan Van Gundy built a top defense in Orlando with Dwight Howard as his only clear plus-defender. If he's available, he should be the pick. But if Jeff is also available, he'd fit, too. Any Van Gundy will do.
Markazi: The Clippers should make a play for Phil Jackson. Offer him what he wants and see what he says. If he turns it down, they will have appeased their fan base and done more than the Lakers did with Phil, which is wait for his answer. If not Jackson, I'd go after Stan Van Gundy, Jeff Van Gundy, Jerry Sloan or Larry Brown. I know these aren't the names on many lists, but the Clippers need a coach who has been to the NBA Finals and one they can respect.
Shelburne: I'd love for it to be Jackson, but that's not happening. While there was some initial interest in Phil many months ago, the Clippers just can't go there. It's just too close to the Lakers. But if you can't have Phil, how about Phil's disciple, Brian Shaw? He's a young up-and-comer, he's known as a players' coach who isn't afraid to tell it like it is, he once got the endorsement of Kobe Bryant to coach the Lakers, and he has a track record for developing young players like Lance Stephenson and Paul George in Indiana. I also think the Clippers can't go wrong with Alvin Gentry, who's strong in the X's and O's, or Golden State assistant Mike Malone, who has a good relationship with Paul dating back to their New Orleans days.
Stein: I like the guy we've been talking about here since April: Stan Van Gundy. But Stan sounds determined not to coach next season. Should the Clips make a run at him anyway? I would.
---
3. Should this move encourage Chris Paul to stay with the Clips?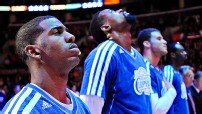 Arnovitz: Yes, insofar as the Clippers make him feel like he has a considerable say in the next hire. Del Negro certainly gave Paul the freedom he wanted on the court and backed CP's personnel proposals. Yet Paul wants to win badly and probably recognizes the same ceiling in Del Negro that Clippers management does.
Han: Yes. Whether or not Paul expressed any displeasure regarding the coaching situation, he should be pleased that the Clippers were unsatisfied. An elite player chasing championships needs an organization that can honestly assess its deficiencies and upgrade accordingly. This move is an indication of that.
Markazi: Yes. Anyone who thinks the Clippers haven't been in constant contact with Paul every step of the way hasn't been paying attention. Paul has basically been a front-office member since being traded to the Clippers. He's had his fingerprints on most moves since then and nothing has changed.
Shelburne: Yes. Let's be clear: Paul didn't order this hit. His hands aren't dirty. But he was watching closely to see if Sterling was going to make a move, and how he was going to go about it. This move, despite Del Negro's success, says to Paul that the Clippers aren't satisfied with first- and second-round playoff exits.
Stein: Del Negro staying presumably could have discouraged CP3 from re-signing, but encourage feels like too strong a word here. The ability to have a say in the next coach is just one element on the balance sheet in the Clips' favor.
---
4. Is the Clippers' head-coaching job the best available?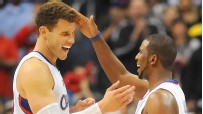 Arnovitz: With the possible exception of ownership, and the Nets' money, the Clippers sweep just about every event in this contest. Assuming Paul stays around, a coach inherits the game's premier point guard, a guy who can carry some of the in-game coaching duties. Blake Griffin is a mega-talent and the city is a destination for players.
Han: In terms of talent, yes. Need star players? Paul and Griffin have you covered. Young talent to develop? DeAndre Jordan and Eric Bledsoe are on line 2. Roster doesn't suit your needs? There are just enough assets and expiring contracts to pursue other players. But this is now a job that comes with high expectations and pressure to win now.
Markazi: Yes. The Clippers have been a top-five team the past two seasons on paper and they are a great coach away from moving up on that list. They'll likely have arguably the best point guard, power forward and sixth man locked up for the foreseeable future, which is a solid start for any new coach. You can't say that about any other opening right now.
Shelburne: Absolutely. Not only do you have a young, playoff-tested team with two superstars, you have a team in fairly good shape capwise. Now, you'll have to tackle the same issues Del Negro encountered -- developing Jordan and Griffin ASAP -- and finding that elusive "third piece" to complement Paul and Griffin. But NBA coaching gigs don't get much better than this.
Stein: Fascinating question. Fascinating because the Clippers are indeed still owned by the one and only Donald Sterling. But I'd have to say yes. They're in a great market, have Blake Griffin signed for the long term and have a 90-plus percent shot at re-signing CP3 in July. None of the other teams with openings has that much to offer.
---
5. Will the Clippers look vastly different next season?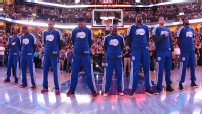 Arnovitz: That depends on what the Clippers do with Jordan. There's a case on both sides that the Clippers and Jordan would benefit from parting, and if that happens, there will be a decidedly different look, especially if Bledsoe and Caron Butler are shipped out.
Han: Yes. Any way you cut it, the Clippers should be different. Half of the players are free agents, a new coach will inevitably bring in new offensive and defensive schemes. And, depending on how the new staff feels about Bledsoe and Jordan, both players could potentially see their roles increase. Next season should produce a very different team.
Markazi: Well, Paul, Griffin and Jamal Crawford will be back. Other than that, I'm sure the Clippers will be looking to make moves to improve the roster. That will likely include shopping Jordan, Bledsoe and Butler as well as looking to get players younger than Chauncey Billups and Grant Hill.
Shelburne: No. I can see them making some changes to the roster like packaging Bledsoe with Butler to try to grab that third co-star for Griffin and Paul. But this team is built around Chris and Blake and that's not changing any time soon. Whoever the Clippers bring in will likely have more of a defensive mindset. But this will still be an up-tempo, exciting team because that plays to the strengths of its stars.
Stein: I suspect so. They've got to get more shooting around CP3 and Blake. And they're going to get plenty of calls on both Bledsoe and Jordan. It's going to be a busy summer in Clipperland. Starting right now.


ESPN.com and the TrueHoop Network
Kevin Arnovitz and Marc Stein cover the NBA for ESPN.com. Arash Markazi and Ramona Shelburne write for ESPN LA. Andrew Han is a member of the TrueHoop Network.
• Follow the NBA on ESPN on Twitter | On Facebook | On Google+