The summer is still weeks away, but the talk of trades and more is already simmering as the playoffs wind down. Our crew hits some of the big talking points already becoming a part of the NBA conversation:
1. Should the Grizzlies try to trade Zach Randolph?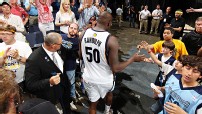 Jessica Camerato, special to ESPN.com: Z-Bo's value took a hit during the Western Conference finals (11.0 PPG, 30.2 percent from the field) and the Grizzlies should explore the market, but if they want to move Randolph they would benefit by waiting for a bounce back during the season to do so.
D.J. Foster, ClipperBlog: Player A per 36 minutes: 16.1 points, 11.8 rebounds, 46 percent shooting, 52.8 percent within 10 feet, 17.9 PER, $17.8 million.
Player B per 36 minutes: 13.8 points, 10.2 rebounds, 53.9 percent shooting, 60.6 percent within 10 feet, 17.8 PER, $3.1 million.
Player A is 31-year-old Zach Randolph. Player B is his backup, 23-year-old Ed Davis. With that much money at stake, dollars and cents have to win out over sentimentality.
Dave McMenamin, ESPN LA: No. Despite Z-Bo's struggles in the conference finals, Memphis should learn a lesson from the team it lost to: Sometimes no move is the best move. The Spurs have kept their core of Tim Duncan, Tony Parker and Manu Ginobili together and it has paid off. Memphis should keep Randolph, Marc Gasol and Mike Conley together to do the same.
Marc Stein, ESPN.com: I can see the argument in favor of it, but this is obviously much easier to answer if you could tell me exactly what the Griz are going to be able to get in return, because breaking up Z-Bo and Marc Gasol means breaking up the combo that made Memphis uniquely dangerous over the past few seasons. But everyone knows Memphis needs more shooting and better depth. So if trading Z-Bo is the only way to address those needs and manufacture the needed financial flexibility, it's an option that certainly has to be explored.
Jack Winter, Warriors World: Yes, but that's hardly an indictment of Randolph's play this season. The reality of Memphis' financial situation means exploring any realistic personnel options aside from moving Marc Gasol or Mike Conley. Z-Bo is due nearly $35 million over the next two seasons; he'll be very difficult to trade, but the small-market Grizzlies should send out feelers nonetheless.
---
2. Which NBA head-coaching hire has been the best thus far?
Camerato: Mike Budenholzer in Atlanta. If there is one coach to learn from, Gregg Popovich is at the top of the list. Budenholzer has spent 17 seasons as an assistant coach for the Spurs. Just as Tom Thibodeau found success after working under Doc Rivers, Budenholzer is bringing championship knowledge to Atlanta.
Foster: Mike Budenholzer. Spurs East is officially under construction. Jeff Teague is a quick point guard with a penchant for floaters, and Al Horford is a smart, fundamentally solid big man. Sound familiar? Those two aren't quite Tony Parker and Tim Duncan, and Budenholzer isn't quite Pop, but you can do much worse than emulating the Spurs at every level.
McMenamin: Mike Budenholzer. Anybody that Gregg Popovich trusts enough to describe as his "co-head coach" has to be the real deal. Stability and harmony between the front office and coaching staff is a rarity in the the league these days and the Hawks now have that with "Bud" as the coach and fellow ex-Spur Danny Ferry as the GM.
Stein: I'm naturally interested, like a lot of people, to see what Mike Budenholzer can do in Atlanta now that he has finally been given his chance. But I also have a feeling Jeff Hornacek will make a difference in Phoenix even though he's taking over a team that's so far away from contention. The arrivals of Hornacek and Ryan McDonough as GM should give Suns fans some long-awaited hope.
Winter: Mike Budenholzer. His résumé is as impressive as any recently hired Gregg Popovich disciple, as Budenholzer's San Antonio pedigree dates back to the pre-Tim Duncan era. "Coach Bud" has a great reputation among players, Popovich speaks glowingly of his ability and Atlanta GM Danny Ferry, a former Spurs front-office executive, understands his talents firsthand. This is a home run for an organization in an extreme state of flux.
---
3. What should the Celtics do with Paul Pierce this summer?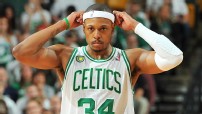 Camerato: The Celtics should determine where they will receive the most value, whether it is with Pierce on their team or with the pieces they could acquire in return. Pierce is still a contributor, and with an expiring contract, he could be attractive to other teams closer to the trade deadline as well.
Foster: Keep him. Boston can't get under the cap even if they buy out Pierce, and it's not as though Pierce is blocking anyone's path to playing time. Boston is better off making one last run at it with a hopefully healthy Rajon Rondo and Jared Sullinger back in action.
McMenamin: Keep him in green. As much as Duncan is a Spur, Dirk is a Mav or Kobe is a Laker, Pierce is a Celtic and should stay that way. His $15.3 million price tag is steep for next season, but he is still an effective player and not retiring anytime soon, so both sides can work out a more cost appropriate deal for 2014-15 onward.
Stein: The Celts are obligated to explore every trade option they can with Pierce between now and the draft. But then they should pick up his 2013-14 option and let him play out the final year of his contract like the living Celtics legend he is. It's a very tradeable contract if it turns out that a deal materializes that makes sense for both parties between July 1 and late February. So picking up the option is the only option. The notion of waiving Pierce by June 30 for some short-term payroll relief is preposterous given what he has achieved as a Celtic. He's still too much of an asset at age 35 to just cast adrift anyway.
Winter: Stand pat. The Celtics won't be real championship contenders next season, but assuming health -- a big if, mind you -- they'll be a solid playoff team nonetheless. One more season with Pierce and Kevin Garnett will be worth it as long as Boston is competitive, especially considering the former's trade value is at an all-time low. Then the Celtics can hit reset in 2014-15.
---
4. Which team should Dwight Howard sign with this offseason?
Camerato: Is there a pressure-free contender whose fans will root for Howard regardless of the team's success? No. So, I'd like to see him on his hometown Hawks. A change of scenery -- back to a familiar one -- could help ... for now. If not, the idea of him and James Harden together in Houston is intriguing. An 8-seed with "jump" potential.
Foster: Atlanta. You can always go back home. The spotlight is a little dimmer in Atlanta, but maybe Howard would benefit from a decrease in scrutiny and pressure. Of course, it doesn't hurt that Al Horford is the perfect frontcourt mate for Howard, or that there isn't a bad contract on the roster. If Howard wants a clean slate, there is no better option out there.
McMenamin: The Lakers. I've covered championships in L.A. -- Dwight won't experience anything better in the NBA than winning a ring in Los Angeles and being the biggest star in the city of stars. Plus, there's a $30 million incentive to stay. It might take some patience on Howard's part for it all to come together, but the Lakers want to crown him the next face of the franchise and that's a privilege that's hard to walk away from.
Stein: It would be nice if he stayed with the Lakers and showed the world that he can rally from the disastrous season we just witnessed and make it in the biggest of NBA cities and on the biggest of NBA stages. That would be the best thing for Dwight's legacy. But we'll have to wait and see because I doubt Dwight is reading this 5-on-5 for advice. The possibility remains that he might ultimately decide he's too unhappy to stay no matter how much more damage leaving in free agency would do to his battered public image.
Winter: Houston. Howard is reportedly attracted by the idea of playing next to Omer Asik and doesn't like offensive systems built around the pick-and-roll. But neither aspect should matter to the Rockets once Howard signs on the dotted line. Assuming he plays good soldier, Howard is a great fit on both ends for a young team built for the long haul. Let's hope he realizes it.
---
5. What should the Cavs do with the No. 1 overall pick?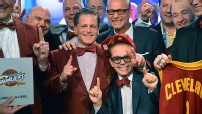 Camerato: Draft Nerlens Noel. The prospect of a frontcourt-backcourt pairing with Kyrie Irving is enticing. Then throw in Dion Waiters and Tristan Thompson and the Cavs have a talented young core they could build on for the future. If Anderson Varejao returns healthy, he could be used as trade bait to fill out the roster.
Foster: You mean after the Cavs curse David Stern for an age limit that prevents the pairing of Kyrie Irving and Andrew Wiggins? Draft Nerlens Noel. I love Anderson Varejao, but he has played in only 35 percent of his team's games over the past three seasons. Rim protection is a need for Cleveland's 27th-ranked defense, and that's what Noel does.
McMenamin: Shop it. Drafting Nerlens Noel or Anthony Bennett could compromise the growth, development and opportunities for Tristan Thompson (not to mention Noel's ACL). Drafting Ben McLemore or Victor Oladipo does the same to Dion Waiters. Going with Otto Porter seems like a silly way to keep the small forward spot warm if Cleveland is really going after LeBron James in a year. So, the answer is to shop the pick. And if there are no knockout offers, draft Noel.
Stein: Exactly what the Cavs are doing. Which is to say they'll try to package the pick with some of the other assets they've stockpiled over the past few years in hopes of acquiring a difference-making veteran who can join forces with Kyrie Irving to finally get the Cavs back in the East playoff picture. I'm just not sure how much external interest there is in the No. 1 overall pick in a draft that features an injured Nerlens Noel as the top prize.
Winter: Shop it. The Cavaliers have been stockpiling assets with a bigger goal in mind for the past couple of seasons; winning the lottery only supplements and accelerates that process. This pick probably will be difficult to trade, but doing so is the surest way of pairing Kyrie Irving with another star. Cleveland should call Portland, Minnesota and Atlanta first, and leave its phone lines wide open thereafter.


ESPN.com and the TrueHoop Network
Marc Stein is a senior writer for ESPN.com. Dave McMenamin covers the Lakers for ESPN LA. D.J. Foster and Jack Winter are part of the TrueHoop Network. Jessica Camerato writes for CSNNE.com.
• Follow the NBA on ESPN on Twitter | On Facebook | On Google+