The chase for Dwight Howard took another turn Thursday, with an ESPN.com report indicating Howard would prefer to sign with Atlanta, Dallas or Houston next season. What's the best move for Howard? How would the Lakers respond? Our crew weighs in.
1. What's your reaction to the latest turn in the Dwight Howard saga?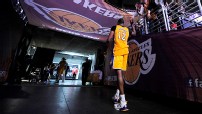 Bo Churney, HawksHoop: I'm surprised. Even if Dwight does appear to change his mind with the rhythm of a metronome, it seemed like the extra money and contract year would be too much for him to pass up. Dallas and Houston can partially make up that money because of the lack of state income taxes in Texas, but the edge the Lakers had money-wise appeared to outweigh Howard's discomfort with the team.
Bryan Gutierrez, The Two-Man Game: The Dwightmare continues, with this being the latest chapter. It would be shocking if he actually decided to leave the Lakers, but it might happen given the cap and personnel situation with the team. That might be enough for him to leave Hollywood. A clean slate would be good for him.
Dave McMenamin, ESPN LA: The fact that Chris Broussard has Dallas leading the pack was a bit surprising, but we've known about Howard's frustration with Mike D'Antoni for quite some time. My literal reaction was picking up my phone to text sources around the league about it.
Darius Soriano, Forum Blue and Gold: I'm really not that surprised. It's clear Dwight is leveraging his free agency to try to effect change in Los Angeles -- either to create a more favorable situation so he can stay or to give the public his reasoning for leaving should that change not occur. Either way, he'll get what he wants, as most superstar free agents do.
Justin Verrier, ESPN.com: In Internet parlance: smh followed by nmh. Two years later, and the NBA is still ebbing and flowing with every Howard mood swing. But his past decisions often seemed driven by off-the-court circumstances -- money, fame, proximity to Disneyland. While this news smacks of the same old egotism, it's the smarter basketball play.
---
2. Atlanta, Dallas or Houston: Which spot is best for Dwight?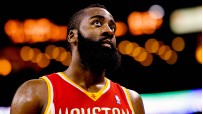 Churney: Houston. The Rockets have the cap space needed to restructure their team around him. Howard would be able to improve his game by working with Kevin McHale, and he'd be paired with a rising superstar in James Harden. Dwight might be more mistake-prone than Harden, but the 2-guard would definitely be able to shield some of the criticism that got to Dwight in L.A.
Gutierrez: Houston. I knock Atlanta out of the mix because I don't believe Howard actually wants to deal with the drama of playing close to home. It might take a philosophical tweak, but the Rockets appear to be the best fit. They have pieces in place, while Dallas has only the hope of future cap space and the willingness of Dirk Nowitzki to step back as "the guy" in Dallas.
McMenamin: Houston. Golden State might be even better (I'd rather live in Northern California than Texas, for one). Out of those three teams, though, the Rockets provide the best situation: a legit superstar teammate in Harden, a legendary big man as a coach in McHale, a low-key media scene (all due respect to the Houston Chronicle's Jonathan Feigen, who does a great job) and no state income tax.
Soriano: Houston. Dwight would immediately be paired with another young, excellent player in James Harden who can grow alongside him over the next several years to compete for a championship. Add in a smart front office that should be able to continue to stock up on assets, and the Rockets are a great landing spot.
Verrier: Houston. In Dallas, Dwight would be paired with a star in the same stage of his career as the ones he's leaving behind. In Atlanta, he'd be the only star (Al Horford, while great, isn't on the level of these other options). But in Houston, he'd get to play with a front-line talent in his prime while also getting top billing and the chance to be surrounded by 3-point shooters once again. Easy choice.
---
3. If Dwight leaves L.A., what should the Lakers do?
Churney: Nothing. Even if the Lakers got Dwight back, there's no guarantee they would be even close to the top of the West. If they aren't going to be competing for a title, they might as well take a season off, let Kobe Bryant properly heal, and take the cap space and the lottery pick in a loaded 2014 draft.
Gutierrez: I have a hard time believing the Lakers could work out a sign-and-trade with their Staples Center co-habitants. If they can't strike a deal with the Clippers, there's value in waiving Metta World Peace via the amnesty clause and preparing their books for a run at the free-agent market in the summer of 2014.
McMenamin: Stand pat with Pau Gasol as the starting center, go into 2013-14 with reasonable expectations for an aging roster (no championship-or-bust talk) and reload in 2014-15. Unless, of course, they can get Klay Thompson or Harrison Barnes for Howard.
Soriano: The Lakers should stay the course, play out the season with the talent they have on hand and continue with their plan of restocking their talent base in the summer of 2014. Without Howard, the Lakers will be a worse team than last season and might even be in line for a good draft pick to aid in their rebuild a year from now.
Verrier: Burn it down. They're hopelessly capped out and Kobe-less for at least part of next season anyway. If Dwight bolts, deal Pau, waive World Peace via the amnesty clause and clear as much space as possible to take a run at a stacked free-agent crop next summer. A lottery pick and the chance to be the new face of the Lakers will lure somebody in.
---
4. Should the Lakers part ways with Mike D'Antoni?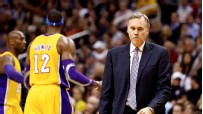 Churney: No. Phil Jackson likely isn't coming back to coach, and there is no reason to get rid of a good coach for the possibility to get Dwight to come back. It is also really late in the process to be considering going after a new coach; yes, many coaches would love to go to L.A., but several of the top coaches are already off the board for this season.
Gutierrez: What is the alternative to D'Antoni? Will the Lakers magically get Jackson to come back? If they can't find an alternative, they might have to "settle" for D'Antoni. He has talent on the roster, but he has to be willing to budge on his philosophy and adapt to his personnel.
McMenamin: I truly believe replacing D'Antoni with Jackson will greatly enhance the Lakers' chances of keeping Howard. If the Lakers really want Dwight as much as they say they do, this is the move they make. Now, Jackson has indicated he isn't interested in coaching again, but I'm pretty sure his fiancée, Lakers exec Jeanie Buss, can be persuasive in changing that stance.
Soriano: Not right now. D'Antoni hasn't endeared himself to Lakers fans, but he's also not as bad a coach as he's portrayed. Give him next season to try to build on the team's hot second half, and if he can't show positive strides, the Lakers can begin anew in 2014 with a rebuilt team and a new coach.
Verrier: Definitely. If it means Howard stays, what's the worst that could happen? The Lakers would get a bad reputation for catering to superstars, one that would presumably affect their next hire. But appeasing the franchise player is necessary in most gigs. Someone is crossing the picket line to coach all that talent. D'Antoni did five games into a season, right after major surgery.
---
5. Is Howard worth all the fuss?
Churney: Yes. Dwight might seem like a pain to deal with right now, but when he's healthy, he's a top-five player in the league. He can still be that player, too; over the final 20 regular-season games of 2012-13, he averaged 20 points, 13 rebounds and three blocks with 59 percent shooting. That's even better when you consider he wasn't completely healthy over that time span.
Gutierrez: When he's healthy, Howard is the best defensive center in the NBA. He'll still be 27 when next season begins, so he still has time to mature as a person and as a big man in the NBA. The game is evolving into a smaller, faster game, but Howard can still fit in that new style.
McMenamin: Absolutely. When healthy, he is the second-best two-way player in the league after LeBron James. Look at his numbers from March on of this past season when he finally rounded back into form -- 17.9 points, 15.2 rebounds and 2.9 blocks per game. And he's only 27. He is worth it all and then some.
Soriano: Yes. When engaged and healthy, Dwight is one of the elite two-way players in the league, a legitimate MVP candidate and defensive player of the year favorite. With a full offseason to get totally healthy, one can only assume he'll settle in wherever he lands and perform at a high level.
Verrier: Somewhat. Injuries have obfuscated how rare a player Howard is in today's NBA. When engaged and able-bodied, he's an automatic 20-and-10 who can change a team's defense. But he's now infested two teams. LeBron -- who by all accounts was a great teammate to begin with -- grew from the vitriol. I'm not so sure Howard ever will if he leaves another team for immediate satisfaction. He's the type of talent you have to, not want to, chase.


ESPN.com and the TrueHoop Network
Dave McMenamin covers the Lakers for ESPN Los Angeles. Justin Verrier is an NBA editor for ESPN.com. Bo Churney, Bryan Gutierrez and Darius Soriano are part of the TrueHoop Network.
• Follow the NBA on ESPN on Twitter | On Facebook | On Google+