What would we give some of the top players on the market in a vacuum? Our panelists break out their checkbooks.
1. What would you offer Josh Smith?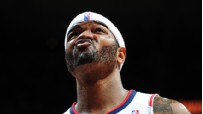 Larry Coon, ESPN Insider: Four years, $55 million. Smith is a perfect example of a player whose salary should come down with the new CBA in effect, which gives players just 50 percent of revenues and features a progressive luxury tax. He said he wants the max salary, and under the old agreement he may have gotten it. A four-year deal starting at around $13 million is more like it.
Amin Elhassan, ESPN Insider: Four years, $56 million (player option in fourth year). Smith isn't a franchise player; rather, he's a high-level complementary piece. His offensive efficiency is only held back by his understanding of his limitations. Comparable players last offseason such as Nic Batum ($11.5 million a year) and Andrei Kirilenko ($10 million) set the market value for his type; I'd argue while he's better than them, he's not THAT much better. The player option allows him to test free agency one more time at age 30.
Andrew Han, ClipperBlog: Four years, $50 million. For all of the criticism he bears, shooting far too many long jumpers and 3-pointers, Smith is still a quality player at the youthful age of 27. A nightmare in transition and a rebounding and defensive workhorse, Smith as a team's third-best player would be a force to be reckoned with. And $12.5 million per year would still be less than a standard rookie max extension.
Tom Sunnergren, Hoop76: Four years, $42 million. For all of Smoove's many skills, the veteran's inefficiency as a scorer is a major drag on his game -- he finished 127th in the NBA in win shares in 2012-13 -- and entering his 10th season, prudent shot selection is a trick this (relatively) old dog probably can't be taught.
Jack Winter, Warriors World: Four years, $60 million. Aside from LeBron James, there isn't a player in the league capable of Smith's versatile two-way dominance. The problem, though, is that those flashes of brilliance are all too fleeting, mixed in between ill-advised long jumpers and bouts of middling effort. He has the natural gifts for the maximum contract allowable, but unless J-Smoove gets his head on straight, he won't ever be worth it.
---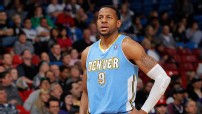 Coon: Four years, $47 million. Iguodala just opted out of a contract that would have paid him $16.2 million. He probably won't be able to sign for more than that, but at least he'll be able to lock in four years -- which, at 29, is important. He should be able to command a salary starting at n $11 million in the open market.
Elhassan: Four years, $52 million. Like Smith, Iguodala is a high-level complementary piece. His best fit is on a team that's deep in scoring and needs more play facilitating. He's also an elite perimeter defender. Keeping Iguodala's salary to $13 million affords you the opportunity to add talent needed to take advantage of his skill set.
Han: Four years, $50 million. At his worst, Iguodala would be a premier 3-and-D wing. But Dre also has the ability to score off the dribble and in transition and create plays for others (Iguodala ranked third last season in assist ratio among shooting guards and was 47th overall). In fact, pair Iguodala with another player on this list (such as Josh Smith) and that would create quite the fearsome multitool tandem.
Sunnergren: Four years, $48 million. Iguodala is great, and he'll be paid accordingly, but athletic wing defenders (especially ones with Chondromalacia) don't age well -- and seven months shy of his 30th birthday, Iggy is aging. Still, the veteran should produce enough on the front end of the deal that, even if he becomes something of an albatross if/when his skills atrophy, he'll justify the investment.
Winter: Fours years, $56 million. Iguodala has been miscast his entire career as his team's first or second option offensively. He's an underrated creator and awesome finisher, but hardly the ball-dominant wing scorer his physical profile suggests. Which is all to say that his solid offensive gifts take a backseat to his otherworldly impact on defense. Iggy's not a max player, but certainly on the threshold just below.
---
3. What would you offer Andrew Bynum?
Coon: I'd say four years, $64 million -- with an "Exhibit 3" to protect them. Bynum is an interesting case. If healthy, you know that some team is going to max him out. But he's not healthy, and never really has been. Contracts can be written with an escape clause called Exhibit 3, which is a prior injury exclusion. It's what Brandon Roy got with the Timberwolves, and it allowed them to walk away from Roy without owing additional money. It says that if the team waives the player because of a prior, known injury, then his salary is not guaranteed. Exhibit 3 is tailor-made for this situation, and gives teams the insurance they need to offer him a higher salary.
Elhassan: Three years, $40 million (player option on third year), with prior injury exception (PIE) language. Possibly the biggest high-risk, high-reward player on the market. When healthy, he's an elite center who can transform the fortunes of your franchise. When injured, he can get your coach fired, your front office cleaned out and your franchise point guard traded. PIE language that basically allows a team to exit a contract with minimal exposure if the player experiences serious injury to contractually specified body parts (in this case, knees) is the way to go.
Han: Two years, $35 million with a partially guaranteed player option for the second year. Got all of that? Bynum is the ultimate high-risk, high-reward player this offseason. When playing, Bynum certainly seemed like the second-best center in the league. Yet the Sixers took that risk and came up empty-handed. A high-salary, short-term deal offers some security to both sides.
Sunnergren: Two years, $25 million. Teams with big plans for 2013-14 need not apply, but signing Bynum to a short, rich deal actually looks like a favorably asymmetric risk for one of the Association's bottom dwellers. If Bynum can play, you just landed yourself a 25-year-old All-NBA center to build around. If he can't, you're a front-runner in the Wiggins sweepstakes. Heads you win, tails you tie.
Winter: Two years, $24 million. A healthy and committed Bynum is one of a dozen or so players in the league worth a max-level contract. But these days, he's a complete shell of the dominant force he was for the Lakers in 2012. Given the myriad injury and attitude problems he has shown since being traded to Philly, Bynum's just too risky to be counted on as a franchise cornerstone. Two years is all he deserves right now.
---
4. What would you offer Monta Ellis?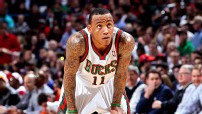 Coon: Ellis has midlevel exception written all over him. That comes out to four years, $22 million if the team is below the tax line, or three years, $10 million if the team is a taxpayer. My guess is he'll find a team below the tax line.
Elhassan: Three years, $18 million (player option on the third year). Ellis is a high-level scoring guard, but if he's starting, your team isn't going very far. He'd excel as an off-the-bench scorer, provided he accepts that role. Comparables such as J.R. Smith and Jamal Crawford both come to mind, and Ellis' production surpasses them. Still, $6 million per year is all I'd commit to a bench guard.
Han: Three years, $16.5 million. Ellis is the conundrum of free agency: a talented scorer, but also low in efficiency, exactly the stereotype that teams seem to be moving away from. Lou Williams received $5.5 million per year in his contract last offseason, and that feels sensible in this situation.
Sunnergren: Three years, $15 million. In 2012-13, Ellis shot under 29 percent from 3, finished 63rd among qualified point guards in true shooting percentage, 44th in assist-to-turnover ratio, and placed just 11th on his own 38-win team in win shares per 48 minutes. The analytics revolution is here (and it was televised). These are going to be lean years for volume shooters.
Winter: Three years, $16 million. Ellis is a prolific scorer, gifted creator and plays the passing lanes like few others. But he doesn't play basketball in a vacuum, so his inefficiency, overall defensive worth and poor locker room influence matter, too. Monta needs to hit reset on his career in the worst way; his talent alone is worth more than the midlevel exception, let alone a contract so short in length.
---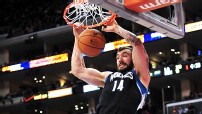 Coon: Five years, $57.5 million. Pek's situation has all the earmarks of a nice payday. He finished the season well, he's a big man and he's a restricted free agent. If some team wants to pry him away from Minnesota, they're going to have to make him an offer the Timberwollves would be reluctant to match. But I don't see Minnesota letting him go that easily. After he flirts with other teams a little, I see them taking advantage of their Bird rights and locking him in for five years with bigger raises, but maybe conceding a little on the starting salary.
Elhassan: Four years, $44 million (five years, $55 million if it's from Minnesota). One of the most efficient interior scorers in the league, Pekovic gets to the free throw line frequently (0.437 FTA rate) and converts (0.744 FT percentage), and is also one of the best offensive rebounders in the league (13.0 ORB percentage). Center is the highest-paid position in basketball, and with word of Tiago Splitter signing a four-year, $36 million deal, Pekovic's leverage increases.
Han: Four years, $42.5 million. Centers are notoriously overpaid in the league simply because of the dearth of serviceable bigs. Pekovic is more than serviceable, though, ranking ninth last season in PER among all centers. He's a solid roll-man and a boulder of a defender on the low block. If a team can sign him for a low-eight-figure price, that's a reasonable deal considering the position.
Sunnergren: Four years, $60 million. It might prove to be a bit of an overpay, but the nearly 300-pound Montenegrin -- after just three seasons of NBA basketball -- has blossomed into an efficient and effective scorer (he posted 16.3 PPG last season and a higher true shooting percentage than Brook Lopez), a plus defender and one of the league's pre-eminent offensive rebounders.
Winter: Four years, $48 million. Pekovic isn't a role player and he's not a superstar, either. He deserves more money than Splitter but not as much as Marc Gasol. He might earn more than this in reality, but Pek's defensive deficiencies at the rim and in pick-and-roll situations mean his very good raw numbers paint an inaccurate portrayal of his overall impact. For a limited third wheel, this seems appropriate.


ESPN.com and the TrueHoop Network
Larry Coon and Amin Elhassan write for ESPN Insider. Andrew Han, Tom Sunnergren and Jack Winter contribute to the TrueHoop Network.
• Follow the NBA on ESPN on Twitter | On Facebook | On Google+