Dwight Howard is getting ready to join the franchise where Moses Malone and Hakeem Olajuwon once defined the pivotman's role. But what does his move mean for those he didn't pick-and-roll past en route to his new home?
Our panel goes 5-on-5:
1. What does Dwight Howard's decision mean for Kobe Bryant?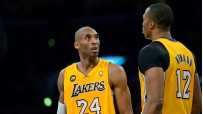 Henry Abbott, ESPN.com: Kobe will have to learn a new skill -- convincing free-agent superstars he can happily share the spotlight and the ball -- or he'll never win another title.
Bryan Gutierrez, Two Man Game: Now, the Lakers will be his team for as long as he wants them to be. It likely would have been that way had Howard stayed, but the team is unquestionably his now. Howard's departure likely added fuel to Bryant's fire. He will want to prove he can recover from his injury and show he can carry and lead the Lakers.
James Herbert, Hardwood Paroxysm: Bryant is in for another frustrating season when he comes back from injury. This Lakers roster is looking mighty thin in an increasingly stacked Western Conference. Just making the playoffs will be tough.
Michael Pina, Red94: The chances Bryant wins another championship with the Lakers just went from slim to impractical. It's a huge blow to a great player on the mend.
Darius Soriano, Forum Blue and Gold: A more difficult path back to the top of the mountain. Kobe and Dwight may have had their personality conflicts, but Howard represented, at least for the immediate future, the Lakers' best chance of regaining championship glory. With Howard in Houston (assuming his move becomes official Wednesday), the search for another franchise cornerstone, and championship partner, continues.
---
2. What does Dwight Howard's decision mean for Mike D'Antoni?
Abbott: D'Antoni was a pioneering genius. He did change NBA offenses forever. Now is the time for his ideas. But the pioneering new stuff -- all that space, all those pick-and-rolls, all that 3-point shooting -- isn't unique anymore. The system alone doesn't have the same value anymore, especially when it turns off free-agent All-NBA big men.
Gutierrez: D'Antoni's leash got a little bit longer. Honestly, the Lakers didn't really have much of an alternative for a new coach if they let him go. Now that Howard made his decision, D'Antoni will have to try to operate his offensive system with the pieces that remain. He has to deliver results, or the spotlight will shine on him even brighter.
Herbert: D'Antoni will not have to worry about keeping both Howard and Pau Gasol happy offensively anymore. On the flip side, his team might be hopeless on the defensive end and still doesn't have the young legs required for his preferred style of play.
Pina: All Howard's departure will do is soften palatial expectations -- enough, perhaps, to cool any reddening coals beneath D'Antoni's sideline seat.
Soriano: Less stress in how to manage his offense. The Dwight and Gasol pairing in the frontcourt meant a path divergent from the one D'Antoni prefers on the offense. With only Gasol remaining, D'Antoni can shift back to his offensive comfort zone and forge a team identity that more closely mirrors his past teams.
---
3. What does Dwight Howard's decision mean for James Harden?
Abbott: He left the Thunder because he wanted to be The Man, and then he went to Houston and had the ball in his hands as much as any other NBA player, including Bryant. He also got to play at a crazy high tempo. Presumably all that will be changing.
Gutierrez: The stage is set for him to succeed at a new level. Harden showed he would sacrifice in Oklahoma City by coming off the bench. He will now have to sacrifice to thrive with a legitimate big man, something he hasn't had in his four seasons in the league. A true running mate for Harden could be huge.
Herbert: Harden gets a dominant big man to play with for the first time in his career. Their two-man game has the potential to be devastating and allows Harden to envision a trip back to the NBA Finals in the near future. With less of a scoring load, he can focus more on the other aspects of the game.
Pina: Last season, Harden was the fifth-most efficient pick-and-roll scorer in the league, according to Synergy Sports, and his bread-and-butter sequence was a high screen-and-roll with Omer Asik. Nothing against Asik, but Harden should be even better next season with Howard setting those screens instead, providing a multipronged attack that defenses won't be able to stop without fouling.
Soriano: Potentially, a shift in style of play. Of all the swingmen in the league, Harden attempted the fifth-most shots at the rim last season. There's a real chance that with Dwight in the paint both as a roll man and a post-up option, some of Harden's most prized real estate will be ceded to his new teammate.
---
4. What does Dwight Howard's decision mean for Dirk Nowitzki?
Abbott: Ouch. I guess the title window has closed in Dallas. Missing out on Chris Paul, Deron Williams, Dwight Howard -- not to mention Tyson Chandler -- is no shame. But breaking up a title winner, in Dirk's declining years, to get a great free agent, and then getting none ... that hurts.
Gutierrez: Dirk will remain the lone star in Dallas. Throughout his career, Dirk hasn't had reliable or consistent star support by his side, and that will continue for the immediate future. He will have to hope that the front office can give him enough support to find success as his career heads down the homestretch.
Herbert: Nowitzki has no chance to fast-track back to the Finals now, but that was always a long shot. He'll now have to trust Mark Cuban to fill out the roster with less-than-superstar talents around him as his career winds down.
Pina: Sad to say, but the stakes of Nowtizki's fictional relationship with Howard run parallel to Kobe Bryant's. Both planned to team up with Howard next season, take hometown discounts next July, then add a third max-contract-caliber player for 2014-15. As with Kobe, it wasn't meant to be in Dallas, and the likelihood Nowitzki ever makes a third Finals appearance with the Mavericks has most likely been vaporized.
Soriano: Another year of waiting for his organization's big plans to pay dividends. After dismantling a title team, the Mavs left Dirk on an island waiting for a reload that hasn't yet come. Although he's hinted at frustration the past two seasons, I imagine those rumblings will grow louder as another year of his career is essentially wasted on a non-contender.
---
5. What does Dwight Howard's decision mean for Pau Gasol?
Abbott: Lakers owners have been openly enthusiastic about the imminent departure of Gasol, and his big contract, since last fall. So it would seem to be a foregone conclusion that Gasol is auditioning for another job in another city. But on the other hand, funny things can happen. More touches, post-Howard, from a system that loves shooting bigs, give Gasol the potential for a renaissance.
Gutierrez: Gasol should have a little more freedom to operate. He's still considered one of the more versatile big men in the league, especially in the post. With Gasol, D'Antoni will have to tweak his system to ensure he can maximize what he has. Gasol will have pressure to perform as he enters the final year of his deal.
Herbert: If Howard had stayed, Gasol's future as a Laker would have been up in the air. As it stands, he figures to be D'Antoni's starting center, which should make him much more comfortable than he was last season. Alas, if they had traded him or waived him via the amnesty clause, he might have wound up on a better team.
Pina: Gasol could walk out of this mess a huge winner. All he needs to do is take advantage of the increased touches as Los Angeles' starting center, and Gasol could set himself up for a big payday once his current contract expires next summer. Teams will court him; if those knees hold up, Gasol's game should age like wine.
Soriano: A return to the post and the opportunity to reclaim his role as the Lakers' featured big man. Since winning the 2010 championship the Lakers displaced Pau in favor of featuring Andrew Bynum and Howard. But, with Bynum and now Dwight gone, the pivot is again Gasol's primary residence. I expect him to show this team that he still has plenty to give.


ESPN.com and the TrueHoop Network
Henry Abbott covers the NBA for ESPN.com. Bryan Gutierrez, James Herbert, Michael Pina and Darius Soriano contribute to the TrueHoop Network.
• Follow the NBA on ESPN on Twitter | On Facebook | On Google+