Things move fast these days. July 10 marks the first day NBA free agents can officially sign with teams, and most of the big names are already off the board. Which teams made the best decisions? Our panel weighs in on the top deals, hires and draft selections so far.
1. What has been the best offseason move in the East thus far?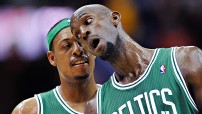 Israel Gutierrez, ESPN.com: The Nets adding Paul Pierce, Kevin Garnett and Jason Terry. No free-agency move in the East will have the type of impact these three will have. Pierce and Garnett have enough left in them to play 25-30 minutes a game, if necessary. And while it slows the Nets down even more in terms of pace, at least it gives them an identity.
J.M. Poulard, Warriors World: Until proven otherwise, the Nets' acquisition of Garnett and Pierce is at the top. The Nets now join the Indiana Pacers and Chicago Bulls as teams with a legitimate shot to dethrone the Miami Heat in the East. Also, the Knicks-Nets rivalry certainly becomes much more interesting.
Jonathan Santiago, Cowbell Kingdom: Nerlens Noel to the 76ers. In the short term, this doesn't add up, as Noel won't be ready until December at the earliest. But in the long term, the Sixers have positioned themselves quite nicely. If the Sixers wind up with a top 5-7 pick in the 2014 draft, they'll probably be assured a franchise prospect to pair with this year's first-round selection.
Tom Sunnergren, Hoop76: The 76ers' trade of Jrue Holiday for Noel and a protected 2014 first-round pick. In one fell swoop, new GM Sam Hinkie transformed a funereally depressing Philadelphia team -- rooted in mediocrity like an old oak tree -- into a young, cheap, talented upstart that's looking at two lottery picks in the most stacked draft class in a decade. Hinkie is an alchemist.
Royce Young, Daily Thunder: Orlando drafting Victor Oladipo. The Magic are retooling and rebuilding their roster, and while drafting Oladipo with the second overall pick isn't going to reshape the landscape of the East this season, it could potentially be a primary step as Orlando digs out of the post-Dwight doldrums.
---
2. What has been the worst offseason move in the East thus far?
Gutierrez: Pick a move by the Bucks. Any move. Losing J.J. Redick or Luc Richard Mbah a Moute for picks. Signing Zaza Pachulia for three years when their frontcourt has young talent. Signing O.J. Mayo for three years, $24 million. Not sure what the Bucks' long-term plan is, but if it's competing for an 8-seed with no real hope for the future, then they've nailed it.
Poulard: The Knicks' acquisition of Andrea Bargnani. The Toronto Raptors were reportedly considering using the amnesty provision on the Italian forward because of his diminishing returns and instead ended up acquiring some picks for him. Some believe Bargnani needed a change of scenery, but in truth he is just not as talented as many believe.
Santiago: Brooklyn's acquisition of Pierce and Garnett. Both 35 or over, Garnett and Pierce are still serviceable players. However, in the twilight of their careers, they've been miscast as go-to guys. A lot of style in the Nets' moves to trade for these future Hall of Famers, but not a lot of substance.
Sunnergren: The Al Jefferson signing. Charlotte overpaid Jefferson so it could ... win 28 games instead of 24? Still miss the playoffs, but dent its odds of landing one of the future stars of the 2014 draft class? Continue its run as the worst team in the history of North American professional sports? Am I getting close?
Young: The Knicks trading for Bargnani. Every day things change, but basically they stay the same. The Knicks acquired Bargnani -- a one-dimensional player who doesn't appear to improve them in any apparent way -- and exchanged future draft picks to do it. It's the kind of move the Knicks have been making the past 15 years.
---
3. What has been the best offseason move in the West thus far?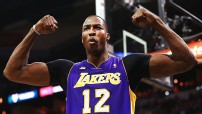 Gutierrez: The Rockets signing Dwight Howard. No other team added a single piece like Howard, who will catapult the Rockets. Houston had found respectability with James Harden. Now they join the elite as long as Harden and Howard vibe well.
Poulard: Howard to the Rockets. Houston became a contender built around a young core. Hence, GM Daryl Morey has designed a team that will compete in the present and the future much like the Thunder. And let's not forget how entertaining all those 3s and dunks will be.
Santiago: New Orleans' acquisition of Jrue Holiday. The Pelicans appeared to be targeting Trey Burke with the No. 6 pick to address their issues at point guard. Burke might turn out to be a solid pro, but because of Noel's fall from grace, they ended up with a 23-year-old point guard fresh off his first All-Star appearance. Strong move.
Sunnergren: The Rockets signing Howard. Sure, there are concerns about Howard -- a few of them valid -- but in adding him, Morey and Co. made the most consequential (and difficult) leap in sports: They became a legitimate contender. Houston won the offseason. More titles could be on the way.
Young: The Warriors signing Andre Iguodala. The darlings of the Western Conference playoffs just added one of the league's premier wing defenders, an excellent transition player and a top-notch teammate, without having to give up anything other than scraps to get him. The popular answer for this question will be Howard, but the Warriors are legit Western contenders now. The Rockets just took another step forward.
---
4. What has been the worst offseason move in the West thus far?
Gutierrez: The Mavericks signing Jose Calderon for four years, $28 million. For starters, he'll be 32 when the season starts. He's joining a backcourt that also has Devin Harris and rookie Shane Larkin at point guard. Calderon is best when he isn't asked to score, and on this team he'll probably be relied upon to score. It's just another offseason of the Mavs making desperate moves when Plan A falls apart.
Poulard: Kevin Martin's four-year, $28 million deal with the Minnesota Timberwolves is a little shaky. It's not that Martin isn't talented enough to warrant the contract, but he has played north of 70 games only four times during his nine-year career. After losing Brandon Roy this past season, perhaps the Timberwolves should have been more cautious in picking another 2-guard.
Santiago: The Nuggets parting ways with George Karl. He had just won Coach of the Year and the Nuggets were missing a key piece (Danilo Gallinari) during the playoffs. Not a fair move to ax the leader of a pretty strong Denver team.
Sunnergren: Dallas signing Calderon. It's not the signing itself -- Calderon is terrific and, in a vacuum, will likely be worth north of $29 million over the next four seasons -- but it's the sort of confusion it belies. The Mavs let a title team disintegrate, swung and missed in their attempts to construct another, and now, rather than recognize their plight and rebuild, they're running in place.
Young: The Nuggets firing Karl. Coaches and contracts present a tricky dynamic, and Brian Shaw finally got a shot, which is great. But the Nuggets canned Karl just weeks after he was named Coach of the Year and guided the organization to one of its best seasons. And Karl's departure may have influenced Iguodala's choice to turn down Denver's offer. Two birds, one bad move.
---
5. What has been the most surprising move of the offseason thus far?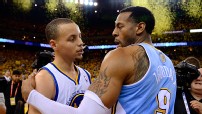 Gutierrez: Iguodala to the Warriors. It's not just a surprise that they added help on the perimeter, where it seems they're in great shape for years to come. It's that they found a way to get in the mix for a big-time free agent at all, by effectively handing expiring salaries and draft picks to the Jazz. Iguodala plugs plenty of holes, including defensive stopper and alternative ball handler to Steph Curry.
Poulard: The Thunder's lack of transactions is as perplexing as it gets. The Spurs, Rockets and Clippers all got better. And yet OKC has not yet made any move to ensure it maintains control of the West if healthy. It's tough to definitively say the Thunder are still the best team in their conference at the moment, and that's shocking.
Santiago: Anthony Bennett going No. 1 overall in the draft. In hindsight, it makes some sense. The Cavs have reached before, selecting Dion Waiters with the No. 4 pick in the 2012 draft. But this move came out of left field, considering some thought Bennett's stock was sliding to as far 10th.
Sunnergren: The Knicks' acquisition of Bargnani. Other than as a stealth entry into the Andrew Wiggins sweepstakes, this move is incomprehensible. Bargnani is awful. Last season, as a center, he shot under 40 percent from the floor, averaged 3.7 rebounds a game, and played aggressively bad defense. And the Knicks traded things to get him. I'm flabbergasted.
Young: Bennett going No. 1 overall. Nothing summarizes the shock of David Stern calling Bennett's name with the first pick better than Bill Simmons' instinctual "Whoa!" That's what that pick was: Whoa.


ESPN.com and the TrueHoop Network
Israel Gutierrez covers the NBA for ESPN.com. J.M. Poulard, Jonathan Santiago, Tom Sunnergren and Royce Young contribute to the TrueHoop Network.
• Follow the NBA on ESPN on Twitter | On Facebook | On Google+