The market is really drying up fast now that Andrew Bynum is headed to Cleveland. Our panel takes aim at the Cavs' new big man and more.
1. Good deal or bad deal: Bynum to Cavs for two years, possible $24M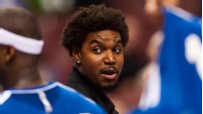 Bo Churney, HawksHoop: Great deal. Only $6 million is guaranteed, there is a team option for the second year, and Bynum is an All-Star-caliber player when healthy. If Bynum's knees don't recover, then Cleveland didn't give up much. If he does recover, then Cleveland could have a frightening young team for years to come.
Dan Feldman, PistonPowered: Good deal for Cleveland. No matter how little desire Bynum showed to rehab for the 76ers, talent trumps all in free agency, and the Cavaliers got a potential superstar for less than Josh Smith money per year and half the commitment. For a rebuilding team like the Cavaliers, this is the time to take chances on players like Bynum, because if he fails, the Cavaliers fall from fringe playoff team to mid-lottery. Who cares about that drop?
Curtis Harris, Hardwood Paroxysm: Good deal, but could have been better. It's good the $24 million total isn't wholly guaranteed and that the Cavaliers hold the team option for 2014-15. However, $6 million is a lot of guaranteed money for someone who hasn't played a lick of basketball in more than a year.
Adam Reisinger, ESPN.com: Good deal, because of Cleveland's minimized risk. If Bynum turns out to be as much of a bust as he was in Philadelphia, then the Cavs owe him just $6 million. Considering the other players around the league who make that, it's worth taking a flier on an All-NBA center. If Bynum actually gets his $24 million, then he'll have played well enough to be worth it.
Ethan Sherwood Strauss, ESPN Insider: Good deal for Cleveland, bad deal for Andrew Bynum. It's a low-risk venture for the Cavs, and it's wholly understandable as to why they did it. For Bynum, shouldn't continued health be his main concern? Given Cleveland's poor track record of keeping guys healthy, it's a dubious choice for him.
---
2. How far do you think Cleveland will get next season?
Churney: They will make the playoffs, but they won't make it past the first round. Could they beat out Washington, Atlanta or Milwaukee for the eighth seed? Sure, but it is still unlikely that a Cleveland team would knock off Miami, Indiana, Chicago, New York or Brooklyn in a seven-game series in order to advance.
Feldman: Lower in the lottery. No more No. 1 picks for the improving Cavaliers, but the playoffs are still a tall order. Kyrie Irving must become a better defender, and Dion Waiters must become more efficient. I'm not sold on Anthony Bennett, and he and Tristan Thompson make an awkward defensive pairing. Bynum is the wild card who could swing the Cavaliers in any direction, but it's more likely he contributes nothing near his Lakers-level production.
Harris: If Bynum and Anderson Varejao can put forward mostly healthy and competent campaigns, I see the Cavaliers making a good run for the lower rung of the East's playoff seeds. That means they'll be first-round fodder, but it'd be nice to show some progress after a couple of abysmal seasons.
Reisinger: It's hard not to see Cleveland as a playoff team in 2013-14, if only by default. There are so many teams in the East that are tanking -- either by choice or by pure lack of talent -- that if most things go right for the Cavs, they should sneak into the bottom of the East playoff picture.
Strauss: I'll go out on a limb and say playoffs, mostly due to Mike Brown's defensive coaching acumen. The Cavs have been such a disaster on that end that it's easy to see how they could improve dramatically just with some basic coaching competence. Kyrie Irving's growth could also go a long way. My fake crystal ball says "Eighth seed, first-round exit against Miami."
---
3. How much do you expect this will affect the Cavs' 2014 bid for LeBron?
A. A lot.
B. A little.
C. Not at all.
Churney: C. Not at all. I think it is still unlikely for LeBron to return to Cleveland in 2014, regardless of how well the Cavs' front office is doing. However, if he does decide to return, it will be because of a Miami failure to three-peat. If Miami wins a third consecutive title, I don't think LeBron will pass up the chance to do what Jordan and Kobe never did: win four consecutive titles.
Feldman: C. Not at all. If LeBron leaves Miami in 2014, history will harshly judge his accomplishments there as a gimmick. What LeBron, Wade and Bosh have done has been real and meaningful, but unless they stay together, too many will believe they gamed the system by teaming up. LeBron, a student of NBA history, should understand that. That's among the reasons I'd be shocked if he leaves the Heat.
Harris: C. Not at all. If the Heat continue as strong perennial contenders, I suspect they'll keep LeBron. Cleveland can continue to make a strong team, but if the Heat win another title or even advance "just" to the Eastern Conference finals, I find it unbelievable that LeBron would bolt. But stranger things have happened.
Reisinger: C. Not at all. LeBron isn't going to make his next decision based on the presence or absence of Andrew Bynum. And from Cleveland's side of things, Bynum's contract is structured in a way that it wouldn't have a large negative impact on its cap space to pursue LeBron.
Strauss: C. Not at all. Why is LeBron supposed to choose Cleveland? To placate an owner who tried to incite a public rage against him? To take less money for worse weather? There's this notion that James might want to atone for the past sin of leaving the way he did, but that notion mostly comes from those who were angry at him for leaving the way he did. Given how well LeBron's life has been since leaving, it's difficult to fathom why Andrew Bynum, of all people, would sway James toward a return.
---
4. Who's the best free agent left on the market?
Churney: Brandon Jennings. With Nikola Pekovic on the verge of re-signing with Minnesota, it's Jennings. Jennings may be more expensive than Jeff Teague, who was statistically better last year, but he definitely has more potential by being a bit younger. His shot selection would give me pause as a GM, but that could simply be cured by Jennings not being a team's No. 1 scoring option.
Feldman: Nikola Pekovic by a mile. He's a bit old (27) for a player entering his fourth season, but 16.3 points on 52 percent shooting and 8.8 rebounds per game are impressive for someone his age. Pekovic, a true center's center, could become an All-Star if his team wins early and puts some shine on his candidacy.
Harris: Nikola Pekovic. The hulking center will be difficult to pry away from Minnesota since he's a restricted free agent, but he has terrific touch on offense. Plus, he's fantastic at gobbling up offensive rebounds. I will fail to mention Pek's mediocre defense for fear he will storm and pillage my humble abode.
Reisinger: Nikola Pekovic, though it seems he's likely to stay in Minnesota. Big men who can put up the kind of numbers he did aren't readily available around the league, and it's surprising that one of the teams that missed out on Howard and Bynum hasn't at least made a run at giving him an offer sheet.
Strauss: Nikola Pekovic. There aren't many good big men on the market in any free-agent class. Pekovic, a restricted free agent, is the rare good, possibly available big. He's not the best defender, but Pek's inexorably bruising style can be a boon to any offense. Teams should make Minnesota match.
---
5. Who's the best under-the-radar free agent left on the market?
Churney: Brandan Wright. He has shot over 60 percent from the floor in his two-year tenure in Dallas and sported per-36 numbers of 16 points and 8 rebounds over that span. He's probably not starter material, but since he can play both power forward and center, he can be extremely valuable as a 20-plus-MPG guy off the bench.
Feldman: Nate Robinson. Someone give this man a job. The ultimate change-of-pace point guard, Robinson is a ball of energy you can unleash when you're down big and need to increase variance. An improved outside shooter, protector of the ball and defender, he's increasingly dependable in other situations too.
Harris: Elton Brand. If he catches on with the right club, Brand could be a relatively huge factor. He's still a good shot-blocker and defender able to give some quality minutes at power forward or center at a low price.
Reisinger: Gary Neal. He doesn't quite fit the 3-and-D mold that's become so popular, since his D is lacking, but he's a career 39.8 percent 3-point shooter who can probably be had for the biannual exception (or even less). His status with the Spurs has gone back and forth this summer, but a contender might want to consider swooping in and grabbing him.
Strauss: Brandan Wright. He was a solid, useful player for Dallas last season. He's too frail to play huge minutes, but the slender "big" man is an efficient scorer with the potential to be a good help defender. You could certainly do worse at this point of the free-agent season.


ESPN.com and the TrueHoop Network
Adam Reisinger and Ethan Sherwood Strauss cover the NBA for ESPN.com. Bo Churney, Dan Feldman and Curtis Harris contribute to the TrueHoop Network.
• Follow the NBA on ESPN on Twitter | On Facebook | On Google+