After 61 games in 11 days in Las Vegas, our panel tries to sort out what we learned.
1. Who was the best rookie at Las Vegas Summer League?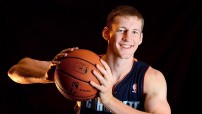 Kevin Arnovitz, ESPN.com: A tough call between C.J. McCollum and Cody Zeller. McCollum shot at a 36.6 percent clip but achieved his primary goals here -- quality decision-making as a point guard and as a creator on the wing. But Zeller, whose selection by Charlotte was greeted by groans at the Bobcats' official fan draft party, looked like a competent NBA power forward, a big body who can shoot a little, has a nice touch around the basket and has an intuitive understanding of where to be on the basketball court. Advantage: Zeller.
Danny Chau, Hardwood Paroxysm: Zeller. There will still be questions about Zeller's strength and finishing ability in the regular season, but his understanding of offense is already advanced. His perimeter jump shot was hidden in Indiana's offense, but it looked very good all week long. There wasn't a rookie at summer league more consistently impressive.
Amin Elhassan, ESPN Insider: Zeller. He showed great comfort shooting the ball from the perimeter and more than held his own on the glass. It's only summer league, but the Bobcats had to have been pleased with what they saw.
D.J. Foster, ClipperBlog: Zeller. There were more aesthetically pleasing rookies in Las Vegas (McCollum, Dennis Schroeder, Gal Mekel), but no rookie was more consistent and few showed as much improvement as Zeller. We knew Zeller could run the floor and use his athleticism around the rim, but the big man's ability to step out and knock down jumpers opened some eyes.
Danny Nowell, Portland Roundball Society: Zeller. He may still struggle in the ways his detractors have been predicting -- summer league does not, after all, settle the question of whether NBA speed and athleticism will best him -- but for one week in Vegas, Zeller looked like the prospect many predicted a year ago.
---
2. Who was the most disappointing rookie at Las Vegas Summer League?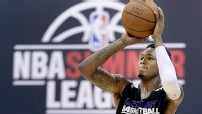 Arnovitz: A tough call for this reason: Otto Porter's more structured game doesn't conform to the improvisational nature of summer league ball, and his performance confirmed that. Ben McLemore recorded a few stink bombs, but wasn't as hellacious as his overall stats suggest. Shabazz Muhammad would certainly qualify if there were any real expectations that he could be a future star. If forced to choose, edge: McLemore.
Chau: McLemore. He had two offensive explosions, but that isn't enough to mask the 33.3 percent he shot from the field and 19.4 percent he shot from 3. He also went the entire 150 minutes of his summer league with a 0-to-18 assist-to-turnover ratio. Sounds like the opposite of what a Sacramento Kings player needs to be doing.
Elhassan: McLemore. I wasn't as discouraged by the number of shots he took so much as the type of shots he took, ones that fall out of his current toolbox of shots, particularly when he didn't shoot well on the ones that do fall in his toolbox.
Foster: There sure were a lot of candidates, huh? Porter couldn't do anything off the dribble and Muhammad was practically invisible, but I expected more from McLemore in this setting. The up-and-down scoring performances don't bother me, but the 18 turnovers and zero assists in five games are at least a little worrisome.
Nowell: Muhammad. McLemore was inconsistent but with a few brilliant flashes, while Porter's struggles might be excused under the idea that he's just not a summer league type of player. Muhammad, on the other hand, is a strong score-first wing -- precisely the type who can show off in Vegas -- and failed to produce at a high level.
---
3. Who was the best veteran at Las Vegas Summer League?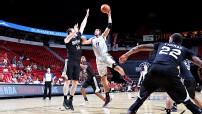 Arnovitz: Jonas Valanciunas. Maybe it's the extra bulk he's amassed in recent months, but the Raptors' second-year big man was downright predatory down low. If he can bring that intensity to opening night this fall, Eastern Conference centers will be none too pleased to see a matchup with the Raps on the schedule.
Chau: Valanciunas, for many reasons. But with summer league ending, this seems like a good space to list some non-rookies who also played very well in the past week: John Henson, Jeffery Taylor, Austin Rivers and Marquis Teague. There won't be any sophomore slumping this season -- I hope.
Elhassan: Valanciunas was head and shoulders above the competition, but I want to extend credit to Kent Bazemore, who unveiled improved handles and a better-looking perimeter shot, allowing him to revert to the point forward role he played at Old Dominion.
Foster: Henson. The facets of the game Henson excelled at felt very transferable to the next level. Henson was far and away the best rebounder at summer league, and his shot-blocking and shot-altering skills were unmatched as well. Henson's defensive contributions give him the slight nod over Valanciunas, but you can't go wrong either way.
Nowell: Valanciunas. The rightful MVP looked a head taller and a step faster than his competition all week. The second-year big was the focus of games even when he wasn't scoring, commanding deceptive double-teams and finding open teammates in between putback poster dunks.
---
4. Who was the most disappointing veteran at Las Vegas Summer League?
Arnovitz: Memphis' Tony Wroten arrived in Las Vegas with the assignment of running a team and creating smarter opportunities for himself. Although there were occasional glimpses of improvement, the final sum was woefully unimpressive. The shooting numbers were atrocious (25.4 percent from the field), he wasn't much better from the line and his turnovers exceeded his assist total.
Chau: Josh Selby was the most exciting show in Las Vegas last year, averaging more than 24 points on 55.7 percent from the field, 64.3 percent from the 3-point line and 88.9 percent from the foul line. In the five games he played this summer league, he averaged two points. That's it. There is nothing more disappointing than Selby's fall from summer's grace.
Elhassan: Dion Waiters looked like he wasn't taking the summer league experience very seriously. Instead of using this as an opportunity to grow his game, Waiters played lackadaisically and managed to shoot abysmal field goal, 3-point and free throw percentages.
Foster: Wroten. The little kids at halftime shot the ball better. Wroten finished summer league shooting 25.3 percent from the field and 16.7 percent from behind the arc, and averaged more turnovers than assists. It's hard to imagine he could play much worse.
Nowell: Bismack Biyombo. Lots of veterans are disappointing by virtue of being veterans at summer league, but Biyombo was unable to leverage his experience or strength relative to younger players to stand out in any meaningful way. Third-year 7-footers should look simply too good for summer league talent, but Biyombo blended right in.
---
5. What's the biggest takeaway from Las Vegas Summer League?
Arnovitz: Widely thought of as one of the weaker drafts in recent years, the class of 2013 lived up to its billing. Las Vegas Summer League usually has at least one superstar whose early games generate buzz like big opening night premieres. Through a combination of less-than-stratospheric talent, injuries and bad luck, this year's event didn't produce fireworks.
Chau: The tournament was an interesting wrinkle for summer league, but it creates an unbearable lull in the early-tournament stages. But if there is a saving grace, it's the championship round. The final game had incredible fan turnout, and the competitiveness was ratcheted up several levels. I suppose when you're forced to stay in Vegas for an extra night, you might as well make the most of it.
Elhassan: The new tournament format inadvertently brought with it one of the scourges of the regular season: tanking. Instead of incentivizing teams to play their best players and try to win every game, many teams opted to bow out as early as possible by sitting their guys once the playoffs started. Eleven days in Vegas isn't the right carrot to keep teams playing honest.
Foster: It helps to be low-maintenance. The players who really stood out usually required the least. Point guards who could shake their man in isolation looked great, but guys who required good off-the-ball screens or heady skip passes to the corner for opportunities often went hungry. Las Vegas isn't for everyone.
Nowell: This draft is more or less what we thought. The five lottery picks who played in Vegas each had some successes, and Zeller was very good, but the marquee names did not truly stand out. There were some gems from later in the round who showed promise -- like Vegas darling Dennis Schroeder -- but for the most part, summer league confirmed the conventional wisdom.


ESPN.com and the TrueHoop Network
Kevin Arnovitz covers the NBA for ESPN.com. Amin Elhassan writes for ESPN Insider. Danny Chau, D.J. Foster and Danny Nowell contribute to the TrueHoop Network.
• Follow the NBA on ESPN on Twitter | On Facebook | On Google+