Can any team topple the Miami Heat and snap their three-year reign atop the East? Tom Haberstroh ranked each team in the conference. Now our team looks at where the Eastern Conference stands heading into next season.
1. Which team in the East will make the biggest jump in 2013-14?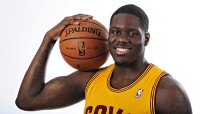 Dan Feldman, PistonPowered: Washington Wizards. The Wizards don't need to get dramatically better to make the East's biggest jump. They just need to stay healthy. Despite its 29-53 record last year, Washington would have made the playoffs if John Wall, Nene and Bradley Beal had even average injury luck. With Wall: 24-25. With Wall and Nene: 22-19. With Wall, Nene and Beal: 15-7. That's a playoff team lurking.
Israel Gutierrez, ESPN.com: Cleveland Cavaliers, by a smidge over the Wizards. Both Washington and Cleveland have rosters that appear prepared to take any of the seemingly wide-open final three playoff positions in the East. What gives Cleveland the edge is Mike Brown's ability to coach defense. It'll put less pressure on players like Anthony Bennett, Dion Waiters and Andrew Bynum (if he sees the floor) to produce immediately.
Brian Robb, Celtics Hub: Cavaliers. They aren't assured of a playoff spot, but the additions of Jarrett Jack, Bynum, Bennett & Co. make it clear they will be far better than the 24-win team we saw last season. Health and Kyrie Irving's continued development will determine just how sizable the improvement will be.
Jeremy Schmidt, Bucksketball: Wizards. The Wizards seem the safest bet to make a double-digit improvement in wins. They closed last season strong, added a well-regarded/ready-to-play-now draft pick in Otto Porter and should get a full season from a Wall with something to prove. Eclipsing .500 in a still-weak East doesn't seem unreasonable.
Tom Sunnergren, Hoop76: Cavaliers. There's a lot to like here. Irving, at 21, seems poised to make The Leap. Bennett, Waiters and Tristan Thompson make for a young, dynamic and diversely skilled supporting cast. Anderson Varejao, last I heard, is alive and well. And Bynum, at $6 million guaranteed, is a riskless play with gargantuan -- like, 7 feet, 285 pounds -- upside. This is a volatile arrangement, sure, but it's one that, at worst, figures to finish slightly better than 24-58.
---
2. Which team will take the biggest fall in the East in 2013-14?
Feldman: Boston Celtics. The Celtics weren't particularly good last season, but the strong wills of Kevin Garnett and Paul Pierce and a little coaxing from Doc Rivers pushed them to a winning record. With its two most impactful players from a season ago now in Brooklyn, Rivers in Los Angeles, Rajon Rondo not yet healthy and Brad Stevens learning on the job, Boston is bound to tumble.
Gutierrez: Celtics. The actual fall in the standings won't feel as significant as the fall from contention. No matter where the Celtics finished in the standings, as long as Rivers, Garnett and Pierce were anchoring, that team could make a deep playoff run. Now, they might still be a playoff team. But most agree they'd be better off losing lots of games. That's quite a fall.
Robb: Philadelphia 76ers. There wasn't much to be excited about last season anyway in Philly, but the dealing of Jrue Holiday for an injured lottery pick (Nerlens Noel) signals a planned nosedive in the standings is on the docket. A lack of notable free-agent additions makes that goal almost guaranteed to become a reality.
Schmidt: Celtics, by design. Images say so much more than words, so while the Celtics will never admit to tanking, we'll see the sad-faced news conferences and lopsided scoreboards and know the real truth. Bad on purpose -- thanks, NBA!
Sunnergren: New York Knicks. A fact that will surely befuddle future historians is that in 2013, the dawn of the age of analytics, a team that thought itself a contender traded for a frontcourt player who couldn't defend, shot 39.9 percent from the floor, and finished dead last among centers in rebounding rate, then proceeded to give him minutes. "Andrea Bargnani," a young student will say with a laugh, shaking his head, before blinking and shutting his history book.
---
3. Which team are you most excited to watch in the East in 2013-14?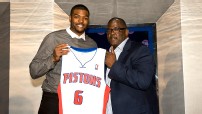 Feldman: Detroit Pistons. I might be a bit biased, but as the league has gone small, I've been waiting for more teams to counter with big lineups. Josh Smith, Greg Monroe and Andre Drummond might get in the way of each other, or they might redefine how to worship small ball. New coach Maurice Cheeks has been given an opportunity to look like a genius, though he'll certainly have to earn the label -- because the potential pitfalls are just as great, if not greater.
Gutierrez: Wizards. It's a tough call, but I'm always looking for new and exciting. And with Wall coming into the season healthy, Beal, Porter and a quality frontcourt, the Wizards should be fun. And they might win. Also receiving votes: the Pistons' frontcourt. The Nets' chemistry experiment. And, of course, Derrick Rose's team, starring Derrick Rose.
Robb: Chicago Bulls. With Rose back in the fold, it's safe to put Chicago back among the East's elite. Rose's return also will put less of an offensive onus on supporting pieces like Joakim Noah and Jimmy Butler, which should again turn the Bulls into an enjoyable team to watch on both ends of the floor.
Schmidt: After two weeks, the Nets might play as boring and as defensive a brand of basketball as any team in the league. But before they alienate the nation, watching Pierce, KG and Andrei Kirilenko mesh with each other and Deron Williams will be must-see TV.
Sunnergren: Miami Heat. This might be it. Last call. Our final chance to ogle at the curiosity turned villain turned juggernaut -- a group that flat-out dominated our collective hoops consciousness like few before it -- before money and ambition scatter LeBron, Chris Bosh and Dwyane Wade. If this is the end of the dynasty, if we can call it that, I'm eager to see how it ends.
---
4. Which team is the biggest wild card in the East in 2013-14?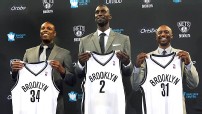 Feldman: Cavaliers. With a healthy Bynum, they're headed to the playoffs. Without a healthy Bynum, they're probably back in the lottery -- but they have enough intriguing young players, and the middle of the East is diluted enough, that they could sneak into the No. 7 or No. 8 seed anyway. The question asks for a team, so I'll say Cleveland, but the real answer is more specific: it's Bynum.
Gutierrez: Indiana Pacers. It's odd to call a team one win away from the NBA Finals a wild card, but they might end up being the East's best regular-season team. They've improved their primary weak spot, the bench, by adding Chris Copeland and C.J. Watson, and by getting Danny Granger back. If they win 60-plus games, the East is up for grabs. That's pretty wild.
Robb: Nets. Arguably the deepest roster in the East from top to bottom. Questions remain about just how well this group will mesh under Jason Kidd, but with a defensive anchor now in place, combined with All-Star-level talent in supporting roles, the Nets might end up having the best shot to knock off the Heat.
Schmidt: Cavs. Relying on a number of players who have had issues with injuries generally trends more toward a bust scenario than a boom scenario, but there's a chance the Cavs could be as good as the fifth-best team in the East.
Sunnergren: Nets. Brooklyn is an old, slow, fascinating, boring, star-studded bunch that probably still needs a superstar -- a weird admixture of experience (the average age of its starting five is almost 32) and inexperience (a team that's never played together, playing for a coach who's never coached before) that could succeed wildly and immediately or buckle like a 37-year-old pair of knees that have played 1,454 NBA games. Your guess is as good as mine.
---
5. Which team is the favorite to win the East in 2013-14?
Feldman: Heat. Miami is getting older (the oldest team, weighted by minutes, in the playoffs last season), and the number of reasonable challengers is growing (Pacers, Bulls, Nets). Advancing deep into the playoffs year after year takes a mental and physical toll, and no team since the Celtics from 1984-87 has won four straight conference titles. I'd take the field over the Heat, but they're the favorites yet again.
Gutierrez: Heat. Boring, I know. But there's no reason to take the title away from the team that's come out of the East three straight seasons. If Greg Oden jumps aboard and can actually contribute, this might be a runaway. But even if he doesn't, a healthy Heat team is going to be the favorite. It's still their time.
Robb: Heat. It won't get any easier for James & Co. in a reloaded Eastern Conference. While Miami's supporting pieces continue to inch past their prime, the most important piece of all remains at the top of his game. Until that changes, the Heat will remain as the favorites.
Schmidt: Heat. Another season of wear and tear on Wade, another year on Ray Allen's knees and a semi-new cast of role players might give prognosticators pause, but a two-time defending champion built around James is still a safe bet.
Sunnergren: Heat. Rose and the Bulls should be improved, and if the Paul George apotheosis continues (and Roy Hibbert puts it all together for a full season) the Pacers will be right there too. "Right there" in this case being a distant second to the Heat.


ESPN.com and the TrueHoop Network
Israel Gutierrez covers the NBA for ESPN.com. Dan Feldman, Brian Robb, Jeremy Schmidt and Tom Sunnergren are part of the TrueHoop Network.
• Follow the NBA on ESPN on Twitter | On Facebook | On Google+