Summer league is over, which means there's nothing but the regular season ahead for the 2013 draft class. Which one walks into the season as the rookie of the year favorite? We tackle that and more.
1. Who's the favorite to win rookie of the year?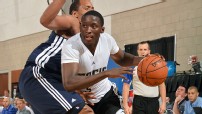 Kevin Arnovitz, ESPN.com: Trey Burke. When in doubt -- and there's a ton of doubt with this rookie class -- go with the point guard slotted to play at least 2,500 minutes on a team that will need a lot of offensive help. In that spirit, Victor Oladipo might not start for Orlando, at least not initially, but his game translates nicely to the next level, and it's not difficult to envision him thriving.
Jeremy Gordon, Brooklyn's Finest: Trey Burke. It's a trendy pick informed by Vegas odds, but you're looking for someone who's going to be given a lot of minutes as an unquestioned starter at a position that will hand him the rock -- eight of the past 10 rookies of the year have been ball-dominant types -- and Burke has been given the green light as Utah's new point guard.
Brett Koremenos, HoopSpeak: Oladipo. Rookie of the year voting is still based mostly off per-game numbers, and Oladipo should earn plenty of minutes for a rebuilding -- but ascending -- Orlando Magic team. Not only will Oladipo be asked to shoulder some of the scoring load, he'll often have to act as a defensive stopper on the wing and possibly even as a lead ball handler.
James Herbert, Hardwood Paroxysm: Oladipo. He's the only rookie who might make an impact on both ends immediately. He had a lot of turnovers and shot a low percentage during his summer league point guard experiment, but those reps will help. Already a defensive stud, Oladipo can stuff stat sheets with 3s and transition opportunities while further developing his pick-and-roll game.
Jack Winter, Warriors World: Oladipo. Full-time point guard or not, his defensive intensity, flair in transition and infectious disposition combine to make Oladipo's immediate impact the best of this class. The Magic will struggle regardless and his numbers could underwhelm, but no rookie's overall influence -- on the court and off -- will be greater.
---
2. Who's the top dark-horse candidate to win rookie of the year?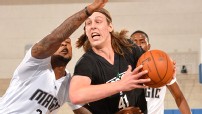 Arnovitz: Kelly Olynyk. Virtually everyone in this class is a dark horse, but like Burke in Utah, Olynyk landed on a roster with great need at his position. He's a strong, heady big man with superb court awareness and a skill set Brad Stevens can maximize. Rookie honors tend to go to raw scorers, but Olynyk might do enough with his ample playing time to break out of the pack.
Gordon: Anthony Bennett. He's obviously got first overall pick talent, but because of Cleveland's loaded frontcourt, it isn't entirely clear how he'll slot in. Still, that same uncertainty means he could easily move into the starting lineup and justify his selection.
Herbert: Cody Zeller. At summer league, he showed that his quickness, athleticism and ability to score should translate just fine from college. Even with the addition of Al Jefferson, the Bobcats' dearth of scoring options leaves room for Zeller to put up some numbers.
Koremenos: Michael Carter-Williams. Whether he's ready for it or not, Carter-Williams will be asked to be one of the primary contributors to an NBA team. Although his efficiency may suffer, Carter-Williams has a chance to rack up points and assists in bulk if he has what it takes to hang at this level.
Winter: Reggie Bullock. The prototype "3-and-D" prospect so en vogue in today's NBA, the biggest thing holding Bullock back this season might be a lack of playing time. Should he get a legitimate opportunity to play extended minutes, though, look out; no rookie is as ready-made to contribute for a contender as the versatile, sweet-shooting Bullock.
---
3. Which rookie will have the hardest time living up to expectations?
Arnovitz: Bennett. He's certainly capable, but the "No. 1 overall" tag can hang heavy around the neck of a rookie, especially one coming back from an injury. The good news for Bennett is that, unlike most top picks, he arrives into a situation where he has plenty of help. That means his numbers won't tell the whole story, even if they look shabby next to those of other lottery rookies.
Gordon: Poor, poor Nerlens Noel, downgraded from franchise savior to Brow partner to risk-reward question mark with the expectations of a mortgaged future on his back. Jrue Holiday continuing his ascent up league ranks seems more of a sure bet than Noel making an immediate impact with the Sixers, which means the local catcalling should come swiftly should he struggle out the gate.
Herbert: Bennett. Every top pick has the pressure to perform right away, but Bennett almost certainly will start his career as a backup. With the Cavaliers' assortment of scoring options, it'll be tricky for him to provide the production expected from a No. 1 overall pick.
Koremenos: Burke. The Jazz selected Burke as their point guard of the future, but his performance at Orlando Summer League left a lot to be desired, as he struggled to both score and facilitate. If Burke doesn't make big strides between now and the fall, things could get ugly in Utah.
Winter: Bennett. The Cavaliers suddenly boast a frontcourt rife with established impact players, and Bennett could struggle to crack the rotation. Combined with outsized expectations gleaned from his draft position and lingering injury and conditioning concerns, Bennett's rookie campaign -- fair or not -- might seem disappointing a few months from now.
---
4. Which rookie are you most excited to see play?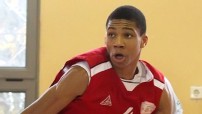 Arnovitz: Bennett. It's always fun to watch a big guy with power, speed, handle and scoring instincts figure out how to deploy those skills at the highest level. Once he trims down and gets healthy, Bennett is going to be a blast to watch, especially with defenses focusing their attention on Kyrie Irving.
Gordon: Noel. From the question of whether he's healthy enough to whether he'll keep that singular haircut, his NBA potential is as variable as any highly hyped pick in recent years. And what's more fun than a player who could vacillate between generational talent and miserable bust?
Herbert: Giannis Antetokounmpo. He's an 18 year-old, long-armed Greek mystery. We've seen the YouTube highlights by now, but we haven't the foggiest idea what he'll look like against NBA competition. It'll be fun to find out.
Koremenos: Antetokounmpo. A virtual unknown before the draft, the young Greek forward added to the level of intrigue by skipping Las Vegas Summer League to play in the U-20 FIBA European Championship. What little we do know about Antetokounmpo is that he's tall, long, athletic, skilled and 18 years old. If he comes to Milwaukee this season, I'll be very interested to see what he can do.
Winter: Dennis Schroeder. No player intrigued more at Las Vegas Summer League than Schroeder, Atlanta's cat-quick point guard with passing instincts that belie his years. His performance there alone means a highly anticipated rookie season, and pitting his development against the contentious nature of Jeff Teague's free agency makes for a situation well worth watching.
---
5. Which rookie will be the best player five years from now?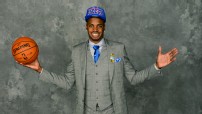 Arnovitz: A toss-up between Bennett and, crazy as it sounds at the moment, Noel. There' a very good chance no player drafted in 2013 will distinguish himself as an offensive genius. But Noel projects to be a monster defensively, the kind of mobile, athletic rim protector around whom a team can build an elite defense. Is there anyone in this draft class who can anchor a top-five offense?
Gordon: Ben McLemore. With his skill set and draft spot he seems poised for a vindictive career, but it's hard to say with Sacramento. Even the first season might not mean much. Didn't we all think Tyreke Evans was destined for years of dominance after his rookie of the year campaign?
Herbert: Noel. His draft-night slide to No. 6 still boggles the mind. Noel needs time to grow into his body and develop his offensive game, but he has the potential to be a game-changing, Joakim Noah-esque defensive presence.
Koremenos: Oladipo. Alex Len and Noel are two other young players in the running for this honor, but the Orlando rookie has the athleticism, work ethic and skill set to be one of the top players in not only his class but the entire league a half-decade from now.
Winter: Noel. The concerns are legitimate: He's injured, needs to gain weight and lacks anything close to a developed offensive repertoire. But Noel's all-encompassing potential on defense remains otherworldly, and it's easy to imagine him becoming a space-creating pick-and-roll partner à la Tyson Chandler. In a class so devoid of a surefire star, he's still the safest bet to become one.


ESPN.com and the TrueHoop Network
Kevin Arnovitz covers the NBA for ESPN.com. Jeremy Gordon, James Herbert, Brett Koremenos and Jack Winter are part of the TrueHoop Network.
• Follow the NBA on ESPN on Twitter | On Facebook | On Google+