Will one of this summer's moves win the Western Conference? Chad Ford handed out grades to all 15 teams. Now our panel weighs in on the good, bad and surprising of a busy summer out West.
1. What was the best move in the West this offseason?
J.A. Adande, ESPN.com: The Golden State Warriors acquiring Andre Iguodala. The Warriors are the only one of the West's top six teams from last season that added a player with an All-Star appearance. More importantly, the only Western Conference team to win games against the Spurs in the 2013 playoffs added a defender they can throw at the player who hurt them the most (Tony Parker averaged 28.3 points and 8.6 assists in the first three Spurs victories).
D.J. Foster, ClipperBlog: Doc Rivers to the Clippers. Popular belief was that the Clippers would find a way to screw things up this offseason and alienate Chris Paul, and depending on who you believe, they almost did. Ultimately, being proactive and trading for Rivers locked up one of the greatest point guards to ever play the game. No team can beat that.
Andrew Lynch, Hardwood Paroxysm: There's no guarantee Dwight Howard to the Rockets will work, but even a 60 percent chance of Dwight returning to something near his 2009-10 form -- combined with a 20 percent chance of 2012-13 Dwight returning and a 20 percent chance of a meltdown -- offers the best potential return of any move: a chance at a championship.
Andrew McNeill, 48 Minutes of Hell: Houston getting Howard. If Howard is healthy and motivated, the Rockets possess one of the strongest cores in the entire league. Howard has the good fortune of playing with a player in James Harden who can shoulder the responsibility of leading the team without being overbearing. Houston will be a force in the West.
Darius Soriano, Forum Blue and Gold: No team made a better swap than the Clippers replacing Vinny Del Negro with Rivers. Rivers brings an organized defense and championship pedigree to a team desperately needing both in order to take the next step from fringe contender to elite.
---
2. What was the worst move in the West this offseason?
Adande: Oklahoma City Thunder losing Kevin Martin in a sign-and-trade. Had the Thunder retained Martin, then Russell Westbrook's rehab might have been enough to qualify as a successful offseason. Instead, OKC lost ground. The terrible part is Martin's departure leaves the Thunder with 71 career NBA points (all from Jeremy Lamb) to show from last season's Harden trade.
Foster: The whole offseason in Dallas. I get the sentimental reasons for not wanting to trade Dirk Nowitzki and start a rebuild. I do. But did the Mavericks really have to put their future in jeopardy by investing $46 million over the next three years in a Jose Calderon-Monta Ellis backcourt that can't defend and won't help them contend? What's the plan here?
Lynch: Denver's front-office overhaul, and the subsequent turmoil. Trading Iguodala made sense if he wanted out, but acquiring Randy Foye in return leaves a lot to be desired. The combination of Timofey Mozgov and J.J. Hickson is a nice, baffling bow on the whole package. At least they have Nate Robinson, I suppose.
McNeill: New Orleans signing Tyreke Evans. It's hard to judge Evans because of the mess he dealt with in Sacramento, but I'm not convinced he's worth the money the Pelicans threw at him. I also have little idea how he'll fit with Eric Gordon and Jrue Holiday.
Soriano: I seriously question Ellis' fit in Dallas. In an ideal world he'd work as an off-the-ball slasher and shooter while Calderon and Dirk operate in the pick-and-roll. But I fear he will too often hijack possessions and shoot too many off-the-dribble 3-pointers to really mesh with his high-efficiency cohorts.
---
3. What was the most surprising move in the West this offseason?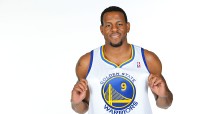 Adande: The Spurs re-signing Manu Ginobili. After the way he faltered at the end of the NBA Finals, when he had 12 turnovers and eight field goals in the final two games, he looked ready to head back to the hacienda in Argentina. Apparently the Spurs' loyalty to their mainstay trio really runs that deep. I just don't see how things would get better if they make it back to the Finals.
Foster: Denver's nosedive. Losing your general manager to another team is one thing, but following that up by firing the reigning NBA Coach of the Year and then letting your best player go to a conference rival? I'm not sure that I've ever witnessed a more destructive offseason. And no, Hickson should not be used as a flotation device.
Lynch: The Pelicans' addition of Tyreke Evans after nabbing Jrue Holiday was a pas de deux of surprise. It was shocking enough when New Orleans parlayed its sixth overall pick into Holiday. Bringing Evans and his $11 million salary on board, when his role is still undefined, doubled down on the confusion.
McNeill: Iguodala to the Warriors. The Warriors were one of the most fun teams to watch on a nightly basis in 2012-13 and throwing Iggy into that mix creates the type of I-have-no-idea-what-I'm-going-to-see-tonight feeling that practically forces you to tune in. Iguodala also gives the Warriors a plus defender come playoff time.
Soriano: The Warriors' shedding of salary in order to acquire Iguodala was a shocker. The Dubs entered free agency with little financial flexibility, but they turned two high-priced end-of-the-bench players into enough cap space to sign the best small forward on the market.
---
4. What was the biggest steal in the West this offseason?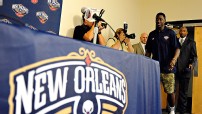 Adande: The Warriors sending Richard Jefferson, Andris Biedrins and Brandon Rush to the Utah Jazz for ... salary-cap space. Normally I don't cheer salary dumps (can we really say the Atlanta Hawks are a better team a year after trading Joe Johnson to the Brooklyn Nets?), but the Warriors sending away three guys who played a total of 56 minutes in the playoffs put them in position to acquire Iguodala (see answer No. 1).
Foster: The Suns swiping Eric Bledsoe for Jared Dudley. Even if Bledsoe's development somehow stagnated completely, he's still a more valuable asset to the rebuilding Suns than Dudley was. The Suns risked very little for a player who could be an absolute star and one of the best defensive forces in basketball. Not a bad start for the new regime.
Lynch: Trey Burke to the Jazz for the 14th and 21st picks. The deal works for both Utah and Minnesota, but it's a veritable larceny for Utah. Burke stands to be in the rookie of the year discussion, and he's the type of dynamic point guard that the Jazz have sorely missed since the departure of Deron Williams.
McNeill: Kevin Martin to the Timberwolves. The Thunder let the major piece in the Harden trade sign with Minnesota and didn't get much in return. The Wolves gets a veteran shooting guard that (if healthy) can fit in nicely with a young team that (if healthy) should be a playoff contender.
Soriano: The Pelicans' trade to acquire Holiday by sending out the draft rights to Nerlens Noel. The Kentucky big man is very talented and has tremendous upside, but he's also coming off a serious knee injury and hasn't played a single NBA minute yet. The Pelicans were able to turn that into an All-Star point guard.
---
5. Who's the most intriguing new addition on a West team?
Adande: Rivers as coach of the Clippers. This is the first time he's taken over a team with high expectations. When he got to Boston, the Celtics were coming off a 36-46 record. The roster for Doc's first team in Orlando was so pedestrian that a .500 record was enough to make him the NBA Coach of the Year. But the best regular season in Clippers history wasn't enough for Del Negro to keep his job. That's a high bar for Rivers to clear.
Foster: Iguodala to the Warriors. He has always been an underrated distributor, so what will Iguodala look like utilizing two deadly offensive weapons in Stephen Curry and Klay Thompson? Iguodala has never had the chance to supplement a star scorer since he's been in his prime, and now he'll get the chance.
Lynch: Mike Miller to the Grizzlies might be a case of too little, too late, but I can't wait to see Memphis with a player who can stretch the floor and play workable defense. If Miller's healthy and able to shoot, he adds another facet to a Grizzlies team that needs help in the top-heavy West.
McNeill: Jared Dudley to the Clippers. Dudley's the type of player who plays better on winning teams, though unlike similar players it's not because of a lack of effort. He's simply the type of player whose talents complement players around him. His size and 3-point shooting should find a nice home in Chris Paul's offense.
Soriano: I'll be watching Howard's play in Houston very closely. Dwight heads into a situation with ball-dominant guards in an offensive system very similar to the one he seemed to dislike so much in Los Angeles. What adjustments he and the Rockets make to meet in the middle should be a major story all season.


ESPN.com and the TrueHoop Network
J.A. Adande covers the NBA for ESPN.com. D.J. Foster, Andrew Lynch, Andrew McNeill and Darius Soriano contribute to the TrueHoop Network.
• Follow the NBA on ESPN on Twitter | On Facebook | On Google+