With the Cavs hosting the Heat tonight (ESPN, 7:30 p.m. ET), the focus will be on LeBron James, who will likely become a free agent this summer. Will the reigning MVP stay in Miami? Could he return to Cleveland? What about the Lakers? Our panel weighs the odds.
1. Odds that LeBron stays with the Heat for the 2014-15 season?
Kevin Arnovitz, ESPN.com: 75 percent. Let's leave a customary 15 percent for "This is the NBA and we've seen crazy stuff happen." The 10 percent balance accounts for the possibility of wanderlust on LeBron's part. But he looks inordinately comfortable in Miami. All signs -- from the relative tranquility there, his personal maturation as a superstar and a strong relationship with Erik Spoelstra -- point to LeBron nesting in South Florida for a good while longer.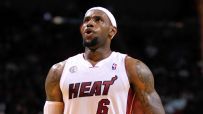 James Herbert, Hardwood Paroxysm: 85 percent. While I'd like to avoid pretending to know what's going on in James' head, I'd guess that he feels a sense of loyalty to Pat Riley and the Heat organization. I'd think he wants to make Miami into a dynasty. That said, I never believed he'd leave Cleveland.
John Krolik, Cavs: The Blog: A strong 80 percent. The Heat have given LeBron everything he could want, none of his other potential suitors are looking as though they have much to offer, and I doubt LeBron really wants to spend his prime with three different teams. It would take a major postseason disappointment to get him to leave.
Ethan Sherwood Strauss, TrueHoop: 90 percent. That might be selling LeBron's Miami chances short. I'm just allowing for the chance this Heat season ends poorly and some team swings a trade that makes a LeBron signing possible. Right now, the two supposed top LeBron destinations are off limits. The Lakers spent so much of their money on Kobe, and the Cavs are a mess. Also, people tend to forget that Dan Gilbert once tried to incite a public rage against the megastar he seeks to sign.
Michael Wallace, Heat Index: 85 percent. As long as LeBron believes the Heat are in position to compete for championships, he'll be staying in Miami. He's given absolutely no indication he's unhappy with his team, his adopted hometown or his chances to dominate the league from his perch in South Beach for years to come.
---
2. Odds that the SuperFriends stay together in Miami for 2014-15?
Arnovitz: 60 percent. Dwyane Wade turns 32 in January, but despite his senior status, it's still likely the Heat will be turning cartwheels to re-sign him. That leaves Chris Bosh. Know what? He's an elite power forward who can shoot and defend -- good luck finding an upgrade. The supporting cast will need to get younger, but the Heat are getting pretty good at that task.
Herbert: 70 percent. Wade has a chance to spend his entire career in a Heat uniform and Bosh can't be sick of chasing championships. These three have chemistry on the court and like each other off it. There's no guarantee they'd find something similar elsewhere.
Krolik: 70 percent. Bosh would be the most likely candidate to leave if the playoffs don't go the Heat's way. I don't see it, though -- Bosh's versatility is so important for the Heat on both ends, and he's playing out of his mind this season. Wade seems to want to spend his entire career with the Heat, and it's questionable another team would roll the dice on his knees holding up, so I would be very surprised if he left.
Strauss: 67 percent. I believe they'll remain intact. Presently, Bosh seems like the most likely player to bail on the operation. He could command a max salary elsewhere and might be receiving more mockery than credit in his current role. The Miami experiment worked wonderfully for LeBron, but Bosh has missed out on the plaudits that usually come with being a champion.
Wallace: 75 percent. I've always felt LeBron and Wade are staying. Bosh is the wild card. He has sacrificed the most with his game and could be the one most tempted to look for a more featured role. But there's also comfort that comes with being a max-salary player who's only asked to be a third option.
---
3. Odds that LeBron goes to the Lakers for 2014-15?
Arnovitz: 5 percent. James isn't going to be the small-font opening act in the Kobe Bryant Farewell Tour. If he has a yen to play in Los Angeles, he can wait another three years when the Lakers will be casting for another face of the franchise.
Herbert: 5 percent. Sure, it'd be a different kind of challenge to play under the bright lights in Los Angeles and coexist with Kobe Bryant. It's just hard to imagine James sacrificing a chance at a title and abandoning what he and the Heat have built from scratch at 29 years old.
Krolik: 5 percent. Even if LeBron going to Kobe's city/franchise and dealing with all the potential on- and off-court chemistry issues wouldn't be a deal-breaker, which it probably would be, Kobe's new contract ensures that LeBron's supporting cast in Los Angeles would be worse than the one he currently has in Miami. I see no upside for LeBron going to L.A.
Strauss: 2 percent. I don't see it, but perhaps LeBron's so intent on Los Angeles that it happens somehow. I can't even conceive of how or why he'd pull this off, but I'm wary of betting against warm weather.
Wallace: 2 percent. One percent because you never say never in NBA free agency. And the other percentage is because it's Los Angeles. But we're focusing on the wrong team there. It's the Clippers who could potentially intrigue LeBron, with a little creative retooling and Chris Paul and Doc Rivers in tow.
---
4. Odds that LeBron goes to the Cavs for 2014-15?
Arnovitz: 20 percent, but the baby Cavs need to show a bit more promise before James will give them a serious look. Who's the knockdown 2-guard on that team who can create space for James? Who's the multifaceted big man who can protect the rim, shoot from midrange and clean the glass? There's a beautiful storybook to be written here, but novels need characters.
Herbert: 10 percent. It makes sense on the surface: Kyrie Irving is great, Tristan Thompson is James' buddy and the star of The Decision would like to redeem himself in Cleveland. As we're seeing this season, though, the Cavaliers have tantalizing talent but the pieces don't fit. It's highly unlikely James is watching and thinking this group would complement him well.
Krolik: 14 percent. The Cavs' pitch would have likely centered around LeBron leaving the Heat's aging core to join the Cavs' young one. The problem is that their young players have been awful, from Kyrie Irving falling off sharply after an All-Star season to Anthony Bennett being the worst rotation player in the NBA. The Cavs have the third-lowest Hollinger ranking in the league. The truth is that Andrew Wiggins is far more realistic to hope for in Cleveland than LeBron at this point.
Strauss: 0 percent. I think it matters that Dan Gilbert most viciously insulted LeBron at a time when the public was piling on. Even the least spiteful among us would probably never forgive that. Why would LeBron agree to make this guy his boss? I could, however, see LeBron pretending to be interested in signing there, just to make Gilbert feel that rejection pain twice.
Wallace: 10 percent. And that's really being generous. I've joked about this before. But his former team would have a far better shot if they relocated the franchise to James' beloved hometown of Akron and rebranded themselves as the Ohio Cavaliers. LeBron has never regretted his decision to leave, only how he left.
---
5. Odds that LeBron ever plays for the Cavs again?
Arnovitz: 30 percent. LeBron is only 28 and one of the most durable athletes around, so he figures to play another decade. That's an eternity in the NBA and it's not hard to imagine his wanting to close the circle during the final chapter of his career.
Herbert: 25 percent. He has never ruled it out, and it would be a nice way to bookend his career. The big question: Would he want to play for an owner who called him a selfish, disloyal coward? I mean, I wouldn't, but that's just me.
Krolik: 40 percent. I'm tempted to bring this above 50 percent, because the idea of LeBron coming to Cleveland for a feel-good farewell tour late in his career seems to fit, but the reality is that there will only be a few more free-agency windows for LeBron, and he's never going to be interested in signing with a team that doesn't offer him an immediate chance to win a title.
Strauss: 1 percent. Maybe when they get a new owner. And maybe when, as Cleveland local Drew Carey has joked, global warming changes Cleveland's weather for the better.
Wallace: 50 percent. Could LeBron's eventual swan song come in a Cavs uniform? Yes. It could happen as some sort of prelude to a front-office/ownership role, with LeBron admitting recently he'd be interested in running a franchise one day. Perhaps that's the best way for LeBron to restore his Cleveland legacy.


ESPN.com and the TrueHoop Network
Michael Wallace writes for the Heat Index. Kevin Arnovitz covers the NBA for ESPN.com. Ethan Sherwood Strauss writes for TrueHoop. James Herbert and John Krolik contribute to the TrueHoop Network.
• Follow the NBA on ESPN on Twitter | On Facebook | On Google+