We know all about the MVP race. But what about the LVP? Tom Haberstroh gave his ballot for the league's most harmful player. Now our panel weighs in, position by position.
---
1. Who is the least valuable point guard this season?
Henry Abbott, ESPN.com: The Nets' Tyshawn Taylor is a 23-year-old who was taken in the second round a year and a half ago. He still has plenty of potential. But if we're looking at how things have gone this season, there's no escaping the evidence. He can't shoot (42.7 percent true shooting translated into traditional stats equals awful), turns it over almost as much as he dishes out assists and almost never grabs a rebound … yet still has a pretty darned high usage rate for a backup point guard.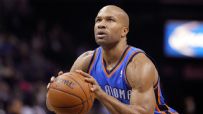 Curtis Harris, Hardwood Paroxysm: Kirk Hinrich. His effort is there, but the man can't shoot anymore and any playmaking ability he once possessed has vanished. Sadly, with Derrick Rose's injury, Hinrich has no choice but to log heavy minutes despite the woeful production.
Andrew Lynch, Daily Dime Live: Derek Fisher. I'm not sure what Fisher provides for the Thunder other than a "veteran presence." He doesn't need to play 16 minutes per game, which he was doing even when Russell Westbrook was healthy. Fisher is averaging 1.3 assists per 36 minutes, and his effective field goal percentage is below 45 percent. He provides almost zero productivity on the court.
Kevin Pelton, ESPN Insider: Jarrett Jack. Although some regression from the career year Jack enjoyed in Golden State was to be expected, the Cavaliers couldn't have realized they'd be getting the worst season he has played when they signed him this past summer. Jack is barely making 40 percent of his 2-pointers; his assists are down; and he hasn't provided the kind of leadership Cleveland expected for its investment.
Ethan Sherwood Strauss, TrueHoop: I'll go with Derek Fisher, whose plodding presence on this hyper-athletic team remains perplexing. The tiebreaker between him and other point guards is that I feel less guilty ripping a guy who already has had an illustrious career. Bashing E'Twaun Moore or Gal Mekel just feels wrong. Also, shout-out to Austin Rivers for being a bit less bad this season.>
---
2. Who is the least valuable shooting guard this season?
Abbott: Archie Goodwin plays in a Suns system that is amazing at creating space … which means he's often open in the corner, where the 3s are easiest. And he's still making only 11 percent of them on the season. So, he's not a shooter! But he's also turning the ball over twice as often as he gets an assist. And oh, by the way, the Suns' defense gives up a lot more points when he's in the game. He's 19, so in a way, who cares. But this is not good production.
Harris: J.R. Smith. Leave aside all the extracurricular activities. He's a shooting guard who can't shoot. He's hovering around 35 percent from 2-point and 3-point range. And he's making 60 percent of his free throws. He's a waste of a roster spot at this point.
Lynch: J.R. Smith. Smith is scoring fewer points per game than in any season since his second one in the league, but he's doing it in the second most minutes per game of his career. The reason? Smith's shooting has fallen off a cliff; he's making just 38 percent of his shots inside the arc, and his 3-point percentage is below his career average, too.
Pelton: Ben McLemore. His rough go in summer league has extended to his rookie campaign. After moments of promising play early in the season, he has shot 8-of-35 from the field in January. Given that McLemore's value is predicated on his ability to knock down shots, he has to be more accurate.
Strauss: Chauncey Billups. Can you believe the Pistons began the year by starting him at shooting guard? This was in addition to starting Josh Smith at small forward, a bad policy they're still sticking with. I believe Chauncey to be a Hall of Famer, but, post Achilles tear, he probably shouldn't be playing for any NBA team.
---
3. Who is the least valuable small forward this season?
Abbott: When the real Anthony Bennett -- the big, long dude who can score from anywhere on the court -- arrives in the NBA, I expect him to have a real chance. But this injury-rehabbing, out-of-shape, 20-year-old newbie … he's bad at basically everything the statisticians measure, from the box score to plus/minus. The Cavs have been outscored by 11 points per 100 possessions when he's in the game.
Harris: Much like Hinrich, Gerald Wallace brings maximum effort when he gets a chance to play. Here's the problem: The max from Crash these days resembles a Barbie Jeep colliding with a lemonade stand and not a semi barreling through a brick wall.
Lynch: Tayshaun Prince. A career low in points per 36 minutes (8.9). A 44.1 true shooting percentage. Looking lost on defense and statuesque on offense. Prince has been on the downward slope of his career for a few years now, but 2013-14 has been the worst so far. He has 0.5 win shares in 915 minutes; that kind of playing time gives Prince the nod over Charlotte's Jeff Taylor.
Pelton: Tayshaun Prince. Every once in a while, Prince will post up a smaller opponent or make a defensive play that harks back to his prime in Detroit. Most of the time, Prince is invisible on offense at worst or at best is the master of the jumper just inside the 3-point line. He's been badly outplayed by James Johnson, whom the Grizzlies signed off the street.
Strauss: I want to feel sorry for Anthony Bennett, but then he sets screens with the enthusiasm of a man walking the plank. Criticizing Bennett would feel crueler if you got the sense he's trying his hardest. I almost hope he's slacking because that would bode better for his future. If a PER slightly above 1 is the result of full effort, that's a terrible sign.
---
4. Who is the least valuable power forward this season?
Abbott: Ekpe Udoh started the season with arthroscopic knee surgery, and you can't say he has been tearing it up since he returned for the Bucks. The stats suggest he can't shoot or pass, but he can rebound and play D, right? Well, he is 58th out of 78 NBA power forwards when it comes to rebound rate. He could be a good defender, but the Bucks, as a team, have played better D with Udoh on the bench. He has played only 628 minutes, and he has been an effective defender in the past, so maybe the story of this season can still improve.
Harris: Marvin Williams. The Jazz forward isn't awful and he isn't good; he's just there soaking up playing time and giving fans the blues. But big men Enes Kanter and Derrick Favors can't function side by side on the court. So, unfortunately for Utah, unremarkable Williams has to be on the floor.
Lynch: Ersan Ilyasova. Time flies when you're coming back to earth. Just two years ago, Ilyasova looked ready to be among the better rebounding stretch 4s. But his rebounding and his 3-point shooting have plummeted, and he's turning the ball over more frequently now, too. It's nice to have a skill to fall back on; right now, Ilyasova doesn't seem to have such a contingency plan.
Pelton: Anthony Bennett. OK, getting minutes is becoming a stretch; Bennett has gotten back-to-back DNP-CDs, and the Luol Deng trade might have taken him out of Mike Brown's rotation. But Bennett's LVP résumé remains strong. It's one thing that he has struggled with his shot after missing the entire summer after shoulder surgery. His lack of effort on defense, and unwillingness to attack the basket on offense, is inexcusable.
Strauss: Few power forwards have combined bad offense and bad defense in the way Marreese Speights has for Golden State. The big man is shooting 39 percent and actually might be doing worse on the other side of the court. Speights has the talent to do better, but this acquisition has been a disaster thus far.
---
5. Who is the least valuable center this season?
Abbott: Kendrick Perkins will win this in a landslide. He plays long minutes, and his offensive numbers are terrible. But I'll point out that the stats show he is, nonetheless, part of some of the NBA's most effective lineups. So, either Durant is a miracle worker or Perk is bringing something. Cody Zeller, though, of the Bobcats, has similar stats, only, in addition, the offense and the defense get significantly worse when he checks in. (When he's in the game, the Bobcats are outscored by 7.9 points per 100 possessions, vs. 1.3 when he sits.) Zeller is 21 and a rookie, so it's no cause for panic. But if we're talking this season, he has been bad.
Harris: Kendrick Perkins. Right now, Oklahoma City's starting center has 117 points and 105 fouls. Didn't think that was possible, but Perk is clearly out to prove the naysayers wrong.
Lynch: Kendrick Perkins. It's remarkable that the Thunder are this good with two of the least productive rotation players in the league. Perkins is essentially a zero on offense, touching the ball fewer than 30 times per game, which includes rebounds and inbound passes. And his reputation as a Dwight stopper on defense has been overblown for years. Oklahoma City can win with Perk, but he's not exactly helping the cause.
Pelton: Kendrick Perkins. With Perkins on the floor, the Oklahoma City offense grinds to a relative halt: The Thunder score 7.8 more points per 100 possessions when he's on the bench. Although that has something to do with slumping fellow starter Thabo Sefolosha, Perkins commands little attention from opposing defenses and is prone to turnovers when he does touch the basketball.
Strauss: At least Andrew Bynum got on the court this season? Unfortunately, his presence hurt Cleveland's guard-dominant offense. It also seems as if he wasn't entirely pleasant off the court, which is partially why he's dangling from the waiver wire (insofar as a 7-footer can dangle).


ESPN.com and the TrueHoop Network
Henry Abbott and Kevin Pelton cover the NBA for ESPN.com. Ethan Sherwood Strauss writes for TrueHoop. Curtis Harris and Andrew Lynch are part of the TrueHoop Network.
• Follow the NBA on ESPN on Twitter | On Facebook | On Google+