The class of 2014 could be the best in NBA free-agent history -- that is, if the big names opt out. Will they? Our 5-on-5 crew weighs in.
---
1. True or False: LeBron James will become a free agent in 2014.
J.A. Adande, ESPN.com: True. If the Heat are about to look dramatically different, he should give himself the option to leave. And if he wants to head somewhere else, the Cavs and the Lakers present two options for once again becoming the biggest storyline in the NBA.
Chris Broussard, ESPN The Magazine: False. This is pure speculation. I think that, at this moment, LeBron fully intends to opt out. But after viewing the landscape, I think he might decide to spend at least one more year in Miami and put off free agency until 2015, when his options become far more favorable.
Israel Gutierrez, ESPN.com: True. Given a chance to reassess his future, regardless of how this season ends, LeBron will take that opportunity. What others do won't, nor should it, matter to him.
Marc Stein, ESPN.com: True. I would think LeBron, if he's reading any of us media scoundrels regularly, is reading Brian Windhorst, who has been covering LeBron since his high school days in Akron. So let's not completely rule out an audible after this piece starts to circulate. But the reality is that, to this point, there hasn't been much (if any) evidence to suggest LeBron is going to suddenly opt in for the final season of his current contract. So we gotta go with what we know at the moment.
Ethan Sherwood Strauss, TrueHoop: True. Opting out means LeBron can get a five-year deal with max money. I'm not sure what advantage opting in would offer. I do expect LeBron to re-sign with Miami after entering free agency, though.
---
2. True or False: Carmelo Anthony will become a free agent in 2014.
Adande: True. If he wants to be a key player on a championship team before his career's up, he can't afford to waste another prime year … even if it requires a big financial sacrifice.
Broussard: True. The thought of going through another season like this one sickens Melo.
Gutierrez: True. Yes, the free-agency options appear better in 2015, but the idea of sitting through another year as a Knick could be too strong of an opposing force. Plus, if he's willing to take less to play for a team such as Chicago, his options in 2014 are pretty attractive, too.
Stein: True. The line is right there in Brian's excellent story that Melo, by all accounts, is not considering a revision to his original plan and still intends to become a free agent on July 1. So it's the same principle as the LeBron answer: Gotta go with what we know right now. Maybe Melo will have a rethink after the chatter this story inevitably sparks, but for now we're somewhat forced to base our forecasts on the hints Melo has dropped to this point.
Strauss: True. With how the Knicks are playing, you'd have to expect Melo at least to test the market. Despite New York's woes, I also expect Anthony to re-sign in New York. Why? Because La La said so. When it comes to a man's future residence, I'll believe his wife over anyone else.
---
3. True or False: Chris Bosh will become a free agent in 2014.
Adande: True. He hardly gets mentioned with his former Big Three mates LeBron and Dwyane Wade anymore. Leaving or threatening to leave would be a good way to get everyone's attention and remind them the Heat's only pair of back-to-back championships came when he was on the roster (just saying).
Broussard: True. Bosh has sacrificed his game more than any other player on the Miami Heat. He might at least consider going somewhere he can average 20 and 10 again.
Gutierrez: True. If only because the Big Three probably will do this together. If LeBron re-signs, it'll require some manipulation of contracts. If it means Bosh making a minor short-term sacrifice for the long-term benefit, he'll do it.
Stein: True. This is mostly tea-leaves reading, which is hardly a perfect science, but there does seem to be some momentum out there behind the idea that Bosh has some interest in relocating … or at least looking around this summer. It would make more sense that LeBron, Wade and Bosh continue to do all their planning together, after everything they've been through the past few years, but Bosh's free agency has been increasingly painted as an exercise unto itself.
Strauss: True. Same situation as LeBron, plus he has more incentive to court the market. Bosh doesn't get featured as much as LeBron and might enjoy a team that feeds him the ball. Why not test the waters?
---
4. True or False: Dwyane Wade will become a free agent in 2014.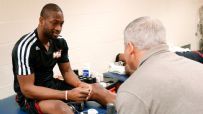 Adande: True. Wade should lock up another long-term deal while his knees are still at least semifunctional.
Broussard: False. D-Wade isn't getting $40 million from any other team. His only reason to opt out is to get a longer contract that would pay more in the long run but less per year.
Gutierrez: True. As in 2010, Wade is the key to keeping this thing together. If he takes a deal starting at about $15 million for five years, it'll do wonders for the Heat's flexibility.
Stein: True. Although the most accurate answer is probably, "Whatever LeBron does." Whenever his opt out does come, though, it's my feeling Miami has to try to persuade Wade -- for all of his undeniable status as a Heat legend, as well as the chief co-linchpin alongside Pat Riley who brought the Heatles together -- to take a Tim Duncan-style pay cut for the good of Miami's flexibility. You can't diminish what Wade has done for this franchise, on and off the floor, but you also can't ignore his advancing age or the health restrictions that cause him to miss so many regular-season games.
Strauss: False. After a slew of knee problems, opting in is about the only way he can get paid like this. That, or the Heat make the Lakers' mistake of cashing out a star who's past his prime.
---
5. True or False: The Lakers should be worried about their 2014 options.
Adande: False. If the Lakers don't have a realistic chance at the biggest names this summer, the talent pool available in 2015 makes more sense for their long-term restructuring plans.
Broussard: True. The Lakers should save their money for 2015, when they likely will welcome Kevin Love and another star (perhaps Rajon Rondo).
Gutierrez: True, regardless of who's a free agent this offseason. It's just not as attractive a place to play as it used to be. And it's not just the prospect of playing with Kobe Bryant. It's also the future prospects and the highest state tax in the country.
Stein: True. This is the easiest question on the board to answer because the Lakers are privately concerned about their options this summer and the prospect of a third straight season in 2014-15 when they're not in the title mix. But they needn't expect much sympathy from the other 29 teams because the current Lakers are cratering all the way into a top-five pick in the most highly anticipated draft in years and will inevitably field some interesting trade possibilities because they figure to be picking so high up in the lottery. They also are well-positioned to make a big 2015 splash, when the free-agent class that summer is a lot stronger, so no one is shedding any tears for Kobe & Co.
Strauss: False. These free agents aren't joining a rebuilding project. The Lakers have their sights on 2015 and beyond.


ESPN.com and the TrueHoop Network
J.A. Adande, Israel Gutierrez, Marc Stein and Ethan Sherwood Strauss cover the NBA for ESPN.com. Chris Broussard covers the NBA for ESPN The Magazine.
• Follow the NBA on ESPN on Twitter | On Facebook | On Google+