After four seasons in Miami, LeBron James is a free agent yet again. Will he take his talents somewhere other than South Beach this time? How does this decision affect his other super friends, Chris Bosh, Dwyane Wade and Carmelo Anthony? Our panel weighs in.
---
1. Are you surprised by LeBron's decision to opt out?
J.A. Adande, ESPN.com: Not at all. He's been candid about his desire to explore his options and have maximum flexibility. It's also his only way to put pressure on the Heat to make moves and spend money to upgrade the roster. If a coach's best ally is the bench, as they say, a player's greatest ally is free agency.
Amin Elhassan, ESPN Insider: Not at all. Opting out gives LeBron the maximum number of alternatives: He can come back for a long-term, big-money deal, opt to take less to give Miami the flexibility to upgrade the roster or leave for "greener" pastures. If he hadn't opted out, he'd literally have none of those alternatives available to him.
Israel Gutierrez, ESPN: Not at all. It's the only way for him to either (A) help this Heat team to improve his supporting cast or (B) find a team that is more championship-ready and capable of acquiring him. It might have been a different story if the Heat had beaten San Antonio, or even stayed close to San Antonio. But given the Heat's obvious, immediate needs, this was a no-brainer.
Tom Haberstroh, ESPN Insider: Nope. There was zero incentive for LeBron to opt in in the first place. Now he holds all the cards as an unrestricted free agent who also happens to be the best player in the world. The surprise here is the number of people who are surprised.
Ethan Sherwood Strauss, TrueHoop: Yes, actually. I thought the safe money was on LeBron opting in for another season and surveying his options next year. That this is happening so quickly (and without connected announcements from Chris Bosh and Dwyane Wade) is certainly an attention-getter.
---
2. What should Chris Bosh and Dwyane Wade do now?
Adande: If winning with the Heat is a priority, Bosh and Wade should opt out, as well. They can take lower annual salaries stretched out over more years than are left on their current contracts and let the Heat go shopping this summer.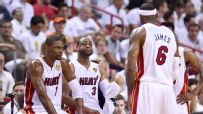 Elhassan: Well, that all depends! If this is a coordinated strike, they'll both opt out and we'll expect them to take less money to go spend on reinforcements. If it isn't, and LeBron is flying the coop, I'd opt out if I were Bosh; there will be other lucrative options available to him where he can make up the guaranteed money he's leaving in South Beach. Wade, on the other hand, has no financial incentive to opt out. The only thing opting out does for Wade is allow him to "do a solid" for Miami in its retooling efforts.
Gutierrez: Opt out. If Bosh and Wade don't, it's a clear sign these three aren't working in concert. If they do opt out, it means either they are working together to create the best possible scenario for Miami or they're keeping options open in case LeBron leaves. But it's more likely the former because neither Wade nor Bosh wants to leave Miami.
Haberstroh: Do what's best for them. If that means taking less money to give the Heat more flexibility, then so be it. If that means opting in and enjoying the security of another season in Miami, go for it. To each his own.
Strauss: It depends on what James tells them. Wade has to opt in if James is leaving, and probably considers taking a pay cut if James is staying (especially if James' staying is contingent on that pay cut). I'd guess Bosh opts in if LeBron leaves. From a Bosh perspective, there are worse things than living in Miami, making a lot of money and being a team's primary option.
---
3. How does LeBron's decision affect Melo?
Adande: It means Melo has to spend a little more time in the waiting room before meeting with various teams. Teams with any type of salary-cap space have to talk to LeBron first, even if they don't like their chances of landing him. At least try. Speaking of trying, Melo should at least listen if Miami wants to talk, even if there's no way the Heat could offer anything close to a max contract.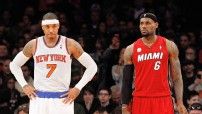 Elhassan: It doesn't, at least not directly. I think it is far-fetched that these two players will team up anywhere, but if LeBron is indeed in play, there will be some teams that will put their pursuit for Melo on the back burner. Conversely, this might be an opportunity for a team with no hope at securing LeBron to seize the moment and put the full-court press on Melo.
Gutierrez: It gives him another option to look at if the Heat's big trio all opt out. It makes Miami, assuming money isn't Melo's primary concern, as attractive an option as Chicago. But in the end, I expect Carmelo to stay in New York and gamble that Phil Jackson can get him at least one championship so he can retire one of the most beloved Knicks ever.
Haberstroh: Not very much. This just keeps the door open for LeBron to take less money wherever he goes and have a greater chance of teaming up with an additional star. But that door might be open only a crack. And it might not even be for Melo.
Strauss: I doubt it affects Melo, but you never know. The Chicago option seems most likely for Anthony, and it's difficult to see how James could be incorporated there (it would require a massive pay cut from both). I still don't see their games as complementary, but James and Anthony might see things differently.
---
4. What team should LeBron play for in 2014-15?
Adande: The Miami Heat. Sure, he might be worried about "losing" a year of his prime if the Heat can't make the right moves this summer. But going somewhere else will probably cost him a year, as well. Only two MVP-type players have changed teams and immediately won a championship: Moses Malone and Kevin Garnett. It happens once every 25 years or so. If he wonders about the value of staying put, he should talk to Tim Duncan.
Elhassan: Heat. No other team (other than the Spurs) can offer the holy trinity of outstanding ownership, shrewd management and top-shelf coaching. If they work in concert, they'll find a way to retool this team for the next era of championship contending. Also, no other team can offer that express-train service to the Finals.
Gutierrez: Heat. Even with just a few days to think about it, LeBron has to recognize how great a position it is to play in four consecutive Finals -- and still be in position to reach several more. Pat Riley has yet to truly fail LeBron as a team president (Michael Beasley and Greg Oden were failed experiments but seemed like good moves at the time). Plus, if the Big Three give Riley actual money to work with, he'll have the best sales pitch of anyone in the NBA: "Come play with LeBron."
Haberstroh: Clippers. Not a bad way for the NBA to move on from the Sterling era, huh? In all seriousness, LeBron should play wherever he and his family will be happiest. But ClipperLand would be loads of fun.
Strauss: Heat. They're still favorites to come out of the East, and he won't incur a lot of popular anger for coming back to Miami (he does incur popular anger if he jumps to a new team again). Yes, James could land himself on a stacked West team such as the Clippers or Rockets, but it's unlikely he'd win a title next season, just because the West is so deep.
---
5. What team will LeBron play for in 2014-15?
Adande: The Miami Heat. Where can he do better than a warm-weather city in a tax-free state with an organization that has a winning culture? LeBron's opt-out feels more procedural than dramatic.
Elhassan: I'll give you its address: 601 Biscayne Blvd., Miami, FL, 33132.
Gutierrez: Miami. See answer to Question 4. Also, going west wouldn't be the greatest idea. Not only is it deeper but the chances of having to go through the Spurs are much greater if LeBron goes west. If he stays in Miami, he can gamble on someone else beating San Antonio before the Finals. And with the Clippers, Rockets and Thunder all looking to improve (and stay healthy, in the Thunder's case), there will be plenty of teams capable of taking out the Spurs, who are a nightmare matchup for the Heat.
Haberstroh: Heat. He wants to win, but he also probably enjoys the certainty in Miami at this stage of his career. He can win elsewhere, but uprooting himself to an unknown situation doesn't seem like a top priority after winning two titles in the past three seasons.
Strauss: Heat. It's the path of least resistance, and all the other options are flawed. The Clippers are the most enticing other choice, but short point guards like Chris Paul do not age well. It's easy to see how he could soon be hobbling like Wade. So why take a big, risky move west?