After years of speculation, the Boston Celtics' Rajon Rondo has finally been traded, to the Dallas Mavericks along with Dwight Powell for Brandan Wright, Jameer Nelson and Jae Crowder along with first- and second-round draft picks. Let's take a look at what this deal means for both teams -- and the talent-laden West.
---
1. Is this a good deal for the Mavs?
Amin Elhassan, ESPN Insider: Yes and no. They upgraded their point guard position tremendously, that's for sure. But losing a valuable bench contributor in Wright could come back to haunt them, and if Rondo doesn't re-sign in the offseason those picks will sting.
Chad Ford, ESPN Insider: Probably. The Mavs didn't look like they were quite in the same league as the Warriors or Grizzlies this season and the Rockets, Spurs, Thunder and Blazers weren't going to be pushovers either. Rondo is a risk. He should improve them defensively. He could be a liability on offense. The chemistry with the team looked great and Rondo could make that challenging. But he's an elite talent, and I think Mark Cuban had to take the chance.
Chris Forsberg, ESPN.com Celtics writer: Absolutely. Rondo has shown he thrives with skilled talent around him and will be more than happy to play facilitator on a team with a ridiculous offensive rating of 113.6 this season. Being injected into a contender will only bring out the best in Rondo after enduring the rebuild the past season-plus.
Baxter Holmes, ESPN.com Lakers writer: It's a perfect deal for the Mavericks, who just became an even more serious title contender. Rondo is a passer, not a scorer, and with the absurd weapons around him in Dallas, he will really thrive. His assist numbers are going to be off the charts.
Tim MacMahon, ESPN.com Mavericks writer: It's definitely worth the risk to acquire a four-time All-Star point guard in his prime at a discount rate. The Mavs were trying to contend with arguably the worst starting point guard in the Western Conference in Nelson. That wasn't going to work. Rondo's defense and rebounding are immediate, drastic upgrades. Will he be a wrench in the works of the league's best offense?
---
2. Is this a good deal for the Celtics?
Elhassan: Yes and no. Snagging an excellent finisher in Wright was a great get, those picks add to an already impressive stash, and Jameer Nelson is one of the most respected vets in the league. But you have to wonder if the Celtics jumped the gun by dealing Rondo so early. Could they have gotten more out of a bidding war?
Ford: Yes. It's not a huge haul, but the Celtics have been shopping Rondo for two years. I think Danny Ainge overturned every single rock. I think it's safe to say this was the best he was going to get. Brandan Wright is very underrated both as a player who could help the Celtics and as an asset -- his contract is very tradable. Nelson doesn't fit their long-term plan but is another potentially valuable trading chip. Crowder was a nice throw-in. The first-round pick probably comes to them in 2016, when it's top-seven protected, which may be a good thing. Ainge is collecting assets right now, and I think he picked up a couple of decent ones for Rondo.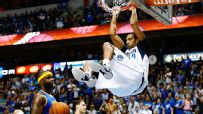 Forsberg: It's probably about as good as Boston was going to get in-season. Maybe getting leery about either paying Rondo max money in the summer, or losing him without compensation, the Celtics assured themselves a handful of future assets while hitting reset on the rebuild.
Holmes: The Celtics risked losing Rondo for nothing in free agency, but now they have valuable assets to further their long-term rebuilding process. That's a win for them. Sure, an All-Star would've been a nice get in return, but the market wasn't that great.
MacMahon: Frankly, I figured the Celtics would be able to get more. High-flying big man Wright went from a reclamation project when he arrived in Dallas to one of the NBA's most efficient reserves. Crowder has some potential as a gritty role player. Nelson is near the end of a solid career. If Rondo fits in Dallas, the first-round pick will be awfully late.
---
3. Where would you rank Rondo among all NBA point guards?
Elhassan: Not in the top 10; he's too incomplete a player and too far removed from his best playing days to warrant placement any higher.
Ford: He's a third-tier point guard. Chris Paul, Russell Westbrook, Stephen Curry and Tony Parker are in the first tier. John Wall, Kyle Lowry, Mike Conley, Derrick Rose, Damian Lillard are in that next tier. Rondo is in the third tier along with Kyrie Irving, Jeff Teague, Ty Lawson, and Jrue Holiday. So he's somewhere in the 10-15 range.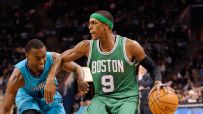 Forsberg: There's no denying that he's maybe the best facilitator in the league, but in all-around skill he's not back among the elite yet. He's probably near bottom of top 10 right now. Maybe this deal will help him rediscover his aggressiveness, which needs a boost at both ends of the floor, and climb back up.
Holmes: He's elite -- top 10 at least, especially when you consider his versatility: an NBA-high three triple-doubles this season and 22 for his career, trailing only LeBron James (37) among active players. The big question mark: his defense.
MacMahon: He has been middle of the pack so far this season, but can you blame the guy if he wasn't fired up to play for a rebuilding team in Boston? When Rondo was motivated, he ranked among the top five point guards in the NBA. Is that possible for him at 28 years old? We should find out soon.
---
4. Where would you rank the Mavs in the West now?
Elhassan: Still one of those teams fighting for a chance at homecourt.
Ford: I still like the Warriors, Grizzlies and a now healthy Thunder team. But it's close. They are still in the mix with the Spurs, Clippers, Blazers and Rockets. The bottom line is the West is crazy loaded. I'm not sure it moves the needle much, but it was worth the risk.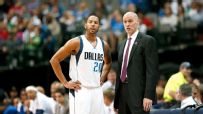 Forsberg: Dallas is moving toward top five in West, but still behind Golden State, San Antonio, Oklahoma City, the Los Angeles Clippers and Memphis until we see how much difference Rondo makes. There's no denying that he's maybe the best facilitator in the league, but in all-around skill he's not back among the elite yet. Maybe this deal will help him rediscover his aggressiveness, which needs a boost at both ends of the floor.
Holmes: They're up there with Golden State and Memphis as one of the top three teams in the West, which is saying something considering how loaded the West is. It'll be interesting to see how everyone acclimates, but the potential is there for Dallas to be the powerhouse out West.
MacMahon: Their goal all along has been to claim one of the top four seeds and get homecourt advantage in the first round of the playoffs. That's realistic if Rondo doesn't have a rocky transition with his new team.
---
5. Do the Mavs have the best starting five in the NBA?
Elhassan: No, I still give the nod to either the Warriors or Grizzlies.
Ford: Maybe. Cleveland has a claim. So does Chicago. It's hard to argue what Golden State is doing right now. And don't forget everyone on the Spurs is underrated. And the Rockets have been special, too. But top to bottom, it's probably the best. Doesn't mean they'll be the best team, but it's a dangerous starting five.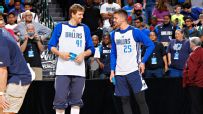 Forsberg: Yes, it's hard to argue otherwise. Rondo went from being the best player on his former team to being maybe the third or fourth most important guy on his new team. That's a loaded starting five.
Holmes: Nowitzki, Ellis, Parsons, Chandler ... and now Rondo? Man. To borrow a bit of Kurt Vonnegut, if that isn't the best starting five in basketball, I don't know what is. I can't wait to see them on the fast break.
MacMahon: They certainly would be in fantasy basketball. The question is, how well will these pieces actually fit together on the floor? The Mavs are counting on coach Rick Carlisle to figure it out and Rondo to be willing to sacrifice his ego on offense to make a run at the third Finals appearance of his career.