The Cleveland Cavaliers, Oklahoma City Thunder and New York Knicks pulled off a multifaceted six-player trade on Monday night. Dion Waiters is headed to the Thunder, J.R. Smith and Iman Shumpert to the Cavs, with Alex Kirk, Lou Amundson and Lance Thomas going to the Knicks. The Thunder also send a protected future first-round pick to the Cavs and Cleveland sends its 2019 second-round pick to the Knicks. Our 5-on-5 panel breaks down the trade.
---
1. Good trade or bad for the Cavs?
Ian Begley, ESPN.com: Depends on if Shumpert can stay healthy and how Smith accepts the move from New York. Smith loved playing for the Knicks, especially playing at Madison Square Garden in front of his family. If he can take a professional approach to his move to Cleveland, the Cavs should be OK.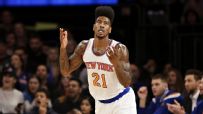 Amin Elhassan, ESPN Insider: Good, but let's not confuse this as the type of deal that will propel them to a title. They managed to flip a malcontent (Waiters) and flotsam into Shumpert (defensive upgrade) and a first-round pick; Smith is basically a shot in the dark, with the hope that he can do more good than harm. It's a slight step in the right direction, but they still desperately need help up front.
Dave McMenamin, ESPN.com: It's tempting to go as far as calling it great, if not for the loose-cannon caveat of adding Smith to the mix. Waiters might have a little knucklehead in him, but the Cavs could always affectionately call him "our knucklehead." Smith is an outsider who will be expected to conform. But if you look at it on its face, the Cavs traded one rotation player plus two bench bodies for two rotation players, plus a protected first-round pick. And they were able to hold onto their $5.3 million trade exception in the process. Now we see if Smith and Shumpert can actually play winning basketball again.
Ramona Shelburne, ESPN.com: Too early to say. This is a major risk to take just a third of the way through Year 1 of this Big Three, but the Cavs clearly feel they need to roll the dice earlier rather than later in the season to give this group as much time to figure out how to play together as possible. I thought the Cavaliers could have gotten more for Waiters if they had waited, but they've been working the phones hard the last few weeks and had been underwhelmed by the offers they were getting. But two rotation players and first-round pick isn't a bad haul for a guy who has a bit of a reputation himself.
Royce Young, ESPN.com: Good-ish. The Cavs wanted to shake things up, and the deal does exactly that. They offloaded young talent in exchange for the veteran variety, and it would seem they might have more dealing yet to be done. They have more backcourt depth, but they still haven't entirely addressed what ails them -- protecting the paint.
---
2. Good trade or bad trade for the Knicks?
Begley: Good trade for New York -- but obviously not for this season. New York rid themselves of Smith's $6.4 million contract option in 2015-16, which opens up more cap space and opportunities to chase free agents. You can argue that the Knicks had better offers on the table in the past for Shumpert, but there's little doubt that Phil Jackson put his club in a strong position to improve in free agency this summer.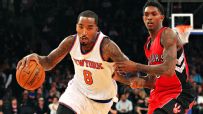 Elhassan: Good because as the only team that can confidently say "we're worse than the Sixers," the Knicks basically have no other recourse for this season other than to ensure their pick is as high as possible. Losing Shumpert was the cost of getting rid of Smith's cap hit for next year ($6.4 million), giving the Knicks more flexibility to go big-game hunting.
McMenamin: It's good. They weren't going anywhere this season other than the lottery and Jackson and Derek Fisher gave the roster half a season to figure out who they were ready to uproot to plant new seeds. They'll now have close to $30 million to play with this summer on the free-agent market. Now, is it a good thing overall for the state of the Knicks franchise that they just signed Carmelo Anthony to a max extension this summer and he could be shutting it down with a knee injury while Jackson is getting paid $12 million to pull the strings on this disaster of a season? That's a different question.
Shelburne: Great trade for the Knicks. They created $7 million in salary cap space in this trade and rid themselves of a guy who had been a square peg in the triangle offense Jackson and Fisher have been trying to teach. Yes, they lose Shumpert, a good young player they had interest in retaining this summer. But the Knicks could have lost him via restricted free agency anyway, and they had to give up something to get rid of Smith and his contract without taking back a bad contract in return.
Young: Good. The Knicks dumped Smith's contract and personality, two things that are a start to putting out the dumpster fire that resides in Madison Square Garden. The Knicks are showing at least somewhat of an eye for the future, bringing in nonguaranteed deals to open up a little future financial flexibility.
---
3. Good trade or bad trade for the Thunder?
Begley: Not great. The trade creates a logjam at the wing position for Oklahoma City. Scott Brooks will have to divide minutes among Andre Roberson, Anthony Morrow, Perry Jones, Waiters and Jeremy Lamb. Also, if Waiters shares the floor with Russell Westbrook and Kevin Durant, will he take shots away from the star duo?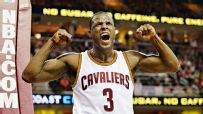 Elhassan: Good on paper in that they added talent without giving up too much, but that doesn't mean much if the talent doesn't fit in. If Waiters was antsy about touches and shots in Cleveland, what about OKC's situation should put his mind at ease?
McMenamin: Let's make it good all around. Three for three. Waiters can flat-out play. Granted, his shot selection can go awry, but after the Cavs told him the only way he'd earn playing time this season was by playing tough defense, he became one of the league leaders in steals per game off the bench. Maybe some will say the first-round pick is a steep price to pay, but the Thunder are in win-now mode. Waiters gives them more talent and depth right away.
Shelburne: Good trade, I think. Waiters should see more playing time in Oklahoma City, which should make him a lot happier than he was at the end of David Blatt's bench. The question is whether he can blend into Oklahoma City's culture. If he can, it'll be a boon for his career. If he can't, this is a low-risk move the Thunder can get away from easily as Waiters should still have value.
Young: Good. Waiters hasn't been good for the Cavs this season, but if he had been, the Thunder probably wouldn't have been able to get him for a nonguaranteed training camp invite and heavily protected first-round pick. Assuming Waiters buys into what Scott Brooks sells him, the Thunder now have one of the deepest, most potent offensive benches in the league to support Durant and Westbrook.
---
4. What does the addition of Waiters mean for Reggie Jackson's future in OKC?
Begley: It could signal the end of Jackson's days in Oklahoma City. Jackson should have plenty of suitors this summer in free agency. If the Thunder choose to let Jackson walk in free agency, they now have insurance in Waiters.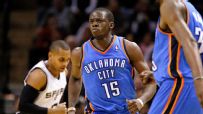 Elhassan: I suppose you could say he's "insurance," except I'm not sure he's anywhere as good as Jackson. This reminds me of people who called Evan Turner "insurance" for if Lance Stephenson departed, neglecting the fact that that would be an awful insurance policy. The difference is, in this case the Thunder have Waiters under contract for another year.
McMenamin: It means that if some other team out there decides to break the bank and give Jackson a big payday this summer, Oklahoma City has a much more affordable backup combo guard already on the books for next season for an agreeable $5.1 million. It would soften the blow of a potential departure by Jackson.
Shelburne: Not as much as you think. Yes, he's something of an insurance policy for the Thunder if they lose Jackson to restricted free agency this summer. But the sense is that they were going to lose Jackson anyway. It's just hard to justify a $12 million to $14 million yearly salary to Westbrook's backup. Think Eric Bledsoe with the Clippers two seasons ago.
Young: It makes Jackson more expendable. The Thunder were a bit hamstrung by Jackson's pending free agency, because it's obvious how much they need a third ball handler to support their stars. Now they have Waiters, who is locked in with the Thunder for the next two seasons, enabling them to be much more selective in matching any offer sheet Jackson gets in the summer.
---
5. Who made out the best in this trade?
Begley: The Knicks had been searching for a way to rid themselves of Smith for a long time. But they needed to include Shumpert to do it. So, assuming Shumpert and Smith remain healthy and productive with the Cavs, I think Cleveland will end up getting the best of the deal.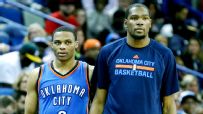 Elhassan: I don't think anyone should be holding a ticker tape parade after this transaction, but Cleveland addressed the biggest need by adding a wing defender; the first-round pick is whipped cream on top, and the Cavs can cross their fingers that Smith can be a dynamic scoring cherry to complete.
McMenamin: The Cavs. We've seen three major deficiencies out of them so far this season: depth, defense and size. By adding a shut-down swingman like Shumpert and another automatic scorer in Smith, they addressed two out of those three areas. Now potentially armed with two 2015 first-round picks, plus the TPE, they can continue to go searching for a rim protector.
Shelburne: My first reaction is to say the Knicks because I'm just so shocked they were able to get rid of Smith's contract without taking back a bad contract. Honestly, I was starting to suspect they might eventually have to take a page from Stan Van Gundy's book and cut him. Ultimately though, it depends on what New York is able to do with the cap space they just created. Cap space is just cap space unless you find the right player to use it on. So in the short term I'll say the Thunder. If he fits in there and thrives, Waiters could give them the third scoring option they've been lacking since they traded James Harden.
Young: Thunder. A contending team added a 23-year-old scorer to its bench, filling an obvious need, and is only giving up Lance Thomas and a pick to get him. It was a product of the Thunder's patient, prudent planning, being able to be opportunistic when the moment presented itself. The Thunder are better today than they were yesterday. And they were already pretty good.