How do you explain the success of the East-leading Atlanta Hawks? The 5-on-5 panel weighs in.
---
1. What's the biggest reason for the Hawks' success this season?
Kevin Arnovitz, ESPN.com: Unselfishness. If that seems a bit precious, it's because virtually every Hawks offensive possession looks like a clinic and every defensive stand is an exercise in timing. You know those four-minute stretches when your favorite team is playing with flawless energy (see the Golden State Warriors)? The Hawks play like that for halves at a time. That energy is more or less fueled by the involvement of all five guys.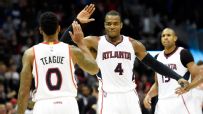 Bo Churney, HawksHoop: Everything fits together. The Hawks may not have that recognizable superstar, but they have a bunch of great starters and good bench players who complement one another and a system that accentuates the strengths of the five guys on the floor.
Kevin Pelton, ESPN.com: Depth. The starting lineup is incredibly balanced and loaded with above-average players and the bench has been nearly as good as the starters. Atlanta shows the value in simply never playing a bad player.
Marc Stein, ESPN.com: Defense and continuity. I know that's two reasons, but you can't pick just one with an ensemble cast like the Hawks. Don't underestimate the continuity thing. The fact that these guys have played together for a while, compared to teams like Cleveland (and even Chicago) working in key new pieces, is a big edge. But let's face it: Atlanta was a bottom-five team defensively at Thanksgiving and is a top-five team defensively now. Al Horford has gradually played his way back to top form and has sparked that turnaround on D.
Michael Wallace, ESPN.com: Balance. The Hawks essentially have five players on the court at any given time who can all pass, drive and shoot from distance. Defensively, they switch and defend on pick-and-rolls as well as any team in the league. When you're as good and connected defensively as you are offensively, there are few weak links to expose. It's that level of balance that has Atlanta ranked in the top five on both ends of the court.
---
2. How many Hawks should make the All-Star team this year?
Arnovitz: Four, and with the disclaimer that DeMarre Carroll is one of the three or four best perimeter defenders in basketball. This question really boils down to, "Is Kyle Korver an All-Star?" because Paul Millsap, Jeff Teague and Horford each seem like a no-brainer. Korver is posting a true shooting percentage of 73.8 percent -- which isn't a stat; it's a typo. He is second among shooting guards in WAR and Real Plus-Minus. How do you not reward that?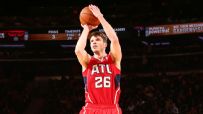 Churney: Four. Consider this: Despite not having that "one guy," four Hawks starters are in the top 20 of Basketball Reference's win shares statistic. Teague and Millsap have the counting stats to get there, Korver is potentially in the middle of the best shooting season of all time, and Horford is the team's backbone. With a weak East, it is not too hard to justify four Hawks making the trip to New York.
Pelton: Four, as I indicated in making my All-Star reserve picks on Monday. Korver's role in the Hawks' offensive efficiency makes him a deserving choice along with the easier picks of Teague, Horford and Millsap.
Stein: Three. I really want to say four, but wedging Korver onto the East roster means you have to leave off either Chris Bosh, Dwyane Wade or Kyrie Irving. I, as a lifelong Korver fan, am prepared to do that, but I don't think the East coaches will and I realize that Korver, statistically, doesn't quite look like an All-Star to a lot of people. Truth is, though, he's right there with Horford when it comes to the Most Influential Hawk list.
Wallace: Three. Atlanta should be well represented in New York next month. Coach Mike Budenholzer will lead the East team, and Korver will participate in the 3-point competition. Beyond that, there better be a place on the East roster for Teague, Horford and Millsap. If the Cavs, Celtics, Heat, Bulls, Knicks or Nets had the same record as the Hawks, there would be no debate here. Atlanta deserves three.
---
3. What's one thing every team should learn from Mike Budenholzer?
Arnovitz: That really cool things can happen when a coach conveys sincere confidence in his players. Everyone loves playing for this coach. Elton Brand says he has never seen a locker room that's been instilled with more professionalism. Building trust is a skill just like play design. Budenholzer has both in spades.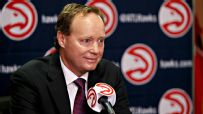 Churney: The importance of in-game minutes management. The Hawks often remove Korver and Horford about midway through the first quarter and keep the lineups staggered based on that substitution. While some teams have their stars running on fumes by the end of the game, the Hawks are bringing in a freshly rested Korver and Horford with four minutes to go. Checkmate.
Pelton: That it's OK not to have a go-to scorer. Twenty-one teams have at least one player (and some two) with a higher usage rate in clutch situations than the Hawks' leader Teague (30.5 percent, per NBA.com/Stats). Yet Atlanta has the league's second-best offensive rating in those situations at 122.2 points per 100 possessions.
Stein: The sad reality is that I'm not so sure what Budenholzer has achieved with the Hawks is easily replicated. He stayed with Gregg Popovich way longer than most top assistants would given the success they enjoyed in San Antonio. Budenholzer did amazingly well in picking the right situation to finally jump to and, in conjunction with the since-exiled Danny Ferry, expertly assembled a roster filled with pieces (shooters, especially) that snap together uncommonly well. We could certainly use more teams that play the way Atlanta plays. But history tells us that you're much more apt to find success in the NBA when you can put two or three franchise players together first. That tells me that more teams are going to keep trying to follow that blueprint rather than trying to copy Atlanta.
Wallace: Humility. This hasn't been an easy run for the Hawks, although they have made success look quite simple at times. There have been plenty of bumps and distractions along the way, including Budenholzer's tenure getting off to a rocky start with a DUI arrest weeks after he was hired last season. Then the turmoil hit from the racially charged emails and comments from the front office and ownership. Through it all, Budenholzer has kept the focus on basketball and bonding within that locker room.
---
4. When will the Hawks' streak end?
Arnovitz: Feb. 8 at Memphis. Let's assume that the Hawks will lose a basketball game at some point and that it's likely to happen on the road. Feb. 2 at New Orleans and Feb. 6 vs. Golden State at Philips Arena won't be picnics, but Memphis has good size and is playing well. The Grizzlies seem like as good a bet as any to snap a 22-game winning streak.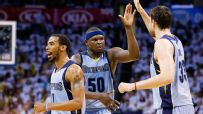 Churney: While it would be really fun for the Hawks and Warriors to meet up Feb. 6 with Atlanta riding a 21-game win streak, I think the streak will end earlier that week at New Orleans. The Pelicans gave the Hawks a good run in one of Anthony Davis' worst games of the season. I'll take New Orleans in a game where Davis redeems himself.
Pelton: Odds are the streak will be snapped unexpectedly before then, but Atlanta won't be an underdog until at least the showdown of the top two teams in their respective conferences against the Warriors on Feb. 6. The streak probably won't survive that game followed by a trip to Memphis.
Stein: Before the All-Star break. They have three tough games next week -- home dates with Washington and Golden State after a quick trip to New Orleans -- and then a three-game swing through Memphis, Minnesota and Boston leading into the break. I see them handling Brooklyn, Portland and Philly this week. Then they're vulnerable.
Wallace: Feb. 4. Although many might circle the Feb. 6 visit from the Warriors as the game when the Hawks might finally lose, I think it will be the trap game before the league's two best teams face off. Two days earlier, the Wizards come to town, still smarting from that 30-point beatdown from the Hawks earlier this month. If healthy, Washington has the frontcourt size and muscle with Nene and Marcin Gortat that could give Atlanta problems.
---
5. How far will the Hawks go this season?
Arnovitz: The NBA Finals. Until the Chicago Bulls can demonstrate sustained consistency, there isn't a two-way team that looks like it can outwit the Hawks.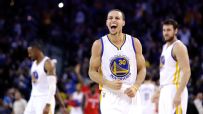 Churney: Pundits have expressed concern with how the Hawks' offense will perform in the playoffs, but that should not matter; defense is what wins in the playoffs, and the Hawks are owners of a top-five defense. This team seems like a lock for the Eastern Conference finals for the first time in Hawks history, and Atlanta has a great chance at being the team that is sacrificed to Golden State in the Finals.
Pelton: NBA Finals. I wouldn't favor Atlanta over the Western Conference champion, particularly if that's the Warriors, but until the Bulls or Cleveland Cavaliers demonstrate that they can reach this level over an extended period, the Hawks have to be considered the favorite to win the East.
Stein: They can get to the Finals. I'm a firm believer in that after what we've seen since Thanksgiving. Could they use a real rim protector and more bulk in the frontcourt? Sure. But the Hawks have to feel better about their chances to do something truly meaningful than most of their West counterparts just by virtue of their favorable conference. It didn't play out this way last season, because San Antonio was just so ruthlessly efficient against Miami in the best series we've ever seen from the Tim Duncan era Spurs, but I continue to believe that the top East contenders have the great luxury of knowing that the West champion is going to take a lot of punches on the way to the big stage. Cleveland and Chicago still have higher ceilings than the Hawks if they can finally find a level of consistency come May, but you have to regard Atlanta as the favorite in the East -- as we speak -- based on the available evidence.
Wallace: Anything short of the conference finals would be considered a major letdown at this point for the Hawks, considering the way they started the season. Folks forget, but the Hawks have the longest active streak of playoff appearances in the Eastern Conference. Their problem has been an inability to take the next step beyond the first round. This is the year they will do at least that much. Until I see otherwise, there's no reason to believe they can't make the East finals.