Sunday marks the one-year anniversary of Adam Silver taking over as NBA commissioner. How has he done in an eventful Year 1? Our expert panel weighs in.
---
1. What's your take on the job Silver has done so far?
Kevin Arnovitz, ESPN.com: He's been a thoughtful presence while navigating some thorny issues. Judging from franchise purchase prices, confidence in the league has clearly never been higher. An innovator at heart, Silver has started entertaining some long-overdue conversations. There's still some room to grow with the league's incentive structure and player self-determination (see Silver's reaction to Michele Roberts' comments), but overall, he's been a strong commissioner.
Larry Coon, ESPN.com: He's done great so far, but he hasn't truly been tested in some areas yet. He was a wartime consigliere as David Stern's chief negotiator during the 2011 lockout and helped craft labor agreements back to 1999. He deftly handled the Donald Sterling incident and ushered in the new TV deals. But he also inherited the league in a time of relative peace and prosperity. His true test likely will come in 2017, when he will be the man in the hot seat for the league's next labor negotiation.
Ramona Shelburne, ESPN.com: He gets high marks for his handling of the Sterling matter and in the way he's tried to be forward-thinking, transparent and communicative. I was disappointed that the initiative to reform the lottery system failed at the last minute. To me, restoring the integrity of the game (discouraging extreme, blatant tanking) is vital to the NBA going forward. I'm not sure that's all Silver's fault, but I know it's his job to fix it anyway.
Michael Wallace, ESPN.com: So far, so good. During his first year, Silver has been responsive, accountable and largely accessible on many levels. He seems to understand and appreciate how to navigate the emerging and changing media landscape. He appears to essentially have an open-door policy with players and remains on the same page with league owners. This should serve him well entering the next labor negotiations.
Brian Windhorst, ESPN.com: Silver's focus has been revenue growth. From the TV contract to the Clippers sale to his position on gambling and advertising on jerseys, there is no mistake that this is his priority. He's open to new ideas, which has endeared him to those fatigued by David Stern's frequent unilateral edicts, but he knows who his bosses are, and he's been making them very happy.
---
2. What do you remember most about Silver during the Sterling incident?
Arnovitz: How he beat the clock and facilitated a $2 billion sale, all the while averting legal reprisals from the Sterlings. Nicely done.
Coon: The way he set the tone. If the league looked the other way at Sterling's shenanigans during the David Stern era, it all changed the moment the newly minted commissioner took the microphone on April 29, 2014. In announcing Sterling's lifetime ban and the upcoming forced sale of the Clippers, Silver took a clear, unambiguous stand between right and wrong -- both as a response to Sterling and a direct warning to whoever might follow.
Shelburne: How quickly and decisively he acted. I'm not used to large, complicated organizations acting so severely and swiftly. It takes time for the lawyers to run through everything. It takes time for the owners to get on the same page. It takes time to gather all the facts. Silver got everything moving within 24 hours, then got everyone on the same page within 72 hours and had a decision and a ruling by the end of the first week. It was what the situation called for as the crisis threatened to ruin the playoffs. Silver's quick, firm action really went a long way toward restoring faith and trust between owners and players.
Wallace: That Silver fought through the nervousness and awkwardness in that news conference, but still made it clear that the NBA has no place for Sterling. He laid down the hammer, although he did it with a bit of a shaky grip. Once Silver got through that, it seemed he grew more comfortable, calm and confident in public as commish.
Windhorst: That he took a crisis and made it into an opportunity. This was a layup -- there was no way Silver could have offered Sterling support, so he took advantage by jumping up and down on Sterling's tattered reputation. By going strong against Sterling, he appealed to 99 percent of the audience and won over support of his players.
---
3. Besides the Sterling ban, what's been Silver's greatest accomplishment?
Arnovitz: Nine years, $24 billion. Nicely done.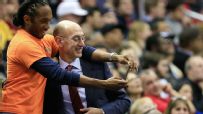 Coon: More transparency. The league has never been so open about the way it does things and the way it responds to the public and media. Silver promised greater transparency, and he has delivered. The other achievements -- the new TV deals, greater global expansion, skyrocketing franchise values and the like -- already were works in progress. They didn't come as a direct result of Silver's ascension to the throne.
Shelburne: Restoring trust between the league and its fans. Silver said the league was going to be more transparent and accountable, and it has been. You rarely hear the wild conspiracy theories that ran rampant toward the end of Stern's regime.
Wallace: While a good chunk of the groundwork was done before he officially took over, Silver was the man in the top job who oversaw the completion of the NBA's new nine-year, $24 billion TV deal last fall. It's a lucrative deal that promises to change the financial landscape of the entire league, but mainly the team revenues and player salaries in the next collective bargaining agreement. So from his handling of Sterling and the new TV deal, Silver is officially 2-for-2.
Windhorst: You can give a number of acceptable answers, but there's only one real one: the $24 billion TV deal. It probably was the most important action of his first few years in office, since it established the financial health of the league for the next decade. You think Silver and the union are dealing with age limits and drug tests these days? No, they're haggling over how to deal with that gigantic pie that's in the oven that Silver assembled.
---
4. What's been the most noticeable difference between Silver and Stern?
Arnovitz: Much to my chagrin, considerably less sarcasm and fewer borscht belt witticisms. Silver is also less bound to tradition as a guiding authority when he grapples with the future of the league, which is nice.
Coon: Besides the aforementioned transparency, "Easy Dave," as he called himself, had a nasty reputation for ruling with an iron fist and taking people to task. Silver, by every measure, is much more conciliatory. But how will this play out with the owners? Stern had many of the old-school owners in his camp and could count on them to help drive initiatives through. In 2011, factions began to form between the old-school owners who were in Stern's camp and the new-school owners who weren't. Silver could have a much tougher time wrangling them in 2017, and his conciliatory nature could work against him. When it's "cards on the table" time, an iron fist could be what's needed.
Shelburne: Personality. Stern was always the smartest guy in the room. I don't have a problem with that. I like people with egos. But he tended to also be stubborn, intense and competitive. That created something of a bully pulpit. Silver is very different. He comes across as far more accessible and friendly to both fans and colleagues.
Wallace: The outward and public willingness to listen and work directly with league stars. Stern had a remarkable run as the best commissioner in sports for 30 years. But he seemed to be far more standoffish and confrontational. Silver seems to be taking a more methodical approach. Players wanted a longer All-Star break. They got one. Stars wanted to make social statements with provocative T-shirts during warm-ups. They did so without public reprimand from the league about appropriate attire. Silver seems to lead with more of an open mind and less of an iron fist.
Windhorst: Just how open he's been to new concepts. He'll say "we'll consider it" to any idea, and that seems to make people happy. In two to three years, when many of those ideas haven't happened, we'll see what everyone says. Commissioner is a job where the first task is with keeping a majority of 30 billionaires happy. It's usually hard to be popular with the masses when doing the job properly.
---
5. What's one thing you would like Silver to focus on in Year 2?
Arnovitz: There are a few workplace issues that haven't been adequately addressed. Two examples: The current schedule doesn't afford players the rest and recovery they need to perform at a world-class level for a full season; and Silver also needs to work with the players' association and his owners to craft a comprehensive mental health program. It's a process, but it's time to get started.
Coon: Bridge-building. There's new leadership in the players union, and Michelle Roberts looks like she's no Billy Hunter. The same thing goes for the NBA owners, who no longer can be counted on to fall in line behind the commissioner. It's looking pretty certain that the CBA will be reopened in 2017, and both sides look like they're eager to cast aside many of the assumptions that have been taken for granted in past negotiations. Silver needs to start forming allegiances today.
Shelburne: Reforming the lottery. I don't care how he does it, I never want to see another team tank as blatantly as the 76ers have in successive years. I think it's bad for the game -- for fans who are paying money to watch an NBA game, and for the players who are getting their butts kicked every night.
Wallace: Tweak the playoff format. The league should have its best 16 teams represented. If that means 10 come from the West and six from the East, then so be it. It seems two teams get punished each year in the West by missing the playoffs when they are superior to the last two or three teams that make it in the East. Silver can fix this. League owners should want this. Let the top six teams in each conference get automatic playoff bids, and then the final four spots go to at-large teams with the four best remaining records.
Windhorst: The age limit and HGH testing have been issues sitting on the table since 2011. They both could significantly influence the league. There's a union director in place. The economy of the league is good and the TV deal is done. Get something done with these issues.