Our 5-on-5 crew has spent the week discussing the NBA's point guards, shooting guards, small forwards and power forwards. Last but not least, the center position.
1. Who's the best center in the NBA?
Dan Feldman, Piston Powered: Dwight Howard. Howard just led the NBA in rebounds per game. In an off year. When Howard is healthy and happy, no other center comes close. When he's hurt and playing with Kobe, Howard is still pretty darn good. In Houston, Howard should again become clearly the league's best center after spending a year or two as arguably the league's best center.
Israel Gutierrez, ESPN.com: Dwight Howard. There's almost no arguing this one. In his worst season since he was an NBA infant, Howard still led the league in rebounding and blocked 2.4 shots a game, shot 58 percent and averaged 17 points in a Lakers offense where he was almost an afterthought. And he did it all while dealing with significant back and shoulder issues. If that's a down year, Houston can expect great things.
Brendan Jackson, Celtics Hub: Marc Gasol. Sure, there are better rebounders and centers who have a higher PER. But Gasol is an exceptional passer, a dominant defensive player and the key to Memphis' success. The Grizzlies are four points per 100 possessions better than their opponent when Gasol is on the floor, and seven points per 100 possessions worse when he's not. That, ladies and gentlemen, is what we call in the basketball business a game-changer.
Amin Vafa, Hardwood Paroxysm: Dwight Howard. Yes, his stint with the Lakers was lackluster. And yes, we haven't quite seen him at his peak after his back surgery. But his post defense and the rest of the league's inability to guard him one-on-one makes his talent unparalleled. If he's on your team and he's playing his best, you're a contender. It's as simple as that.
Jack Winter, Warriors World: Tim Duncan. Despite his insistent preference to be labeled a forward, Duncan has been San Antonio's nominal center for years. No big man in the league can match his combination of skill, knowledge and knack on either end of the floor. Calling a 37-year-old the best player at his position would normally speak to its lack of top-shelf talent, but that's not the case here -- Timmy is just that good.
---
2. Who's the most underrated center in the NBA?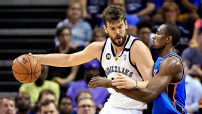 Feldman: Marc Gasol. I was shocked at how many players publicly endorsed another candidate for defensive player of the year after the fact last season -- an implicit shot at Gasol, who won the award. Traditional statistics don't totally convey Gasol's impact, but he's a tremendously skilled player on both ends of the court. And he keeps getting better.
Gutierrez: Joakim Noah. Yeah, he made the All-Star team and was a first-team defender, but Noah's value to the Bulls remains underrated. Noah's basketball IQ is the primary reason (with excellent guidance from Tom Thibodeau, of course) the Bulls can remain a playoff team even without Derrick Rose.
Jackson: Brook Lopez. Sometime in the past few years it became fashionable to focus solely on Lopez's poor rebounding ability and general goofiness while conveniently ignoring his 20.4 career PER. He's nowhere close to being the best center in the NBA, but he will be a valuable piece to the super-squad that was just assembled over on Atlantic Avenue.
Vafa: Anderson Varejao. It's unfortunate that one of the best screen-setters and offensive rebounders in the league doesn't get the recognition he deserves. But it's likely that his injury history, his transition from power forward to center and his unsuccessful team have obscured his talent level.
Winter: Chris Bosh. Lithe build and offensive identity aside, Bosh is the center in the Heat's small-ball attack. And though he's not without limitations, he's still the pivot from which everything in Miami's unique two-way identity swings. His basic numbers are down and he's prone to frustrating bouts of inactivity, but Bosh's overall influence on the game remains elite.
---
3. Who's the most overrated center in the NBA?
Feldman: DeAndre Jordan. Jordan has disappointed since signing a four-year, $43 million contract two years ago, but he still gets too much credit due to his prominent role in Lob City. A few incredible dunks per year (somewhere, Brandon Knight shudders) don't negate how little he provides in the postseason, especially for a Clippers team with legitimate championship aspirations.
Gutierrez: Marc Gasol. This is a very literal answer. Gasol's a great big man, but he was rated the best defensive player in the league last year. He's not even the best defender at his position or on his own team. Therefore, he's overrated.
Jackson: DeAndre Jordan. When NBA fans see DeAndre Jordan, they see the man who nearly ended Brandon Knight's life. That DeAndre Jordan could be dealt for Kevin Garnett. That DeAndre Jordan, however, isn't based in reality. The real DeAndre Jordan plays a shade under 25 minutes a night, has no post moves, is a below-average rebounder, can't make free throws and has to be taken off the floor during crunch time. But he can dunk!
Vafa: Kendrick Perkins. It's probably a bad idea to call such an imposing presence "overrated." However, his continual lack of top-tier production makes him more of a liability on the court than an asset. He's proved to be an average player for whom we have above-average expectations. But is that his fault?
Winter: Al Jefferson. He might have the league's best arsenal of classic low-post moves, but Big Al's reputation has never aligned with his middling net effectiveness. His wildly deficient defense is well known by now, and his efficiency on the other end leaves a lot to be desired, too. Though the Bobcats needed a major influx of interior talent, they'll still regret signing Jefferson to such a lucrative contract this summer.
---
4. Who's the most promising center in the NBA?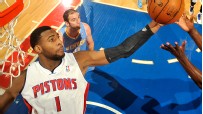 Feldman: Andre Drummond. No current player combines his size and athleticism, and in limited playing time last season, he showed he can use those traits to make a huge impact. Nearly 20, Drummond has plenty of time to smooth his rough edges, especially his free throw shooting, and become elite. Already, he's a highly efficient finisher, unstoppable rebounder and plus defender.
Gutierrez: Andre Drummond. As a raw 19-year-old, Drummond averaged 2.8 blocks, 1.7 steals, 13.8 points and 13.2 rebounds per 36 minutes. By the time he's actually playing 36 minutes a game, those numbers could be significantly better. He might want to figure out that tricky free throw thing, though.
Jackson: Jonas Valanciunas. Maybe this is just the summer league talking, but if I were the Raptors, I'd be feeling a whole lot better about my 2011 lottery pick. He's 21 with some raw skill and power, which means he's got time to hone that skill and increase that power.
Vafa: Roy Hibbert. We've watched him grow stronger and smarter over the past few years, and the future only looks brighter. Those lamenting the decline of the traditional NBA center should rewatch the Eastern Conference finals and enjoy the new, improved model. Plus, he's tight with Tom Haverford and Jean-Ralphio.
Winter: Anthony Davis. By trading Robin Lopez to Portland this offseason, New Orleans pushed all-in with playing its lanky, young big man in the middle. While Davis remains a far cry from his ideal playing weight, he looked considerably bigger at Team USA training camp last month. No matter where the Pelicans play him going forward, Davis will star as a transcendent piece on both ends of the floor.
---
5. Who will be the best center in the NBA in five years?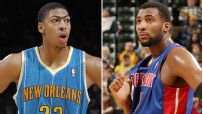 Feldman: Anthony Davis, who will develop into more of a center than a power forward as he gets bigger and the league shifts smaller. Howard will be 32 -- hardly disqualifying, but I just can't trust a player so big to remain healthy at that age. Davis is slightly more advanced than Drummond right now, and though some of that might be more Lawrence Frank's fault than Drummond's, it's enough to give Davis the edge in a close three-way race with Howard and Drummond.
Gutierrez: Howard. He'll be 32 in five years. At 32, Shaquille O'Neal was still a year away from winning his fourth championship. Howard will have to refine his offense some once his athleticism declines, but there isn't anyone on the horizon who will definitively be better than a 32-year-old Howard. Maybe Drummond, but that's a big leap to take.
Jackson: DeMarcus Cousins. His attitude alone makes me second-guess this pick, but his size and skill set just can't be denied. His shot selection and desire both need to improve, but he has all the tools to be dominant in this league.
Vafa: Andre Drummond. A back injury robbed us of watching him play a complete season, but in just the short glimpse we got, we saw something special. His PER makes him one of the top-20 most-efficient players in the NBA, and his strength and skill make him one of the most exciting centers to watch (see for yourself). And at just 19, his ceiling is almost limitless.
Winter: Andre Drummond. Davis is still the better player and prospect, but his positional ambiguity offers a chance for some wiggle room; I'll take it to give Drummond his due. If his skill level can catch up to his body, Detroit's impressionable man-child will be a franchise player and perennial MVP candidate. Though that seems unlikely at this point, in time Drummond will fulfill his potential as a game-changing terror.


ESPN.com and the TrueHoop Network
Israel Gutierrez covers the NBA for ESPN.com. Dan Feldman, Brendan Jackson, Amin Vafa and Jack Winter are part of the TrueHoop Network.
• Follow the NBA on ESPN on Twitter | On Facebook | On Google+