Will the Hall of Fame call this quintuplet of former stars? ESPN The Magazine shared its thoughts on who is Hall-worthy based on analytics. Now our panelists give their subjective takes on Vince Carter, Grant Hill, Rasheed Wallace, Tracy McGrady and Allen Iverson. (Also, check out Insider's analysis on Shawn Marion's HOF chances.)
1. Is Vince Carter a Hall of Famer?
J.A. Adande, ESPN.com: No. His career seems defined by what he hasn't done: such as, he has never led the league in a statistical category and never gone to the NBA Finals. The last part is even more remarkable because he joined two teams (the Magic and Mavericks) that went to the Finals the season before he got there, and a third (the Nets) that went two years before he arrived. He has had a habit of always arriving after the meal was eaten and the bill has been paid. And of course, he left the Raptors before they even served the main course.
Mark Haubner, The Painted Area: Yes. Based on precedent, Vince will make it someday. Carter is 31st all-time in NBA scoring with over 21,000 points; every eligible player above him is in Springfield. But I wish the Hall of Fame had a higher standard. Carter made only two All-NBA teams (a second and a third). To me, he's a borderline candidate.
Steve McPherson, A Wolf Among Wolves: Yes. Carter is at the threshold of the kind of numbers associated with Hall of Famers. But for me, a Hall of Famer should be about more than just numbers. It should be about the fabric of the game, and with his Slam Dunk Contest win in 2000, his dunk on Frederic Weis in the Olympics that same year and countless other throwdowns, he was more than a dunker -- he became the dunk for countless fans.
Danny Nowell, Portland Roundball Society: No. If I were seeking true consistency with the rest of my list, Vince would be in, but there just aren't enough distinguishing achievements in his career. It pains me, as I have a soft spot for Vince as a Tar Heel, but I simply can't quite envision him enshrined.
Ethan Sherwood Strauss, HoopSpeak: Yes. He's the greatest dunker ever, and he happened to have a long, successful career doing a lot more than that. What went down in Toronto does not bother me. The guy didn't want to be stuck plying his trade in another country. I get it.
---
2. Is Grant Hill a Hall of Famer?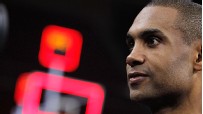 Adande: Yes. Even though injuries rerouted the course of his pro career, he nearly maxed out his college career by winning two championships at Duke and reaching a third Final Four. In the NBA he finished in the top 10 of MVP voting five times. He's also in the top 10 in all-time triple-doubles, even though he hasn't had one since 1998. That just shows you how good the pre-injury part of his career was.
Haubner: Yes, based on precedent. Remember that college counts, and Hill's résumé is quite similar to Hall of Famer David Thompson's: great college player who had six exceptional pro seasons. Plus, Hill's post-injury run has given him more longevity. If there were an NBA-only Hall of Fame, as there should be, I'd lean against Hill's candidacy, due to his unfortunate career-derailing injuries.
McPherson: Yes. If we keep going down the path of what players mean to the game beyond the numbers, Hill should be in. It's a trip to go back and watch Old Sprite ads and see him being sold on his superhuman abilities. After his lost seasons in Orlando, it seemed like he was washed up. But against all odds, he's become what he maybe always was: a player defined more by hard work than sheer talent. A basketball player. Throw in his Duke career and that's a story worth learning.
Nowell: Yes. Originally my thought was that Grant had been too injured for too long, and should be a tragic exclusion. But Hill was just too good in his Detroit years -- I'll cast my vote for his inclusion happily, and let more practical voters deny him if they want.
Strauss: No, sadly. Grant Hill's NBA career might be the greatest Duke ever produced -- which may be an indictment of that university's pro development. Hill had the talent and desire to be a Hall of Famer, but his ankles had other, devious plans.
---
3. Is Rasheed Wallace a Hall of Famer?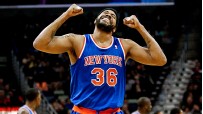 Adande: No. Rasheed didn't care about being an All-Star, so why would he care about being in the Hall of Fame? He'd be more likely to carefully pick his 'fro, then spray it with activator before he'd be concerned with validation from outsiders. It's a refreshing approach, but it's why he didn't put up surefire Hall Of Fame numbers, and why he wouldn't get my vote. That's a shame, because I'd love to hear his induction speech.
Haubner: No. And it's too bad, because I've always believed Rasheed had every bit as much talent as legendary contemporaries Tim Duncan and Kevin Garnett. If only Sheed had been comfortable as a No. 1 option who shot that unblockable turnaround jumper down low all night, I think he'd be Hall-bound. And of course, there were too many times when Sheed's outbursts unhinged his team and himself.
McPherson: No. And it pains me to say it. I want him to be, but as a wise man once said, "Feelings aren't numbers." He's lovable and crazy, a misfit who found his place on a championship team in Detroit but just keeps on giving, now in New York. If the NBA were Dungeons & Dragons, he'd be a chaotic good orc. But his identity is bound so inextricably to the NBA and its rules that I can't see him matching up to the Hall's emphasis on the game over the league.
Nowell: Yes. The old "best player on a championship team" test seems to have been decided in Chauncey Billups' favor regarding the mid-2000s Pistons, but Sheed was their soul, the guy whose two-way brilliance made it work. Plus, I already let Vince Carter in, so what can I do?
Strauss: No, but I'll never forget him and neither will you. Sheed just doesn't have the numbers, and it's because he just missed his era. When the NBA nixed illegal defense, it fomented a brave new era of floor-spreading, 3-point shooting power forwards. By then, Wallace was too old to truly capitalize.
---
4. Is Tracy McGrady a Hall of Famer?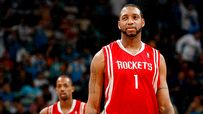 Adande: No. He never played a full 82-game season, and it feels as if he never got to play his full career. A bad back essentially wrecked him by age 30. His failure to advance past the first round of the playoffs wrecks his Hall of Fame bid in my time. Even worse, the Rockets did advance, then took the Lakers to seven games in the second round, all in his injured absence. That might qualify him for the Patrick Ewing Theory Hall of Fame, but not the one in Springfield.
Haubner: Yes. T-Mac deserves it. Due to his excruciating decline, you likely forget how good T-Mac was: seven All-NBA teams and one of only seven players ever with a 30-plus PER season (2002-03). Lack of a playoff series win hurts, though McGrady was usually spectacular in the postseason. Clearly a better NBA résumé than Chris Mullin, who got in last year.
McPherson: No. Beloved by deep basketball heads for the nearly supernatural abilities he displayed for a brief window at the beginning of the 2000s, McGrady has had a career too potholed by difficulties to be a lock for the Hall. It's roughly equivalent to putting the band Television into the Rock and Roll Hall of Fame just on the strength of the "Marquee Moon" album. I mean, "Marquee Moon" is so good but ... hmm. Can I change my vote?
Nowell: Yes. Tracy McGrady still might be the prettiest scorer I've ever seen, and during his prime was a marquee player during one of the best eras in the league. I could see this going the other way, but T-Mac gets my vote.
Strauss: No. He should have been, but he's not. There was a time when preferring T-Mac to Kobe was perfectly reasonable, if not rational. Some back spasms and knee injuries later, and McGrady's résumé lacks HOF credentials.
---
5. Is Allen Iverson a Hall of Famer?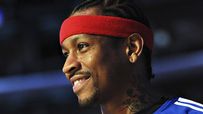 Adande: Yes. Every other Most Valuable Player is in the Hall of Fame or is clearly on his way, and there's no reason the 2001 winner should be an exception. He rejuvenated the Georgetown program, then reinvented it. Georgetown went from a team dominated by big men who stayed all four years to a place where star guards left early. In the pros, he restored glory to a storied franchise that had been dormant for a decade. His career scoring average of 26.7 points per game ranks sixth all-time. And he ushered in the hip-hop era of the NBA.
Haubner: Yes. Basketball-Reference rates Iverson as having a 99.8 percent probability of making the Hall. With an MVP, seven All-NBA teams (three firsts, three seconds, one third), 11 All-Star appearances, four scoring titles and more than 24,000 career points, The Answer is a no-brainer, even though his overall impact on winning is likely overrated (too much low-percentage, high-volume shooting).
McPherson: Yes. Iverson's possible induction into the Hall is maybe the greatest test of the moral component of how we judge basketball players. Does a Hall represent what we wish a sport would be, or does it reflect the actual, often messy reality of the game as played? I side with the latter, and there's no denying Iverson bore, and in many ways embodied, a rebellious streak that's an indelible part of how we understand basketball.
Nowell: Yes. A.I.'s career has lost quite a bit of luster for me now that he's not around to bully me into submission, but he just means too much to the league not to be included. Yes, his inefficiency is almost laughable now, but A.I. was such a transitional, transformative figure on and off the court that he deserves a spot.
Strauss: No, not in my eyes. I'm sure Iverson will get in and he was an incredible talent. I'm just not in favor of supporting this kind of candidacy. People cite Iverson's Finals run as proof of his value, but he was far worse in so many seasons. I'd rather a HOF player be an obvious help to his team, nearly every year.


ESPN.com and the TrueHoop Network
J.A. Adande is a senior writer for ESPN.com. Mark Haubner, Steve McPherson, Danny Nowell and Ethan Sherwood Strauss contribute to the TrueHoop Network.
• Follow the NBA on ESPN on Twitter | On Facebook | On Google+