With the NBA's nuclear winter likely over, the free-agent frenzy originally scheduled for this past summer is now earmarked to explode on Dec. 9.
Chad Ford has the inside info on who GMs think will command the most interest when the market officially opens. Now, our 5-on-5 team gives its take on what some of the top targets should be worth.
1. What would you offer Nene?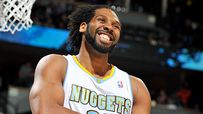 Kevin Arnovitz, ESPN.com: The Nuggets have enough cap space to fill the Front Range of Colorado and they won't find a more compelling free agent to spend it on than Nene. Their incumbent center is coming off his best season. Max contract offers always come with risk, but in Nene's case it might be worth it for the Nuggets.
John Hollinger, ESPN.com: Four years, $52 million. Nene is a near-max player in any environment, but especially in the revised one where the risk is mitigated by the maximum four-year duration for any team other than Denver. Obviously, for the Nuggets he's worth the extra year, which would take the total value to five years and closer to $65 million.
Rob Mahoney, The Two Man Game: Four years, $60 million. Nene's effectiveness is naturally dependent on team context, but he's a terrific defensive center with a productive offensive game. Don't sweat his classification as a sub-elite big man; I'd open my wallet for defensive consistency and efficient post play, both of which are Nene staples. The kicker: Even at 29, we haven't seen Nene utilized to his full potential on either end of the court.
Jeremy Schmidt, Bucksketball: Four years, $36 million. In terms of offensive efficiency, Nene doesn't have a peer in this group. Defensively, he's a firm third behind Tyson Chandler and Marc Gasol, though. The league's favorable offensive perimeter rules make it all the more important for centers to be imposing back-line defenders, so it's hard to commit franchise money to Nene for an extended period.
Ethan Sherwood Strauss, HoopSpeak: I believe Nene is worth $13 million per year under the old CBA. Since the owners won massive concessions, I can only assume he is now worth 1/100th of this, plus a tin of shriveled sardines. In all furrowed seriousness, I would still give Nene four years, $52 million. Unselfish, efficient, he sets the tone for a Denver collective that hummed post-Melo.
---
VOICE OF THE FAN (via Google+)
Davis Bite: Four years, $45 million would be what Nene is worth. He had the best field goal percentage (61.5) in the NBA last season. If he shoots a bit more, he will be an offensive force. He's the second-best center in the league after Dwight Howard, and good centers just don't grow on trees.
---
2. What would you offer Tyson Chandler?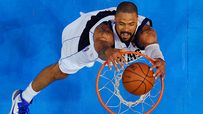 Kevin Arnovitz, ESPN.com: Chandler is a defensive stalwart, a positive force in practice and the locker room, and arguably the Mavs' second-most-important player. He might not be worth max money, but he warrants a four-year, $46 million contract offer.
John Hollinger, ESPN.com: Four years, $45 million. Chandler isn't quite as good or quite as durable as Nene, but he showed his value as a defensive force in the middle and he won't get any shorter with age. Additionally, as a high-character guy who showed improved shooting this past season, he's at little risk for the "sign-and-retire" deals we've seen from some veterans. Unlike Nene, I'd be more leery of a fifth year given Chandler's age and injury history; Dallas would be wise to make it only partially guaranteed.
Rob Mahoney, The Two Man Game: Four years, $56 million. I hate reducing this exercise to a dollar-for-dollar comparison between Chandler and Nene, but the association -- due to position and availability -- is natural. I rate Chandler as a tad less valuable than Nene, if only because of his shot-creating limitations. Chandler is still a hell of a catch, though, and improves his team's play on both ends of the court.
Jeremy Schmidt, Bucksketball: Three years, $30 million. Chandler is one of the three best defensive centers in the NBA, but he's an old 28, closing in on 20,000 minutes. He'll be worth whatever he's paid for the next couple of years, but the clock is ticking on the athleticism that makes him as good as he is.
Ethan Sherwood Strauss, HoopSpeak: I would offer $36 million over four years -- especially if I have a medical staff on par with Mark Cuban's. Then I would make team doctors take a new Hippocratic oath that includes a "do no harm to center toes" promise.
---
VOICE OF THE FAN (via Google+)
Jacob Rose: Four years, $40 million with a team option for a fifth year. Why? Because when you average nearly a double-double and are among the league leaders in most "big man stats," you deserve $10 million bucks per year.
---
3. What would you offer Marc Gasol?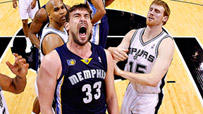 Kevin Arnovitz, ESPN.com: I'd first offer him a personal trainer before sliding a four-year, $42 million deal sheet across the table. Gasol isn't really a first or second defensive option, but versatile centers with deep skill sets are far and few between. Memphis is another team with plenty of payroll flexibility. It should be cautious -- but not chintzy -- with Gasol.
John Hollinger, ESPN.com: Four years, max. Not because he's worth that much, but because you're not getting him otherwise, since the Grizzlies can match any offer and stay under the luxury tax now that we know the tax level will be $70 million again. As for Memphis, I'd say five years and $50 million would be entirely reasonable. Oh, and either way I'd get a weight clause in there, because that tire around his belly worries me.
Rob Mahoney, The Two Man Game: Four years, $53 million. As a promising 26-year-old center, Gasol's price tag is unquestionably predicated on potential. He's already a very good player, but I'm banking on his becoming a top-flight center who can act as one of my team's anchors. He may never be a star in the traditional sense, but Gasol is precisely the kind of understated talent I want impacting the game for my team for years to come.
Jeremy Schmidt, Bucksketball: Four years, $50 million. Gasol is the most complete package among free-agent centers. He's a creative offensive player with more perimeter skills than either Nene or Chandler and he provides a presence on the defensive end. And having played just three years in the league, Gasol offers the brightest future in terms of expected durability and potential for growth.
Ethan Sherwood Strauss, HoopSpeak: Only so many 7-footers can open up an offense with the pick 'n' pop. Marc gets five years, $50 million, and my cringing fear that he'll put on pounds. Thought for food, with apologies to Southern friends: Forbes ranked Memphis as America's fattest city. If we blame Gasol's (occasional) girth on this region's butter-soaked delectables, then a scrawnier town might get better value on the Spaniard.
---
VOICE OF THE FAN (via Google+)
Omar Juwara: Marc Gasol is a great big man who would be a great fit on a lot of teams because of his physical play. He deserves to get four years for about $8-10 million from the Grizzlies but he may get an outrageously lucrative contract that the Grizzlies may soon regret, especially since they may end up dealing Rudy Gay and his large deal. He may get about $9-11 million yearly from other teams in need of a 5.
---
4. What would you offer Greg Oden?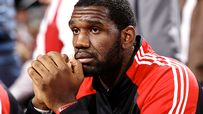 Kevin Arnovitz, ESPN.com: Offer Greg Oden a hug -- he needs it. But if you're Portland, it's tough to justify going beyond the one-year, $8.8 million qualifying offer. That would still give the Trail Blazers the opportunity to match a larger offer from the outside, though it's hard to imagine a team backing up the truck for a guy who has played 21 games over the past two seasons.
John Hollinger, ESPN.com: Two years, $15 million. He's worth a financial investment, but you can't go long on the years with Oden given his health history and the draconian luxury-tax penalties that will kick in for 2013-14. That's especially true for Portland, which could very well be a tax team in that season even after amnestying Brandon Roy.
Rob Mahoney, The Two Man Game: Three years, $20 million. Throwing any kind of money at Oden is going to be a gamble, but I'm willing to roll the dice for an excellent rebounder and defender. If it works out, Oden will far exceed his contract value. If his knee collapses into itself and creates a patellar black hole, I'll utilize the new "stretch" provision to minimize the yearly cap hit my team takes as a result. Not exactly foolproof, but worth the risk.
Jeremy Schmidt, Bucksketball: I would not offer Oden a contract. The money or years it would take to sign Oden -- money north of his $8.8 million qualifying offer or enough years to offset that number -- won't be worth it. I'd rather gamble on bargain-priced potential players like Brandan Wright and Alexis Ajinca than take a very expensive flier on a player who has played just 82 games since the start of the 2008-09 season.
Ethan Sherwood Strauss, HoopSpeak: I'd offer both my sturdy knees, and reap the benefits of free grub for life at Portland food trucks. But barring a knee transplant that grants me Asian fusion geoduck tacos, I'd offer Oden four years, $24 million. This contract is a gamble, but a fantastic medical staff could convert risk into reward.
---
VOICE OF THE FAN (via Google+)
Dylan Conley: Oden's had a very difficult start to his career, which is sad because he obviously has potential (when healthy). I would offer Oden a one-year, $3 million deal, with a team option for a second year.
---
5. What would you offer Jamal Crawford?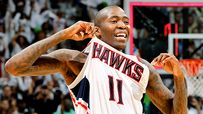 Kevin Arnovitz, ESPN.com: How much can you commit to a high-volume shooter who is one of the worst rebounders of his generation and has compiled only three defensive win shares more than a Rubik's cube over the past two seasons? If you're not a taxpayer, let his agent know there's a two-year, $5 million exception waiting for him -- but no more.
John Hollinger, ESPN.com: Three years, $20 million. He can fill it up off the bench and can play two positions, which gives him value. But I have trouble going much over the midlevel exception for Crawford given that he is 31 and provides nothing defensively. Ditto for the years, though the eventual winning bid for Crawford will likely include a fourth campaign.
Rob Mahoney, The Two Man Game: Three years, $22 million. An offer to Crawford is largely indicative of the value one places on shot creation. While I think Crawford is very good at what he does, I'm reluctant to invest too much in an aging wing with few other high-level NBA skills. Crawford gets buckets, there's no doubt about that. But why break the bank for a semi-efficient scorer?
Jeremy Schmidt, Bucksketball: Two years, $20 million. Crawford is at his best when he's on a new team in a high-energy, big-scoring role. Giving Crawford a long-term deal is akin to lighting a stick of dynamite and using it as a candle. It's best to keep his deal short and his shots high.
Ethan Sherwood Strauss, HoopSpeak: I wouldn't. It's not that Crawford's "bad," it's just that his skill set (scoring) tends to be overcompensated in this league. Any offer I make would be dwarfed by the offers of those who differ on hoops philosophy.
---
VOICE OF THE FAN (via Google+)
Zachary Loesl: Jamal deserves a three-year, $20 million deal. Although still a valuable contributor as a starter or sixth man, his performance has recently regressed. Last season his FG%, FT%, and 3P% went down, and being 31-years-old may scare away some front offices. Signing him to a short deal worth around seven million a year seems logical for teams to do.


ESPN.com and the TrueHoop Network
Kevin Arnovitz and John Hollinger cover the NBA for ESPN.com. Rob Mahoney, Jeremy Schmidt and Ethan Sherwood Strauss contribute to the TrueHoop Network.
• Follow the NBA on ESPN on Twitter | On Facebook | On Google+