Let's move into the weekend with 10 NBA things:
When was the last time this happened -- a player in the middle of the season making The Leap, everyone digesting the revelation together and knowing it is real and lasting? Perhaps Kawhi Leonard toward the start of 2016-17?
Tatum always had the pieces. Those pieces rarely coalesced on the same nights -- until the past five-plus weeks, starting almost to the day Tatum made the All-Star team. My pet theory is that Tatum was pressing about All-Star, and making it helped him settle into a groove.
The level of craft in his game has exploded. The individual moves were there; this nasty, left-handed, in-and-out dribble is from the first week of the season:
He has learned to string those moves together in ways that get him into the paint with more space to operate.
He starts by faking away from Daniel Theis' pick, wrong-footing both CJ McCollum and Hassan Whiteside. Tatum pauses to cement his advantage, kinda fakes that same in-and-out dribble as Theis rumbles into position, and finally explodes with a weaving crossover. Utter filth.
There is a staccato to Tatum's dribble game that keeps defenders off-balance -- at his mercy. (I argued last season Tatum needed more pick-and-roll reps, but Boston's ecosystem couldn't handle that sort of role shift. He's running twice as many this season, per Second Spectrum data.)
Tatum has used those pre-screen fakes to open space for the other shot that has rocketed him into All-NBA territory: the pull-up 3. Tatum has hit 41% on 4.4 pull-up triples per game -- 12th most in the league, and a gargantuan increase from 1.4 attempts last season. He remains a huge plus on defense. (Jaylen Brown deserves credit for often guarding power forwards, sparing the other Celtics some banging.)
This Tatum can be a top-five player in the NBA someday -- maybe soon. That provides Boston a path to title contention, perhaps now and definitely later. It gives this season's team something every contender requires: a clear hierarchy. There can be no arguments about who should have the ball late.
Tatum seized that responsibility in a way that felt organic. It's as if the rest of the Celtics were waiting for him to take it, maybe without even realizing. Everyone agreed, in the moment, that this is how it should be.
That is basketball magic. It rarely happens so naturally.
Tatum's next step is to advance as a passer. He has shown hints; he's making the first read a beat earlier:
Eventually, he will manipulate defenses, and make the pass one or two steps further down the chain than they expect. He doesn't project as a mega-assist ballhandling fulcrum, but there is no reason he can't average five or six dimes per game at his apex. Other scoring wings with that sort of profile have proved capable of being the best players on title teams.
2. Zach LaVine's missing playmaking
LaVine is a trooper. He plays huge minutes every game. He says and does the right things when his coach criticizes him in the media. Chicago averages 99 points per 100 possessions when he sits -- so much worse than the league's clankiest offense that it's embarrassing.
But it's fair to ask what level of creative burden LaVine can handle given his status as Chicago's best and maybe only reliable perimeter starter going forward. (It's hard to assume anything about Otto Porter Jr.'s future in Chicago, or anywhere, at this point.)
LaVine's playmaking has stagnated. He knows the reads -- where every teammate should be, how defenses rotate. But he can be late deciding what to do, and noticing when the defense is onto him.
LaVine is halfway to a really smart play there. He understands that Isaac Bonga, guarding the red-hot Coby White in the left corner, is responsible for crashing down on Cristiano Felicio's roll. LaVine stares at White, and tricks Bonga into rotating there -- unlocking an easy pass to Felicio.
Rui Hachimura anticipates LaVine's plan and jumps the passing lane. LaVine has to see that coming.
Caveat: LaVine has zero starter-quality players on the floor with him there. (Apologies to Thaddeus Young, who lost a half-step in transit from Indiana.) Chicago's entire starting frontcourt is hurt. LaVine will do better with more talent and shooting around him.
Even so, there have been too many turnovers like this:
LaVine either misses Hachimura, or knowingly tries an impossible pass.
LaVine is averaging 4.2 assists and 3.5 turnovers per game -- not good enough for a co-lead ball handler unless that guy is an uber-efficient scorer and/or special on defense.
LaVine can contribute to a good team. He is a star-level shot-maker. But evidence suggests he is overtaxed in his current role.
Olynyk was on the fringes of Miami's rotation until Meyers Leonard suffered an ankle injury. He is basically a stretch center without the physicality to defend that position, though he has worked hard on staying vertical around the rim.
He has never been a good rebounder.
Coaches have zero tolerance for weak boxouts from bigs.
Bam Adebayo can defend centers, but that leaves Olynyk chasing stretchy power forwards, and he's not really equipped to do that.
Still: There is a good player in here. Olynyk is shooting 41% from deep. He has a nifty pump-and-go game, and decent passing vision. He just hasn't played with enough force on offense. He hesitates when he's open, and looks unsteady off the bounce -- gun-shy on passes, prone to picking up his dribble in traffic when he still has room to prod.
Hopefully, Olynyk reestablishes his confidence as a temporary starter; he has hit double figures in three of Miami's past seven games. The Heat need him now, and Olynyk needs to show prospective suitors he has room to grow.
4. The Jazz, short on oomph and time
Identity in the NBA is ethereal and fragile -- a "you know it when you see it" collective knowledge that can slip from you with the slightest disruption. The Jazz don't have it right now. On offense, they are caught between their established motion system and a simpler version they settled on after acquiring more high-end scoring talent.
I'm skeptical that shifting Joe Ingles to the bench -- as Utah did in Thursday's loss to Boston -- is the answer. Ingles has Utah's core principles embedded in his DNA, and has struggled in a reserve role. Thursday's no-Joe starting five has been very good in 299 minutes, but the version with Ingles and without Mike Conley has been even better in almost double the minutes. I'd try that first.
Meanwhile, Utah's vaunted defense ranks 12th in points allowed per possession. It still yields the perfect shot profile -- more midrangers than anyone. In prior seasons, opponents shot even worse than expected on that profile. That isn't the case now.
Utah's summer moves exchanged defense and size for offense. That was understandable. The old Jazz had hit their ceiling. But the downsides of that trade-off manifest in those opponent shooting numbers -- and in Utah's total inability to force turnovers.
The Jazz lack a certain oomph -- a hard-to-define combination of size, wingspan, speed, hops. No one is scared when Utah's defenders close out on them. Quick-twitch ball handlers get their inside shoulders past a lot of Utah's mainstays.
That absence of oomph contributes to their biggest weakness: a weirdly porous transition defense. The Jazz turn the ball over on 15.1% of their possessions, sixth highest in the league, and they don't have the roaring athleticism to compensate. They aren't much better defending after live-ball rebounds.
The Sixers make for an interesting contrast. For most of the Joel Embiid-Ben Simmons era, Philly has crashed the offensive glass without compromising its transition defense. That is where having huge, fast players shows up. They cover ground faster, spook shooters, jump higher at the rim. You hear them, and feel them, in a way you don't with Utah.
Utah has to nail the little things -- positioning and effort. Rudy Gobert hasn't been the same impenetrable wall, perhaps out of some frustration over his role on offense. Reinserting Royce O'Neale into the starting five should boost their oomph factor.
The best version of Utah is a good, threatening team. They are running out of time to find it.
5. The overload lob
This is one of my favorite NBA passes:
That situation emerges a lot: A mismatch forces the defense to overload one side, with the first rotation coming off the big guy under the rim -- Rondae Hollis-Jefferson above.
The obvious pass -- and a very hard one -- is to OG Anunoby in the weakside corner. That pass usually stays airborne long enough for the defense to lock back into position. The best case for the defense is Fred VanVleet pinging to a middleman along the arc.
VanVleet refuses to settle. He fixates on Anunoby, and fools Josh Okogie into taking a false step back that way. The resulting pass still requires just the right arc and speed. (There is some chance VanVleet intends this pass for Anunoby, only for Hollis-Jefferson to intercept it, but I'm giving FVV the benefit of the doubt.)
LeBron James is the undisputed master of that specific pass. He doesn't even need to dupe that weakside defender; he sees over everyone, and squeezes lobs into tiny windows. I can close my eyes and see him hitting Tristan Thompson on the fingertips against Golden State's tilted defense in the Finals.
6. Mo Bamba, cocking it waaaaayyyy back
I don't know if Bamba will turn into anything meaningful, though he has made under-the-radar progress on defense; he leads the league in blocks per 36 minutes, and opponents have hit just 50.6% of shots at the rim with Bamba nearby -- 10th lowest among 237 guys who challenge at least two such shots per game, via NBA.com data.
He can leave the glass naked with overeager block-chasing, but Orlando should be happy with Bamba's Year 2 defense.
His future on the other end is an unknown (that's being kind), but give Bamba this: He is a stylish, violent, two-handed dunker.
He cocks the ball, almost Dominique Wilkins-style, even banging it against the middle of his back before whipping it up toward the rim. It's cool. Magic fans deserve cool things.
That is one large, career-defining "if," but I'm rooting for Martin to answer it affirmatively. He reads and feels the game at a high level.
That stealth cut keeps the Charlotte machine running when it might otherwise stall out. Martin takes a half-second to map the defense, and spots the correct pass.
He has shown nascent ability as a secondary pick-and-roll ball handler:
Spicy!
Charlotte has scored 1.253 points per possession on any trip featuring a Martin pick-and-roll -- the 13th highest (!) such figure among 280 players who have run at least 25 such plays, per Second Spectrum data. That number is a little misleading; Martin has run only 103 pick-and-rolls, and scores poorly out of them himself.
But he might leave teammates with small advantages that make the next play a little easier. Martin also sports the 16th-lowest turnover rate among those 280 players.
He is 14-of-64 (22%) from deep. Until that changes, he is a backup on a bad team and break-in-case-of-emergency deep reserve on a good one. But if it does change, Martin could become a legitimate rotation guy. His peripheral numbers -- assists, rebounding, steals -- indicate a smart role player.
8. Luka and Kristaps, figuring it out
Dwight Powell's injury has forced Kristaps Porzingis to play as Dallas' only big man, and as a direct result microwaved the chemistry development between the Mavs' tentpole stars. Before Powell's injury, Luka Doncic and Porzingis ran 20 pick-and-rolls per 100 possessions, according to data from Second Spectrum; Porzingis spaced the floor while Doncic danced with Powell or Maxi Kleber. Porzingis can succeed in that role.
Since Powell's injury, Doncic and Porzingis have paired for 38 pick-and-rolls per 100 possessions. The Mavs in that stretch have averaged 1.38 points on any trip featuring a Doncic-Porzingis pick-and-roll, a mark that would rank third among 307 pairs who have run at least 100 such suckers this season. (Trivia: Three of the top-10 pairings by this measure -- including Nos. 1 and 2 -- involve Kemba Walker.)
A Doncic-Porzingis pick-and-roll surrounded by shooting stretches defenses toward their breaking point. When Porzingis rolls -- as he is doing more lately -- any help from the perimeter opens up kickout passes for Doncic.
Stay home and play the pick-and-roll 2-on-2, and Doncic sniffs out a solution. He uses hesitation dribbles to make help defenders worry he's about to hit Porzingis beyond the arc, only to zoom through open lanes when those defenders lunge back out at Porzingis.
The duo is just as dangerous when Porzingis pops out. Have his man hang back to corral Doncic, and you risk a storm of easy 3s. Switch, and Porzingis launches over smaller defenders.
Doncic can abuse centers on the other end of those switches.
There is an in-between strategy for defenses: Double Doncic, and send a third defender flying at Porzingis. Two months ago in this space, I questioned whether Porzingis -- historically a poor passer -- could make the right decisions quickly enough in those circumstances.
In the past three weeks, he has shown improvement. Doncic's penchant for improvising -- his give-and-go genius -- seems to have rubbed off on Porzingis:
He hits Doncic with a pass like that almost every game now. Porzingis is averaging 2.4 assists per game in February. That doesn't sound like much, but it's a big step up for him.
He also just looks friskier, as if he can feel his body recovering from 20 months off. He's cutting with explosion, and roasting guys on pump-and-go moves. Dallas has outscored opponents by nine points per 100 possessions when Porzingis plays without Doncic after sputtering on offense in those minutes early in the season.
In New York, Porzingis expressed a comfort level playing power forward. The last month has hammered home -- including to Porzingis himself -- the impact he can have as a do-it-all center. It's fine for Porzingis to split minutes between positions -- see Anthony Davis -- but to win the title someday, Dallas will need him to play a lot of center.
9. Technical fouls for taunting yappy benches
Early in the third quarter of Houston's romp over Golden State on Feb. 20, Danuel House Jr. wound up for a 3 in front of the Warriors bench. Well-placed sources say someone, or multiple someones, hit House with a loud, "Hell no!'
House made the shot, grinned, and replied to those bench yappers: "Hell yes!" He might have added mild profanity for color.
The referees T'd House up.
This might be my least favorite technical foul, and has been since referees nailed Stephen Jackson, then of the San Antonio Spurs, for barking back at a very talkative Oklahoma City bench during an elimination game in the 2012 playoffs. If anyone on the bench does something to distract an enemy shooter -- shouting, clapping, foot stomping -- that shooter should be free to say damn near whatever he wants if he hits the shot.
On the TNT broadcast, Joe Borgia's Disembodied Head and Torso explained the league discourages both sides of the bench taunt exchange, and that officials were correct to penalize House. (They do have to worry about escalation toward fighting.) Borgia intimated referees should also punish bench taunters.
Well, refs are doing a terrible job of that. Every team seems to have at least one deep reserve and an assistant coach who specialize in screaming at enemy shooters, and they get off scot-free. Meanwhile, House loses money for telling the Warriors bench to shove it. Rescind that tech, Adam Silver!
10. Phoenix's letterless orange jerseys
By my count (with help from the league office) only five teams feature orange in their palettes beyond the inclusion of a basketball. Two -- New York and Oklahoma City -- relegate it mostly to the trimmings. Two more -- Orlando and Utah -- adopted it in new alternate jerseys. (Update: We forgot the Cavaliers throwbacks.)
The Suns should lean all the way into orange to the degree that fans associate it with Phoenix and only Phoenix. (They should do the same with purple, though Sacramento, Purple Dino-era Toronto, and the Lakers -- who designate their darker shade as "forum blue," not purple -- offer stiff competition on the purple corner.) Dispense with generic black and gray alternates and other nonsense.
These babies, new this season, are keepers: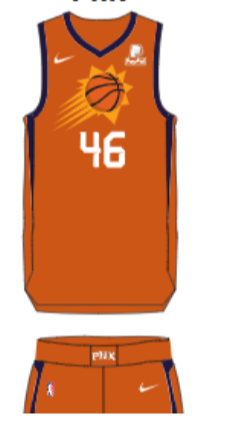 The sunburst ball is a classic nod to the Charles Barkley era. This is one of only a few jerseys in league history to include no lettering on the front, and the minimalist look is refreshing. It lets the orange dominate. We don't need words to tell us these jerseys belong to the Suns.