For the seventh season in a row, ESPN.com ranked the top players in the NBA. A lot has changed in the league since #NBArank started.
Back when #NBArank debuted, basketball wasn't even being played, thanks to the 2011 lockout. Chris Paul played for a New Orleans team that was still known as the Hornets, Derrick Rose was the reigning MVP and LeBron James -- who topped that year's rankings -- had yet to win a single NBA championship. James now has three titles (though, much like 2011, he is coming off a loss in the NBA Finals) and still tops our rankings, though plenty more has changed in the top 10.
Only three players who appeared in the original top 10 are still deserving of that lofty ranking, according to this year's voters. There are the same number of players who are outside the top 100, plus two who aren't currently in the NBA at all.
Here are Nos. 1-10 from 2011.
2011 #NBArank: 1-10
---
2011 team: LA Clippers
2017 team: LA Clippers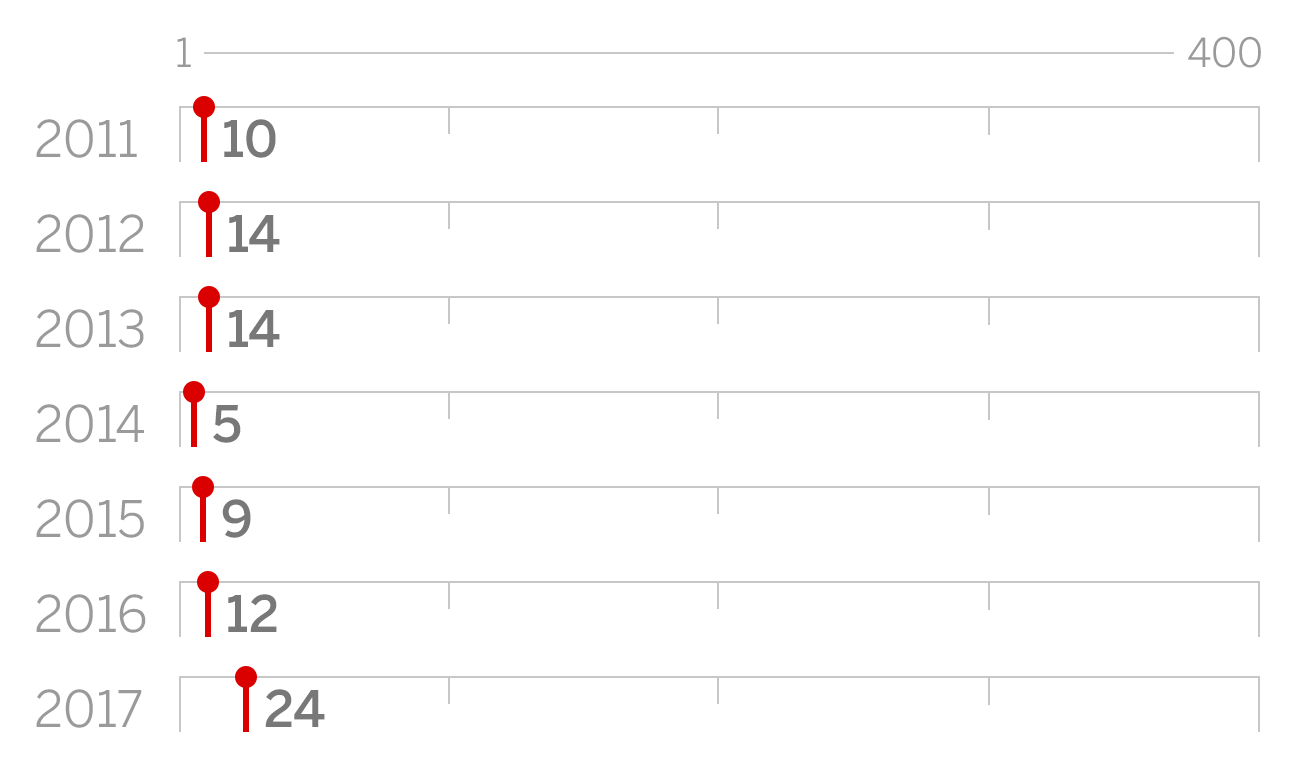 Then: Griffin was seen as one of the league's rising stars, coming off a rookie of the year campaign that saw him average 22.5 PPG and what remains a career-best 12.1 RPG. Chris Paul had yet to arrive in Los Angeles, but Griffin had already led the Clippers to their first 30-win season in four years. In the years since, Griffin has bounced in and out of the top 10 of #NBArank, landing as high as No. 5 in 2014.
Now: Griffin's #NBArank of 24 heading into 2017-18 is the lowest of his career. He is two years removed from his most recent All-Star campaign, as he has battled a series of injuries (the last time he played at least 70 games was 2013-14). With Paul gone to Houston, the Clippers are -- for better or worse -- once again Griffin's team, and if he can help them avoid a significant wins drop-off, he could see another move back up the rankings this time next year.

2011 team: New Jersey Nets
2017 team: Unsigned free agent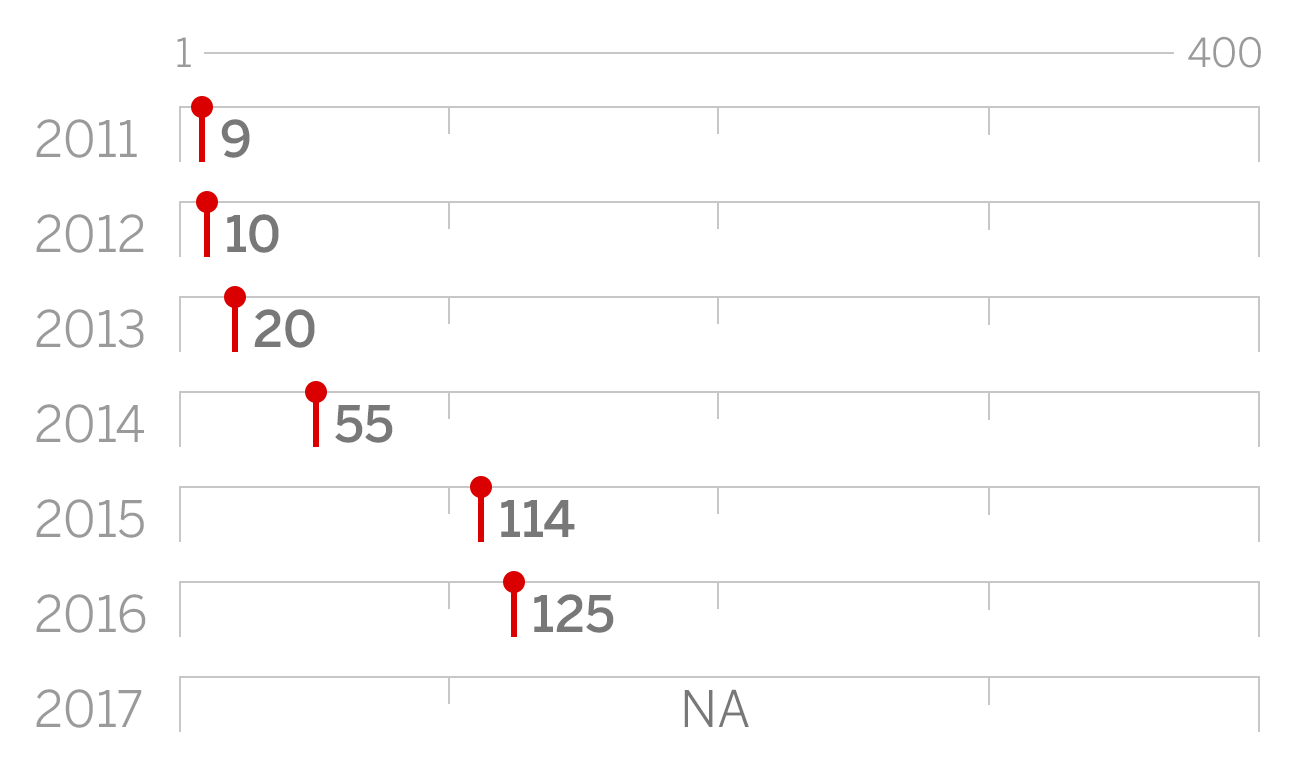 Then: There was a time when "Deron Williams or Chris Paul" was one of the great debates in the NBA. Though Paul had mostly solidified himself ahead of Williams by 2011, the then-Nets star was still largely viewed as one of the top point guards in the league, even after suffering a season-ending wrist injury after being traded from Utah to New Jersey.
Now: Injuries became the story for Williams in New Jersey and later Brooklyn after the Nets' move. He played 70-plus games just once in four seasons, falling from All-Star status and eventually securing a buyout from the Nets -- then again from the Mavericks -- before landing with Cleveland as a reserve last season. After a disappointing NBA Finals, Williams remains unsigned a week before training camp.

2011 team: Chicago Bulls
2017 team: Cleveland Cavaliers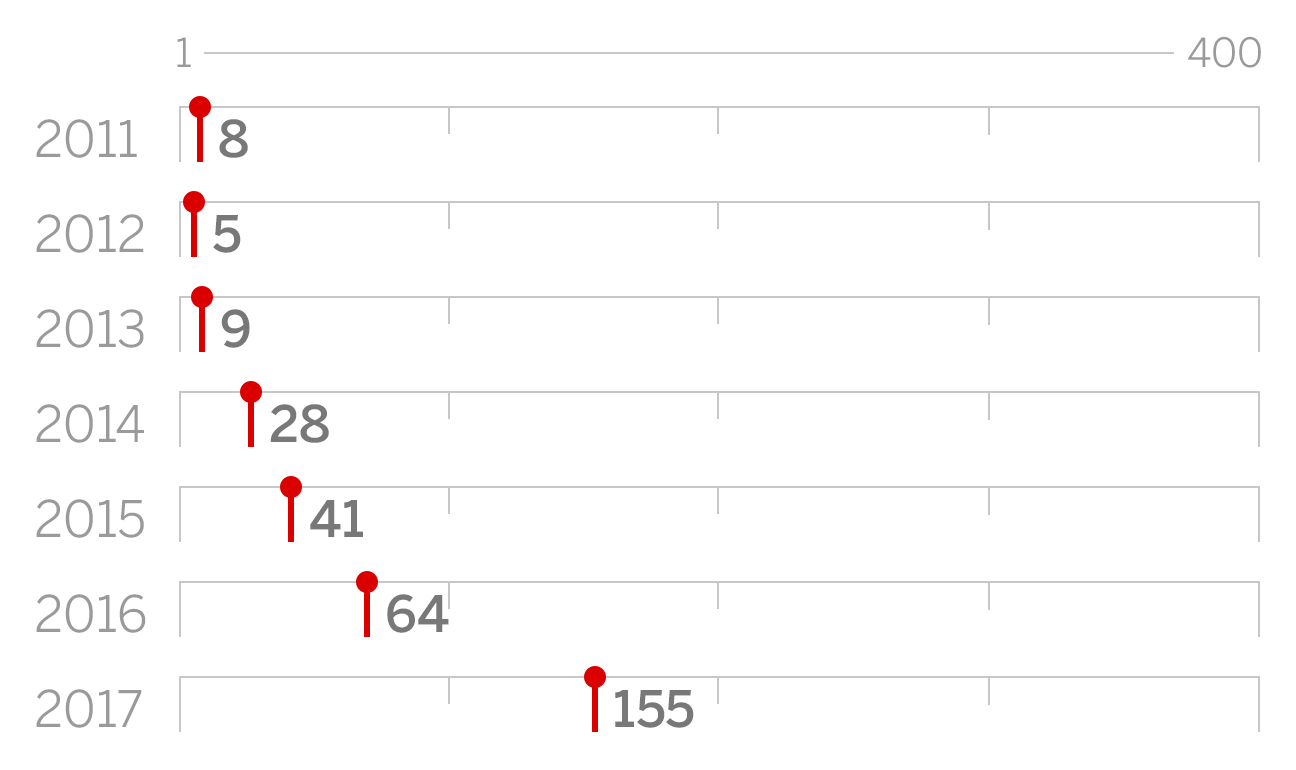 Then: In the fall of 2011, Rose was perhaps the league's best rising star. He was coming off a season in which he'd become the youngest MVP in NBA history, averaging 25.0 PPG and making the second of three consecutive All-Star appearances. His Bulls team had earned the No. 1 seed in the East before falling to the Heat in the Eastern Conference finals, and they were set up to be a contender for years to come.
Now: Everything changed for Rose in the opening game of the 2012 playoffs, when he tore the ACL in his left knee. Rose missed the entire 2012-13 season, played just 10 games in 2013-14 before suffering another season-ending injury. His Chicago tenure ended last season when he was traded to the Knicks, and after one season in New York, he struggled to find a new home before landing a minimum-salary deal with Cleveland.

2011 team: Los Angeles Lakers
2017 team: Retired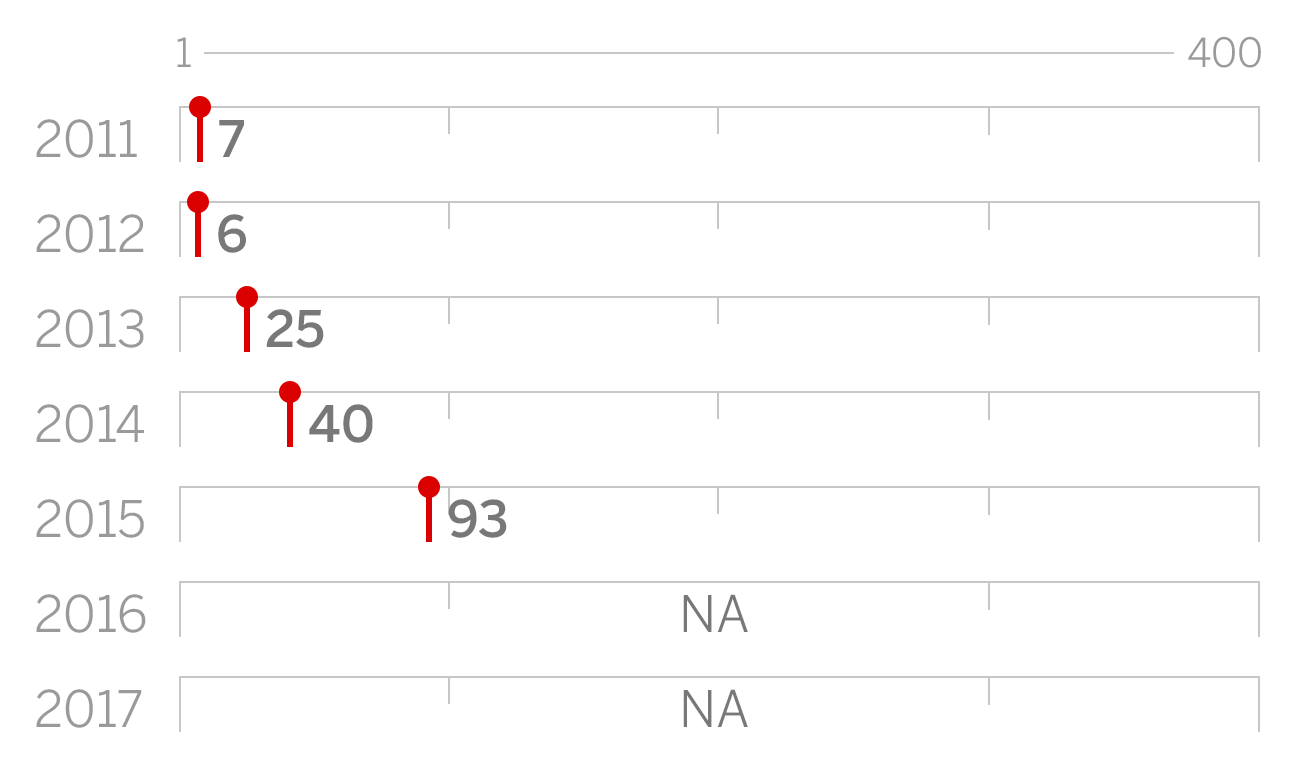 Then: The oldest player among 2011's top 10, Bryant was no longer in his prime the first time #NBArank was put together, but he was still performing at an elite level. He'd played all 82 games in 2010-11, averaging better than 25 PPG for the 10th time in his career. His Lakers squad was one year removed from an NBA championship and was still seen as a top contender in a powerful Western Conference.
Now: As seen by the chart of his rankings, Bryant's decline came swiftly, with the rupture of his Achilles tendon near the end of the 2012-13 season. He played just six games the following season and 35 the season after that. He bounced back to play 66 games in 2014-15, his final season in the NBA, but averaged just 17.6 PPG, his lowest average in a full season since his second year in the league. Though he went out with a flourish (60 points in his final game), he's the only player among 2011's top 10 who has since retired.

2011 team: Oklahoma City Thunder
2017 team: Golden State Warriors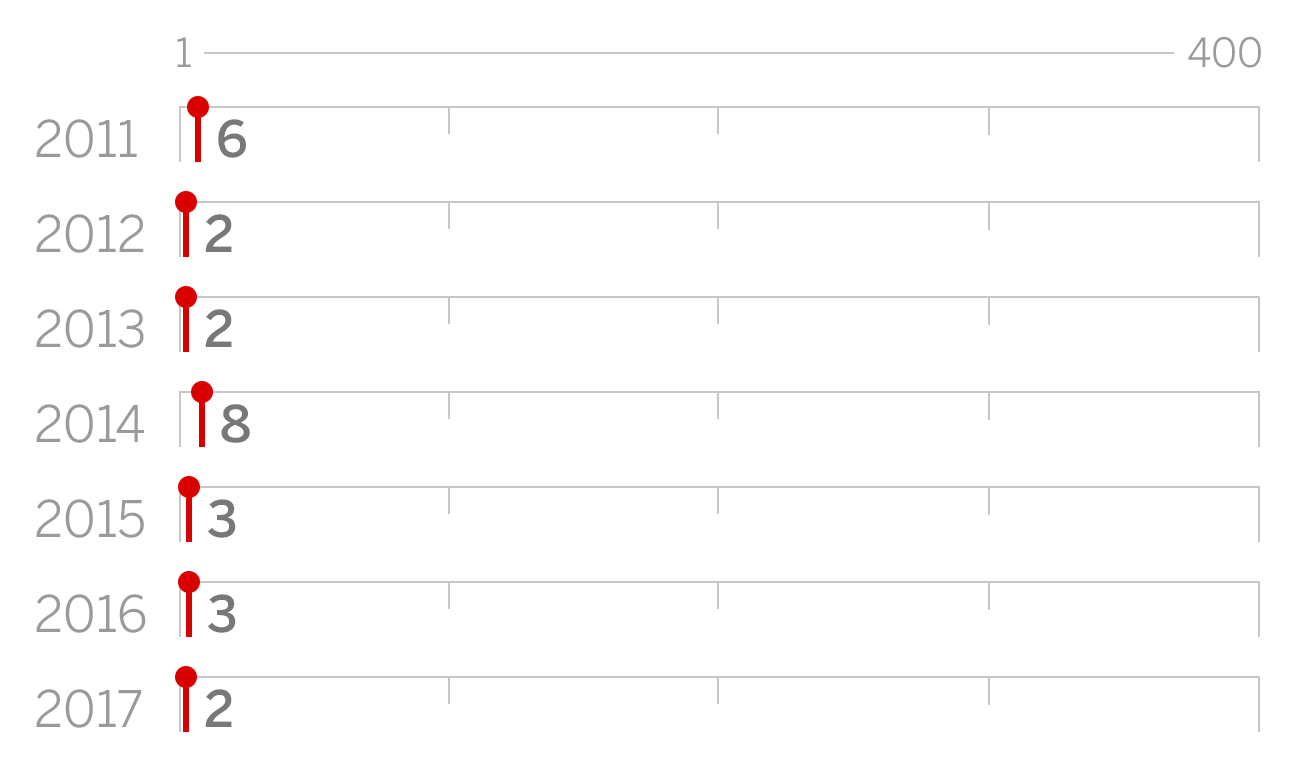 Then: 2010-11 was the second of three consecutive seasons in which Durant led the NBA in scoring, and the second of five straight first-team All-NBA selections for KD. In the 2011-12 NBA season, Durant helped lead a young Oklahoma City Thunder team to what many expected would be the first of multiple NBA Finals appearances.
Now: Durant kept up his strong play throughout the remainder of his OKC tenure, as he consistently slotted just behind LeBron James at the top of ESPN's annual player rankings (the one blip when he fell to eighth was because of the foot injury that ended up limiting him to just 27 games in 2014-15). The Thunder never got back to the NBA Finals, and Durant left in 2016 for Golden State, where he won his first title three months ago. The Finals MVP moved back ahead of teammate Stephen Curry for the No. 2 spot for the first time since 2013.

2011 team: Dallas Mavericks
2017 team: Dallas Mavericks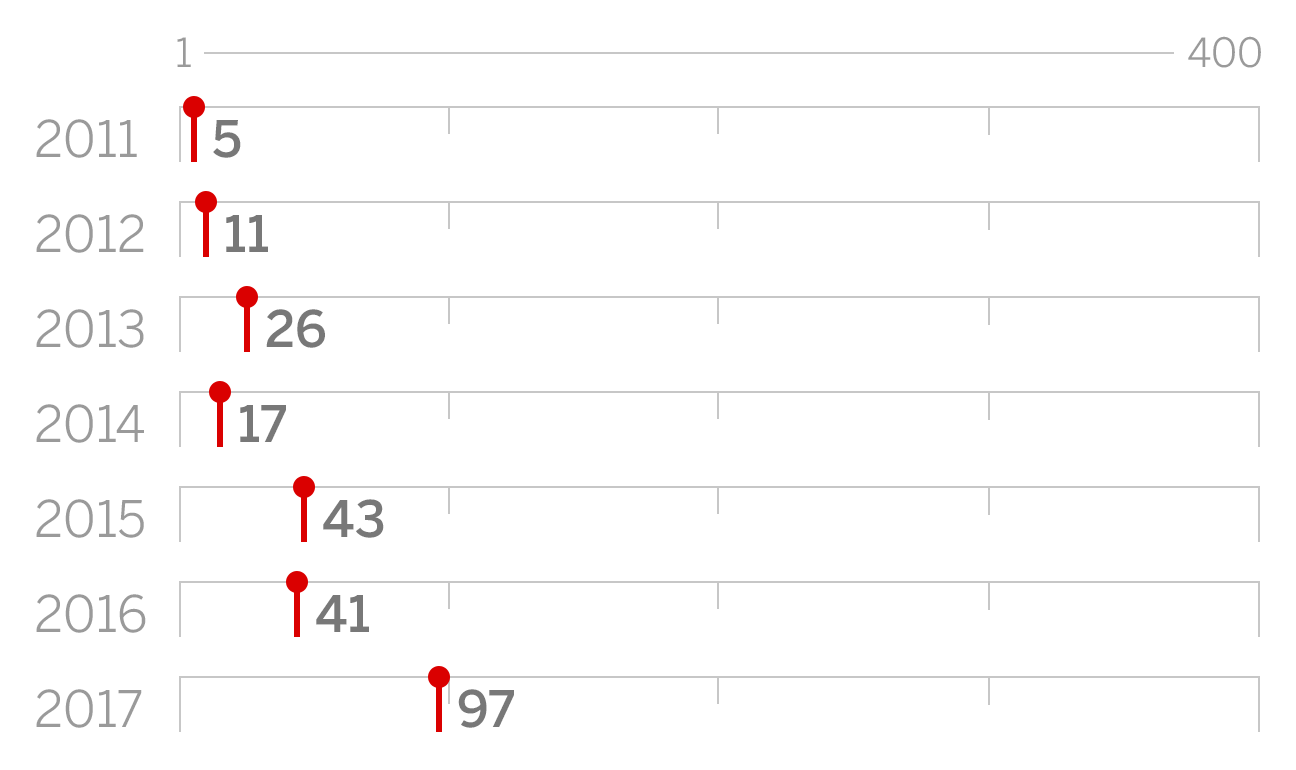 Then: Nowitzki finally shook off the "soft" label that had followed him over the years, besting James and the Heat in the Finals to lead the Mavericks to their first NBA title. Nowitzki earned Finals MVP honors, capping a season in which he averaged 23.0 PPG and made an All-NBA team for the 11th time in his career.
Now: The lockout-shortened 2011-12 turned out to be the final one in which Nowitzki made an All-NBA team, and he and the Mavericks are still looking for their first playoff series win since raising the Larry O'Brien Trophy in 2011. Still, Nowitzki has remained a steady contributor over the years and is hanging on among the league's top 100 players as he enters his 20th season in the NBA.

2011 team: New Orleans Hornets
2017 team: Houston Rockets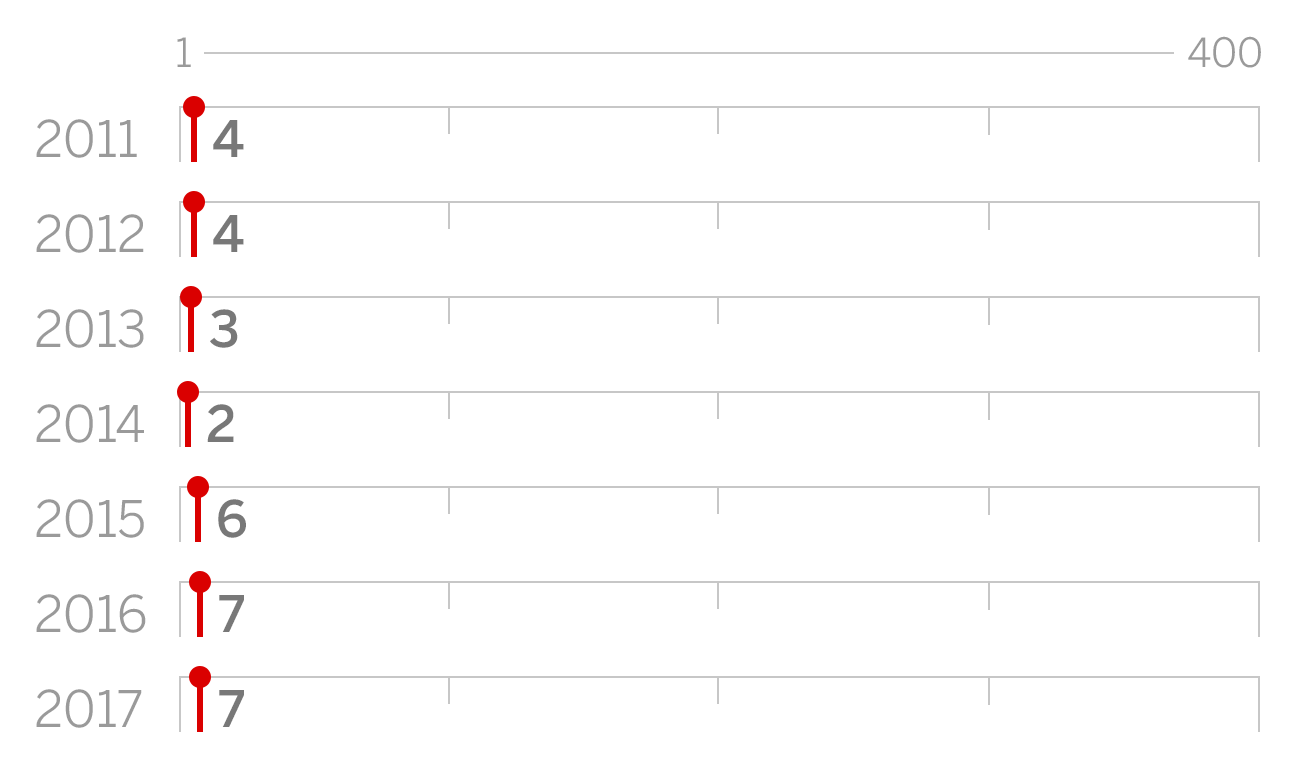 Then: It doesn't seem that long ago, but back in 2011, the "New Orleans Hornets" were still a thing, and Chris Paul was still their star. The star point guard had actually slipped to third-team All-NBA status in 2010-11, but our panel still thought of him as a first-team level player, and he rewarded them by making it back there in the shortened 2011-12 season.
Now: Mere weeks after the initial #NBArank list was published, Paul was traded to the Lakers, then not traded for "basketball reasons," then finally traded to the Clippers, where he played the past six seasons. Outside of LeBron James, Paul is the only player to rank in the top seven each year, and his current ranking of No. 7 -- which he has had the past two years -- is the lowest he has been. This year, he comes in one spot ahead of his new Rockets teammate James Harden; Paul has never not been the highest-ranked player on his own team.

2011 team: Miami Heat
2017 team: Chicago Bulls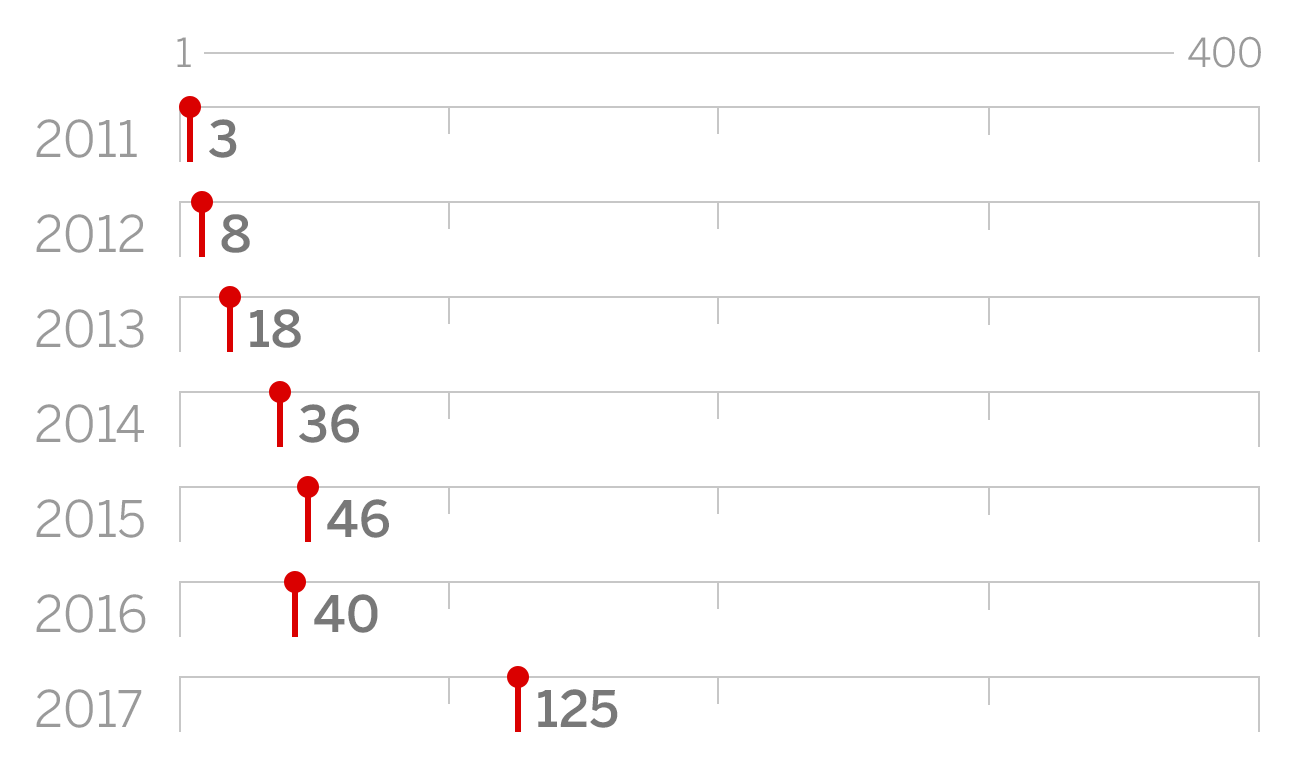 Then: If the Heat had somehow come back to win the final two games of the 2011 Finals, Wade was in line to pick up his second Finals MVP. Though he'd outplayed his teammate LeBron James in the Finals, he still checked in two spots behind James in the overall pecking order. He was ranked as the top guard in the NBA by our panel despite having been second-team All-NBA (behind Rose and Bryant) in 2010-11.
Now: As it turns out, that second-team All-NBA selection wasn't a one-year blip but the first step in a slide for Wade, who made two more third teams (in 2012 and 2013) and hasn't been an All-NBA selection in any of the past four seasons. Wade's ranking suffered most from the breakup of the Heat, as he fell out of the top 20 after James went back to Cleveland, and he now sits outside the top 100 as the Bulls ponder whether or not to give him a buyout that would end his brief stint in Chicago.

2011 team: Orlando Magic
2017 team: Charlotte Hornets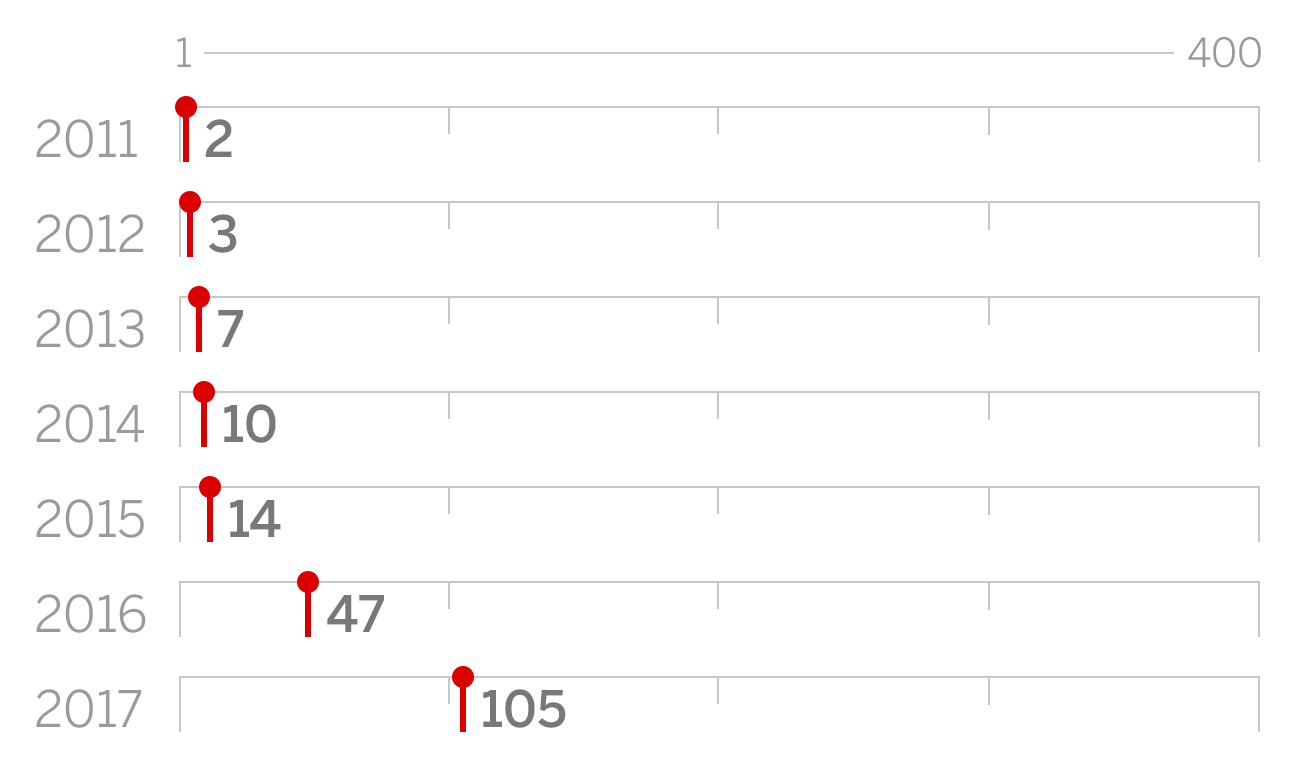 Then: Even though the Magic had been upset in the first round of the 2011 playoffs, Howard was still seen as one of the best individual players in the NBA. He'd averaged a career-best 22.9 PPG in 2010-11 and won his third consecutive defensive player of the year award. Perhaps more importantly, he'd yet to ask for a trade outside of Orlando.
Now: When the lockout ended, Howard did ask for that trade, tipping off a year of drama that finally ended when he was shipped to the Lakers the next summer. After one disappointing, injury-plagued season in Los Angeles, he signed with the Rockets, where he never quite meshed with James Harden. A return home to Atlanta to play with the Hawks last season didn't go quite as planned, and now he's once again looking to get back on track in Charlotte. All the moves over the years, along with a decline in his production, have led to Howard's falling outside the top 100 in #NBArank.

2011 team: Miami Heat
2017 team: Cleveland Cavaliers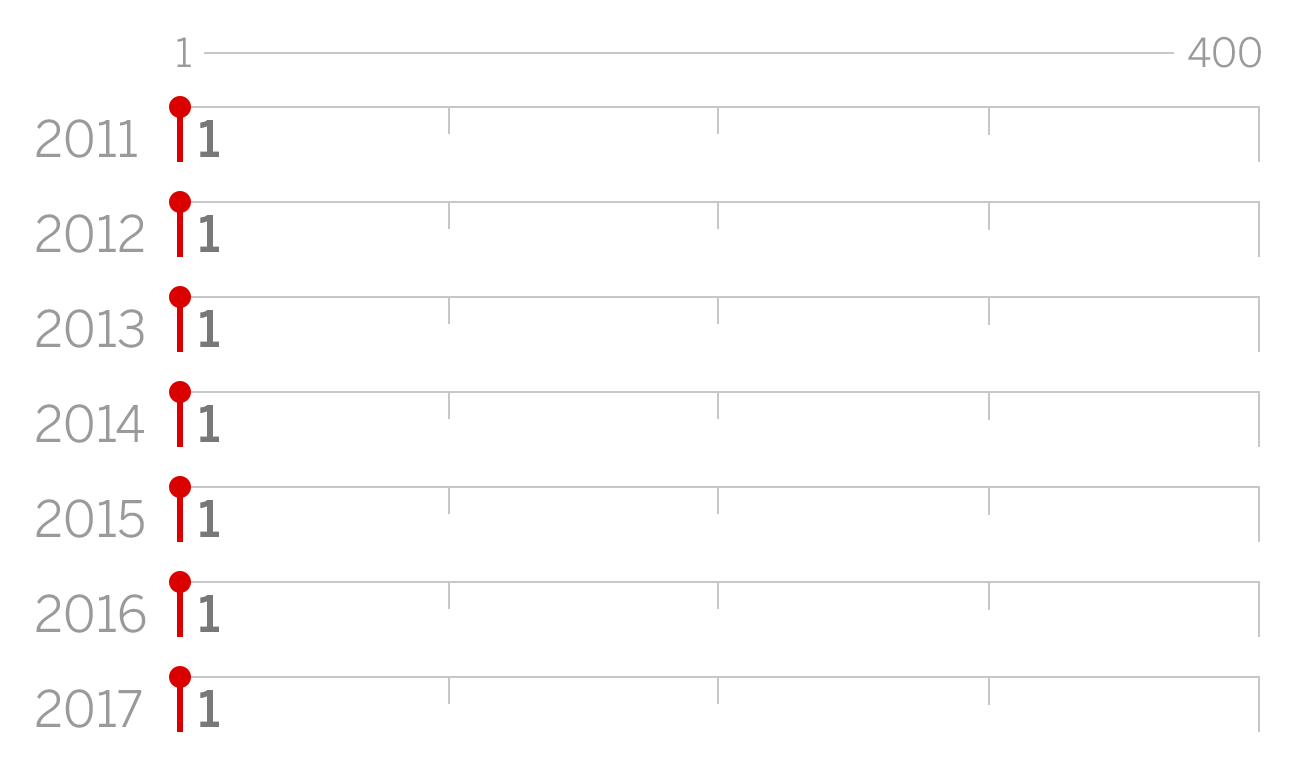 Then: James was something of a controversial pick as the top player in #NBArank in 2011, fresh off a disappointing performance in the 2011 Finals (where he'd averaged just 15.3 PPG on 44 percent shooting in the Heat's losses in Games 4-6). But the panel looked past those three games to James's overall body of work, where he'd been the NBA's leader in PER, win shares, box plus-minus and VORP in 2010-11.
Now: The ultimate model of consistency and excellence, James has never relinquished his top spot in #NBArank. He won two more MVP trophies in Miami to go along with two titles, then returned to Cleveland, where he led the Cavaliers to their first NBA championship. Even as James has paced himself in the regular season -- leading to his slipping in the annual MVP vote -- he's still widely recognized as the league's best player, and he regularly proves it in June. In 2016, he led both teams in points, rebounds, assists, steals and blocks in the NBA Finals, and this past June, he became the first player in Finals history to average a triple-double.
Analysis provided by ESPN's Adam Reisinger.