For the seventh season in a row, ESPN.com ranked the top players in the NBA. A lot has changed in the league since #NBArank started.
Back when the rankings debuted, basketball wasn't even being played, thanks to the 2011 lockout. Chris Paul was two teams away from pairing up with James Harden in Houston, Kawhi Leonard was a little-known rookie who wasn't expected to do much for the Spurs, and LeBron James -- who topped that year's rankings -- had yet to win an NBA championship. James now has three titles (though, much like 2011, he is coming off a loss in the NBA Finals), and still tops our rankings, though plenty more has changed in the top 10.
Only three players who appeared in the original top 10 are still deserving of that lofty ranking, according to this year's voters. Four of this year's top 10 weren't even in the top 200 back in 2011, including three who weren't even in the NBA.
Here are Nos. 1-10 from this year, with their year-by-year rankings going back to 2011.
2017 #NBArank: 1-10
---
2011 team: Michigan State Spartans
2017 team: Golden State Warriors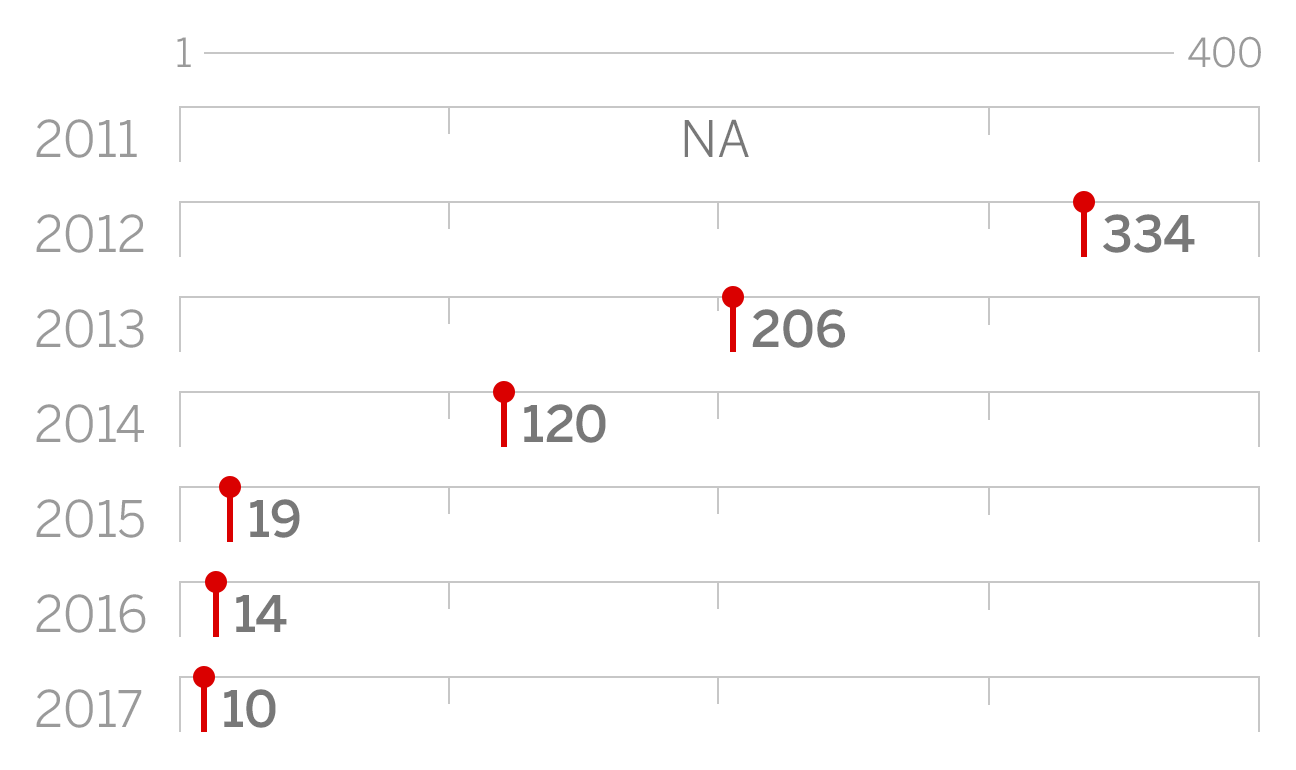 Then: Green had shown flashes of his potential in 2010-11, becoming just the third Michigan State player to record a triple-double. Still he was just a third-team All-Big Ten selection and wasn't particularly high on anyone's draft radar. He'd averaged 12.6 PPG and 8.6 RPG as a junior, which was his first year as a starter in college. It wasn't exactly the profile NBA stars are made of.
Now: Green was drafted in the second round in 2012 and debuted in #NBArank that fall at No. 334 -- one spot above Anthony Parker (who'd retired in the time between the rankings being compiled and being published). Green's rise through #NBArank was as meteoric as it was unexpected. Heading into the 2014-15 season, Green was still outside the top 100. The very next year, after the Warriors won the NBA title, he was 19th and now he's in the top 10 after a season in which he won his first Defensive Player of the Year crown and helped the Warriors regain the Larry O'Brien trophy.

2011 team: Filathlitikos (youth squad)
2017 team: Milwaukee Bucks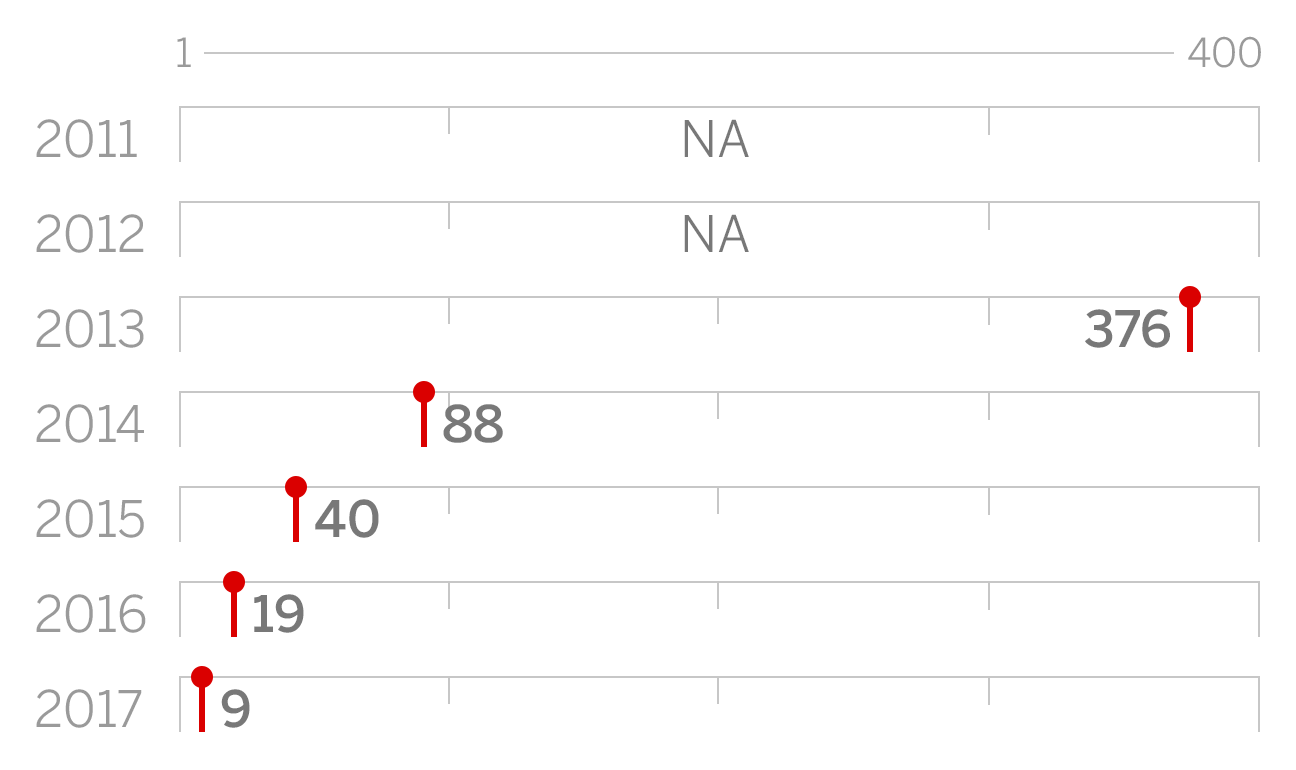 Then: It can't be overstated how far Giannis Antetokounmpo was from the NBA radar in the fall of 2011. Then just 16 years old, Antetokounmpo was playing for the youth development squad for Filathlitikos, whose senior team was in the second division of Greek professional basketball. He wouldn't join the senior squad until the start of the 2012-13 season.
Now: Antetokounmpo spent just one year with Filathlitikos' senior team. He had signed a contract to join Spanish squad Basket Zaragoza in 2013-14 but bypassed the Spanish ACB entirely to head straight to the NBA. As the No. 15 pick in the 2013 draft, Antetokounmpo checked in at No. 376 in 2013's #NBArank, one spot ahead of Terrence Williams (who hasn't played an NBA game since 2012-13). One year later, Antetokounmpo was in the top 100; last year he made his first appearance in the top 20, and now he checks in at No. 9, coming off a season in which he was named the NBA's Most Improved Player and made an All-NBA team for the first time.

2011 team: Oklahoma City Thunder
2017 team: Houston Rockets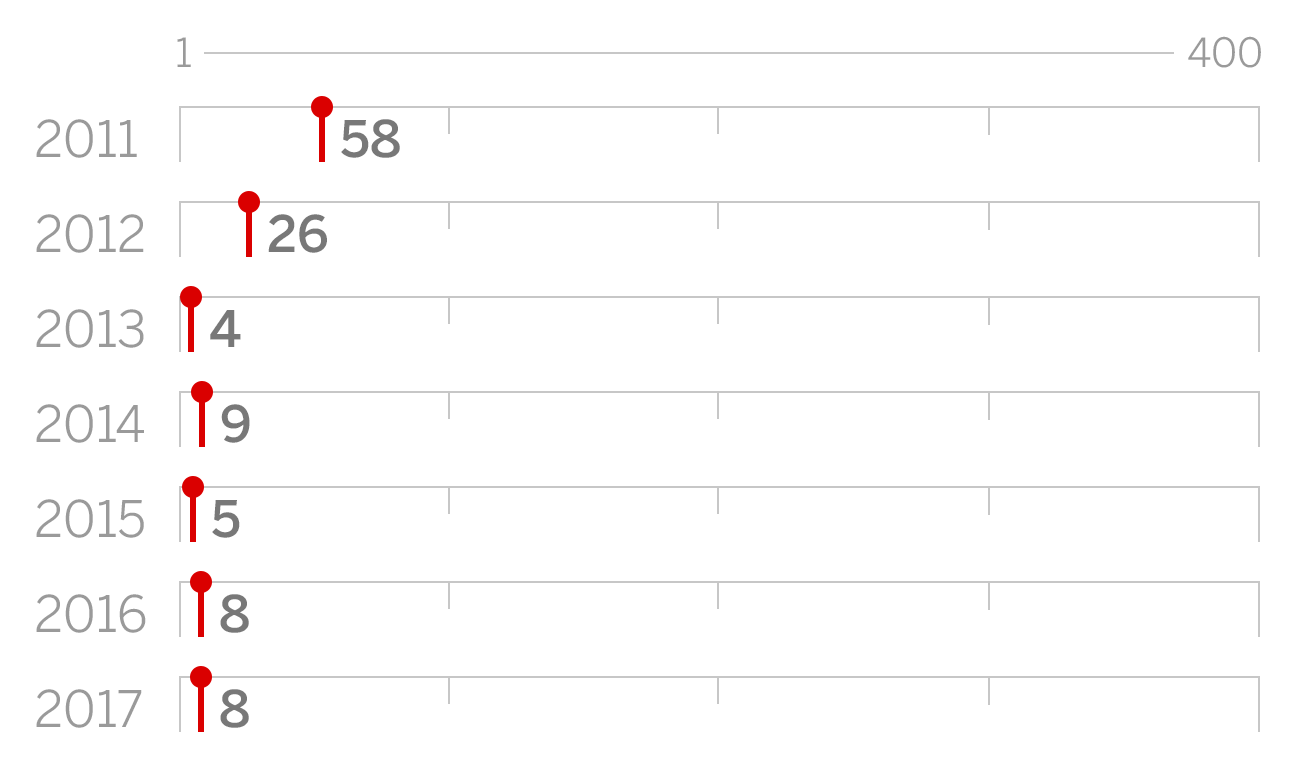 Then: Harden had started just five games over his first two seasons in the league, but the then-OKC reserve was seen as one of the top sixth men in the league heading into 2011-12, checking in at No. 58 in the initial #NBArank, ahead of more than half the league's starters.
Now: The voters were right to put their faith in Harden, who rewarded them by winning Sixth Man of the Year in 2011-12, as the Thunder reached the NBA Finals. After that he was shipped to Houston, where he blossomed into a true star (and likely would have been higher than 26th in #NBArank in 2012 had the voting been done after the trade). He has been a fixture of the #NBArank top 10 in every vote since he became a Rocket, reaching as high as No. 4 in 2013.

2011 team: New Orleans Hornets
2017 team: Houston Rockets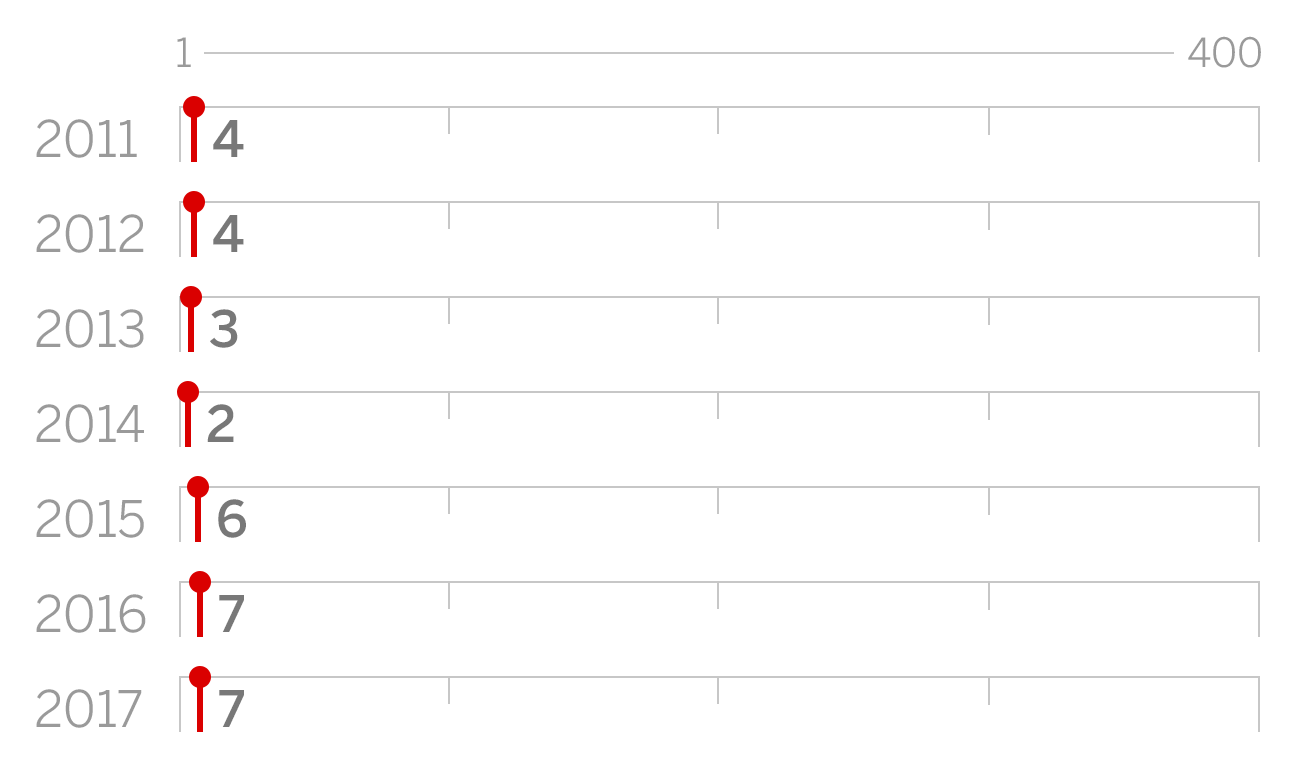 Then: 2011 doesn't seem that long ago, but back then the "New Orleans Hornets" were still a thing, and Chris Paul was still their star. The star point guard had actually slipped to third-team All-NBA status in 2010-11, but our panel still thought of him as a first-team-level player, and he rewarded them by in fact making it back there in the shortened 2011-12 season.
Now: Mere weeks after the initial #NBArank list was published, Paul was traded to the Lakers, then not traded for "basketball reasons," then finally traded to the Clippers, where he played the past six seasons. Outside of LeBron James, Paul is the only player to rank in the top seven each year, and his current ranking of No. 7 -- his second straight season at that rank -- is the lowest he has been. This year he comes in one spot ahead of his Rockets teammate James Harden; Paul has never not been the highest-ranked player on his own team.

2011 team: Kentucky Wildcats
2017 team: New Orleans Pelicans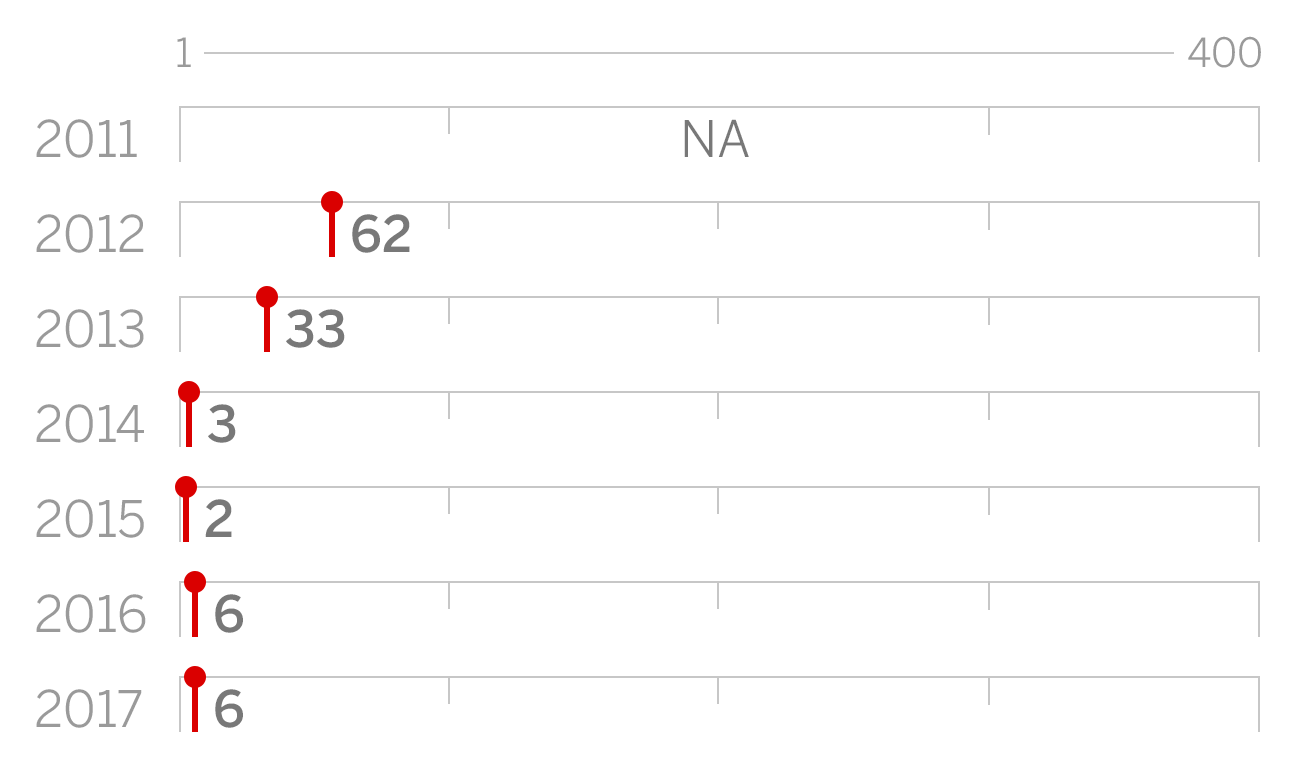 Then: Unlike Draymond Green and Giannis Antetokounmpo, Davis was firmly on the NBA radar even from outside the league in the fall of 2011. The then-18-year-old big man was entering his freshman season at Kentucky as the consensus No. 1 high school recruit in the nation and likely would have been in the NBA -- and thus in the initial #NBArank in 2011 -- if not for the league's age limit.
Now: Davis wasted no time making his mark, entering #NBArank in 2012 at No. 62 -- still the highest ranking for a rookie coming into the league. A year later he was No. 33, then went out and made the All-Star team for the first time, leading to his jump all the way up to No. 3 in 2014. He peaked a year later at No. 2, when he was a trendy preseason choice for MVP honors, but injuries cost him 21 games that season. Davis has settled in at the No. 6 ranking each of the past two years, as he's still viewed as one of the best individual talents in the league but without some of the accolades and team success of the quintet of players ahead of him.


2011 team: Oklahoma City Thunder
2017 team: Oklahoma City Thunder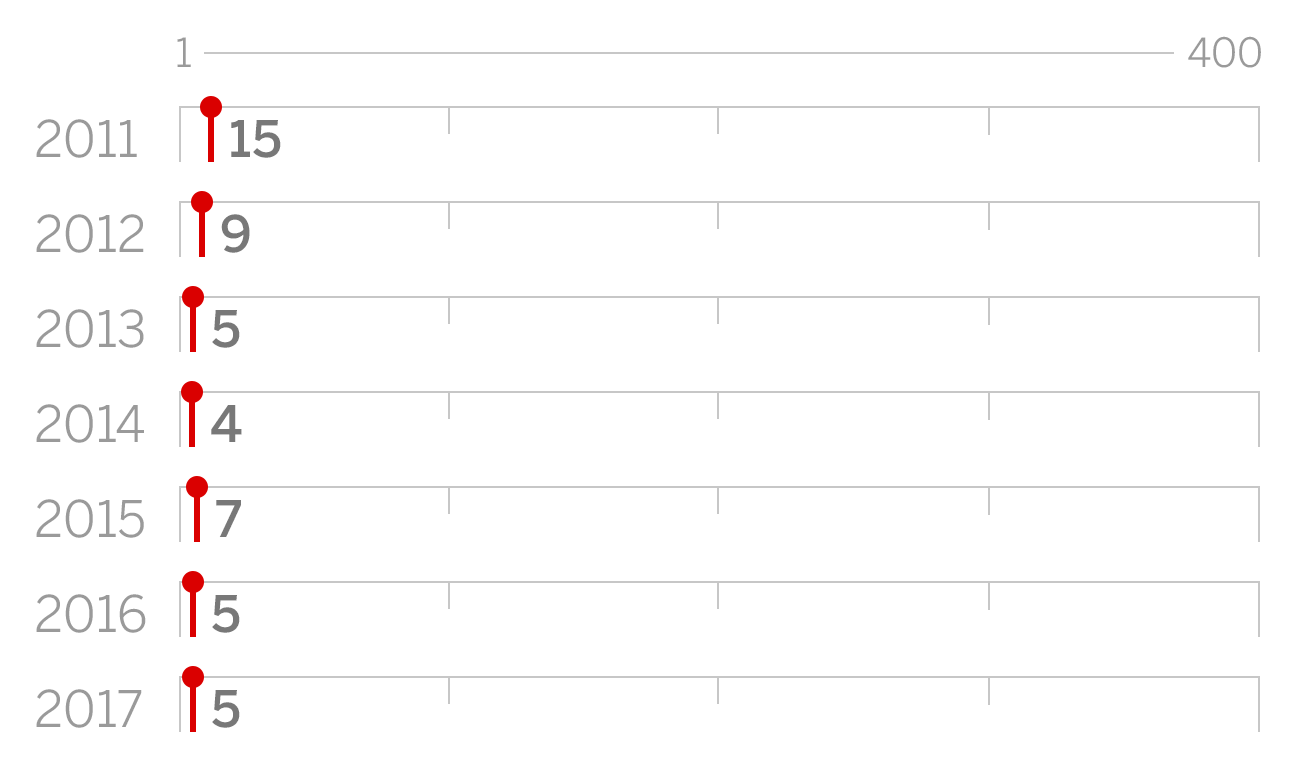 Then: Westbrook was knocking on the door of the top 10 when #NBArank debuted, landing at No. 15 in the initial rankings. Had he done nothing to improve as a player in the subsequent years, he still likely would have moved into the top 10, as four of the players ahead of him in 2011 -- Kobe Bryant, Deron Williams, Amar'e Stoudemire and Steve Nash -- are out of the NBA, while players such as Dwight Howard, Dwyane Wade and Derrick Rose have tumbled out of the top 100.
Now: Of course, Westbrook didn't remain the same player he was in 2011; he got much better. He's a six-time All-Star who won scoring titles in 2015 and 2017, made the All-NBA first team in 2016 and 2017 and won the league's MVP trophy a season ago. So why is he only fifth (a ranking he has earned three times in the past five years in #NBArank)? The panel likely expects Westbrook to take a step back from his historic production levels in 2016-17 as he welcomes Paul George (No. 13 in this year's rankings) to Oklahoma City.

2011 team: Golden State Warriors
2017 team: Golden State Warriors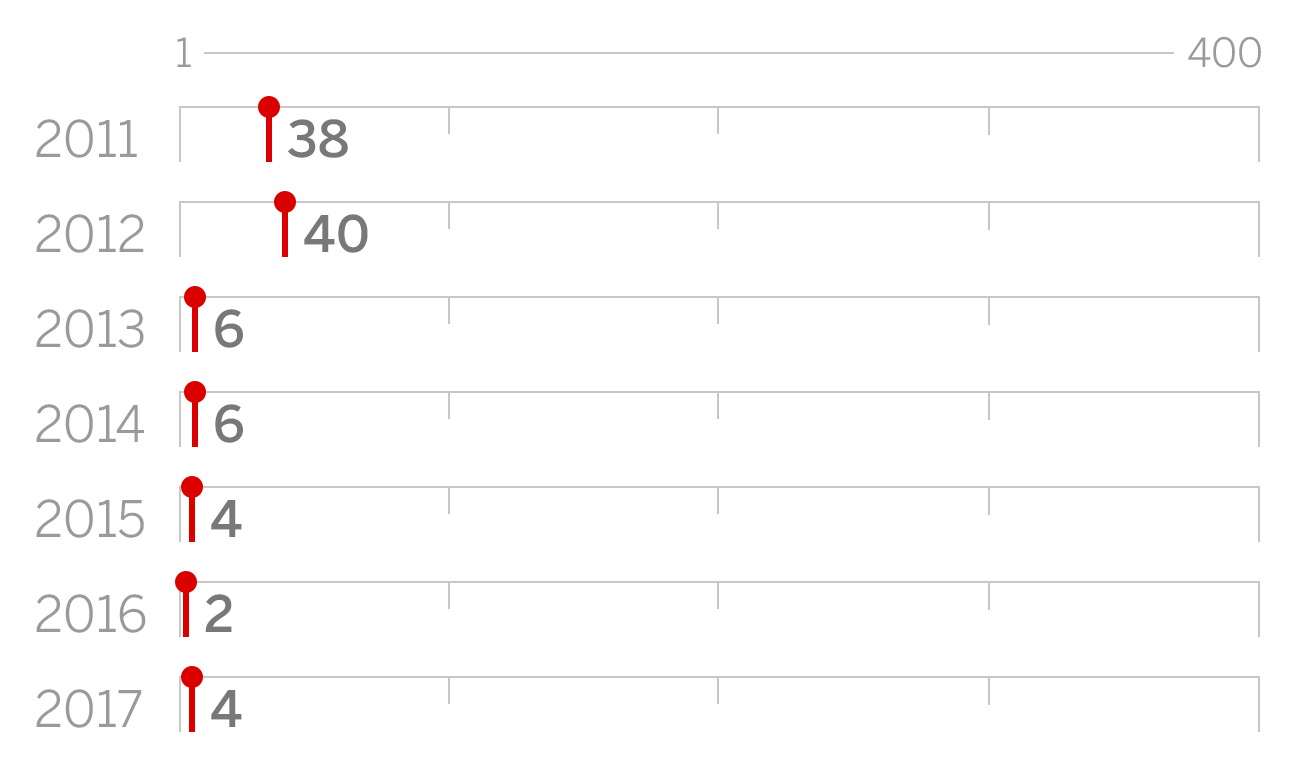 Then: Curry was No. 38 in the initial #NBArank, squeezed between Tyson Chandler and Eric Gordon, largely on potential. He'd already proved in his first two years that he was one of the best 3-point shooters in the NBA, but he'd still yet to average 20 points per game in a season. There was a recognition from the panel that the No. 7 pick in the 2009 draft could be really good; he just had to prove it.
Now: Curry actually took a step back in the next #NBArank voting, after an injury-plagued 2011-12 in which he was limited to 26 games. After that, though, it was nearly nothing but ascension for a player who would become the league's first unanimous MVP. He was all the way up to No. 6 heading into the 2013-14 season and has been firmly in the top five each of the past three years. He peaked at No. 2 last year but takes a small step back to No. 4 this year, coming off a NBA Finals in which he regained the title but teammate Kevin Durant (this year's No. 2) won Finals MVP.

2011 team: San Antonio Spurs
2017 team: San Antonio Spurs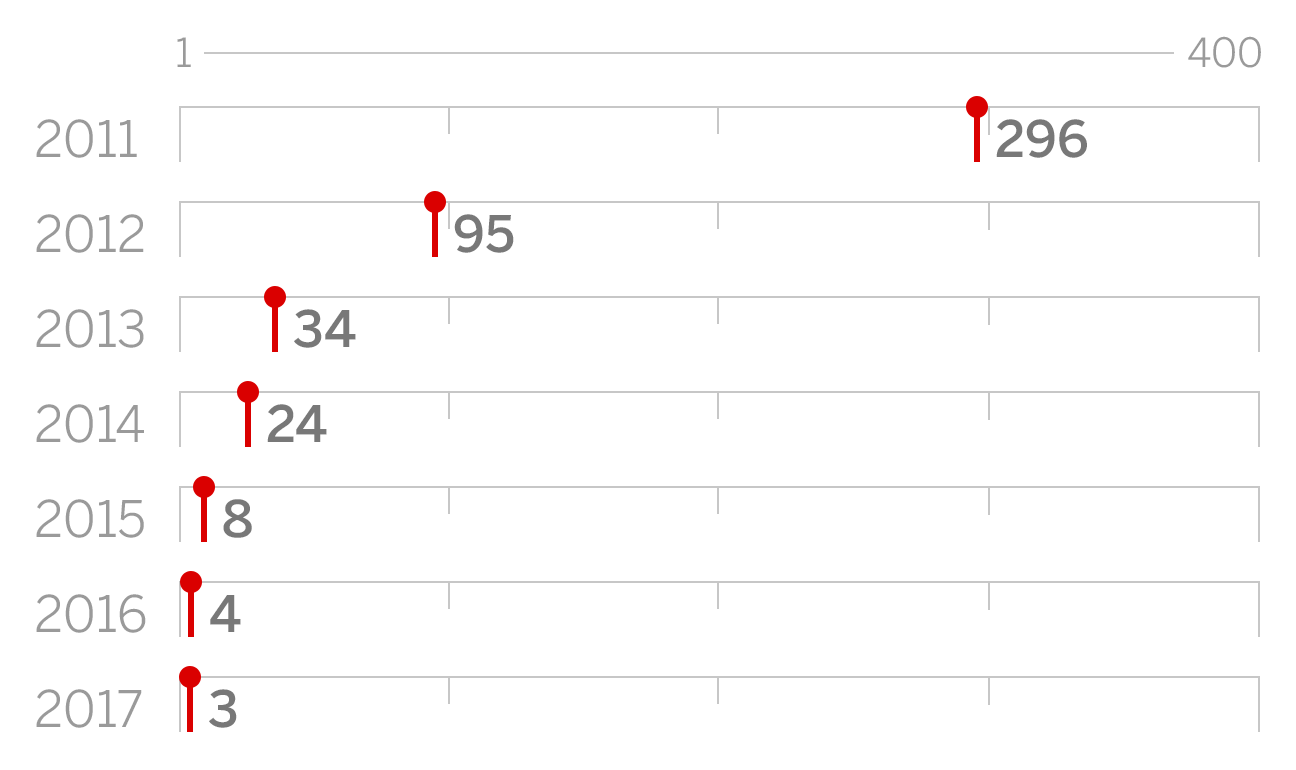 Then: In the first edition of #NBArank, voters weren't quite sure what to make of rookies. That showed with Leonard, who had been the No. 15 pick in the draft a few months earlier but landed all the way down at No. 296, squeezed between Earl Watson and Eddie House. The player the Spurs traded to get Leonard, George Hill, ranked 205 spots higher.
Now: Earl Watson is the coach of the Suns; Eddie House is a TV analyst; and Kawhi Leonard is a perennial MVP candidate. In fact, Leonard has finished in the top three of MVP voting in each of the past two seasons, and has been a first-team All-NBA selection in both of those seasons as well. As far as #NBArank is concerned, Leonard is in his third consecutive year of being viewed as a top-10 player by the voting panel and had been in the top 40 in each of the two years before that. In fact, his rookie season was the only time Leonard ranked outside the top 100.

2011 team: Oklahoma City Thunder
2017 team: Golden State Warriors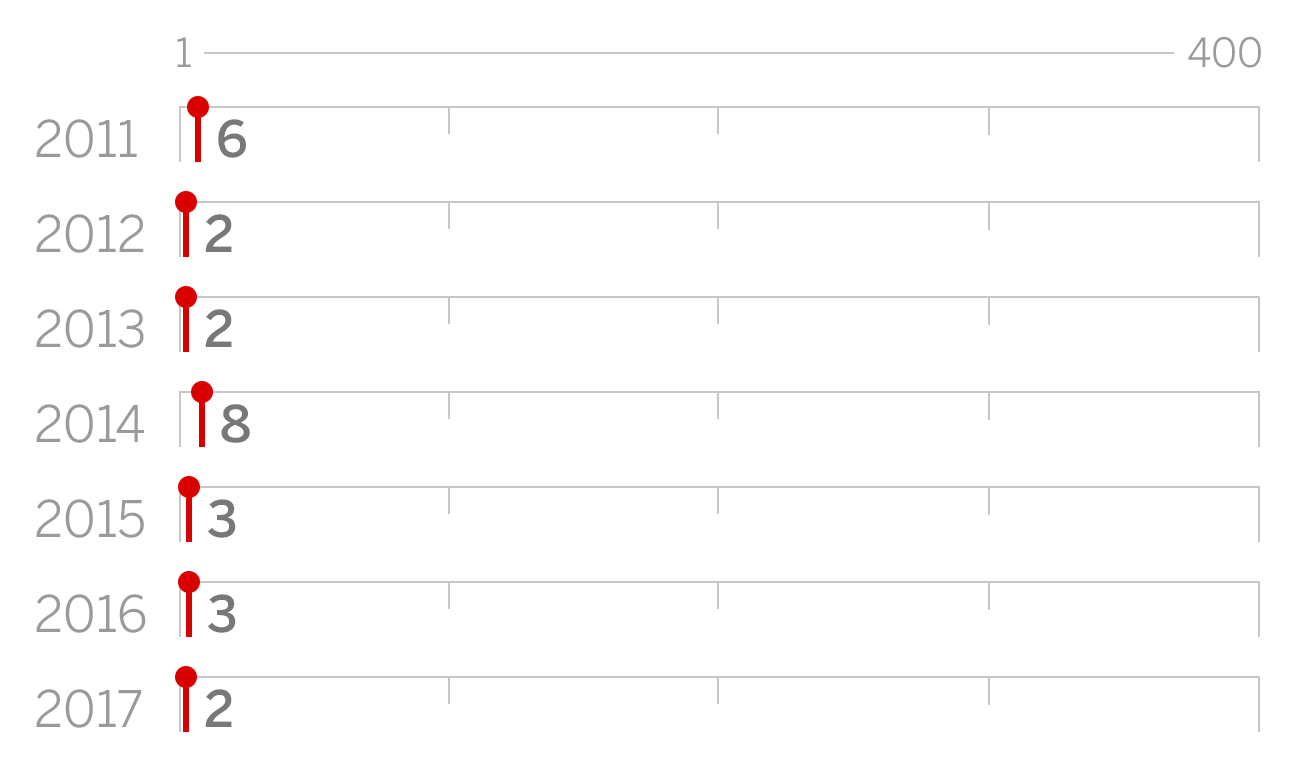 Then: 2010-11 was the second of three consecutive seasons in which Durant led the NBA in scoring and the second of five straight first-team All-NBA selections for KD. In the 2011-12 NBA season, Durant helped lead a young Oklahoma City Thunder team to what many expected would be the first of multiple NBA Finals appearances.
Now: Durant kept up his strong play throughout the remainder of his OKC tenure as he consistently slotted just behind LeBron James at the top of ESPN's annual player rankings (the one blip where he fell to eighth was because of the foot injury that ended up limiting him to just 27 games in 2014-15). The Thunder never got back to the NBA Finals, and Durant left in 2016 for Golden State, where he won his first title three months ago. The Finals MVP moved back ahead of teammate Stephen Curry to claim the No. 2 spot for the first time since 2013.

2011 team: Miami Heat
2017 team: Cleveland Cavaliers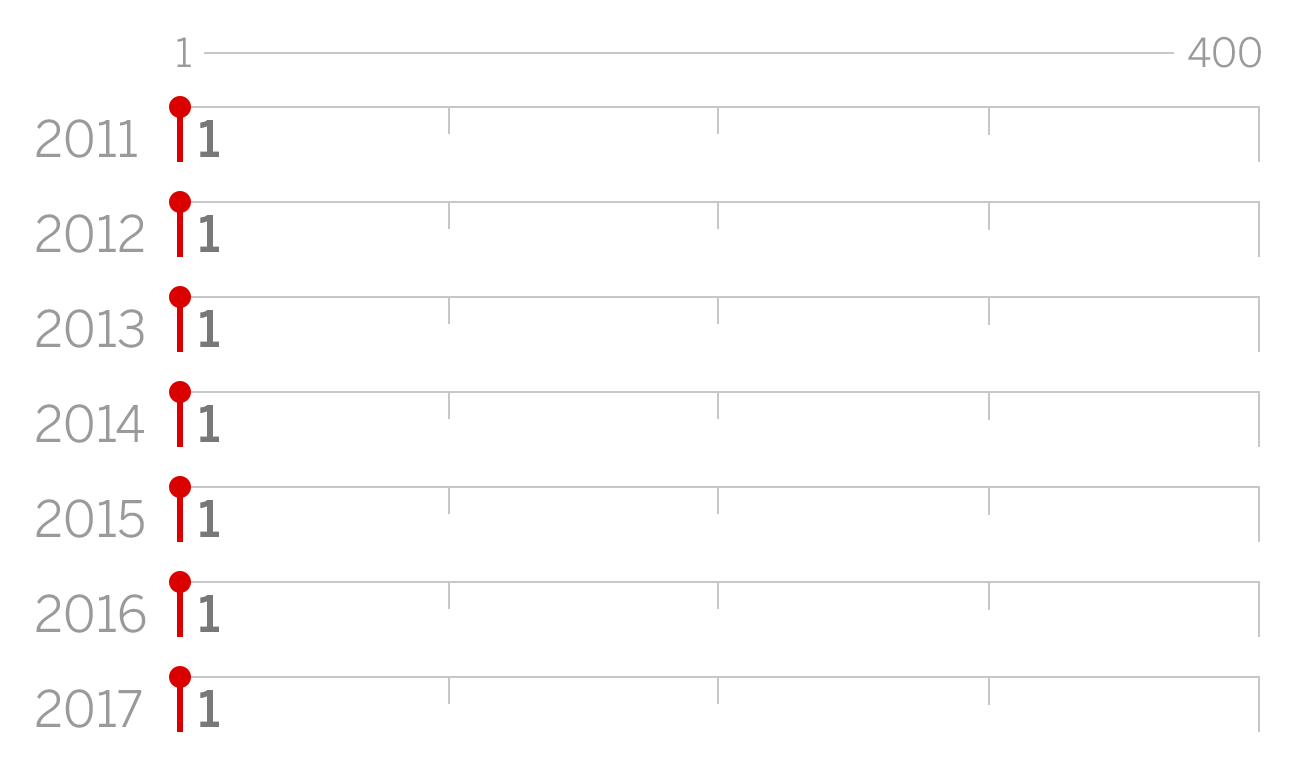 Then: James was something of a controversial pick as the top player in #NBArank in 2011, fresh off a disappointing performance in the 2011 Finals (where he'd averaged just 15.3 PPG on 44 percent shooting in the Heat's losses in Games 4-6). But the panel looked past those three games to James' overall body of work, where he'd been the NBA's leader in player efficiency rating, win shares, box plus-minus and VORP in 2010-11.
Now: The ultimate model of consistency and excellence, James has never relinquished his top spot in #NBArank. He won two more MVP trophies in Miami to go along with two titles, then returned to Cleveland where he led the Cavaliers to their first NBA championship. Even as James has paced himself in the regular season -- leading to him slipping in the annual MVP vote -- he's still widely recognized as the league's best player, and he regularly proves it in June. In 2016, he led both teams in points, rebounds, assists, steals and blocks in the NBA Finals, and this past June he became the first player in Finals history to average a triple-double.
Analysis provided by ESPN's Adam Reisinger.