This story appears in ESPN The Magazine's Analytics Issue. Subscribe today!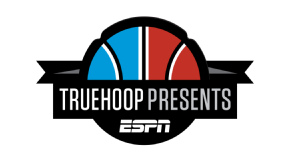 When it comes to the value of rest, the NBA has had an awakening. Coaches are using DNP-Rest (did not play, resting) at a record pace in 2016-17, nearly twice as often as in 2015-16. The outlier? LeBron James, who in his 14th season ranks among NBA leaders in minutes per game. If he were to suddenly retire -- that's when he told reporters he'd finally slow down -- he'd already have logged more career minutes than Michael Jordan or Bill Russell. Here's a look at how James refuses to slow down, for better or worse.

A RELUCTANT CHANGE
One area in which James lags behind the league? Resting. In his first 12 seasons, he took only nine total DNP-Rests -- all in April, near season's end. Last season he took a game off in December, then four more after that. This season? He's already taken four. It's an evolution, but not at the NBA's record pace.
NBA TOTAL DNP-RESTS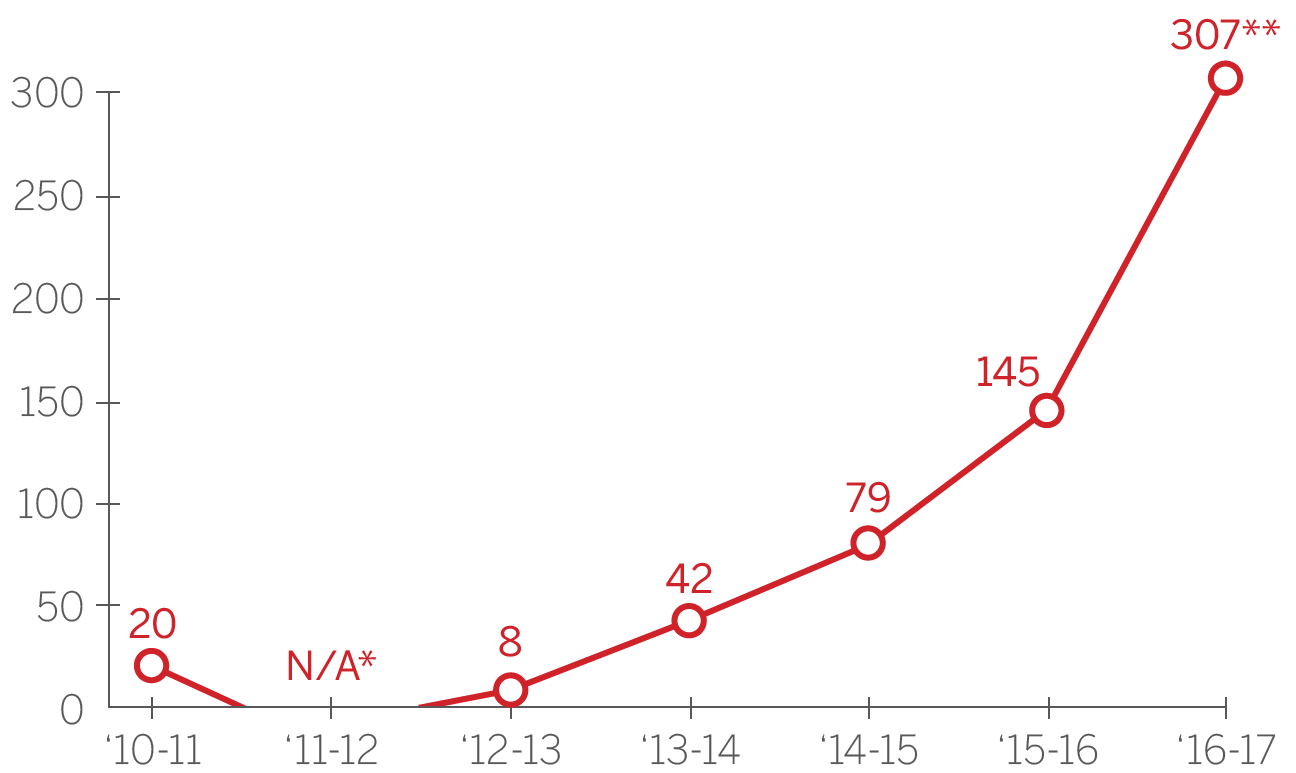 *Season shortened by lockout **Projected
---
BY SEASON JAMES' CAREER DNP-RESTS

---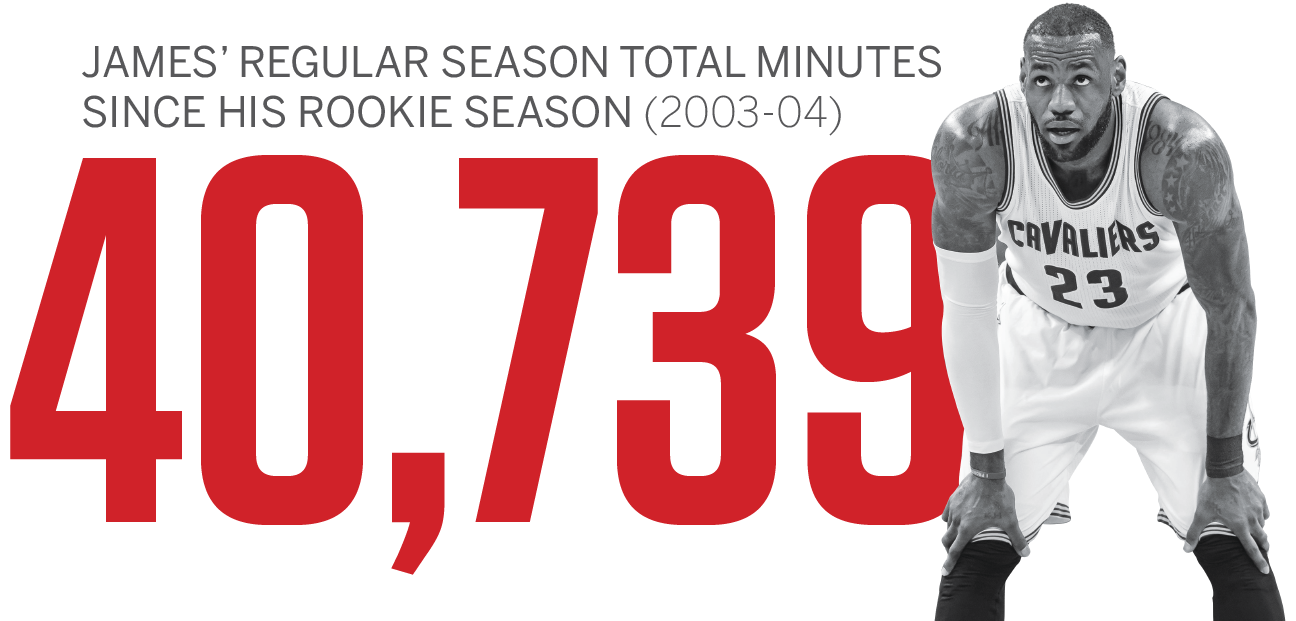 OLDER MODEL, HIGH MILEAGE
Despite the trend toward fewer minutes across the league, 32-year-old James is on a similar pace as other stars at the same age. Of course, Iverson and Jordan (at least temporarily) called it quits two seasons later.
NOTABLE PLAYERS, MINUTES PER GAME AT 32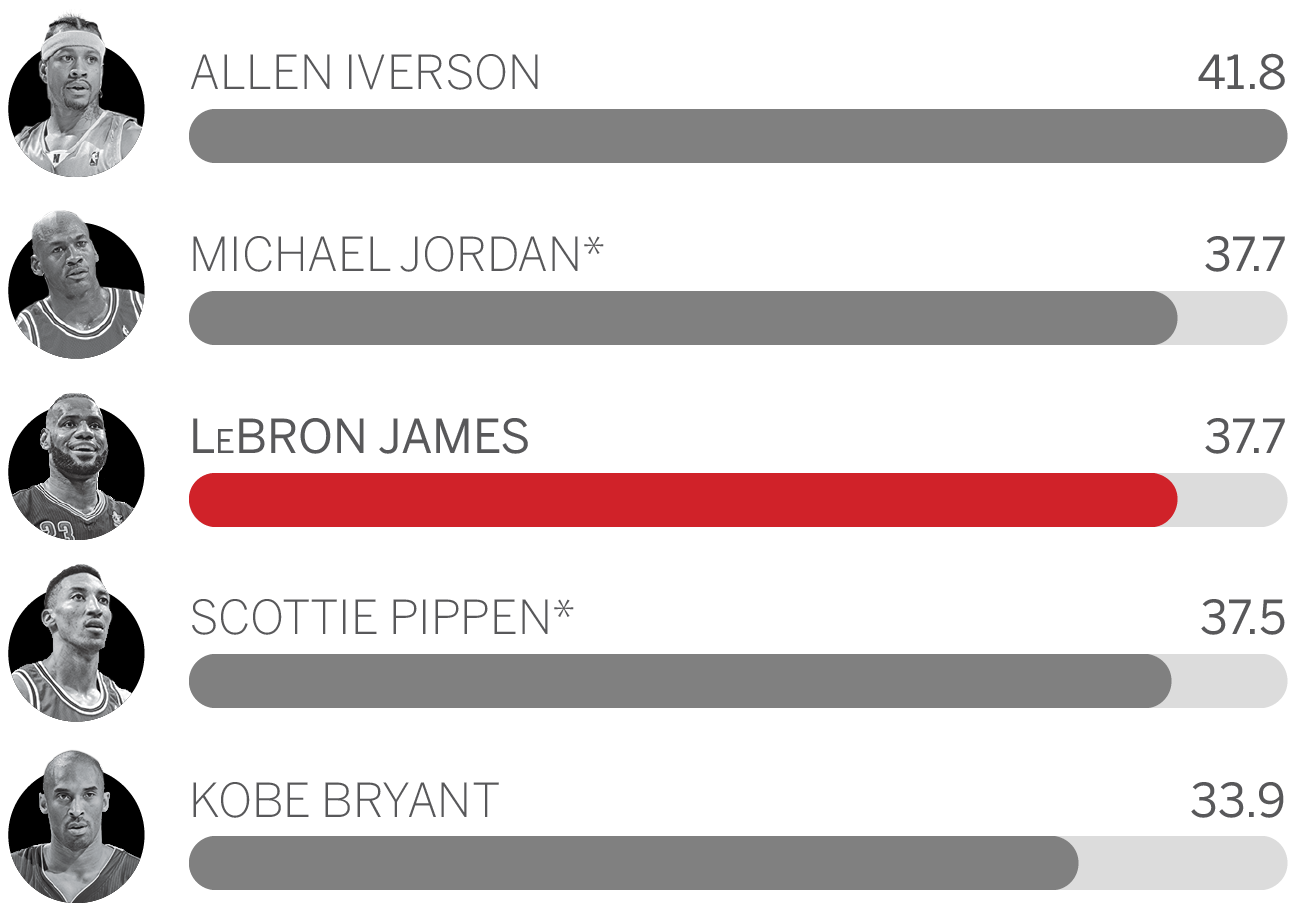 *Won championship that season

FATHER TIME
This season's minutes leaderboard is no country for old men. James is the only player ranked in the top 25 who is older than 31. Marc Gasol, who didn't make his NBA debut until he was 23 (five years after LeBron), is the next 32-year-old on the list-all the way down at No. 27.
TOP 25 PLAYERS IN MINUTES PER GAME THIS SEASON, BY AGE

James is the oldest, at 32 years, 2 months.

THE PLAYOFF PACE
James has played 199 playoff games. At his 2016-17 regular-season average (37.7 mpg), that's equal to an additional 2.7 seasons -- and is more postseason minutes than the combined total of Kevin Durant (3,815), Stephen Curry (2,233) and Draymond Green (2,114).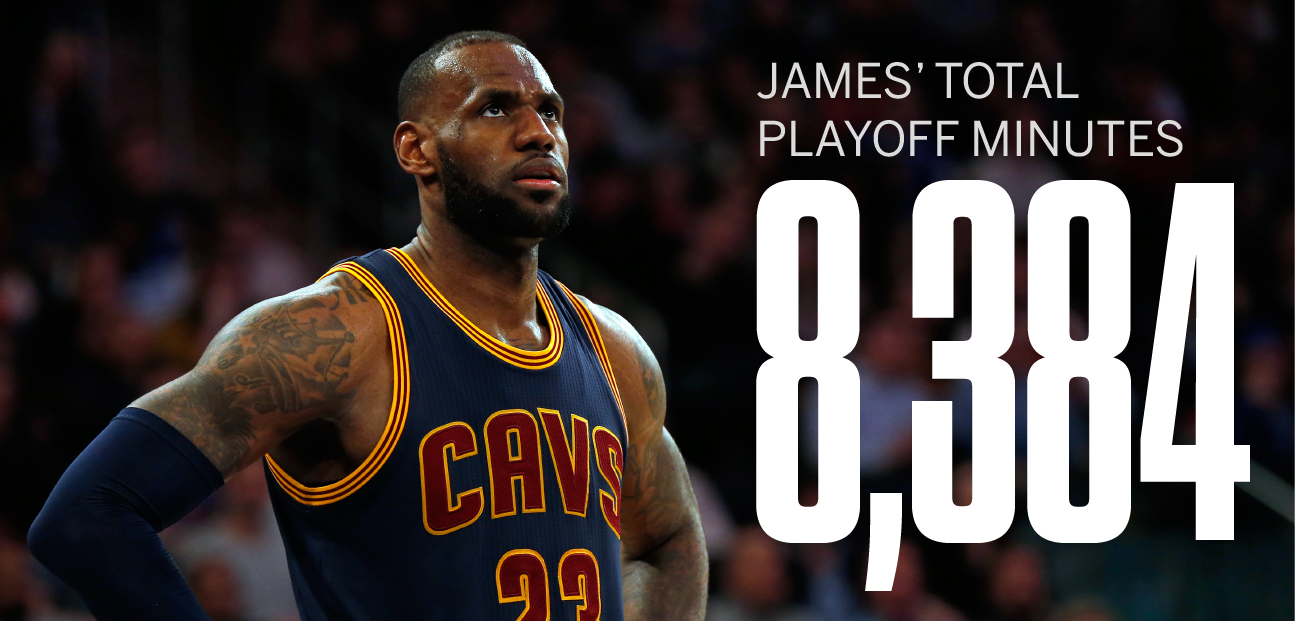 MOST PLAYOFF MPG, ALL TIME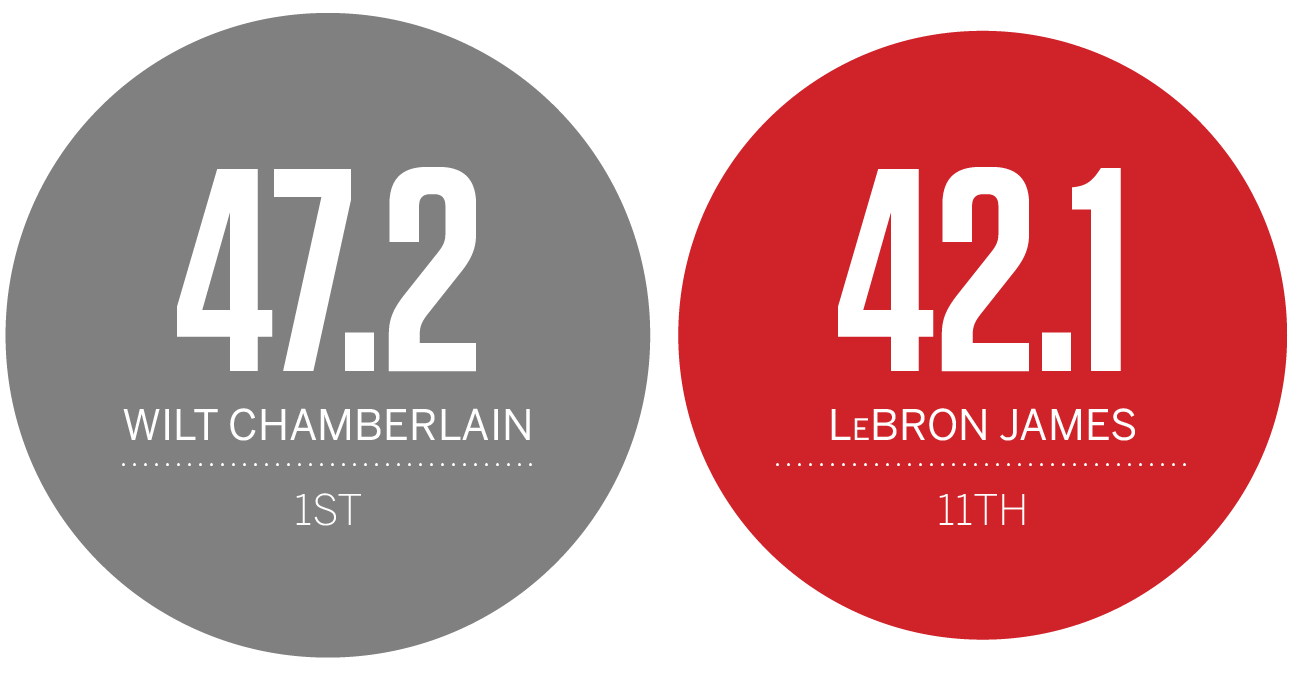 LEAN ON ME
In a perfect world, LeBron would be able to cut back on his minutes without worrying about the Cavs' record. But this isn't a perfect world. James' uptick in minutes makes more sense when you realize that Cleveland has gone 4-20 (.166) when he doesn't play since the 2014-15 season.
LEBRON'S MINUTES PER GAME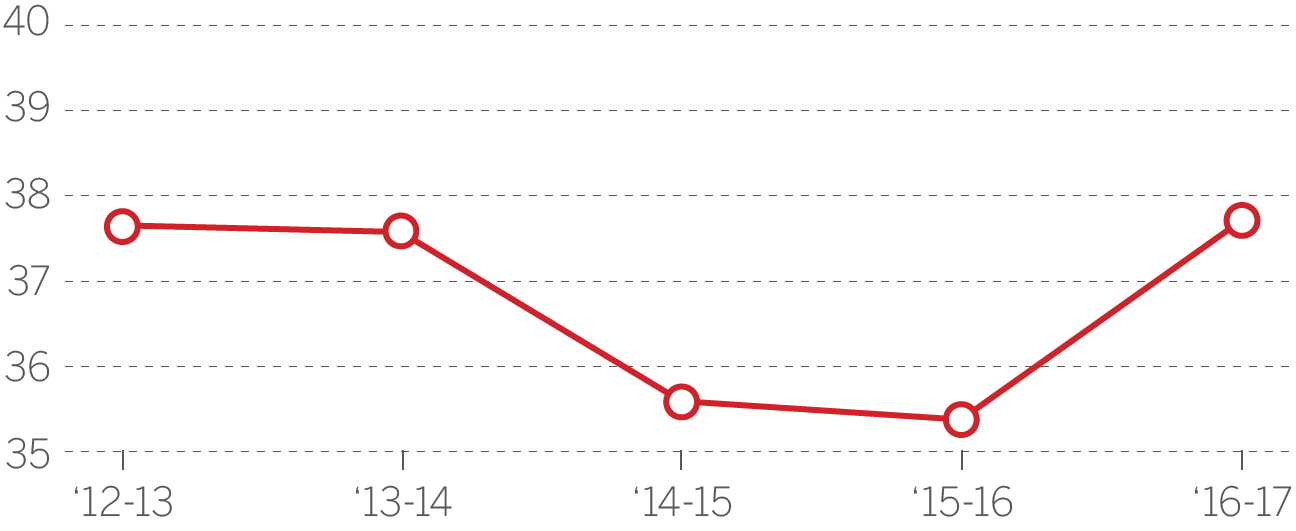 ---
CAVS THIS SEASON WITH GAMES ON/OFF COURT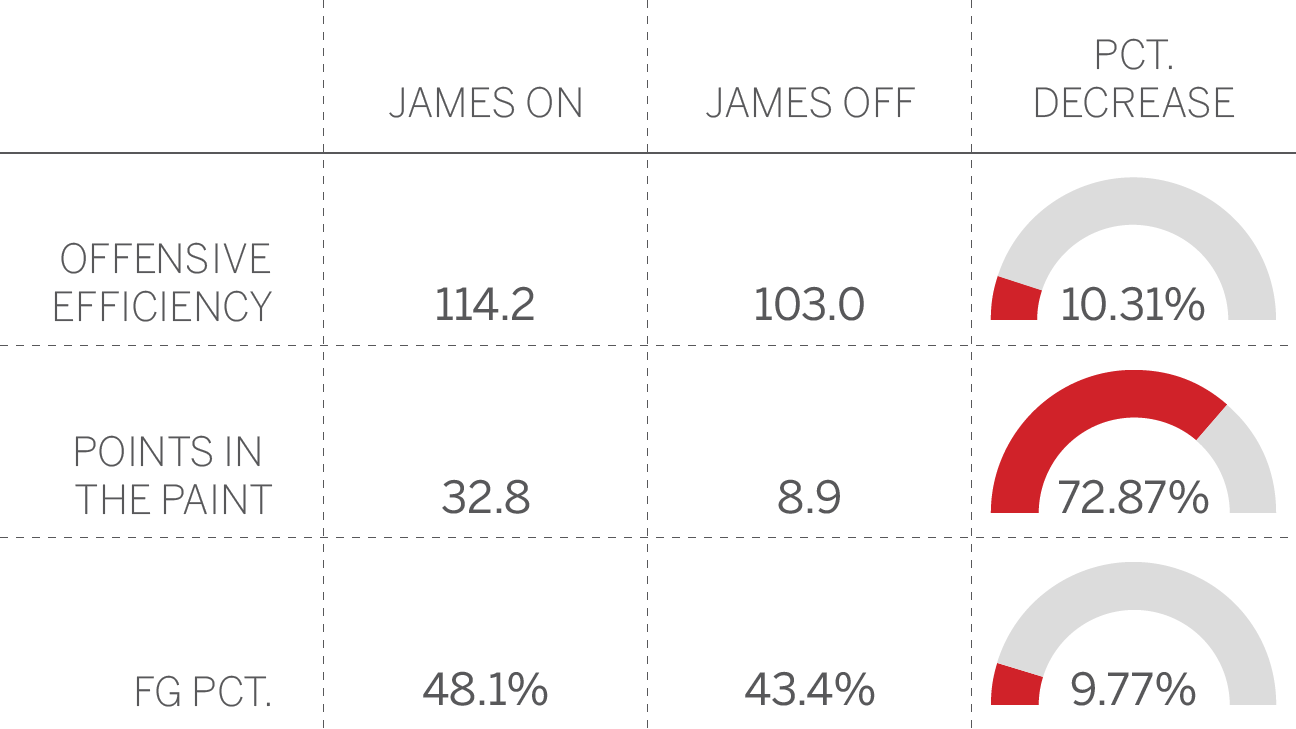 WHY WORRY?
Here's why: Before the season started, The Mag's "schedule alert" formula identified 13 games before the All-Star break that were nearly unwinnable for various teams, based solely on travel and fatigue. A review of how those predicted losses played out: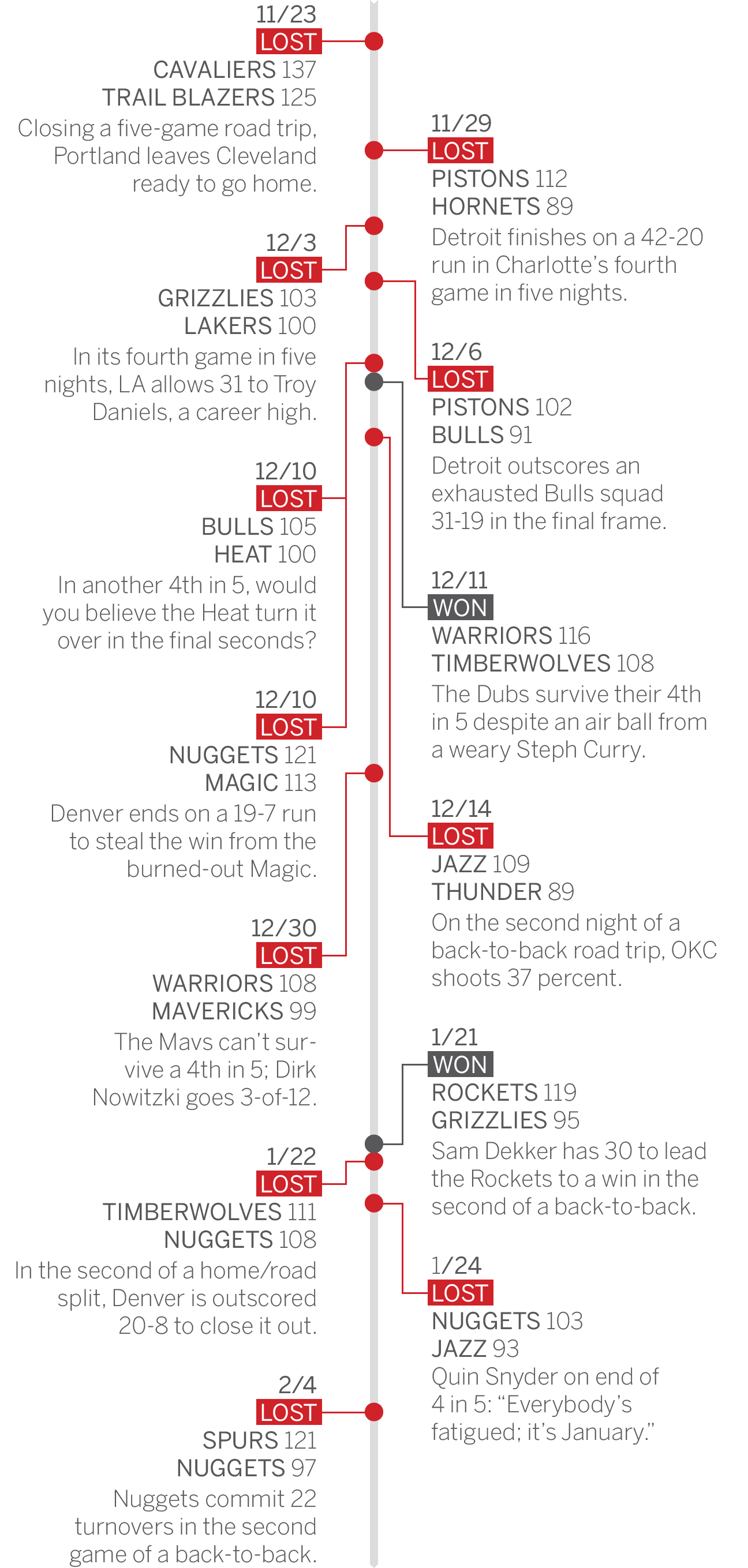 OUR PREDICTION RECORD: 11-2
That's an 85 percent success rate on this round. Maybe sleep scientists should be the new Vegas oddsmakers.

All stats through March 13. Stats courtesy STATSPASS, Pro Sports Transactions and NBA.com.