This story appears in ESPN The Magazine's May 8 NBA Playoffs Issue. Subscribe today!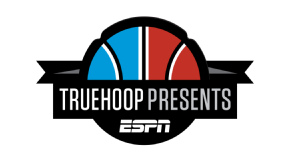 I'VE NEVER HEARD fans chanting MVP for an opposing player at Oracle Arena.
To be fair, it is not Warriors fans doing the chanting. It is a group of Celtics fans looking about as Celtics fan-y as Celtics fans can look, a small assembly of green jerseys over white T-shirts about 10 rows behind the visitors basket, thick frat-guy torsos and weathered baseball caps and beers sloshing from plastic cups as their opposite fists crank in time to their incantations.
We already have a guy we chant "MVP" for: Stephen Curry. And he's actually the MVP. Twice over. We love him like our own little brother who left for college and somehow became a star. He's our little engine that could, our magician of smooth. He prays a lot and does advertisements for water. He wins without offending, which is just the way the Bay Area likes things to go.
But then here's this man. This unsmiling interloper who has inspired a rip in the continuum of space and time that has historically separated Boston from Oakland. He is now standing at the free throw line. If he's hearing the chants, he's not letting on. His pre-shot routine is uncomplicated. Three dribbles. Shoot. Make. No ball-spinning, no hand-wiping. His style is terse, to the point.
To be honest, he doesn't look like he should be on a basketball court at all. Not a professional one, anyway. He is 5-foot-9, a physical attribute so rare in the NBA that in league history, only 24 others have been that short. Only 10 of those men managed to log more than 1,000 career minutes. Only two of them have played in an All-Star Game. Only one of them has played in multiple All-Star Games. Only one of them has recorded a triple-double. This guy here is that one.
He looks less like a professional basketball player and more like that short, loud guy at the YMCA gym who unleashes a cascade of funny one-liners, entertaining the whole room, while crossing you up and draining 3s in your face. A guy like that usually has to make up for his lack of height with an abundance of some other quality. Speed. Kindness. Money. Or in the case of this one, intensity. I wouldn't say you could see it. Rather, it's that you can feel it. A Very Big Something going on just behind the eyes, in his wry half-smile, in the way he seems to be genuinely noticing you without actually looking at you.
Should you step on the floor to oppose him, you are agreeing to receive this intensity in profligate doses. You might as well sign a waiver. He will score on you. He will split your double-team and with it your self-esteem. He will face you up and disappear behind you. He will take off-balance, nonsensical shots that you think won't work right up until they do.
And if you are the Golden State Warriors, the team that won an all-time-record 73 games last season, the team that people hate because it is too good, the team that owns nearly every bizarre win streak you can think of, he will come to your house (not once, but twice) and beat you unmercifully. Tonight, March 8, 2017, he will do it with 25 points, 3 assists, 3 steals.
Weeks later, I want to know whether the fact that it was the Warriors, that he was facing Curry on national television, whether any of it gave him an extra amount of oomph in his game. He says -- as athletes tend to -- that it doesn't matter whom they play, he approaches each game the same. But I don't believe him.
Earlier, I had asked Isaiah Thomas what separates him from every other player in the NBA. He paused, searching for words. "I want people to be afraid to play against me," he said.
That, I believe.
ISAIAH THOMAS HAS always been underestimated and has always been intense.
This season the 28-year-old point guard unexpectedly emerged as one of the league's most rousing offensive performers, and took his place among the most fearless late-game closers, by averaging 28.9 points a game on a Celtics team that surprised the league by earning the No. 1 seed in the Eastern Conference. In so doing, Thomas has created another kind of fourth-quarter moment for himself. It might be now or never for this iteration of the Celtics, a team that entered this postseason after first-round playoff exits the past two years. Meanwhile, Thomas' contract is up next summer, and he is looking for a max deal. Everything, it seemed, hinged on how he performed in the playoffs.
Including how he performed under the weight of impossible grief. On the day before Thomas was set to take the floor for Game 1 of the Celtics' first-round series against the Bulls, his younger sister, Chyna, was killed in a car accident in their home state of Washington. Family and basketball have always been intertwined with Thomas; his father would take him and his sister to the gym together when they were children. In a statement, Thomas said he could never imagine a day "where my little sister, Chyna, wouldn't be here." But given the option to sit or start the game, Thomas did what he's always done: more than everyone expected. Yet despite his team-leading 53 points in the first two games, the Celtics found themselves in an 0-2 hole against the Bulls in a series they were projected to win. Suddenly, it wasn't just a team and a city and a championship dream on Thomas' back. It was the crushing weight of shock and heartbreak.
Ever since he was a child, Thomas has sought to play above his head. Now he is. And with each passing day, more and more of the world is standing up to take notice. To claim that certain professional athletes dominate whatever challenge is put in front of them is cliché, but in his case, you could say he's been specifically trained for it.
He grew up in Tacoma, Washington, where his father, James, works for Boeing as a parts inspector, the same job he has held for nearly 30 years. He recalls there were not a lot of places for his young son to play ball with kids his own age. "I would take him out to the Air Force base, the church leagues. But it was mainly men. He was a kid playing," he says. "I've always told my kids to never back down off nothing."
By sixth grade, James could tell that he was dealing with a kid cut from a different cloth. Like all true basketball parents, he refers to his son's childhood games using the pronoun "we." "We were playing in the YMCA leagues and stuff, and they were too soft for him. He would be scoring 38 points in a game," he says.
So James decided to put his son in AAU basketball. He remembers co-workers asking whether it was worth it to use up his vacation days just to traipse around the country watching preteens bouncing ill-advised 3s off a backboard. "I'd make it a family outing," he says. "With my wife and my daughter [Chyna], we'd make it a vacation."
That Isaiah was not a 6-6 guy played a major role in how academics were approached in his household; when you're shorter than some of the equipment managers, you have to prepare for the possibility that you'll need to make a living in the real world. "I would tell him that we got to look at other options," James says. "But Isaiah didn't want that. He wanted to look at basketball. Forever. If you would take that, you would take his life."
In Thomas' junior year of high school, his grades slipped, so his parents sent him to South Kent, a boarding school in Connecticut. Far from home and without his family, Thomas had to find his own way. "I had goals I wanted to reach," he tells me after practice at the Celtics' training facility in mid-March. "I wanted to get to college. I wanted to get to the NBA. So I had to do it. If I didn't, I wouldn't be where I am today."
Thomas came to the University of Washington in 2008 as the 35th-ranked guard in the country, according to rivals.com, and promptly became Pac-10 freshman of the year; he left three seasons later as a two-time first-team All-Pac-10 pick, averaging 16.4 points and 4.0 assists per game in his career.
The numbers tell the story of a good player, but the videos tell the story of a force of nature. In his highlights, he is speed made flesh, slicing through the paint and drawing moves from a seemingly limitless bundle of crossovers, floaters, one-legged pogo jumps and even the occasional skyhook. "Everything I do in games is something I've worked on for hours in gyms by myself," Thomas says.
It was during the 2011 Pac-10 championship game that the broader world first glimpsed the reality-altering potential Thomas holds with a basketball in his hands.
There are seven seconds left in overtime, and Washington and Arizona are tied at 75. Thomas brings the ball upcourt and calls for an isolation play. Soon it is just him and his man at the top of the key. Everyone in the arena is screaming, but they're not even sure why yet. You actually feel a little sorry for his defender, like you do for anyone who has the misfortune to stare down Isaiah Thomas in a big moment. There's no telling what he's going to do. A 2 could win it. A 3 could win it. This poor defender is on an island, and he will not make it off. Thomas begins by executing the slowest hesitation dribble in the history of mankind. Less a hesitation, more a deliberation -- it's an existential question: How would you prefer your story to end tonight, friend? Then he crosses over, fakes a drive, then actually drives. His man backpedals gamely, but it's too late. Thomas pulls up for a step-back and launches a slightly off-balance, insanely quick, way-too-long 2-pointer that drains precisely as the clock hits zero. Instantly, cameramen are sprinting across the floor, the hardwood is a party. Arizona players are facedown on the court hiding their tears while reporters step over their bodies. Thomas is standing there like he knew it was going to happen the whole time.
HE WENT LAST in the 2011 NBA draft. Not last in the first round, but literally the last guy taken. Five of the six guys selected directly ahead of him have never played regular-season minutes. Meanwhile, Thomas just passed Paul Pierce with the fifth-highest-scoring season in Celtics history.
The Kings took the first gamble on him and were rewarded with a two-time Western Conference rookie of the month who averaged 11.5 points and 4.1 assists a game in his first season. He even officially became the shortest player ever to notch a triple-double in the NBA. Still, in July 2014, he was dealt to Phoenix in a sign-and-trade for forward Alex Oriakhi, whom you've probably never heard of. Phoenix proved a disappointment, as Thomas struggled for minutes alongside existing Suns guards Goran Dragic and Eric Bledsoe. After just 46 games, the Celtics came to the rescue, sending shooting guard Marcus Thornton and a pick to Phoenix in exchange for Thomas.
In Boston, Thomas found a system that valued his aggressive style of play. Coach Brad Stevens' no-nonsense approach helped build a strong-minded, team-oriented architecture around Thomas that let him flourish in scoring and passing. It also allowed him to be less of a liability on defense.
How bad is Isaiah Thomas' defense? It depends whom you ask. Stat types like to point to the fact that Thomas possesses a defensive real plus-minus of minus-4.17. To put that in context, of the 92 point guards ranked in DRPM, Thomas is No. 92.
Stevens is kinder about it. After the Warriors game in March, he gave Thomas a shout-out of sorts: "He guarded Curry. I mean, it's hard to chase that guy around for the whole game." (Curry had 23 points on 8-of-16 shooting.) James Thomas is even more charitable: "He's a pretty good defender if you really look at it. It's just his size knocks a lot off of it." (Fathers are great.) Jae Crowder is diplomatic: "He gives effort, I guess. I mean, you can't be great at everything!"
But when I offer Thomas the same question, he attacks it as if it was guarding him on the perimeter: directly and without nonsense. "I win games," he says.
That is hard to deny.
Consider the night of the MVP chant at Oracle Arena. It is my first time seeing Thomas live, and I'm struck by the disheveled dynamism of his game. At one point he drives against a pack of defenders and is summarily rejected by Matt Barnes, who delivers the block with all the effort of a man wiping crumbs off his kitchen counter. But more frequent are the "I can't believe what I just saw" plays. Off a Crowder screen, he buries a 3 so deep it looks as if it's dropping from the ceiling. He stares former Finals MVP Andre Iguodala dead in the eyes while icing a pure 26-footer to cap off a 15-0 Celtics run in the fourth. In his off-balance layups and no-look passes, in his inability to back down, he isn't just making plays, he is making the game.
THE DAY AFTER his sister died, Thomas made the decision to play for reasons that maybe only he and his family can fully understand. Brad Stevens told him there was no need to be on the court that Easter Sunday. Perhaps Thomas couldn't imagine not being there for the team that had finally given him a place to shine. Perhaps it was because he knew, as he told me weeks earlier, "no matter what I'm going through in life, if I get to a gym, I'm fine."
But when he took the floor for warm-ups, he seemed anything but fine. Cameras caught him crying on the bench while dance pop hits blared over the loudspeaker. On his sneakers were the words "Chyna" and "RIP LiL SiS" with the date 4.15.17. Instead of a daredevil's leap into the pregame huddle, he shuffled through his introduction, finding a circle of teammates who folded him into a massive hug.
He was electric at moments and struggled in others. His first deep 3 came early in the first quarter, and the fans at TD Garden exploded. And he played defense. Aggressively, seemingly wringing every ounce of effort from his body. But storybook endings are rare in real life. Chicago upset the Celtics 106-102.
Of course Thomas played. Of course Thomas scored 33 points. Ever since he was a child playing by his father's side, he has been relentless in his pursuit to defy our understanding of human limitations. And no matter how the Celtics' season ends up, one thing became abundantly clear seeing him on his home floor: He is the star in Boston. On his first trip to the free throw line, the chants of "MVP" were louder than ever. Right behind the Celtics' bench, a sign made it clear: we got you, isaiah. This town loves its underdogs, its hardworking hustlers who defy the odds. This is a town where people got mad at the prospect of trading away Trot Nixon for a still-very-much-in-his-prime Sammy Sosa. Boston sports fans don't want stars. They want hustlers. And Isaiah Thomas is a real-deal hustler.
But what's next? The Celtics are currently enjoying one of the league's most exciting players for the bargain price of about $6.75 million a year. He was the third-leading scorer in the league. Ahead of LeBron James. Ahead of Kevin Durant. And yes, ahead of Stephen Curry. But the 2017-18 season will mark the last year of this exceedingly team-friendly contract. It should be no surprise that Thomas is crystal clear about his worth: "I do feel like I'm a max player," he tells me. "My game speaks for itself."
The Celtics tell me they love Thomas, but this front office says it's nothing if not practical (even if Boston did give Al Horford $113 million over four years). They look to history, a narrative that says no singular personality, no matter how magnetic, will hold the franchise hostage. Would the Celtics really be willing to part with Thomas? "Look around; what do you see here?" one front office exec asks me before the playoffs. "These are the original banners from the old Garden. That's what we're about. Success here is only measured by that."
A sample of league execs, including four general managers, confirms this view. Despite his fireworks and his competitiveness, many feel Thomas is not worthy of a maximum contract. Even if the Celtics decline to make him a max player, the fact remains that someone in a league that passed on him 59 straight times in 2011 will now open up a vault for his services.
But as far as Thomas is concerned, whether or not he's playing in Boston in the future, he's already found his home. It's on the floor. It's there in the way he practices, shooting 3s, running dribble pull-up moves long after his teammates are stretching and cooling down. It's there every night, through struggle or triumph. At the practice facility in early April, he tells me: "Every time I step on a floor, I'm happy. That's been something since I was a little boy."
Moments after that, his eyes come to rest on a hoop at the other end of the court. He lets a half-smile slip and cuts our interview short. Gerald Green had called him a scrub and challenged him to a 3-point shooting competition. And Isaiah Thomas, of course, is eager to prove himself. As always, he is not inclined to back down.