The Ben Simmons who showed up in Game 6 of the conference semifinals after scoring 10 or fewer points in four straight games is the one the Philadelphia 76ers need if they want to snare Game 7 in Toronto. That Simmons is why we can't demand "trade him for shooters!" after every uneven game.
"I know my role," Simmons told ESPN.com after that game. "It's being Ben Simmons -- somebody who can attack downhill, get to the rim, defensively make plays, get my teammates involved."
Simmons raced out after some first-quarter Toronto Raptors misses, and when he gets a few early end-to-end rushes, it seems to inject him with an energy and hyper-awareness that lasts the entire game. The Sixers also got him the ball more in open space; Simmons ran 14 pick-and-rolls in Game 6, his third-highest figure among 11 playoff games, per Second Spectrum. He attacked in isolation more, too.
It made for a stark contrast with the previous four games, when Simmons spent more time than usual camped out in the "dunker spot" -- under the rim, at the edge of the paint -- while Jimmy Butler and Tobias Harris ran the offense.
Was that more limited role really Simmons' destiny on this Sixers roster? And what would that mean for his future?
---
In early January, two months after the seismic acquisition of Butler, and one month before the slightly less-seismic acquisition of Harris, it was already clear the Sixers faced a huge challenge integrating all of their high-volume options -- including maybe the most idiosyncratic player in the league in Simmons.
In a chat with ESPN.com, coach Brett Brown likened himself to a waiter -- "like I'm serving each of them food," he said. "Joel needs a touch. Ben needs to be posted. Jimmy needs a play." Brown did not enjoy that sensation. "You hope the offense dictates who gets shots," he said, "but it has been challenging."
When it looked jagged and awkward, Brown would remind himself that Philly had time. "So much of my thinking is always about what's realistic in May," he told ESPN in early January. "You can get tricked by what is successful in the regular season, especially against some of the lesser teams. The holy grail is what works in May."
May arrived, and for the second straight season appeared to raise real questions about Simmons' fit in high-level playoff basketball. The presence of Butler and Harris, both free agents this summer, changed the contours of those questions and made them more pressing.
Brown and Sixers brass have described Simmons for much of the past two seasons as a point guard. Against Toronto, that has been true only in stretches. Butler has been Philly's closest thing to a point guard, and its most reliable postseason player. The offense has belonged more to Butler and Joel Embiid, and at times Harris and JJ Redick, than to Simmons. It is perhaps the most consequential on-court development of the postseason so far.
In the regular season, Simmons finished 21.3 percent of Philly's possessions with a shot, drawn foul, or turnover -- a usage rate befitting a pass-first All-Star. That fell to 18 percent in the first round against the Brooklyn Nets, and further still to 14.5 percent against the Raptors.
Last season, Simmons ran about 27 pick-and-rolls per 100 possessions, according to Second Spectrum tracking data. That dropped to about 12 in this regular season and playoffs combined. He has increased his participation as a screen-setter, including on handoffs, but those jumps do not come close to matching the decline in classic on-ball actions.
Simmons' usage waxing and waning depending on the opponent is not new. But against Toronto, his residency in the dunker spot has reached new levels:
He is in the way. Philly's coaches have pushed Embiid to roll hard to the basket instead of fading out for 3s, but he's rolling into a jumble with Simmons lurking.
When Philly's pick-and-roll encroaches upon dunker spot range, Kawhi Leonard, guarding Simmons for much of this series, transforms into a menacing rim protector -- smart, long, and quick enough to effectively guard two or even three players at once within tight confines:
Toronto has occasionally decided Leonard might be of more use elsewhere, and sent him roaring onto Butler -- leaving Danny Green as the last line of defense on Simmons. That swap amounts to a loud statement: We no longer much care what you do down there.
Simmons can do damage there, as in Game 6. He's a savvy cutter, and an emphatic offensive rebounder. They call it the dunker spot for a reason:
But his role at times in this series veered more toward that dunker spot than Simmons or anyone in the organization ever expected.
"It's not about being in the dunker, because [my role] is definitely not that," Simmons told ESPN.com Thursday night in Philadelphia. "I'm more valuable than that."
There is no discontent in Simmons' voice. He's stating facts, and taking issue more with the question than his role. He also knows he has to inhabit the dunker spot some, and is growing comfortable there. "I've been there before [this series]," Simmons said. "I just made more plays from there tonight."
---
Simmons' combination of size and skill afforded Philadelphia unusual flexibility in constructing its roster. He is (was?) a point guard with the build of a power forward. He can defend opposing point guards. Because of Simmons, Philadelphia was untethered to traditional positions or height distributions.
In acquiring Butler and Harris, the Sixers opted to go huge. They would bludgeon opponents. But the occasional relegation of Simmons to dunker-spot duty mucks up that vision.
Harris and Butler often find smaller guards defending them. That's great! Both can back down little guys, score over them, or draw urgent double-teams that unlock easy kickout 3s.
But with Simmons and a traditional center clogging the paint, Harris and Butler cannot bulldoze close enough to the rim to really puncture the defense:
The Sixers profess not to worry about this. Embiid can moonwalk to the 3-point line in a pinch, and work those glorious pump-and-drive attacks if his defender loiters in the paint. That mitigates the issue but does not eliminate it: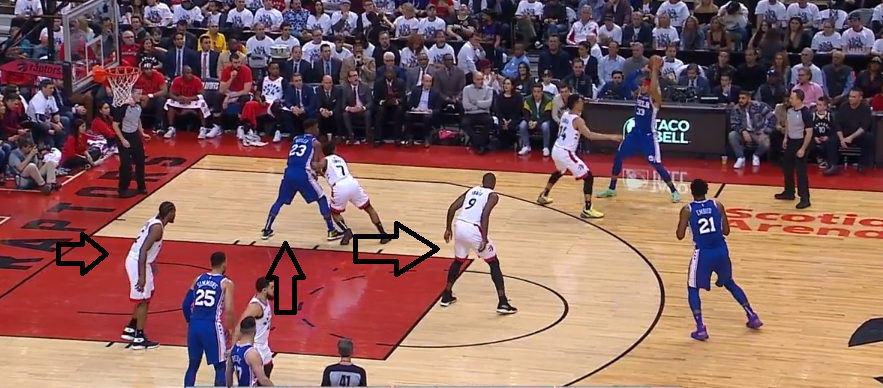 Regardless, Philly did not go all-in on size to become an old-school back-to-the-basket team beyond Embiid's balletic brutality. (It is unclear if the Sixers even prioritized size in cashing in several of their final blue-chip Process assets. They probably wanted talent above all, and Butler and Harris were available talent. Would they have hunted, say, Kemba Walker if he were gettable at the same prices?)
They exploit their size in other ways. They pound the hell out of the offensive glass, and it has not cost them in transition defense; only two teams allowed fewer points per transition play, according to Cleaning The Glass. Extra-large humans are more scary bearing down on you.
They help and recover faster than most teams, and across longer distances. When the Sixers fly around, they legitimately unnerve opposing shooters. And even if Harris and Butler can't plow to the rim on post-ups, their size advantage helps them burrow into the paint and rise up on the pick-and-roll.
But giving them the ball muddles Simmons' role. He can still be a very good offensive player as a third or fourth option when he is diligent and active. Philly has nudged him out toward the corner to screen for shooters:
That is Simmons leveraging an opponent's inattention against it. If no one is guarding Simmons, no one will be on the other side of his screens to meet Redick, Butler, or Harris. Double those shooters, and Simmons slips free to wreak havoc at the rim.
That comes in lots of flavors: flare screens on the wing, random high-speed picks above the arc, quick-hitting handoffs. Simmons has a good two-man rapport with almost every key Sixer.
The master at this is Draymond Green, and that is instructive. Until Simmons develops some semblance of a jump shot, his role on the apex version of this roster -- at least in some games -- might be something like its version of Green: Defend like all hell, control the offense in transition, and scrounge ways to create points in the half court.
Philly's emphatic wins in Games 3 and 6 of this series represented the peak melding of Simmons with the broader roster. He found that same sweet spot against Brooklyn after a rough Game 1: 17 points per game on 64 percent shooting, and ace defense on D'Angelo Russell.
For whatever reason -- style, scheme, personnel -- Simmons got more touches high out on the floor, even in the half court, against Brooklyn. (One theory: Philly had more faith in methods beyond vanilla high pick-and-rolls in attacking Brooklyn's defense. All those Simmons-friendly improvised screening opportunities pop up more often in faster, more hectic games. Also, the Nets do not have Leonard; the Sixers may be stashing Simmons away from the ball because he cannot do much with it as long as Leonard is on him -- and as a means of removing Leonard from the action.
Related: Simmons quaked against the Boston Celtics in last season's second round, but had Philly advanced, how might he have fared against the Cleveland Cavaliers' squishy defense?)
Simmons won't always be able to strike the right balance. Some games just don't flow that way. Low turnovers and a slow pace work against it. Simmons is a smart cutter; teams that can defend Embiid in the post one-on-one -- like, say, the Raptors with Marc Gasol -- limit Simmons' opportunities to cut when no one is looking.
Simmons is a post threat in his own right, with a knack for ducking in against mismatches. He is still learning to time those duck-ins on a team stocked with post threats:
The best teams -- the ones you face in May -- are loaded with big wings who make those Simmons post-ups equal fights. Simmons has been off for chunks of the second round in two straight seasons. The difference now is that the Sixers have Harris and Butler.
Both will have max offers, or close to it, in free agency. Philly's ownership has expressed a willingness to retain them -- plus Embiid and Simmons, the latter eligible for an extension on July 1. Let's take them at their word. They must have noticed Simmons' inconsistencies just like everyone else.
Back in January, I cautioned against rushing to "trade Simmons!" judgment about the Sixers' sometimes gummy offense. They were dealing with injuries. They hadn't acquired Harris. Their starting five -- with a creaky Wilson Chandler in Harris' spot -- was obliterating opponents. The three stars were all smart, athletic, and skilled enough to work around fit issues -- at least in the regular season.
Here's what I wrote then:
Two things can be true at once: The Sixers can win a championship at some point with Simmons, Embiid, and Butler; and the Sixers may come to a realization that they need to trade Simmons at some point in his prime.
That all still holds. The Sixers are young, and learning each other, and they are heading to Game 7 against a very good Toronto team sporting arguably the best player in the series. That player might not be on the Raptors next season. The potential Boston juggernaut has gone haywire. Kevin Durant is a free agent. Philly respects the Bucks but doesn't fear them.
Trading Simmons for shooters who mesh with Embiid (plus draft picks) sounds good in theory, but it also amounts to betting the future of the franchise on Embiid's health. Are you really ready to do that?
For all the holes in his game, Simmons has superstar-level talents that are very hard to find. Trading a No. 1 overall pick for what amounts to very nice depth would hurt, having just traded another No. 1 overall pick -- Markelle Fultz -- for Jonathon Simmons and (probably) two second-round picks.
(It's so easy to forget about Fultz now. It cannot be emphasized enough that Philly's transactions during this spasmodic last year stem in some large part from blowing the No. 1 pick on Fultz -- the playmaker/shooter who was supposed to connect Embiid and Ben Simmons.)
But Simmons' puzzling playoff performance, plus the addition of Harris atop Butler, has to have tilted the equation at least a bit. Butler and Harris changed Simmons' role. If they stay, it is unclear how much Simmons ballhandling the Sixers can reintroduce when it counts.
One or both could leave, of course, unlocking touches and cap space. Even if they stay, Simmons' role will fluctuate game-to-game and season-to-season. Butler is almost 30. Harris is a secondary option.
Simmons developing a workable midrange jumper would change everything. He takes that shot in practice, and in warm-ups. He takes 3s in practice. There are people within the organization who say Simmons' performance in practice suggests he could hit a tick below 30 percent of wide-open 3s in games.
That is bad. But is the kind of bad that might be a floor upon which to build.
In the meantime, Simmons might crave more than a Green-style role. Whatever his role, he surely wants the maximum amount of money he can earn. The Sixers on July 1 can offer him a five-year, $168 million extension (which could be more if Simmons meets designated player criteria next season). If they do, I'd expect Simmons to take it. Everyone takes it. The two sides could hash out his role, and the longevity of their partnership, later.
The Sixers might also find the trade market for Simmons a little cooler than they would like, anyway. (And to be clear, there is no indication they have shown any interest in trading him.)
It has been tempting to imagine Simmons as someone else's Giannis Antetokounmpo -- a lead ball handler rampaging to the rim with four shooters around him. He will not have access to that kind of ecosystem with Embiid. They barely run pick-and-roll together.
But plopping Simmons into that environment does not make him Antetokounmpo -- an MVP candidate. He is not as long, tall, athletic, or proficient finishing from every angle imaginable -- and some you never imagined.
Simmons would be really good in that kind of role -- an All-Star, and an All-NBA talent. He's 22, two years younger than Antetokounmpo. He's going to improve at everything. But he doesn't project to be as good as Antetokounmpo is now. I'm not sure he could take that kind of theoretical team as far as Antetokounmpo can take the present-day Bucks, unless that theoretical team had even better supporting talent.
In January, I went through a dozen or so of the most logical hypothetical Simmons deals. Some of them -- Simmons for Devin Booker or Donovan Mitchell, for instance -- were probably unavailable to Philadelphia then, and would be unavailable now. The Sixers would have turned up their noses at others. Some would have made both sides feel queasy.
Game 6 was a warning against rushing to judgment -- a reminder of what Simmons can be when a game tilts more toward his style, or he bends it that way. Let's see what he does in Game 7, and perhaps beyond.