As the Denver Nuggets flew back from Minnesota after losing a win-or-go-home regular-season finale to the Timberwolves for the West's No. 8 seed in 2018, Nikola Jokic rose from his seat and strode from row to row.
Jokic thanked every player, coach, and staff member for helping the Nuggets win 46 games and come within an overtime loss of their first postseason since 2013, recalled Tim Connelly, Denver's president of basketball operations. "We gave everything we had," Jokic told each person. He promised they would be back in the thick of the West next season.
"It is the kind of thing," Connelly said, "that makes your disappointment fade pretty quickly."
Talk to higher-ups within the Nuggets, and it was that stretch to end the 2017-18 season when they first realized it: This group is tough. Fearless. On March 17, the Nuggets -- sitting in ninth -- began a seven-game road trip by falling to a Memphis Grizzlies team carrying a 19-game losing streak. They lost again two nights later -- in double overtime against the Miami Heat. As April approached, both FiveThirtyEight and Basketball-Reference gave the Nuggets about a 10% chance at the playoffs.
Game 7: Nuggets-Clippers, 9 p.m. ET, ESPN and the ESPN App
They won six straight, including two overtime gut checks, to set up that showdown with Minnesota. A certain resilience has been their defining quality since. It was something the Nuggets were not sure they had entering that season. They held playoff hopes after signing Paul Millsap, but they hovered around .500 over 40 games. Michael Malone, their fiery head coach, yanked Jokic from a scrimmage in an early-season practice for loafing in transition defense and offering an excuse when Malone cajoled him, both told ESPN in the fall of 2017. Malone had often nudged Jokic -- then just 22, a starter for less than a season -- about his leadership.
"When s--- doesn't go your way, sometimes you become a baby," Malone said he told Jokic toward the end of the 2016-17 season. "You take bad fouls. You take bad shots. Your body language does this and that. You think it's just about you. But what do you think Jamal [Murray] is looking at? What do you think Gary Harris is looking at? All eyes are on you."
There is no doubt now about Jokic or the fiber of these Nuggets. They rallied from 3-1 down to beat the Utah Jazz, and have a chance to pull the same trick against the LA Clippers -- a juggernaut with ambitions far beyond this round. They rallied from huge deficits in both Games 5 and 6 against LA.
Beyond that, they rallied from humiliation. Few teams have ever looked so bad early in the playoffs and survived this long. The Nuggets were minus-48 after the first four games against Utah. Since the league went to best-of-seven series in the first round, no team that was outscored by at least 40 points over its first four games had ever advanced, according to research from ESPN's Kevin Pelton. (Such teams were 0-30 in prior playoff series.)
Denver's defense, abysmal early against Utah, has allowed just 108.2 points per 100 possessions since Game 4 of the first round -- equivalent to the No. 7-ranked defense in the regular season.
Denver's early struggles were not shocking. They barely fielded a team upon arriving in Orlando. They got Harris back in Game 6 against Utah, allowing Malone to surround Murray and Jokic with quality defenders. Malone slid Michael Porter Jr. into a reserve role, where Porter's defense has been less damaging. (The Nuggets are plus-25 with Porter on the floor against the Clippers. He has made big 3s and scored against mismatches.) Malone almost ran out of time to do it -- imagine if that Mike Conley 3-pointer at the buzzer of Game 7 had dropped? -- but he has found offense-defense balance across Denver's lineups. And the Nuggets still don't have Will Barton.
They are not beating up on LA's weaker lineups, either. The Nuggets are plus-5 with both Paul George and Kawhi Leonard on the floor.
Even if this series is more about the Clippers -- and it is -- it's time to recognize what the Nuggets have going. They are tough as hell and super-talented.
But the Clippers have more at stake Tuesday night. They traded away much of their future to win now. The Nuggets have their future in front of them. Leonard is 29. George is 30. Both can enter free agency after next season. Jokic is 25. Murray is 23. Porter is barely 22. Harris and Jerami Grant -- looking like a long-term fixture -- are just entering their primes. Denver would love to win Game 7. The Clippers have to.
You wouldn't blame Doc Rivers for feeling he needs to. In Year 7 with the Clippers, he's still chasing the conference finals. The Chris Paul-Blake Griffin Clippers melted down in Oklahoma City in Game 5 in 2014, and blew a 3-1 lead the next season to the Houston Rockets -- a collapse that remains almost inexplicable. Injuries and tension withered the team after that. This was the year when everything would change -- the Clippers team that would hold steady behind Leonard's indomitable two-way brilliance.
The Clippers' defense has been mostly fine against Denver: 107.6 points allowed per 100 possessions, only a hair worse than LA's regular-season mark. They have blanketed Murray with size; he has shot better than 40% just twice, and 50% only once -- in Game 6. Both George and Leonard have made Murray see arms in every passing lane.
The main weak point has been Montrezl Harrell's defense against Jokic; the Clippers are minus-34 in 53 minutes with Jokic and Harrell on the floor. Harrell has also been out of rhythm on offense outside Game 4.
OK, so: What's the answer? Ivica Zubac has logged about 30 minutes per game over the past three; I'm not sure he can give much more without suffering fatigue and foul trouble. The Clippers could bench Harrell and play more with JaMychal Green or Marcus Morris Sr. at center. Those guys are better equipped to run Jokic off those moonball pick-and-pop 3s that seem to ignite every monstrous Denver comeback.
Jokic can obliterate Harrell, Green, and Morris in the post, so perhaps Rivers should accept that, double Jokic, and play the fleetest defenders and best shooters among that trio -- Green and Morris -- with LA's season in the balance. (He also tried Leonard on Jokic in Game 6.)
The Clips have been hit-or-miss doubling Jokic. Sometimes, they force the ball to one of Denver's lesser shooters. But often, Jokic outthinks them and triggers a swing-swing-swing sequence that ends with the ball somewhere the Clippers don't want it.
There is no easy answer to this Jokic -- the hungry, predatory scorer. If he makes 3s -- he has hit 43% from deep for his postseason career, shooting many more than he does in the regular season -- there are no answers at all. The more attention he demands as a scorer, the more passing lanes become available to him. You have to ride out his greatness hoping no one else has a big game, and that your offense hums.
There is no wasted time or motion in Denver's offense. The Nuggets know what they want, and how to get it. They will peck at LA's weak points.
The Clippers could use that sense of purpose. Aimless meandering has infected their offense in the second halves of the past two games.
Leonard draws Jokic on a switch. That should be the end goal! Even if Leonard passes off, he should demand the ball right back! Instead, the Clippers putter around and allow Torrey Craig to switch back onto Leonard, who eventually misses a long, contested 2-pointer.
Zubac has Murray on him and is about to screen for Leonard. Going from that into an early-clock contested wing triple for Morris is just nonsensical.
Midway through the third quarter of Game 6, four Clippers cleared out so Landry Shamet could drive one-on-one against Millsap. Shamet -- the fifth-best Clipper on the floor by a wide margin -- turned the ball over. Morris had Murray on him with plenty of time on the shot clock. If there is ever an occasion to let Morris play bully ball, that was it.
The Clippers have known all season that they are 10% or so short of their ideal collective playmaking level -- and that their second-best playmaker, Lou Williams, is probably their worst rotation defender. (For all the heat Rivers is taking for overplaying Williams -- and Williams is shooting horribly -- the Clips are plus-45 with Williams on the floor. That's a team high. That inflates Williams' impact, but it's hard to argue the Clips are on the brink -- and not playing Game 1 against the Lakers -- because of him.)
The Clippers are so talented, they often tread water during periods of malaise -- or even win them. The degree of their collapse on offense in the second half of Game 6 was probably exaggerated. A bunch of good looks rimmed out: bunnies from Zubac and Leonard; wide-open corner 3s from Green; clean jumpers from George; a few of Leonard's pet midrange pull-ups.
Copious third-quarter fouling (including some silly ones) had Denver living at the line in Games 5 and 6, and strangled the Clippers' transition game. The LA centers run hard after Denver misses, and they can get ahead of Jokic.
But the Clippers can be more calculated. They have gotten very little from having Williams, Beverley, or Shamet -- whoever is being guarded by Murray or Monte Morris -- screen for their two superstars, or vice versa. They have barely tried. They have run 33 total pick-and-rolls between Leonard and Williams, and the subset with Leonard handling the ball have produced next to nothing, per Second Spectrum data.
Leonard has just not looked comfortable making quick decisions when Williams' defender -- often Murray -- lunges to cut him off before recovering to Williams. He has to make these plays hurt in Game 7. (Murray has improved his defense. He fights.)
George has run 14 combined pick-and-rolls with Shamet and Williams, per Second Spectrum. Those have worked. (The Clips are averaging about 1.1 points per possession when a George pick-and-roll leads to a shot, and just 0.904 on Leonard's plays.)
Leonard prefers working with Zubac, who sets brick-wall screens and catches everything. Denver has hung in on those plays. Jokic has varied up his positioning, but he appears most at ease corralling Leonard just below the level of the pick -- high on the floor, but not too high. The Nuggets are nailing the rotations behind him. Watch Murray and Millsap make some sweet music on the right side:
Millsap fills the lane. Murray reads Zubac's pass, and toggles to the corner. Millsap reads that, and zooms to Morris Sr. -- a perfect "X-out" in hoops lingo.
Porter has improved his read-and-react defense with more reps. The Clips should still test him on the pick-and-roll. If the first screen whiffs, set another, then another.
They might also hunt Millsap more. Millsap has perked up after a depressing first round, but he's rigid defending in open space. The Clippers can have his man -- Morris to start games -- screen for George and Leonard, and go to work.
There are easy ways to spice up the bedrock Leonard-Zubac two-man game. The Clippers have busted out this screen-the-screener action out of a few timeouts:
Morris screens Zubac's man -- Jokic -- as Zubac rumbles toward Leonard: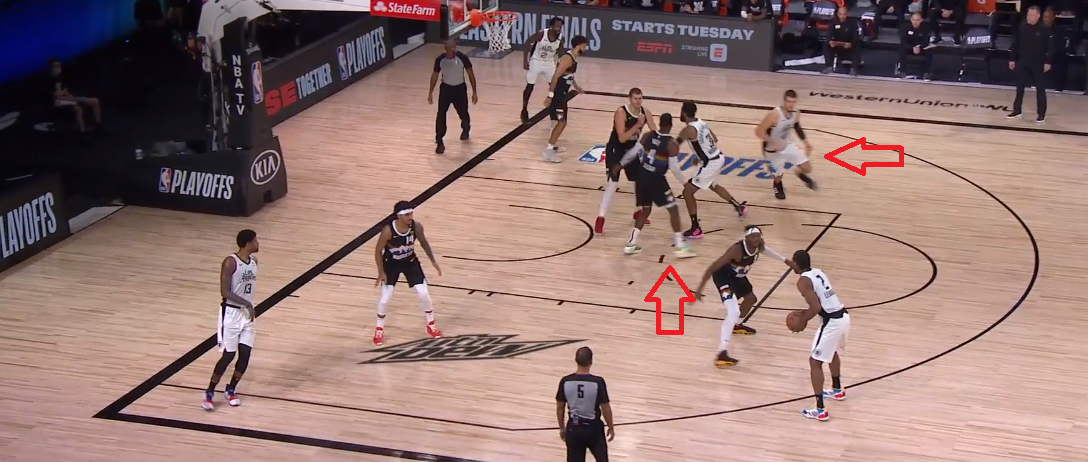 That can give Leonard breathing room to get downhill, though it only kind of works here; Morris ambles by Jokic instead of setting a pick. (Iffy screening is an off-and-on issue for Clippers not named Zubac.)
A more threatening Kawhi drive draws more help from the weak side, and George is the only shooter there -- foisting a terrible choice onto his defender: help in the middle knowing no one is nearby to take George, or stay home and pray Leonard misses.
Of course, Denver has counters in the bag for whatever the Clippers might bring in Game 7.
These tweaks are small things compared to the overwhelming individual greatness of the stars at the center of this series. But the small things make life a little easier for those stars. The Nuggets have proven worthy adversaries for a team many -- present company included -- picked to win the title. The Clippers need to play with a precision and diligence that sometimes eludes them. Denver demands no less.