The Denver Nuggets can rally from the depths in an NBA playoff series because Jamal Murray and Nikola Jokic methodically problem-solve opposing defenses. Your preferred coverage of the Murray-Jokic pick-and-roll might set them on their heels for the first half of Game 1, but they soon adjust. They poke and prod, downloading information, searching for holes.
By Game 2, they begin exploiting those holes. By Game 3, they might have forced a change in your coverage. They see that change. It signals they are inflicting pain. It emboldens them, even if it means they have to problem-solve anew. They grow more powerful, separately and together, over time.
The Los Angeles Lakers in Games 1 and 2 of the Western Conference finals switched a lot of Murray-Jokic actions, leaving two mismatches: a big guy on Murray, and a small guy on Jokic. It marked a departure for a team that has prided itself on not switching -- on keeping bigs near the basket. The Lakers were probably switching more than coaches wanted, but the frequency indicated switching was part of their plan.
NBA schedule: Game 4, West finals | Game 5 East finals (ESPN)
That is a tribute to Murray and Jokic. There is no silver bullet coverage for any pick-and-roll partnership in which both members can score from anywhere. The closest would be switching with two big wings, but Jokic punishes even slight mismatches with his bruising back-to-the-basket game. Even so, we saw LeBron James briefly take Murray in crunch time of Game 3. Perhaps Frank Vogel will go back to James on Murray and Anthony Davis on Jokic if Game 4 is close late, and unleash them as the rare switching combo that might trouble Denver's stars.
So few big men can score on the block like Jokic anymore. In the East, the Miami Heat switch with Bam Adebayo knowing most centers -- Daniel Theis, Myles Turner -- present zero threat posting up. The dearth of big men with back-to-the-basket craft has made the point guard-wing pick-and-roll -- think Kyrie Irving/James in Cleveland -- the crutch for playoff offenses. The Murray-Jokic dance is refreshingly old school.
Jokic has been most often compared to Marc Gasol, but aggressive postseason Jokic might be the true heir to another international big man star: Dirk Nowitzki. Crunch time offense has become the domain of wings and point guards. Nowitzki was the rare modern big man with the shooting chops and one-on-one skills to serve as the hub of an elite crunch time offense. Jokic is that now. Drop back, he rains 3s. Chase him off the arc, he pumps and drives for some wild floater. Switch, and he isolates against little guys at the nail -- peeking at the opposite shot clock, an old Nowitzki trick.
(Nowitzki, in his way, almost rejected the comparison. "Damn," he texted. "That's a compliment. I wish I had his skill set. His passing is so good it's a joke. I unfortunately always wanted to score and not pass." Yeah, I think the Dallas Mavericks and their fans are cool with the balance you struck, big fella.)
The Lakers' switching worked well enough for a game and change. When the Lakers have a center on the floor -- JaVale McGee or Dwight Howard -- both Davis and James lurk on the back line to put out mismatch-related fires:
Murray beats Howard, but Davis meets him at the rim knowing James looms. The Lakers were betting on their size and speed -- that they could double Denver's stars, and scramble to prevent easy buckets.
When the Lakers play Davis at center, the same switch leaves James as the lone back-line predator; Davis is tasked with chasing Murray. Davis still managed to disrupt some Jokic mismatch bully ball:
The Lakers load up to help Alex Caruso deal with Jokic. Torrey Craig flashes open amid the chaos, but Murray cuts under the rim -- bringing Davis into Craig's path.
By Game 2, Murray was taking Davis to one of two places as Jokic overwhelmed L.A.'s guards.
Place No. 1: the other side of the floor, making it harder for Davis to help.
Place No. 2: in 3-point range one pass away from Jokic.
Davis trapping Jokic there risks an open Murray trey. If the Lakers dispatch a third defender at Murray, he'd better arrive on time. Even then, Murray can engage drive-and-kick mode.
Murray has also been effective driving those switches right away instead of pulling back and giving the Lakers' defense time to gird itself:
In Game 3, the Lakers' came out determined not to switch as often. It threw the Nuggets off at first:
They adapted. Jokic made hay slipping screens and rolling behind the Lakers' defense. Few guards are cleverer than Murray dragging resistant defenses into switches. He freezes big men with nasty hesitation dribbles, and then accelerates at them -- forcing the switch. He might zoom away from Jokic's pick and string his dribble out, yanking Jokic's defender so far toward the sideline as to leave the defense no choice but to switch.
Murray instills indecision and, eventually, panic:
(Murray also got some good looks running off screens away from the ball. Denver might want to do more of that.)
The Lakers did not slink into surrender after switching in Game 3. When Murray danced with the ball, L.A. charged him with sudden double-teams -- forcing Murray to give it up, and wagering again on their scramble defense working in concert with the dwindling shot clock:
The Nuggets have scored about 1.17 points per possession in this series when Murray or Jokic shoots out of their pick-and-roll, or passes to a teammate who fires -- a mark that would rank 25th for the season among almost 400 pick-and-roll duos with at least 100 reps, per Second Spectrum. Zoom out to include full possessions, and the number balloons to 1.23 points.
By the fourth quarter, the Lakers resorted to the last option for desperate defenses: zone. The Nuggets fell apart. Rajon Rondo committed high crimes and misdemeanors. You'd suspect Denver will be ready for it in Game 4.
The only answer is to continue mixing it up, and that includes the sort of switching and helping the Lakers preferred in Games 1 and 2. They are good at that. They surely have another level of urgency; Denver needed Game 3 more than the Lakers did. Game 4 is crucial for both.
Other thoughts ahead of Game 4:
• Meanwhile, the Lakers are searching for rhythm on offense again. Game 2 was low scoring. They got back into Game 3 with pick-six turnovers. They have scored 95.5 points per 100 possessions in the half-court over Games 2 and 3, per Cleaning The Glass -- right around their league-average regular-season mark that raised alarms during the seeding games.
The James-Davis pick-and-roll has produced fewer than 0.8 points per possession, per Second Spectrum. The James-McGee dance has been worse. The Lakers might consider starting Howard in Game 4.
Denver's help defenders took an extra half-step toward the paint in Game 3, barricading the restricted area. They have faith in their ability to swarm and retreat to dangerous shooters. They are willing to live with some open looks from Caruso, Rondo, Kyle Kuzma, Markieff Morris, and even Davis. The Lakers' shot 6-of-26 from deep in Game 3. Both those numbers -- makes and attempts -- are bad.
Over Games 2 and 3, only 33% of the Lakers' shots came at the basket -- way down from their regular-season share of 40%, which ranked second overall, per Cleaning The Glass. The corresponding jump came almost entirely in midrange jumpers. James and Davis are megastars who will make enough tough midrangers to beat you on a lot of nights. The Lakers can still work for better looks.
You can see the Lakers searching out counters to Denver's paint-packing. Caruso is headhunting with flare screens, trying to block Denver's defenders from recovering onto shooters: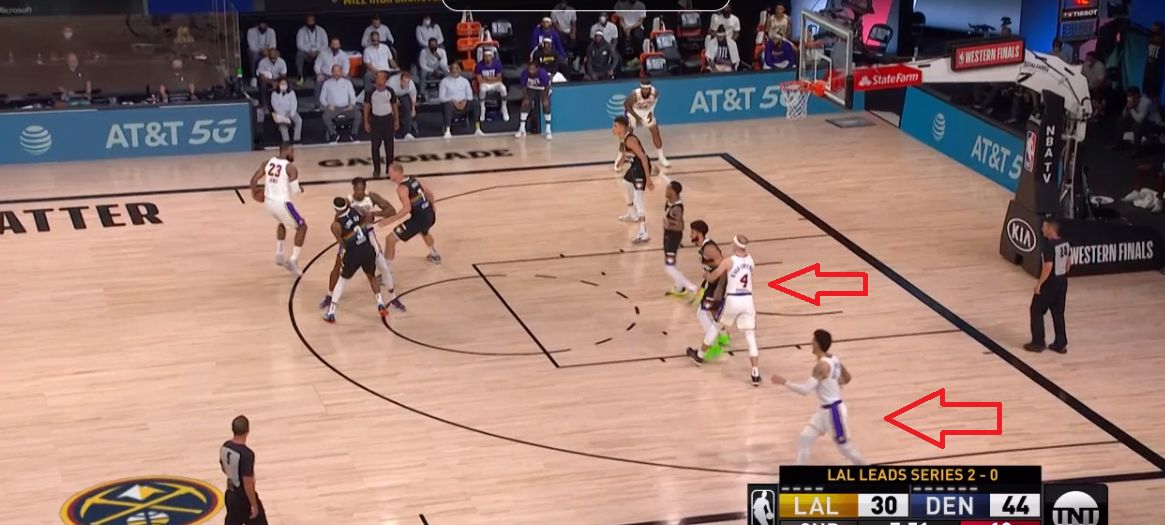 Both Kuzma and Caruso have found buckets on cuts and split actions. That kind of stuff requires diligence and coordination. Cuts are no good when players cut into each other, or clutter James' path to the basket. The diligence waned late in Game 3 as more Lakers stood still.
Corner actions centered around Davis -- in which he sets a pindown for a shooter in the corner, or vice versa -- have been effective all postseason; Davis got two easy hooks out of that early in Game 3. Similar misdirection plays, oriented more toward the top of the arc, have generated decent looks for Kuzma and Caldwell-Pope.
Beyond those counters, I thought the Lakers waited too long to go all-in on their best Davis-at-center lineups in Game 3. They played just 15 total minutes with James and Davis on the floor -- and all of Howard, McGee, and Morris on the bench, per NBA.com. The fourth quarter comprised 12 of those minutes. Such lineups went plus-10, though that was fueled by those pick-six steals. Those lineups were minus-4 in 15 minutes over Games 1 and 2.
Those lineups sacrifice rebounding (a huge problem in Game 3) and some back-line size on defense, but they can extricate the Lakers' offense from the mud. They also re-weaponize the James-Davis pick-and-roll. The Nuggets are switching that action with Jerami Grant and Paul Millsap -- while Jokic guards the Lakers' center. Remove that center and the Nuggets have two choices: Have Jokic guard Davis, or hide him on a perimeter player.
When Jokic defends Davis, the Lakers should milk the James-Davis two-man game without mercy. If Denver switches, it's barbecue chicken time for James. When Jokic corrals James, Davis can roll hard through a clear lane:
James and Davis have run only 26 pick-and-rolls together in three games, per Second Spectrum. Davis has rolled on just 10 -- and rolled hard on maybe three.
The alternative of hiding Jokic on the perimeter creates more of a dilemma. Should the Lakers recenter their offense around Kuzma, Kentavious Caldwell-Pope, Caruso, Rondo, et al. -- and away from Davis -- just to attack Jokic? Kuzma and Caruso are shooting 31% from deep combined this season; Kuzma was hesitant to launch with Game 3 in the balance.
But if James is handling the ball, that kind of mismatch hunting is fine in the right doses. James will find driving creases. Some open 3s will drop. Some will draw extra rotations, opening more drive-and-kick goodness.
The hunt-Jokic gambit gets more dangerous with more shooting on the floor. Danny Green's late absence in Game 3 was curious. The Caruso/Green/Caldwell-Pope/James/Davis fivesome has played 11 minutes the entire postseason, and none in Game 3. (The Lakers are plus-10 in those minutes.) I get that: Rondo and Kuzma have been mostly good, and the Lakers' centers have contributed off and on. Still, the Lakers should find a way to get to that lineup in Game 4.
The Lakers can also leave Jokic to the side and try the James-Davis pick-and-roll. If the Nuggets switch, LeBron should be able to rumble past Millsap. Millsap has defended James as well as could be hoped throughout his career -- and at times in this series -- but I'm skeptical he can stick with James one-on-one if the floor is spaced.
The Lakers tried all this down the stretch of Game 3. Denver stuck with Davis' slips to the rim. Davis was barely involved otherwise, and looked understandably fatigued -- even walking into one or two possessions way behind the rest of the Lakers -- after playing the entire second half. James was 6-of-8 in the fourth quarter, but settled for step-backs at the end. He has faded late in some playoff games.
Still, if Davis can defend Jokic -- and he has been mostly fine -- and hold up on the glass, there is not a huge downside to leaning into these lineups a little more should the offense require a jump start.
• Keep an eye on Rondo's pick-and-rolls. He tore the Nuggets apart in Games 1 and 2; they could not get underneath screens. They made it a point of emphasis in Game 3, though their execution was scattershot. The Lakers' screeners were smart about rolling right into Rondo's defenders, bulldozing them into switches.
• I wonder if the Nuggets found something playing Grant at center over Mason Plumlee against the Lakers' Davis-at-center lineups late in the third quarter.
• A fun game-within-the-game: Against some bench-heavy Denver lineups, the Lakers have James guarding Michael Porter Jr. -- knowing full well the Nuggets want no part of that matchup on the other end. After stops, James is sprinting the floor, hoping to catch the Nuggets before they rejigger the matchups.
Game 4 is often the series' pivot point. A Lakers win means a commanding lead (though the Nuggets seem impervious to deficits). If Denver snags it, we shift into best-of-three. Buckle up.