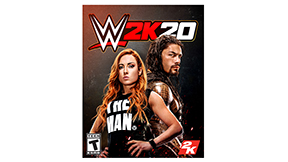 WWE 2K20 is now out!
2K Showcase is back! Relive the incredible journey of the Four Horsewomen and the Women's Evolution told through their own words!
Experience Roman's Reign in 2K Towers. Follow "The Big Dog" through his early days in NXT, his time as a member of The Shield, to rivalries with Brock Lesnar, The Undertaker and more!
Get in the action! Step into the ring and experience the most realistic WWE game to date!
WWE 2K20 from 2K -- Get it now on all major video game platforms. Rated T for Teen
TEXT TO WIN
Text the word WWE to 44-202 through NOVEMBER 8.