GREEN BAY, Wis. -- Coaches rarely admit to making mistakes. Of course, it's easy to admit to making a mistake when the blunder still results in a trip to the NFC championship, a contract extension and the acclaim of doing one of the best coaching jobs in recent years.
Green Bay Packers coach Mike McCarthy spoke out in Packers minicamp about his running-back-by-committee formula for last year. The NFL isn't socialistic. Committees usually don't work, particularly in the backfield. They say if you have three quarterbacks, you have no quarterbacks. The same thought goes for the running backs.
"The failure of the running back by committee was clearly my fault," McCarthy said.
The Packers tried to go into last season with Brandon Jackson, Vernand Morency, DeShawn Wynn and an unknown acquired from the Giants named Ryan Grant on McCarthy's committee of running backs.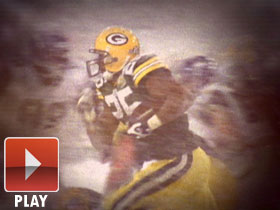 NFL.com Video
A close look at Ryan Grant and how he's burst onto the NFL scene.
It was a committee without a chairman. Jackson was a rookie. Morency was a role player. Wynn was an overachiever. Grant had an interesting body for a back, but he didn't have the benefit of a Packers training camp because he was still with the Giants at the time.
The early results were disastrous. The Packers were at the bottom of the league in rushing yards and attempts in the first half of the season. McCarthy kept rolling out starters and not finding finishers. Things were so bad, the Packers had to spread the field with multiple-receiver sets and forget about the run.
Even though he's currently unsigned, Grant -- blessed by luck and surprising talent -- has emerged as chairman of the board and part of Packers legend. He stepped in for a midseason game in Denver, replacing an injured Wynn, and he helped the Packers secure a 13-3 record and home-field advantage for the NFC Championship Game. In the final nine games of the regular season, he rushed for 929 yards and eight touchdowns. In the Packers' opening playoff game against the Seahawks, he rushed for 201 yards and scored three touchdowns.
"When Ryan took over, the rest was history," McCarthy said.
History is a big part of the Ryan Grant story. NFL historians still are scrambling to understand the significance of what he did. Sure, the Packers were a Brett Favre-dominated team, but Grant gave the offense balance and the type of back needed when temperatures drop in the Midwest.
Grant also makes McCarthy a much more dangerous coach for the next few years. The balance of the Packers' offense should keep opposing defenses guessing.
"I thought when we made the trade for Ryan we were getting at the very least a good special-teams player and a smart guy who could develop," McCarthy said. "You didn't see a whole lot of tape as far as him running the football. I'd be lying if I knew he would come in and rush for 100 yards a game."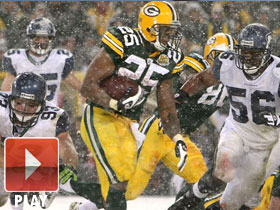 NFL.com Video
Ryan Grant gains a franchise-record 201 rushing yards and scores three TDs vs. the Seahawks.
As a first-year offensive coordinator in New Orleans in 2000, McCarthy tried a back-by-committee approach out of necessity for the final six games of the season. Ricky Williams, the workhorse averaging 100 yards a game, was hurt, so McCarthy had to scramble, using a committee of Chad Morton, Jerald Moore and long-time NFL veteran Terry Allen. The Saints made the playoffs, so McCarthy has always had the idea in the back of his mind.
His problem using it in Green Bay was that his backs were too "green."
"The problem was I tried to do it with young guys," McCarthy said. "The whole group was learning the offense and learning their roles. Then, you're trying to prepare them in case something happens in case one goes down and has to take over the full-time job. It ended up being too much."
Jackson, the team's second-round pick last year, especially struggled. His committee job was to be the early-down back, but he also had to pick up all the nuances needed if he had to be the workhorse or the third-down receiving back. At Nebraska, he seemed to wear down in games in which he'd get more than 16 carries, and finished his career as a backup. Although he was talented enough to start in the pros, Jackson became lost in trying to fulfill all the roles asked of him.
Morency fit more naturally as the pass-catching receiver on third downs and could handle the blocking if a defender slipped into the backfield. Jackson and Wynn battled for the early-down job, but they both became spectators after Grant rushed for 104 yards in the Packers' 19-13 overtime win over the Broncos. Grant made it all work, and now McCarthy goes into this season with more optimism than ever before -- even with Favre retiring.
From the 2007 committee experience, McCarthy has renewed appreciation for what Grant will mean to new starting quarterback Aaron Rodgers.
"First of all, Ryan is the big, physical back that I like," McCarthy said. "I've worked with backs like Deuce McAllister, Ricky Williams, Marcus Allen and Dorsey Levens, so I've had a lot of success with that body type. He can finish the back side of the run because he's up over 220 pounds. He fits our style."
McCarthy is a realist. Offenses need balance to keep defenses guessing, but he knows the numbers have to work, too. But thanks to Grant, the Packers don't have to be a finesse offense.
"To score points in this league, you have to pass the ball 56 or 57 percent of the time," McCarthy said. "You have so many conversations about being 50-50, but that's not really realistic. Being 56-44 or 57-43 [in favor of the] pass sounds good."
The other history-making aspect to Grant's story is what the Packers do with his contract. He's an unsigned exclusive-rights player. He's scheduled to make $445,000 this season, but he's two years away from being a free agent. Although the Broncos rewarded Terrell Davis in his exclusive-rights years with a big contract when he was young, no one can remember another back being in this situation.
So far, Grant is handling it perfectly, showing up for all the meetings and attending all camps. He can't practice until he signs a contract.
"I'm optimistic we'll get a deal done before camp," Grant said. "We've had great communication. I think everybody understands that this is a unique situation. I'm trying to do what's best for myself and what's best for the team."
Grant is 25 -- middle-aged for a running back in a league that turns on runners once they get close to 30. The Packers and Grant's agent, Alan Herman, should come up with a creative contract that will take care of Grant through the prime of his career in Green Bay.
It was quite the learning year for the Packers' ground game, which enjoyed a groundswell of success. Jackson is having a great offseason now that his mind is clear of confusing roles, and McCarthy would feel comfortable starting him if he didn't have Grant. Morency has his role, and Wynn is gaining momentum.
The Packers are pinning their offensive hopes on the gains from last year's committee failures.
John Clayton, a member of the Pro Football Hall of Fame writers' wing, is a senior writer for ESPN.com.