The Redskins are coming off one of the most remarkable playoff runs in franchise history. How much of that carries over depends on how quickly new coach Jim Zorn can install his West Coast offense. Owner Dan Snyder and Vinny Cerrato, executive vice president of football operations, made this hire with quarterback Jason Campbell in mind. They felt Zorn had the best chance of taking the franchise quarterback to the next level.
The first set of spring organized team activities began awkwardly when starting safety LaRon Landry was a no-show. Despite the voluntary status of the workout, the second-year player was expected to participate. Cerrato talked to him about his communication skills and said he thinks it won't happen again.
The Redskins didn't get the talented defensive end they coveted, but they feel the addition of former Vikings first-round draft choice Erasmus James could pay big dividends.
What we learned in minicamp
We learned that No. 1 wide receiver Santana Moss still has some growing up to do. His flu-like symptoms just happened to follow his late-night birthday celebration. He sat out the first day of a team workout, which wasn't a good example for rookie receivers Devin Thomas and Malcolm Kelly.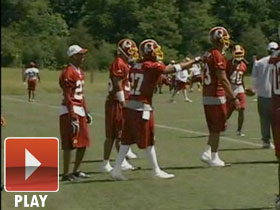 NFL.com Video
Jim Zorn had Redskins minicamp running on a precise timetable heading into training camp.
The good news is that Campbell bought into Zorn's offense quickly. His development had been stunted by playing in several different systems, but he had his greatest success in college playing in something similar to what Zorn has implemented. Zorn has asked Campbell to bend his legs more and be more athletic in the pocket. Cerrato said Tuesday that Campbell learned the importance of dumping the ball off while watching Todd Collins during the playoff run.
Still unresolved
Although the Redskins improved their pass rush last season, most people thought Snyder and Cerrato would go after more of an impact player in free agency or the draft. Instead, they traded for a former college star who bottomed out in Minnesota. Cerrato said he is hoping that reuniting former Wisconsin defensive end James with his college position coach, John Palermo, will help him rediscover what made him a first-round pick. As of earlier this week, James weighed 268 pounds. The Redskins want him playing at 260 pounds at the most.
Injury analysis
James and cornerback Carlos Rogers both are coming back from knee injuries. Rogers suffered a ligament tear in Week 8 last season and will be limited during training camp. James won't go full speed in training camp, but Cerrato wants him to play in the preseason. Sixth-round draft choice Kareem Moore (knee) also will be limited during training camp.
Linebacker Rocky McIntosh is someone the Redskins will keep a close eye on during training camp. Before his knee injury last season, he had emerged as a key player on defense. McIntosh wisely attached himself to veteran London Fletcher, who is the heart and soul of the Redskins' defense. If defensive coordinator Greg Blache can get McIntosh, Fletcher and Marcus Washington back together, it will be a formidable group.
More firepower
It's obvious the Redskins' first priority in the draft was surrounding Campbell with more firepower. That's why Snyder, Cerrato, Zorn and Campbell flew to Norman, Okla., on the Thursday before the draft for one last look at Kelly, a player who didn't help himself by complaining about the running surface after a poor workout prior to the draft. Cerrato happens to be close friends with the Sooners' strength coach, and he said he wasn't worried about Kelly's interview. In Thomas, the Redskins found a big receiver with 4.3 speed. Cerrato said the Redskins were set to take Thomas with the No. 21 pick, so they were thrilled to trade down and get him in the second round.
Training camp start date: July 20
Matt Mosley covers the NFL for ESPN.com