The New York Giants had at least a month or so to enjoy their Super Bowl title before the turmoil began. General manager Jerry Reese knew from the start that some of the team's unrestricted free agents would be overvalued in March, but that was a small price to pay for winning a championship.
What the Giants didn't expect -- and maybe they should have -- was that Jeremy Shockey would create a scene at a mandatory minicamp and that Plaxico Burress would follow his lead. It's not like the New York tabloids need a lot of help to stir up controversy, so Shockey's hiding out in the locker room and Burress' choosing to remain on the sidelines during a minicamp earlier this month gave them plenty of ammunition.
Throw in Michael Strahan's retirement, and you have the makings of a monster hangover. Oh, did we mention that running back Ahmad Bradshaw is serving some jail time for a probation violation?
What we learned during minicamp
Coach Tom Coughlin will need more than catchy T-shirts to bring this team together. A report in Newark Star-Ledger said Reese and Shockey engaged in a shouting match during the June 11-13 minicamp. A team source confirmed the "heated debate" to ESPN.com. Reese is an intense competitor, but he's not the type of person to get in a shouting match with a player. According to a source, Shockey started the argument by shouting at Reese, and the second-year GM didn't exactly shy away from the action.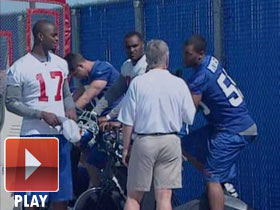 NFL.com Video
While Jeremy Shockey showed up at minicamp, WR Plaxico Burress decided not to practice.
On the field, Justin Tuck, the man who will replace Strahan, was very impressive. He didn't miss a single offseason conditioning workout, and defensive coordinator Steve Spagnuolo believes he's ready to have an outstanding season.
Mathias Kiwanuka is returning from a leg injury but was at full speed during the minicamp. He'll be listed at strongside linebacker, but Spagnuolo intends to move him around quite a bit. He'll see time at defensive end in certain situations, and the Giants think he'll help make up for the loss of Strahan.
Unresolved questions
We already have mentioned the biggest ones. The Giants must get something done for Burress, who wants a new contractl. They'll never admit it, but the Giants would love to have back that trade with the Saints involving Shockey. Your player's trade value is never as high as it is on draft day. By blinking, the Giants lost out on the opportunity to dump a talented but disgruntled player. They won a Super Bowl without Shockey. There's no reason it can't happen again. He is not the type of player who can put his ego aside and do what's best for the team. He'll be a constant distraction.
Lost in all this was the contract extension for right guard Chris Snee. It needed to be done.
Injury analysis
The Giants have had a lot of players on the sidelines, but none of the injuries are that notable. This team will head to training camp with its major players healthy. However, it's again worth mentioning that Shockey is a wild card in all this. His agent has said he is OK, but no one knows for sure. Kiwanuka will be the player to watch because he's trying to regain his confidence. He might be fully healed, but until he gets back in game action, we won't know how far he's come.
Defensive end Osi Umenyiora missed a minicamp practice with an undisclosed injury, but he should be fine. He's not happy about his contract situation, but he won't take the same approach as Burress.
Cornerbacks Sam Madison (sports hernia),
Aaron Ross (undisclosed) and Corey Webster (quadriceps), linebackers Zak DeOssie (back), Danny Clark (sports hernia), Gerris Wilkinson (knee) and Antonio Pierce (back), wide receivers D.J. Hall (back) and David Tyree (knee, wrist), tight end Michael Matthews (shoulder), running back Derrick Ward (undisclosed) and
Tuck (foot)
also missed portions of the recent minicamp.
Coughlin's approach
Coughlin began the 2007 season sitting on the hottest seat in the NFL. What he did next was nothing short of remarkable. A year after Tiki Barber held the team hostage with the longest goodbye of the modern era, Coughlin told his players to "shut up and play." He even put it on a T-shirt. His decisions to start a players council and be more player friendly paid huge dividends. Now, he's facing a whole new set of issues.
Shockey isn't the type of personality you can reason with. But Coughlin did a smart thing no one is writing about after the recent minicamp. He took all the players who weren't hiding in the locker room over to the far side of the practice field and gave them a 10-minute talk. According to people familiar with that speech, he didn't mince words. He sent the message that the team wouldn't use distractions as an excuse. He also said he didn't care about who wasn't at practice and would be focusing on the players on the field.
A Super Bowl hangover is natural. Are the Giants still the team to beat in the NFC East? Absolutely.
Training camp start date: July 24
Matt Mosley covers the NFL for ESPN.com