It has become a South Philly tradition. Speculating on Donovan McNabb's
latest injury is what Eagles fans and local reporters do best.
The franchise quarterback showed flashes of his old self as the Eagles
finished a disappointing 2007 season. Now almost two years removed from
ACL surgery, McNabb holds the keys to a possible playoff run.
Last offseason, McNabb made an improbable return during minicamp. It
was a way of showing his teammates he was still the leader following the
selection of Kevin Kolb in the draft and the release of veteran linebacker Jeremiah Trotter, whom McNabb used to drive home a point about team loyalty.
At a passing camp earlier this month, McNabb was shut down because of
tendinitis in his right shoulder, which isn't comforting for a player who thrives
on pushing the ball downfield. There are issues at cornerback, but they
pale in comparison to McNabb. Head coach Andy Reid tried a misdirection play to deflect attention to his quarterback's shoulder, saying McNabb had the same problem during the 2004 offseason and followed it up with a trip to the Super Bowl.
The difference is that McNabb was 27 at that point. This time, the problem had lingered for almost a month. In an offense built around McNabb's getting the ball downfield, a recurring shoulder problem sends up major red flags. Now every statement Reid makes about McNabb will be dissected by the media. Four years ago, his promise to wear tights if Terrell Owens scored 15 touchdowns made people forget about McNabb's tendinitis. But at this point, he's running out of misdirection plays.
What we learned in minicamp
Things could get uncomfortable with Lito Sheppard being replaced by
Asante Samuel. Actually, they already have. The Eagles needed to get a
third-round pick for Sheppard while he still had value. Now it will be a lot
tougher. The Eagles have offered to let Sheppard play some receiver, but
that's not enough to appease him. In this era, you almost need three starting cornerbacks, but that argument won't hold water with Sheppard.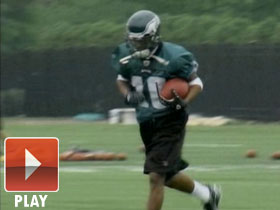 NFL.com Video
Eagles coach Andy Reid says he is pleased with the progress of rookie receiver DeSean Jackson and the team's work at minicamp.
Defensive end Trent Cole has quietly become a force as a pass-rusher. You don't always hear his name with the Jared Allens, Osi Umenyioras and DeMarcus Wares, but he's not far behind them. Young linebackers such as Omar Gaither, Chris Gocong and Stewart Bradley have replaced the likes of Trotter and Takeo Spikes in Jim Johnson's defense. Philadelphia isn't afraid to part ways with popular players in the interest of progress, and it should pay off for the Eagles this season.
Still unresolved
The Eagles said that finding more firepower for McNabb at receiver was a major priority. They reportedly made a strong play for Randy Moss, although that fact alone won't help the situation. Rookie DeSean Jackson out of Cal could make an immediate impact, but there are concerns about his lack of size (6-0, 166). He should make an immediate impact in the return game, though. That's an area where the Eagles have struggled in recent years. Reno Mahe doesn't quite cut it anymore.
Injury analysis
We already addressed the biggest issue, but tight end L.J. Smith is another player who is attempting to overcome a season full of injuries. Smith has taken the unusual step of working out with Russian Kettlebells (a
cast iron weight that looks like a cannonball with a handle)
this offseason in an effort to strengthen the area where he had a sports hernia. The Eagles believe Smith could be a major part of their red zone offense, and that's a good thing considering they had one of the worst red zone offenses in the league.
Jackson missed time in the Eagles' minicamp in early June with a minor hamstring injury. Samuel also sat out with a sore hamstring.
Can Reid bounce back?
Andy Reid is coming off the most trying season of his career. From the start in 2007, Reid's family issues were a tremendous drain. The Eagles stuck with him through the tough period and he has more motivation than ever to reward them. He knows how important McNabb is to his team's success and he has gone out of his way to make his star quarterback comfortable. McNabb is a fierce competitor, but he's also a sensitive player who reads into every comment. That's why you don't hear a lot people on this coaching staff fawning over Kolb's progress even though he's actually taken some major strides.
The Eagles could be in the thick of the NFC East title race this season. Most people remember their dominating performance against the Cowboys in Texas Stadium last December. If McNabb's shoulder and knee hold up and Brian Westbrook continues to perform like an All-Pro, the Eagles can beat all three of their division foes. But the storyline during training camp will be a familiar one: Can McNabb's body hold up?
Training camp start date: July 25
Matt Mosley covers the NFL for ESPN.com