This is a new team in important ways, from the offensive roster to the coaching staff. The offense will need time to find its identity without running back Shaun Alexander and three longtime assistant coaches.
Getting the team together for minicamp was a start, but questions at running back and receiver could linger into the regular season.
Even experienced Seahawks watchers had to keep their rosters handy when the offense lined up at minicamp minus Alexander, disgruntled receiver Bobby Engram and injured starters Walter Jones, Chris Spencer and Deion Branch.
What we learned from minicamp
Offensive line coach Mike Solari, hired after 11 seasons with the Kansas City Chiefs to replace Bill Laveroni, is already one of the more vocal coaches. He and assistant Mike DeBord are hands-on teachers. Both can be relentless in their attention to detail. That will help Seattle over the long term.
The unavailability of Spencer, the starting center, and Jones, the starting left tackle, prevented Solari from working with them. Some of the other linemen benefited from the extra reps.
Former quarterbacks coach Jim Zorn had long provided a spirited voice during practices before leaving to coach the Washington Redskins. His replacement, Bill Lazor, quietly made a favorable impression as a quick study. But Solari was the guy who asserted himself in these minicamp. The Seahawks are counting on him to help improve a line that has slumped in recent seasons.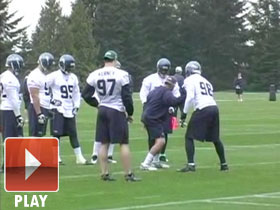 NFL.com Video
Matt Hasselbeck discusses position battles and the unique opportunity rookies get to work with the first groups.
Left guard Mike Wahle, signed to restore personality and veteran savvy to a line that lost both when Steve Hutchinson and Robbie Tobeck departed, proved to be a welcomed addition in minicamp. He looked the part and showed the type of movement Seattle requires from its interior linemen. The bigger question is whether Wahle can hold up once the hitting begins. Injuries sapped him of his strength in Carolina, one reason the Panthers released him.
Still unresolved
The Seahawks aren't sure exactly what they have at receiver or running back.
They know Engram, he of 94 catches last season, will most likely show up for the start of training camp despite complaints about his contract. Engram will probably again emerge as the Seahawks' most consistent player at the position.
But with Branch coming off ACL surgery and former part-time starter D.J. Hackett catching passes for the Panthers, Seattle needs some of its younger receivers to help out Engram and Nate Burleson early in the season.
The Seahawks remain high on Courtney Taylor, Logan Payne and Ben Obomanu. That's not good enough any longer. The team needs one or more of them to catch passes in games. For that to happen, the three youngsters must prove themselves worthy of quarterback Matt Hasselbeck's consideration during training camp. Hasselbeck is much more effective throwing to receivers he trusts.
"When you throw Branch's injury into the situation and Bobby's situation, our wide receiver group, I couldn't tell you how we're going to line up right now," coach Mike Holmgren said.
The situation at running back is also a bit unsettled. Julius Jones will most likely become the starter ahead of Maurice Morris. Will it matter? Are they both better suited as backups? Jones thinks he's a big-time back, but the Dallas Cowboys were skeptical enough to let him leave in free agency. Jones needs to separate himself when Seattle puts on the pads.
"I think the running backs and the wide receivers are talented," Holmgren said, "but it's the two positions I have the most questions about going into training camp. We're a little bit young, we're new here and those types of things."
Injury analysis
Branch could return from his knee injury in time to get some reps in practice before the regular season, but it's unrealistic to have high expectations for him this season. Branch had problems in the past producing at a high level while playing with nagging injuries. This is a significant one and he might need a full season to get right.
The defensive line should get a boost with Patrick Kerney (shoulder surgery) and Rocky Bernard (foot surgery) rounding into form. Bernard showed better quickness late in the final minicamp, a sign Holmgren found encouraging.
Kerney is a workout warrior, and he'll most likely be ready. Seattle is no longer counting on 2004 first-round defensive tackle Marcus Tubbs, but he is ahead of schedule coming off knee surgery. Tubbs could be ready for camp, Holmgren said. An already-solid front seven becomes dynamic in the unlikely event Tubbs regains his pocket-pushing form.
Corner watch
Seattle could once again have a pair of first-round picks starting at cornerback if Kelly Jennings can hold up his end of the bargain. That apparently is not a given. Jennings, the 31st player chosen in the 2006 draft, started 15 games last season. One might not have known it listening to Holmgren as the most recent minicamp broke.
"Marcus Trufant will be one corner," Holmgren said, "and then we have a bunch of guys battling that are playing very well at the other corner."
Jordan Babineaux and the largely unknown Kevin Hobbs could be leading candidates. Josh Wilson, a second-round choice in 2007, might need a breakthrough training camp to win the job. Hobbs' athletic ability stood out in practice last season. He appeared to take another step forward during minicamp. Jennings is still the logical choice on the right side, but he has competition.
Training camp start date: July 25
Mike Sando covers the NFL for ESPN.com.