St. Louis used this offseason to become deeper on the offensive line and more experienced at offensive coordinator. Just six months after the Rams posted a 3-13 record, the combination has produced more optimism than most teams dare to muster.
St. Louis still must answer questions in a few key spots. But any team with Marc Bulger and Steven Jackson in its backfield should be able to compete, particularly in a division as weak as the NFC West has been recently.
What we learned from minicamp
The Rams are excited about the possibilities with Al Saunders taking over as offensive coordinator. The feeling is mutual.
Saunders loves what Jackson offers the offense as a three-dimensional back. (He runs, receives and blocks.) He ranks Jackson up there with Chuck Muncie, Marcus Allen, Marshall Faulk, Priest Holmes, Larry Johnson and the other backs who have flourished in this offense. This should be a good marriage in St. Louis.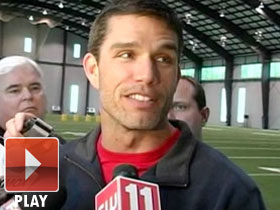 NFL.com Video
Trent Green discusses his return to the Rams, being designated the backup QB and the sense of excitement within the organization.
"When you get somebody of his stature and his physical makeup, with his speed and his ability to run, catch and block, you are only limited by your own imagination in terms of what you can do with a player like that," Saunders said.
The Rams no longer have the receivers to scare defenses as much on the outside. Torry Holt's chronic knee problem is a limiting factor. Isaac Bruce is in San Francisco. Those realities, coupled with considerable changeover on the offensive staff, make this an offense in transition.
Still unresolved
For the first time in nearly a decade, the Rams aren't sure what they have at receiver. Drew Bennett takes over as the likely No. 2 wideout alongside Holt, but his production has declined every season since 2004. He hasn't produced a reception longer than 39 yards since 2005.
The Rams carry 13 receivers, two more than the league average. Only Tampa Bay (14) and Green Bay (13) carry as many. But in the Rams' case, quantity does not necessarily equal quality. Beyond Holt and Bennett, the Rams' receiving hopefuls are a long list of players unlikely to make a significant impact on offense. Dante' Hall is the most accomplished player among the backups, and he's a return specialist.
Rookie second-round choice Donnie Avery will surely tantalize with his speed at times this summer, but the Rams know most rookie receivers need time to learn the complexities of the NFL game. The Rams will require Avery to learn routes most college receivers never see. They will ask him to run those routes with precision and timing. The return game should provide Avery with his best opportunity to make a difference right away.
On defense, the Rams lack depth at linebacker after watching 15-game starter Brandon Chillar leave in free agency. Depth is so low that rookie seventh-round choices David Vobora and/or Chris Chamberlain could earn roster spots. The Rams simply haven't invested much draft capital in the position, and it could hurt them if one of the starters is lost to injury.
Injury analysis
The Rams fell apart last season after losing perennial Pro Bowl left tackle Orlando Pace to a season-ending injury in the first regular-season game. Injuries have limited Pace to nine games the past two seasons. He's 32 and has 144 regular-season games on his NFL odometer. The past two seasons suggest he could be winding down.
But the shoulder injury Pace suffered last season wasn't related to the torn triceps he suffered in 2006. For that reason, the Rams hope Pace has suffered more from bad luck than from chronic ailments that could keep him from returning to his previous form.
Pace continued his rehabilitation during minicamp. He won't practice with the team until training camp. If another injury strikes Pace, look for Saunders to change the offense in ways that give Bulger a better chance to avoid the injuries that hurt him in 2007. Saunders has assured Bulger he won't let him take such a pounding this season.
Resurgence at tight end
Coaches are quietly optimistic about the Rams' prospects at tight end. They expect Randy McMichael, Anthony Becht and even Joe Klopfenstein to provide stability at the position.
McMichael caught 39 passes last season after averaging 65 per season the previous three, all with the Miami Dolphins. His numbers should spike this season with Saunders' running the offense and Bruce no longer a primary option. Saunders liked to use strong blocking tight ends as extra tackles in the running game when he was with Kansas City. The Rams don't have the same personnel, but Becht could give them solid blocking from the position.
Training camp start date: July 25
Mike Sando covers the NFL for ESPN.com.