GREEN BAY, Wis. -- Nick Barnett tried suppressing a smile as he listened to the question.
"We've got some things in our pocket," he said, a slight grin remaining on his face.
A similar query came his way a few minutes later. Do you think your team will be more aggressive on defense this season? "We're working on some things," said Barnett, who is entering his sixth season as the Green Bay Packers' middle linebacker. "I don't want to give too much away on the packages we've been working on, but I'm really excited."
While most public attention has centered on the Packers' quarterback transition, the team quietly is tweaking its pass rush to level out an uneven performance in 2007. Although their pass defense ranked 12th among NFL teams last season, the Packers exhibited a notable drop off during the final months.
They went without a sack in four of their final five games, a stretch that coincided with a knee injury that limited pass-rush specialist Kabeer Gbaja-Biamila. Observers who watch the team closely have said the Packers -- they run a traditional man-to-man pass defense, requiring the defensive line to account for much of the pass rush -- did not make adjust properly to account for Gbaja-Biamila's injury.
With its linebackers and defensive backs spending most of their time in coverage, Green Bay was left with one healthy pass-rusher -- defensive end Aaron Kampman -- to disrupt quarterbacks. Kampman finished with 12½ sacks, while since-departed defensive tackle Corey Williams contributed seven, but the Packers' final sack numbers were as lopsided as they come.
Almost 90 percent of their 36 sacks came from defensive linemen; Barnett accounted for 3½ and fellow linebacker AJ Hawk had one.
Based on Barnett's smile and an active blitz package during minicamp earlier in June, it's fair to say those proportions will change in 2008.
Rather than representing a philosophical shift, coach Mike McCarthy said the new looks reflect the natural progression of a scheme that has now been in place for three years.
"You're seeing players that are now very comfortable in the base concepts of that defense," McCarthy said, "and the pressure packages have expanded more in how we're using different personnel as opposed to how many different types of pressures we're coming from. The most important thing is to put pressure on the quarterback. Whether it comes with four-man, five-man, six-man rushes or pressures, it's irrelevant. The bottom line is to get it done."
A commitment to pressure not only requires appropriate personnel, but also patience from the coaching staff. The Packers' cornerback duo of Charles Woodson and Al Harris is among the best in the league. But even Woodson and Harris can be beaten if an offense deals effectively with the blitz.
It was certainly a point of emphasis during the Packers' minicamp, which featured blitzes from all areas of the field. Of course, a blitz in an NFL minicamp could mean anything.
The team could be practicing in order to improve those particular calls. Or, it could be experimenting with different combinations of personnel and schemes, with the intention of implementing less than half of what it tries in minicamp. And in the Packers' case, coaches could simply have been giving their young quarterbacks a variety of different looks.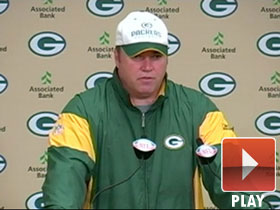 NFL.com Video
Mike McCarthy has implemented a new minicamp philosophy in Green Bay that has motivated his players.
Listening to McCarthy, however, it seemed clear he is serious and committed to elevating Green Bay's defensive pressure, no matter the short-term consequences.
"If you pressure and you get burnt," he said, "you still have to continue to pressure if you need to."
That attitude will bring a smile not only to the face of Barnett, but also to Hawk and the rest of the Packers' deep linebacker corps. Blitzes are to linebackers what deep passes are to receivers:
Although they are high-risk, blitzes are fun and can change a game in one play.
"Any linebacker will tell you he wants to blitz and he wants to make big plays," Hawk said. "We've always been aggressive, just in different ways. ... With all the guys we have on our defense, it's going to be fun to see what the coaches come up with.
"We feel we can be a dominating defense at all times and be consistent with it," Hawk added. "That's the biggest thing. Just coming off these offseason workouts and everything, I feel we've taken some steps to get there."
Kevin Seifert covers the NFL for ESPN.com