The minutes felt like hours. The days crawled by like months. Thomas Barnes just wanted an answer. Was he a match? Or would a simple blood test add another layer of heartbreak?
"Easily, the most difficult week of my life," Barnes said.
His brother, Minnesota Vikings defensive end Kenechi Udeze, had been diagnosed Feb. 4 with an acute form of leukemia known as ALL. Doctors provided the grim statistics: The five-year survival rate for a person who undergoes only chemotherapy is 40 percent, according to The Marrow Foundation. A bone-marrow transplant would significantly increase Udeze's chances, but first he'd need a match.
More numbers: Siblings have a 25 percent chance of providing a match. Finding a match outside of the family is rare; for African-Americans like Udeze, the figure is about 8 percent.
Barnes submitted to a marrow compatibility test but was "freaked out" by the statistics. "I literally had a panic attack," he said. "At times I had some pretty dark thoughts about what might happen."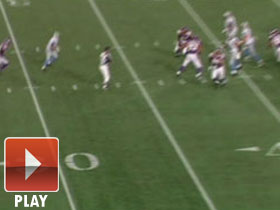 NFL.com Video
2007 Highlight: Kenechi Udeze intercepts a pass by Jon Kitna.
Barnes and Udeze -- who have the same parents but chose different last names after a divorce -- share a bond of mutual respect mixed with humor. Their unique connection was further strengthened the day Udeze received the compatibility results.
"It was Feb. 18," Barnes recalled. "My phone rings, and it's my brother. He says, 'You want the good news or the bad news?'
"I'm thinking, 'My brother is 25 years old and he's just been diagnosed with leukemia.' Give me the good news."
"So he says, 'You are a 100 percent match.'"
"And then I'm like, 'So what's the bad news?'"
"And he says, 'Well, I burned my mouth on some toast this morning.'
"That's the kind of relationship we have," Barnes said. "I wouldn't expect anything less from him. That's the way he is. It just gave me an unbelievable sense of relief."
This week, Barnes will leave his job as a Denver attorney to travel to Minnesota and help save his brother's life. Preliminary work on their transplant procedure will begin Thursday. If all goes well, Udeze will spend about a month recuperating in the hospital and then begin a long path back to the football field; he anticipates a comeback in 2009.
Barnes was the only one of Udeze's three siblings to pass the compatibility test. Another brother was a 50 percent match, while a sister did not take one pending her brothers' results.
"I've always called him 'Tom Foolery' because he's a lawyer and he's so serious all the time," Udeze said. "But he is the true definition of a big brother. He is looking out for me. I guess I need to come up with another nickname for him. He wants to be called 'The Answer,' but we'll see about that. He knows how important he is to me. He's been there since the day we found out about this, and he really is my best friend."
Barnes left the family's Los Angeles home when he was 15 after winning a scholarship to attend high school in Appleton, Wis. He later moved on to law school at the University of St. Thomas in St. Paul, Minn., and ironically was working as a Twin Cities attorney when the Vikings selected Udeze in the first round of the 2004 draft.
Now 30, Barnes said his legal training left him struggling to handle Udeze's diagnosis.
"I have taken it worse than he has," Barnes said. "The whole thing has been so unbelievable. I'm a lawyer, and a lawyer is trained to think of the worst-case scenario. I've had some pretty dark thoughts about what might happen. But he's been upbeat throughout this thing."
Indeed, Udeze learned in April that he was in remission and has spent the past two months undergoing chemotherapy to prepare for this week's procedure. He said he has never doubted whether he would recover.
"I just don't let things bother me when I know that they're going to work out OK," Udeze said. "I know this is going to work out OK. I'm not nervous about this at all. If anything, I can say I'm just looking forward to doing this so I can get a clean bill of health. That's all I want."
Treatment thus far has been tolerable, Udeze said, with the exception of a sick taste in his mouth from chemotherapy. He has dealt with it by eating salty foods, which, combined with a lack of exercise (doctors' orders), has left him with chubby cheeks and at least 10 pounds heavier than his listed playing weight of 281.
Otherwise, Udeze looks and feels the same as he did during four seasons with the Vikings. He also has maintained his sense of humor, teasing a Vikings teammate who was a bit confused about the nature of bone-marrow transplants.
"I won't say his name because he would never hear the end of it," Udeze said. "But I had a guy come up to me and say, 'So they are going to give you a whole new set of bones?'
"I was on the floor, laughing hysterically. I told him there was no such thing as a dumb question until that one. I had to ask him, 'How do you think a bone transplant would work? Would they take each rib out, one by one, or just rip them all out together?'"
In fact, doctors will harvest healthy bone marrow from inside Barnes' hip and transfer it to Udeze. If successful, the multi-part procedure will help Udeze's body replace the blood cells damaged by leukemia and chemotherapy.
"It's going to be a tough month, but I think we both just want to put this behind us as soon as we can," Barnes said. "I just feel good that I can do something that can help out in some form or fashion. A lot of people might say that this is such a great thing I'm doing, but I don't feel like a great guy for helping my brother. Who wouldn't do this?"
Barnes is intensely private, and Udeze has maintained a low public profile in Minnesota even as a former first-round draft choice. Both men said this past weekend that they are speaking out to help elevate awareness for bone-marrow donations (through www.marrow.org).
"I just want people to know that if it could happen to me, it could happen to anyone," Udeze said. "I was a young, healthy professional football player. I want people to find strength in the things I have found strength in."
The Vikings placed Udeze on the reserve/non-football injury list in May but pledged to pay his 2008 base salary of $807,500 regardless. That gesture will allow Udeze, his wife, Terrica, and daughter, Bailey (who's seven months old), to continue living in the Twin Cities while Udeze recovers from the transplant procedure and begins his football comeback.
"I know I'm going to get through this," he said. "My plan is to get back to my normal life with my family. That's what is going to happen."
Kevin Seifert covers the NFL for ESPN.com.