He has 12 years' experience and seven Pro Bowls on his résumé.
He was a former fifth-round pick that rapidly developed into one of the most feared and respected linebackers in the NFL.
This defender is incredibly reckless with his body and -- according to NFL head coaches -- just as dangerous with his mind.
The smartest defensive player in the NFL is Dallas Cowboys linebacker Zach Thomas, according to ESPN.com's survey of head coaches.
Thomas spent the past dozen years making his mark in the AFC with the Miami Dolphins before signing with the Cowboys as a free agent in February.
"There is a reason he's played for 12 years," former teammate and Browns guard Seth McKinney said of the 5-11, 228-pound Thomas. "He does a lot of film study and puts the time in. There are definitely guys that are faster and stronger, but Zach beats them to the play due to [intelligence]. He does a good job of that."
With votes from six head coaches, Thomas beat out Baltimore Ravens linebacker Ray Lewis for the top spot. Lewis was the second-leading vote-getter with four nominations. Coaches, encouraged not to vote for their own players, were granted anonymity for their candor.
Thirty of the 32 coaches answered this specific question.
The opinions of coaches varied widely as 15 different players received votes.
In addition to Thomas and Lewis, five defenders earned multiple nominations. That list included Ravens safety Ed Reed (three votes), Denver Broncos safety John Lynch (three), St. Louis Rams safety Corey Chavous (two) and two recently retired defensive linemen in Michael Strahan (two) and Warren Sapp (two).
But it's hard to argue against Thomas and Lewis as the top two choices. Their production and credentials are well known.
Thomas, who declined to be interviewed for this story, has an astounding 1,642 career tackles. He also has 17 career interceptions and 19.5 sacks. Lewis is not far behind with 1,520 career tackles and has more career interceptions (25) and sacks (30) than Thomas.
Cincinnati Bengals linebackers coach Jeff FitzGerald worked with Lewis from 2004 to '07 in Baltimore. He said Lewis reads offenses better than anyone he has coached.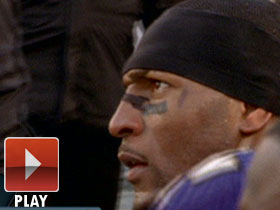 NFL.com Video
Highlights of Ravens LB Ray Lewis from the 2007 season.
"The tool that Ray has that separates him is he has good running back eyes," FitzGerald said. "He sees the whole field and sees things that you can't coach. Ray's eyes can tell his brain and his body what to do -- whether it's slow down, speed up or analyze what's going on. It's unbelievable."
Lewis, 33, said he always wanted to learn the game from a coach's perspective. He took that approach at the University of Miami and carried it into the pros, where he quickly developed into the Ravens' emotional leader and a student of the game.
Nine Pro Bowls and a Super Bowl MVP later, Lewis also serves as a mentor and coach on the field for Baltimore's defense. Over that span, he's helped develop younger teammates such as Reed (29), defensive tackle Haloti Ngata (24) and linebackers Terrell Suggs (25) and Bart Scott (27).
"You understand being an older guy that there's so much they have to learn and so much you can teach them," Lewis said recently of mentoring young players. "But at the same time you have to teach them on a fast, fast learning curve."
So what else makes a smart defensive player?
First and foremost, it's experience.
The 15 players nominated average just under 11 years in the league. The youngest player to receive a vote was Ravens linebacker Nick Greisen, 28, with six years' NFL experience. Reed also has six years' experience but is one year older than Greisen.
Second, it's film study and the ability to break down an opponent. Every team in the NFL watches tape, but the smartest defensive players are able to track percentages and uncover tendencies in the offense.
"You have to know what people like to do in certain situations," Scott explained. "At the end of the day, everybody can be profiled. They're going to go back to what works for them in situations.
"So it's up to you to know what teams like to do on second-and-1, third-and-5, third-and-long. Once you break those things down, you can eliminate certain things."
Browns starting center Hank Fraley agreed that translating film study to the field is key for defenders. Knowledge and anticipation, even if they provide just a split-second advantage, can lead to big defensive plays in the pros.
"If you know where to be and what formation it is, it's going to help you make plays," Fraley said. "That's what good defensive players do. A lot of cornerbacks when they make interceptions will tell you, 'Hey, I already knew that play was coming because it's what they run on second-and-10.'"
Thomas and Lewis helped the linebacker group get the most votes with 14. Defensive backs were not far behind with 11 votes and defensive linemen had five. One coach who was surveyed chose not to vote for this category.
James Walker covers the NFL for ESPN.com