Hines Ward figures he had no choice but to be a bright football player.
At Georgia, Ward played quarterback, tailback, wide receiver and returned punts, so he had to know the intricacies of almost every aspect of the offense.
Ward entered the NFL with a mind full of offensive information as a third-round pick of the Pittsburgh Steelers. Ward, who has four Pro Bowl appearances and a Super Bowl MVP under his belt, hates to say the transition to the NFL was easy, but well, with a college pedigree like his, it kind of was.
"I had to know what was going on with the offense because I did everything in college," the 32-year-old receiver said. "So being a smart player was sort of necessary. I had no choice. … When I came to the NFL, I think I knew the basics of everything and the transition was fast. Sure, the NFL is much more complicated, but I was able to adjust pretty well."
Over the past 10 years, Ward has widely been considered one of the brainiest offensive players in the league. In a survey of NFL head coaches in the spring, Ward received the most votes when coaches were asked to name the smartest nonquarterback offensive player in the league. Several coaches said they would have voted for Indianapolis' Peyton Manning or New England's Tom Brady if quarterbacks were eligible. But among the nonquarterbacks, Ward was the clear choice.
Coaches were granted anonymity for their candor.
"You wonder once in a while what the coaches think of you, and this is really a nice honor," Ward said of the results.
Said one AFC coach: "Hines has been one of the smartest players in the league for a long time. He just has a knack for the game."
Sixteen different players received a vote from one of the 30 coaches who answered this specific survey question about smart players. Coaches were encouraged not to vote for a player on their team. Tennessee center Kevin Mawae, Indianapolis center Jeff Saturday and New England receiver Randy Moss tied for second with three votes apiece. Two players, Philadelphia left tackle Jon Runyan and St. Louis receiver Torry Holt, received two votes. But Ward was the winner with four votes.
"That's a good call," said Denver safety John Lynch, widely considered one of the league's brighter defenders since entering the league in 1993.
Lynch said a game against Ward is always a date in precision.
"Hines reminds me a lot for playing against Cris Carter when I was in Tampa Bay," Lynch said. "You can never figure those guys out. They didn't have the most blinding speed or were the quickest guys, but guys like Cris and Hines were always at the right place when they needed to be there."
Ward's intelligence paid off in a big way for Pittsburgh during the 2005 season in which second-year quarterback Ben Roethlisberger led the team to a Super Bowl title. Roethlisberger has credited Ward with helping accelerate his learning curve.
"I think I can help young players because I know where to be at every play," Ward said. "I hope I helped Ben come along. We were always talking."
That's why players like Ward will always have a place in the game. Ward may have not been a first-round choice because of his lack of measurables, but he'll long be remembered as one for the better receivers to play in this decade.
"Everybody is looking for guys that are smart," Denver coach Mike Shanahan said. "Usually those guys last in the National Football League. Guys that are students of the game, they study the game, they know what is going to happen before it happens. Nobody is a good enough athlete to just go out there and play. Guys that are usually Pro Bowl players not only have athletic ability, but they know how to prepare."
Lynch, a Stanford graduate, said there is no way a player can ascend to the Pro Football Hall for Fame without being incredibly intelligent.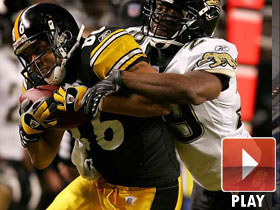 NFL.com Video
2007 Highlight: Hines Ward caught 10 passes for 135 yards in the Steelers loss vs. the Jaguars in the AFC Wild Card.
"It's just not talent," Lynch said. "There are talented guys all over the league. But the special guys, the guys you remember and the guys you really look forward to facing, they are the smart ones. You always have to worry about the intelligent players."
Ward knows intelligence has helped his career.
"I think it has given me an edge," Ward said. "But it all goes back to college. I had to know every bit for the offense and I'm glad I did. It has helped me for the rest for my career."
And it has been noticed.
Bill Williamson covers the NFL for ESPN.com.