JACKSONVILLE, Fla. -- If Troy Williamson and Jerry Porter look a little faster this season, it's only because each of them will be carrying a lot less weight.
We're talking figuratively here, but there might not be two players in the NFL feeling lighter right now than these two Jacksonville Jaguars wide receivers. For the moment anyway, the controversy that has defined the careers of Porter and Williamson is gone.
"I think we both feel like we're going to get a chance to do more with our careers than we've done in the past,'' Porter said.
NFL.com Video
Jerry Porter snares a potential interception out of the hands of Al Harris for a 25-yard TD pass.
That's precisely what the Jaguars, whom many thought were only a pass-rusher and wide receiver or two away from joining the Colts and Patriots in the AFC's elite, were banking on when they traded a sixth-round pick to Minnesota for Williamson and signed Porter as a free agent. The Jaguars addressed the pass rush by using their top two draft picks on defensive ends Derrick Harvey and Quentin Groves.
They're banking that a fresh start is all Porter and Williamson need to revive careers that once were so promising. A revival would give quarterback David Garrard far more options than he had a year ago. That might not be a bad bet because both are considered upper-echelon receivers when it comes to pure talent. Plenty of people around the league will tell you Porter and Williamson were far from entirely responsible for their well-known clashes with previous coaches.
The facts of their stories are different, but the bottom line is Williamson fell into the doghouse of Vikings coach Brad Childress and became a target for Minnesota fans (and he'll throw the media into that category, too). Former Oakland Raiders coach Art Shell got so down on Porter that he benched one of his most talented players for a large chunk of the 2006 season -- a move that probably went a long way in costing Shell his job.
But Porter and Williamson are singing the praises of Jacksonville coach Jack Del Rio these days. Both are quick to point out Del Rio played in the league and is a players' coach.
"He's played the game before and knows what it takes to win without putting too much pressure on a guy," Williamson said.
"The previous years don't mean anything," Porter said. "I have a fresh start with a new coach and quarterback and a whole new coast. It's a welcome change. So far, I love it."
NFL.com Video
Tarvaris Jackson pass deep left to Williamson for 60-yard touchdown.
But push them a little bit and it's obvious the past still gnaws more than a little at the prideful natures of Williamson and Porter. It's especially apparent with Williamson.
A first-round pick (seventh overall) in 2005, Williamson was brought along slowly as a rookie by coach Mike Tice, who now is Jacksonville's assistant head coach. He got to play and produce a little more when Childress came in the following season, but the coach and player never hit it off. Things got especially ugly in 2007 when Childress fined Williamson a game check for missing a game to attend the funeral of his grandmother, who raised him.
Fans also got down on Williamson for dropping too many passes and, by the end of last season, it was painfully obvious he was through in Minnesota.
"My confidence got down by listening to what everybody else was saying as far as the media and different coaches and stuff like that,'' Williamson said. "You've got to take negative criticism in stride and use it as a positive. Don't beat yourself up with it.''
Porter also took a beating in Oakland after having the best two seasons of his career in 2004 and 2005. But his career growth spurt stopped shortly after the Raiders hired Shell. Nearly from the start, Porter was publicly critical of Shell and asked to be traded. Shell responded by making the receiver inactive early in the season and later suspending him for four games, which was reduced to two after an appeal by Porter. Still, Porter appeared in only four games in 2006 and had just one catch.
He made a bit of a resurgence in 2007 under new coach Lane Kiffin, starting all 16 games and making 44 catches, but Porter knew it was time to get out of Oakland.
"I can look back and say I played with some of the best players, period -- Tim Brown, Jerry Rice, Randy Moss and an MVP quarterback [Rich Gannon] for one year," Porter said.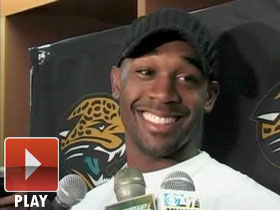 NFL.com Video
Newly acquired Jaguars WR Jerry Porter discusses his excitement in being part of a playoff contender.
"I had some damn good coaches and I also had some unfortunate circumstances with some of my coaches."
It might be only June, but the fresh start looks to be just what Porter and Williamson needed. At Jacksonville's recent minicamp, Del Rio gave a big smile and a pleasant laugh when asked for his early observations on Williamson.
"He looks like a heck of a sixth-round pick," Del Rio said.
Porter wasn't able to take part in minicamp because of a minor hamstring injury, but said he expects to be healthy for the start of training camp in late July. That's all good news for the Jaguars, who could end up with an upgraded receiving corps with their two new receivers joining veterans Reggie Williams and Dennis Northcutt as primary options.
The Jaguars view Williamson as a receiver who can stretch the field and Porter as an all-around receiver. Williams had only 38 catches while starting six games last season, but 10 of those receptions were for touchdowns. The Jaguars think he can be more than a red-zone threat and Northcutt is coming off a 44-catch season.
"I think it can be as well-rounded a group as there is," Porter said. "We've got speed, we've got size and we've got quickness. Each guy has something different that they bring to the table."
It remains to be seen exactly what roles Williamson and Porter will fill. But after some rocky times, both are delighted just to be in a team's plans.
Pat Yasinskas covers the NFL for ESPN.com.