In light of the events of the last few months, it might be easy to forget that the Tampa Bay Buccaneers are the reigning NFC South champions.
Maybe they only look like a team in total disarray right now. They've got quarterback Jeff Garcia and running back Earnest Graham making lots of noise about their desire for new contracts. Quarterback Chris Simms is begging the team to release him so he can get a fresh start to his career. A large chunk of the fan base is outraged by the re-signing of troubled tight end Jerramy Stevens and rising ticket prices.
If you listen to local talk radio or read the newspapers, it's become obvious that the lifetime pass coach Jon Gruden got for winning a Super Bowl has expired.
Yes, it's only June and chaos seems rampant. But, keep in mind, Gruden is used to turmoil and may even thrive on it. After all, he and general manager Bruce Allen used to work for the Raiders. There's still plenty of time to work on contracts for Garcia and Graham, and Gruden and Allen already have drawn a line in the sand to say they're keeping Stevens.
It may not be obvious to their fans, but Gruden and Allen have a plan. They also have a roster that was good enough to be the class of the NFC South last year.
What we learned from minicamp
There was an awful lot of talk in the offseason about Tampa Bay's need to add offensive playmakers. But the Bucs didn't do anything dramatic and there was a reason for that. Gruden and Allen believe they already had playmakers and they might have a point.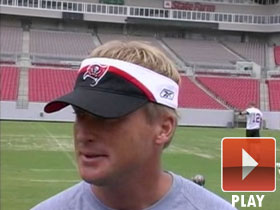 NFL.com Video
Head coach Jon Gruden likes what he sees halfway through the Buccaneers' offseason OTAs.
Receiver Joey Galloway continued to look ageless during workouts and he's still one of the league's best deep threats. Galloway remains a legitimate No. 1 receiver and a supporting cast that includes Ike Hilliard, Maurice Stovall and second-round pick Dexter Jackson isn't bad.
There's one more wild-card in that receiving corps and that's Michael Clayton, who has been mostly invisible the last couple of seasons. But Clayton, who looked like a top-notch receiver before injuries and repeated visits to Gruden's doghouse, has had a good offseason. He's got his weight under control and some people in the organization believe he is more focused on football than ever.
If Clayton can get back to being close to what he was as a rookie, this receiving corps might have enough playmakers.
Still unresolved
Graham did a solid job after injuries thrust him into the starting running back job last season. But that doesn't mean he'll stay in the lineup. Graham is an option as a feature back, but he might not be the top option.
There's a perception the Bucs signed Warrick Dunn to be nothing more than a third-down back, but that might not be the reality. Dunn is 33 and has more than 10,000 rushing yards on his tires. But he's always taken good care of himself and Gruden spent much of the last few years grumbling about how the Bucs let Dunn get away to Atlanta.
Now, Dunn is back and, if he still has something left, he could be the perfect feature back for Gruden's offense. Dunn can do a lot of different things (run inside and outside and catch passes out of the backfield) and he could end up giving the Bucs another playmaker.
Injury analysis
Maybe Dunn ends up as the feature back, maybe Graham fills the role or maybe they share the carries at varying rates at various points in the season. But they're only fill-ins. The best running back Tampa Bay has is Cadillac Williams, but the Bucs don't know what they'll get out of him this season.
All indications are Williams' recovery from a torn patellar tendon is going extremely well. Williams even made some noise about his desire to participate in minicamp this week. Wisely, the team's medical staff didn't go along with Williams' wishes. His type of injury often takes more than a year to recover from and the team wants to be cautious.
But the Bucs aren't ready to write off Williams for this season. It's probably not realistic, or smart, for him to be ready for the start of the season. But there's at least a possibility Williams makes a return around midseason, which would be a huge boost in the middle of a playoff race.
How many QBs can the Bucs keep?
Forget Simms. He'll be gone by training camp. But that still leaves Garcia, Brian Griese, Luke McCown and Josh Johnson. Garcia's coming off a Pro Bowl season and Griese is a solid veteran backup. But Garcia and Griese aren't long-term answers and Gruden wants a quarterback for the future. The team is high on McCown, after he played well late last season and the Bucs didn't invest a draft pick in Johnson to turn around and cut him. It's not easy to carry four quarterbacks, but that's something the Bucs will consider strongly. But don't rule out another scenario where the Bucs keep Garcia and the two young quarterbacks and Griese ends up the odd man out.
Training camp start date: July 25
Pat Yasinskas covers the NFL for ESPN.com.