Deep down inside, the secret of NFL draft mania is that we love busts. JaMarcus Russell, Tim Couch, Brian Bosworth, Akili Smith -- guys who are taken at the top of the draft and then go bust have clandestine appeal. They generate schadenfreude, the German term for pleasure at the misfortune of others. No matter how badly you've been embarrassed, for example, you have not been embarrassed as much as Ryan Leaf. A little schadenfreude adds spice to life.
There's another reason busts cause Americans to love the NFL "selection meeting" -- busts show that anybody could run a draft. The highly paid experts in the draft rooms are revealed to be throwing darts at a board. And Americans love to see The Experts exposed.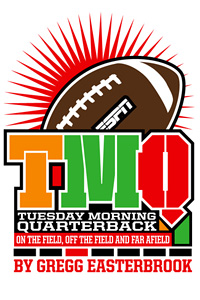 A person might daydream about being a concert pianist or a prima ballerina or an astronaut or a power-hitting third baseman. These are only daydreams, because great talent and years of hard work are required to achieve such positions.
But anybody could run an NFL draft! No skill, insight or God-given ability is required to pick the wrong guy. Any 32 people chosen at random from the telephone book could have looked at all the hundreds of players leaving college in 2007 and decided that Russell was most promising. Monkeys chained to typewriters could have chosen Russell first!
And it's not just the occasional blown pick -- busts are a running theme of the NFL first round. Troy Williamson in 2005, Vernon Gholston in 2008, Reggie Williams in 2004: many recent top 10 NFL draft choices failed to become even journeymen. Three of the first six players selected in 2003 went bust. Check the 2009 first round -- many of the late selections (Clay Matthews, Hakeem Nicks, Vontae Davis, Michael Oher) are better than the super-prestigious early choices (Tyson Jackson, Aaron Curry, Darrius Heyward-Bey). In the first round of 2005 the 32nd player chosen has had a better NFL career than the second and third players chosen. No special ability is required to make NFL draft choices! The guy sitting next to you at the tavern could do it.
Busts are so prevalent high in the NFL draft -- who will be the first bust selected on Thursday night? -- that primates chained to typewriters really might be making the decisions behind the scenes. Though actual attempts to get monkeys to write Shakespeare have not gone particularly well. In this experiment, six crested macaques given access to a typewriter mainly pounded on the letter "S"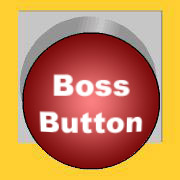 Computers choosing letters at random, to simulate random typing, also have not produced "King Lear," or a balcony scene, or even one line of the Bard. Hamlet contains 130,000 letters. The chance of picking any one letter at random using the English alphabet is one in 26. If the goal is Hamlet, 130,000 consecutive random guesses would need to be right at 1 in 26 odds. The universe has not yet existed long enough for that to happen. Drawing a royal flush a thousand consecutive times seems more likely. Whether random letter selections would produce "A Midsummer Night's Dream" even if given infinite time seems unclear.
That random pounding on typewriters cannot produce Shakespeare does not rule out evolution, even though the six-billion-point human genome is more complex than the text of Romeo and Juliet. Evolution is only partly random: it benefits from natural selection, a nonrandom force. If there were a selection process at work with a randomized typewriter, choosing and preserving guesses that form words, then monkeys might indeed produce literature, or at least political press releases. And in that scenario, they might produce fewer blown picks than are likely to occur on Thursday. But it's the knowledge that highly paid NFL coaches and general managers are confidently picking busts on national television that will keep us watching.
Now ‒ everyone has a mock draft, only TMQ annually mocks the draft. My selections:
1. Indianapolis: Kate Upton, bikini model. The woeful Colts could use the sex appeal of the most alluring woman of 2012. If Upton was doing the Dougie on the sideline while the Colts were playing on the field, which would spectators watch?
2. Washington: Eric Dickerson, tailback, SMU, and Jim Plunkett, quarterback, Stanford. In the wake of the mega-trade that brought this choice to the Skins, the Eli Manning and Herschel Walker transactions were cited. Comparisons should be to trades involving Dickerson and Plunkett.
In the Dickerson deal, the Rams received three first-round and three second-round choices plus Greg Bell, a recent first-round draftee, and Owen Gill, a recent second-round selection. That's more than the price for Walker. This bonanza equated to a 2-2 record in the playoffs for the Rams over the next decade. Indianapolis received Dickerson, who played well but never led the Colts to the postseason. The third party was Buffalo, which supplied most of the picks and received linebacker Cornelius Bennett. The Bills came out on top as Bennett helped trigger their run of Super Bowl appearances. That Buffalo traded away many high draft choices and soon won lots of playoff games is a good omen for Washington.
Chainsaw Dan Snyder should hope the Plunkett deal is not the omen. New England shipped Plunkett to the Forty Niners for three first-rounders and a second-rounder, exactly what Washington just paid the Rams. The deal proved a fiasco: the Niners went 13-15 with Plunkett, then waived him. Adding insult to injury, Plunkett hitchhiked across the Bay Bridge and won two Super Bowls at Oakland. Fun fact: Plunkett is the only eligible quarterback who has two Super Bowl wins as a starter yet is not in the Hall of Fame. The Canton problem is that on his career, Plunkett threw more interceptions than touchdown passes.
3. Minnesota: Minnesota Rep. Michele Bachmann, Winona State University. As a presidential candidate, Bachmann spent $6 million to win 6,046 primary votes -- about $1,000 per vote. Born in Waterloo, Iowa, on the campaign trail Bachmann said she possessed "the same spirit as John Wayne," whom she appeared to believe was from that town. Mass murderer John Wayne Gacy was from Waterloo, Iowa.
4. Cleveland: Kirk Maynard, puppeteer.Over the winter Jimmy Dimora, an official of the county government of Cleveland, was convicted on 33 counts of corruption. Cameras were not allowed in court during the lengthy trial, so news station WOIO hired puppets made by Maynard to read from each day's transcript. Here is the Puppet's Court with tawdry details, of Ohio government corruption and here with the verdict.
5. City of Tampa: Mustela frenata, long-tailed North American weasel. The Bucs dangled money, so Greg Schiano walked out on his promises at Rutgers. Buccaneers, TMQ's Law of Weasel Coaches holds: when you hire a coach who's only in it for himself, you get a coach who's only in it for himself. How long the Bucs regret hiring a promise-breaker? In the second round, Bucs hope to tab Bobby Petrino, a perfect fit for the Greg Schiano program.
After Schiano bolted to grab the cash, Gov. Chris Christie of New Jersey showed himself a weasel governor by declaring, "Rutgers had the best graduation rate of any Division I football program." The statement simply is not true. Fun fact: the school's formal name is Rutgers, The State University of New Jersey
6. St. Louis: The Sinister Six, invincible super-villains from the Spider-Man musical. At first glance there might seem no point to the fired-director-versus-producers lawsuit over the widely mocked "Spider-Man: Turn Off the Dark." But in seven days in January the show sold $2.9 million worth of tickets, best week in Broadway history. A musical that seemed doomed to take down a huge investment instead has become a real version of "The Producers," minus dancing Nazis.
According to this account of the lawsuit, Julie Taymor, the fired "Spider-Man" director, will introduce evidence that producers "conspired with Bono and others to rewrite the script." Conspiracy to rewrite -- "Book 'im, Danno!" Perhaps Taymor's lawyer should not hit too hard on the rewrite complaint, since beginning with the new script, the line at Will Call has gotten longer.
Last year after attending a performance of the Taymor variant, your columnist lampooned the musical for excruciating pretensions to Greek mythology. The revised show is loads of high energy fun -- if you're in Manhattan, you gotta see Spidey. Check the cast on Letterman, belting out one of Bono's numbers. From the lyrics: "All the weirdoes in the world/Are here right now in New York City." So what else is new?
7. Jacksonville: Shahid Afridi, cricket star. Now that Shahid Khan, born in Pakistan, owns the Jaguars, look for him to import Pakistani talent. The Jags will start referring to games as "tests" and to quarterback Blaine Gabbert as "the bowler."
8. Miami: Wang Shu, architect. Known for funky pink buildings, Miami could add a new flavor with designs by the first Chinese citizen to win the Pritzker Prize for architecture. Almost all photos in the citation for Wang's Pritzker show outsides. As Tom Wolfe noted in From Bauhaus to Our House (1981), architecture critics care only about how buildings look. How they treat the people who live or work in them is viewed as a philistine concern.
9. Carolina: Brian Moynihan, CEO, Bank of America. Headquartered in Charlotte, Bank of America has since the 2008 financial meltdown been hammered with legal accusations plus bad press over such bright ideas as charging $5 a month for using a debit card for purchases. In one case, Bank of America lawyers essentially demanded the bank be fined $150 million, in order to settle a complaint before larger fines could be imposed. The judge handling the affair then called the settlement "misguided" and "half-baked justice."
10. Buffalo: Jeremy Lin, point guard, New York Knicks. Bills to team Harvard's Ryan Fitzpatrick with Harvard's Lin; concession stands will sell sherry and smoked salmon instead of beer and hot dogs. Lin was born in California and attended Palo Alto High, which is visible from the Stanford campus. He led Palo Alto to the state title. Yet Stanford did not recruit the star from its own town, though an "official visit" would have entailed crossing the street. Had he been thousands of miles away, surely Stanford would have said, "We've got to get that Jeremy Lin." In second round Bills hope to tab Andrew Nicholson, power forward, St. Bonaventure, who is expected to be the first physics major to go high in the NBA draft.
11. Kansas City: Carey Iennaccaro, celebrity baker. At the Kansas City Cake Fest, Iennaccaro reached 28 miles per hour in a car made mainly of edible cake. She warned the Kansas City Star about "the nasty side that is often shown on reality cake shows." Maybe directors of cake reality shows offer bounties for spoiling other shows' icing.
12. Seattle: Danny Miles, men's basketball coach, Oregon Tech. Miles, who has been true to his school by staying at the helm of the Hustlin' Owls for 41 years, is closing in on 1,000 victories. He has an outside chance of passing Harry Statham of McKendree University and Pat Summitt of Tennessee for most-ever college basketball coaching wins.
13. Washington Wizards (from Arizona Cardinals, projected trade) : It makes absolutely no difference whom the Wizards draft, and it never will.
14. Dallas: "Any one of 500 coaches."That's who Jerry Jones said could lead the Cowboys to a Super Bowl, given Jones's super-brilliant management. When Jones bought the 'Boys, his first super-brilliant move was to fire Tom Landry. More than two decades later, all Dallas head coaches combined under Jones have fewer victories than Landry.
15. Philadelphia: LeBron James, power forward, St. Vincent-St. Mary High School. The Philadelphia Heat experiment won't be complete until James takes his talents to South Philly.
16. Jersey/B: Carmelo Anthony, petulant millionaire. On the day Knicks coach Mike D'Antoni resigned, the team was 10-24 with Anthony and 7-2 without him. Me-first and constantly complaining, Anthony would be a perfect fit for Rex Ryan's system.
17. Cincinnati: Jean Dujardin, French actor. Owner Mike Brown once attempted to put language in player contracts forbidding them from criticizing Bengals management. Dujardin, who just won an Oscar as Best Actor for a film in which he spoke two words, would be a perfect fit for Brown's system.
18. San Diego: Tate Westbrook, commanding officer, USS Spruance. Newly commissioned, the Spruance joins dozens of other warships homeported at the sprawling Naval Base San Diego. Since the United States Navy is substantially more powerful than all other navies of the world combined, its count of ships inevitably will decline as the defense budget is pared to deal with reckless deficit spending by Republicans and Democrats alike. If you would behold an impressive sight, visit Naval Base San Diego while the United States still has a vast surface fleet. Note: During World War II, people were arrested for photographing warships leaving port. Now the Navy posts photos on Flickr.
19. Chicago: "Slow Eddie" Burke, 14th Ward alderman for 43 years. Chicago's website offers several languages as 20 percent of Chicago residents are immigrants, which sounds like a statistic from the 19th century. Click a language tab and be warned, "The city of Chicago is not responsible for inaccurately translated content." Try telling that to the judge!
20. Tennessee: March Madness Selection Committee. They pitted Vanderbilt versus Harvard and Duke versus Lehigh in the first round it order to get rid, as quickly as possible, of colleges that have distressingly high graduation rates for men's basketball. You'd think the NCAA would be upset by 2011 men's champ UConn (25 percent basketball graduation rate) or 2012 champ Kentucky (one-and-done factory). It is the other way around -- the colleges where basketball players graduate are the ones that upset the NCAA.
21. Cincinnati: Cincinnatus, model of virtue. The city is named for the Roman farmer who, 2,470 years ago, was asked to become dictator when Rome was in danger of falling to invaders. Cincinnatus led the repulse of the attack, spared his captives, then returned to farming. Who else except George Washington in the last 2,470 years voluntarily relinquished great power?
22. Cleveland: Jonathan Martin, tackle, Stanford. Possible actual choice thrown in for variety. Stanford, an elite academic institution that graduates 87 percent of its football players, will have at least two and possibly four No. 1 draft choices. So what's the excuse of the SEC programs that fail to graduate their players? Fun fact: Martin is a classics major.
23. Detroit: Richard Teague, industrial designer. When Mitt Romney's father George ran the old automaker AMC, Teague styled the Gremlin, Rambler, AMX and Hornet -- among Motown's goofiest-looking cars. Now Mitt's Secret Service codename is Javelin, which was another Teague design. If Romney becomes president, the Detroit Lions will need players nicknamed Rambler and Gremlin.
24. Pittsburgh: Rick Santorum, snob, Penn State. During his presidential campaign, Santorum mocked college, saying only "snobs" attend. Yet Santorum holds a bachelor's plus two postgraduate degrees. He wanted the career benefits of higher education for himself, but thinks others should be denied the privileges he enjoys. There's a word for this, and you learn it in college. Note: Santorum did not close his presidential campaigns, rather, "suspended" it. This legal fiction allows a politician to continue to fundraise as if still running.
25. Denver: Uggie, Jack Russell terrier, scene-stealing star of Best Picture winner "The Artist." Uggie did his own stunts, despite being 78 in human years. This proves you can teach an old dog new tricks! So perhaps with the Broncos, Peyton Manning will learn the option and become a running threat. Fun fact: Tim Tebow already has more career rushing yards than Manning has compiled in 14 years.
26. Houston: Samantha Ketcham, defeated candidate, Texas A&M yell leader. Ketcham was close-but-no-cigars in her campaign to become the first female Aggie yell leader. The sideline squad at Texas A&M doesn't dance, just yells. Ketcham's campaign slogan: "I'm very loud"
27. New England: Elisa Arias, Department of Time, International Bureau of Weights and Measures, Paris. In consecutive Super Bowl losses to the Giants, both times the Patriots led at the two-minute warning, then were outscored 13-0 in the combined final 1:39. They need an improved understanding of the fourth dimension. Isn't Director of the Department of Time the best title ever?
28. Green Bay: Peta Murgatroyd, professional dancer. She is Donald Driver's partner on "Dancing with the Stars," where they recently proved that it does in fact take two to tango.
29. Baltimore: Tony Robbins, motivational speaker. Ravens quarterback Joe Flacco complains nonstop about being unappreciated. Maybe he'd become appreciated if he stopped complaining! Robbins could use "neuro-associative conditioning to improve Flacco's self-image. Though on the Robbins plan, it's hard to see how you have time for anything in life except watching DVDs.
30. San Francisco: Dr. Evil, conspirator. Silicon Valley-based Google, which once swore never to be "evil," now wants to track your every move on the Web. Just keep repeating to yourself: A vast, money-obsessed corporation assured me it's for my own benefit.
31. New England: Anna Torv, actress, "Fringe." Set in Boston, this J.J. Abrams sci-fi series began by supposing an alternate universe that has an Earth/B similar but not identical to ours. Struggling for material, the writers introduced a time-machine malfunction that created a "new timestream" in which are two more realities. The series now has our world plus Earth/B, Earth/C and Earth/D. As with the latest "Star Trek" movie, produced by Abrams, "new timestream" plots allow continuity to go out the window. For instance in the first season of Fringe, the two lead characters did not recognize each other. Now we're told they were childhood sweethearts. Chalk it up to "new timestream!" Perhaps in the timestream of Earth/C or Earth/D, Wes Welker catches that fourth-quarter Super Bowl pass.
32. Jersey/A: Bill Belichick, coach, New England Patriots. Between two Jersey/A wins when he was an assistant and two Jersey/A wins when he was the opposing coach, the Giants are 4-0 in the Super Bowl with Belichick on the sideline.
Incredible Insider Tip: Draft Quarterbacks: "It's a quarterback league" -- everyone says this of today's NFL. Yet a surprising number of NFL teams behave as though they don't believe it, not investing in quarterbacks nor trying over and over again until they find a quality signal-caller.
Consider: Of last season's 12 playoff teams, eight started a quarterback drafted in the first round, including three starting a quarterback drafted first overall. Three others started a second-round quarterback. Only one of the 12 playoff teams, the New England Patriots, reached the postseason without a first- or second-round-drafted quarterback on the roster. Based on 11 of 12 playoff teams having high-drafted quarterbacks, you'd think there would be a line forming to call the names of quarterbacks.
Yet last season there were five NFL teams that did not have a first- or second-round drafted quarterback on the roster: Buffalo, Cleveland, Dallas, Kansas City and New England. And of the teams lacking a highly drafted quarterback, only one reached the postseason.
Perhaps you're thinking: "A team can always get a quarterback via trade or in free agency." Of the 12 playoff entrants, 11 started a quarterback who arrived via the draft and has been with the same team since his rookie season. Meanwhile of the three teams that in 2011 had no quarterback on the roster that they had drafted -- Buffalo, Seattle and Washington -- none made the postseason. Not just drafting quarterbacks high, but getting quarterbacks as rookies and sticking with them through thick and thin, closely associates with NFL success.
Even though there is overwhelming evidence that using high draft choices on quarterbacks is essential to victory in the modern NFL, while trying to economize on quarterbacks is a formula for watching the playoffs from a couch, some teams try to skimp. It seems all but inevitable that at least one quarterback-hungry club will pass on a highly regarded quarterback in this week's NFL draft, and then by next Christmas be lamenting its also-ran status.
One reason not all NFL teams go strong for quarterbacks is that coaches and general managers are concerned with avoiding criticism. Drafting a quarterback high exposes the coach and general manager to jeering if the player fails, whereas if a highly drafted lineman or linebacker becomes a bust, few remember.
Being wrong about JaMarcus Russell, a quarterback drafted first overall, led to Oakland head coach Lane Kiffin being fired after a single season. Being wrong about Ryan Leaf, a quarterback drafted second overall, ended the career of San Diego general manager Bobby Beathard. Being wrong about Akili Smith, a quarterback drafted third overall, all but ended the career of Cincinnati coach Bruce Coslet. In contrast hardly anyone remembers what coach or general manager (or even what team) picked Dwayne Robertson, Mike Williams, Tyson Jackson or Aaron Curry, major-disappointment linemen or linebackers chosen with recent top-five draft selections.
Want to win an NFL playoff game? Invest high draft choices in a quarterback, then stick with him. Want to keep your name from being mentioned on sports-talk radio? Pass on quarterbacks high in the draft.
Saints Become Sinners: The New Orleans Sinners -- their new TMQ cognomen -- find starting head coach Sean Payton on suspension, to be replaced by backup head coach Joe Vitt, after Vitt's suspension ends. This means the Sinners will kick off the regular season with their third-string head coach wearing the headphones. What if the third-string head coach gets injured? They should keep a practice-squad head coach, just to be sure. New Orleans should bring in street free agent head coaches -- guys who have never coached but will plead, "Give me a whistle and let me show what I can do."
One of the ironies of life is that low ethics may not even work. For the last three seasons, defensive coordinator Gregg Williams of the Sinners offered players cash for deliberate injury of opponents. New Orleans won the Super Bowl in the first year of Sinnersgate (TMQ's name for the scandal, since the Saints are no saints). But in the second season of Sinnersgate, Saints defenders could not even wrap up, much less injure, Marshawn Lynch as New Orleans allowed 41 points by the only losing team ever to reach the NFL playoffs. The season after that, Williams's defense allowed San Francisco to go 85 yards in the final 1:37 to beat New Orleans in the playoffs. And when Williams was head coach at Buffalo, his charges went 17-31. In sports as in other aspects of life, often dishonorable behavior is surprisingly ineffective. Play by the rules and then if you win, you can feel good about it.
It is an encouraging sign for the NFL public image -- and for constructive reform of football -- that commissioner Roger Goodell was tough on the Patriots in Spygate, and now has been tough on the Sinners in Sinnersgate. This offseason, Goodell also zapped the Cowboys and Redskins over salary cap misuse.
Robert Kraft, Jerry Jones and Dan Snyder are influential in the NFL power structure, and while Tom Benson of the Sinners is not, the New Orleans comeback feel-good story has been important to the nation. That Goodell has held powerful people accountable for misdeeds is a positive indicator of his leadership.
Goodell may be very well paid (overpaid, considering the NFL is, on paper, a nonprofit) and glorified in the sports press. But at the end of the day he is the owners' employee. A test of character is the willingness to follow your conscience at risk of your employment. Few at the tops of corporations, or in politics, do well by this measure. Goodell has done well.
Raiders Request That Salary Cap Be Calculated in Drachmas: Oakland goes into the draft having already spent its first-, second-, third-, fourth- and seventh-round choices, plus at least a second-round selection in 2013. Who's running the Raiders, the Finance Minister of Greece?
The state of Ohio goes into the draft with four first-round choices, so the state's recent 45-82-1 record had better improve. The Browns hold extra picks in the first, fourth, fifth, sixth and seventh rounds. In 2011, Cleveland traded down to bank choices for 2012. Will Cleveland pull the trigger this year, or bank choices again? Bill Belichick endlessly banks draft choices, but he runs his team a lot better than the Browns run theirs.
Monkey Hears About Bobby Petrino, Types, "Methinks It Is Like a Weasel": Five years ago Tuesday Morning Quarterback wrote of Bobby Petrino, "Dear University of Arkansas: If your new coach just betrayed his previous two employers, why do you think he will do well by you?" Yea, verily, it came to pass.
TMQ's Law of Weasel Coaches holds: When you hire a coach who's only in it for himself, you get a coach who's only in it for himself. Arkansas hired Petrino knowing he had shafted Louisville, then shafted the Atlanta Falcons. Don't marry them thinking you will change them! See here for more on how this column cautioned that Petrino is a "Class One Weasel." Bear in mind I had no insider information, just the public record. That should have been ample warning. Who will hire Petrino next, then claim to be shocked when things go south?
Wasteful Spending on Bodyguards Watch: TMQ pounds the table about minor government officials who have taxpayer-funded bodyguards, not for security but to make themselves seem important, while cutting to the heads of lines and speeding through traffic.
Reader Bryan Martin Firvida of Washington, D.C. notes a Maryland politician has been indicted for using his security detail to run personal errands and engage in such trivia as tearing down election signs of his opponents. But suppose there had been no hanky-panky. What justification is there for a county official to have a three-officer "executive protection" unit? This is obvious waste of public money. Maryland Gov. Martin O'Malley, who is said to be contemplating a run for the Democratic nomination for the White House in 2016, is furiously trying to raise state taxes -- perhaps so there will be more for Maryland politicians to squander on themselves.
And doesn't Newt Gingrich rail about waste of taxpayer money? A reporter for the Daily Tar Heel at the University of North Carolina contends Gingrich imperiously refused to answer questions he didn't like. Here is what jumped out at your columnist from the brouhaha: Gingrich is traveling with a Secret Service detail.
The former speaker is all but mathematically eliminated from the Republican presidential nomination. The Chicago Cubs have a more realistic shot at winning the World Series than Gingrich has at winning the White House. Yet Gingrich continues to barnstorm at taxpayer expense.
A government committee decides which candidates merit Secret Service details But having a detail is an option, not a requirement. If Gingrich, a millionaire who spends hundreds of thousands of dollars on jewelry, actually meant what he says about opposing the deficit, he would dismiss his subsidized bodyguards and pay the full cost of his own security. But like the Maryland politician, when Gingrich says he wants to cut government spending, what he means is that he wants to cut government spending for other people. For himself, he demands unlimited giveaways.
Next Week: Once again all drafts grade out as above average, while in more Spidey news -- look out M.J., Gwen Stacy is the web-slinger's new heartthrob.
In addition to writing Tuesday Morning Quarterback for ESPN.com, Gregg Easterbrook is the author of "Sonic Boom" and six other books. He writes a politics column for Reuters and is a contributing editor for The New Republic, The Atlantic Monthly and The Washington Monthly. His website can be found here, and you can follow TMQ on Twitter.