The third day of the NFL draft does not have the glitz or glamour of the first two, but the late rounds are where teams can find great values and shape their rosters.
Consider: The average sixth-round pick had a cap value of $460,000 in 2015, which is about 10 percent of the price for a top pick in the draft. If that late pick becomes even a serviceable starter, he provides more value per dollar than almost any other player on the team.
The alternative to filling a roster with homegrown talent is spending money in free agency. Generally, when comparing draft picks to free agents with the same on-field impact, the drafted players are cheaper and younger labor.
Because late-round picks provide almost no risk (most are expected to be cut), finding even a few value players worthy of making the roster is a bonus that can make all the difference for a championship-contending team.
So which teams are the best and worst at finding value in Rounds 4 to 7? To answer that question, we utilized Pro Football Reference's Approximate Value (AV) metric to break down every NFL draft pick over the past 10 seasons. To read the full explanation of our methodology, see the bottom of the article.
Here, I'll look in depth at the five best and worst teams at finding draft value over this span. For a full ranking of Nos. 1 to 32, consult the handy chart at the bottom.
---
Best late-round drafters

Surplus AV per draft: Plus-26
Best pick: G Josh Sitton (135th overall, plus-29 AV in first four years)
Packers general manager Ted Thompson makes no secret of his intentions to build through the draft. Every player on the Packers' opening 53-man roster last season, except Julius Peppers, was either drafted by the team or signed as an undrafted free agent.
The later rounds are where Thompson works his magic. The Packers had 19 players on their 53-man opening-day roster who were selected in the fourth round or later. That was the highest number in the league -- the Minnesota Vikings were second with 17 -- and it included four of their five starting offensive linemen in Week 1.
---

Surplus AV per draft: Plus-23
Best pick: CB Richard Sherman (154th overall, plus-55 AV in first four years)
The 2013 Super Bowl-winning Seahawks serve as a model for any GM managing a roster. Three of Seattle's top players on that team in terms of AV -- Sherman, K.J. Wright and Kam Chancellor -- were drafted in Rounds 4 to 7 and had a combined cap hit of $5.2 million, or about 4 percent of the total cap. (And that's not to mention the steal they got in the third round: QB Russell Wilson.)
With the money saved, Seattle could afford to spend on productive players, such as Chris Clemons and Michael Bennett, in free agency. Many of Seattle's top value picks have since cashed in, but their late-round success in 2011, which includes players such as Sherman, Wright and Malcolm Smith, is unrivaled over the past decade.

Surplus AV per draft: Plus-19
Best pick: C Jason Kelce (191st overall, plus-22 AV in first four years)
The Eagles do not immediately come to mind as one of the top late-round drafting teams, but part of their success is due to their ability to stockpile draft picks (last week's trade with the Browns notwithstanding). Over the past 10 seasons, Philadelphia has made the third-most late-round selections (57), including the most such picks (32) acquired from other teams. That does not necessarily mean the Eagles traded down, but as Bill Barnwell recently wrote, successful drafting is about volume.
More than any other team, Philadelphia has been able to find linebackers late in the draft. Omar Gaither, Moise Fokou and Jamar Chaney are a few solid contributors the Eagles found in the fifth round or later.
---

Surplus AV per draft: Plus-18
Best pick: S Antoine Bethea (207th overall, plus-29 AV in first four years)
With Bill Polian as GM and team president, the Colts were consistently one of the top drafting teams in the NFL. In the later rounds, Polian was able to nab Bethea, a three-time Pro Bowler, and a number of valuable pass-catchers, such as Pierre Garcon, Austin Collie and Jacob Tamme. Since Polian's departure, the Colts have not experienced the same level of success in the later rounds and rank 25th in this statistic since the start of 2012.
---

Surplus AV per draft: Plus-17
Best pick: OT Derek Newton (214th overall, plus-20 AV in first four years)
Texans GM Rick Smith has had an inconsistent draft record in the middle rounds, but he has been able to find late-round value as well as any other talent evaluator. Newton, DE Jared Crick and C Ben Jones are all recent steals who started 16 games and combined to produce more AV than J.J. Watt (who led the league in the stat) last season.
---
How often do late-rounders become Pro Bowlers?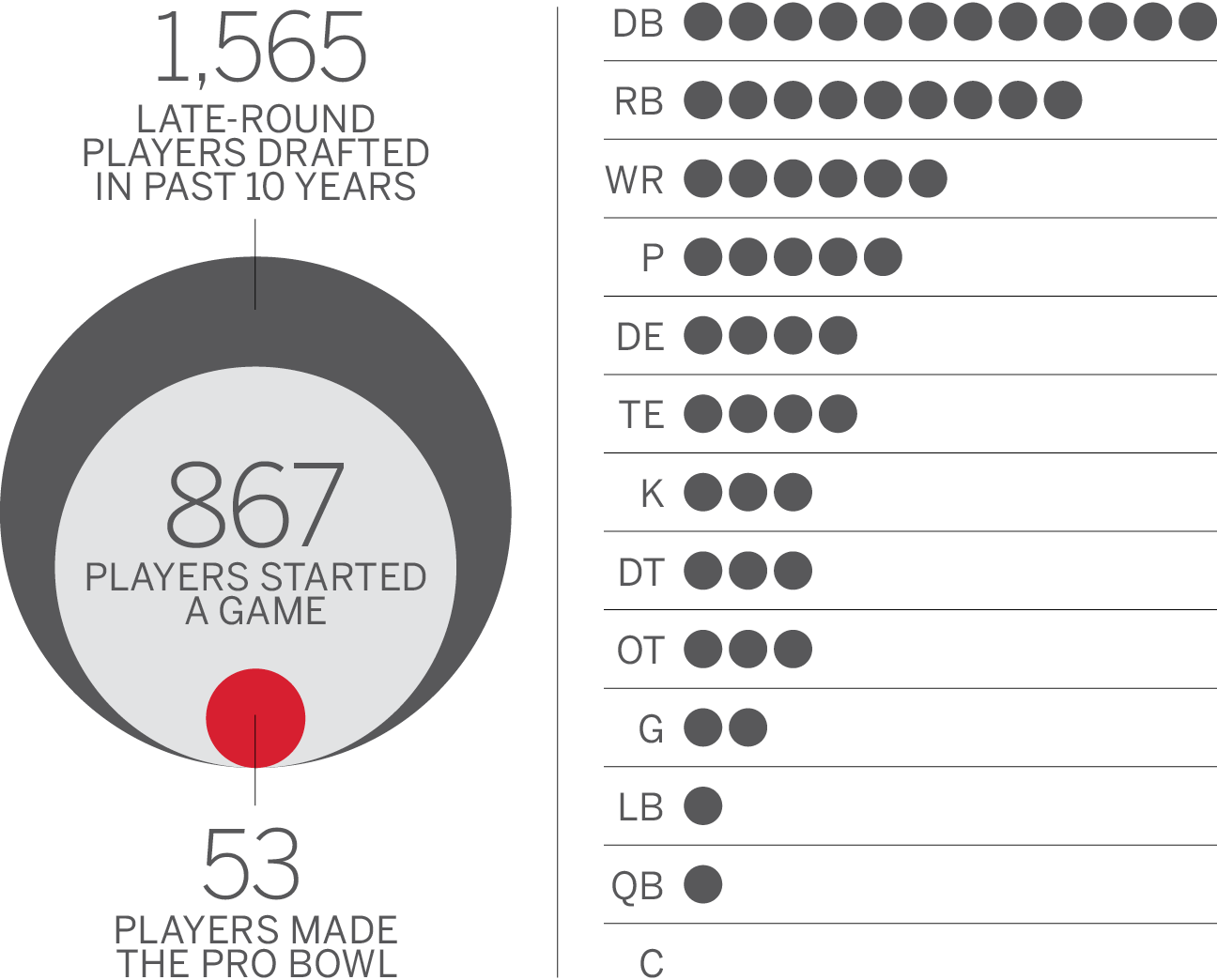 Worst late-round drafters

Surplus AV per draft: Plus-4
Best pick: LB Tahir Whitehead (138th overall, plus-10 AV in first four years)
Over the past decade, no team has received less value from its late-round picks than the Lions. Whitehead was Detroit's top late-round pick, but he has started only 24 games and produced 10 more AV than expected. The good news for Lions fans is that new GM Bob Quinn has plenty of opportunities to improve upon the Lions' late-round failures. Detroit has seven picks in the final four rounds of the 2016 draft, tied for the third most in the NFL.
---
Surplus AV per draft: Plus-5
Best pick: CB Brandon Carr (140th overall, plus-20 AV in first four years)
If it wasn't for Carr -- a fifth-round pick who has started every game of his eight-year NFL career -- the Chiefs would be leading the list of worst late-round drafters. Kansas City's biggest misses have come in the fourth round, where it has made seven selections that have combined to start 22 games in the past decade. That's ironic given that one of the best value picks in Kansas City history, Jared Allen, came in the fourth round of the 2004 draft.

Surplus AV per draft: Plus-6
Best pick: OT Doug Free (122nd overall, plus-16 AV in first four years)
Like the Chiefs, the Cowboys have hit on a few late-round picks over the past decade, but the majority of their selections added little to no value. More than half of Dallas' late-round picks in the past 10 drafts produced no AV for the team, including a league-high six such players drafted in the fourth round.
---
Surplus AV per draft: Plus-7
Best pick: LB Chris Chamberlain (228th overall, plus-11 AV in first four years)
The Rams have not drafted a Pro Bowler in the fourth round or later since 1985, the longest drought in the NFL. Although recent drafts have been more successful under GM Les Snead, it has been a long time since the Rams found a true impact player on the third day. With an NFL-low five picks in the 2016 NFL draft, including four in the late rounds, the Rams will have to maximize their selections in 2016.
---

Surplus AV per draft: Plus-8
Best pick: DT Ahtyba Rubin (190th overall, plus-21 AV in first four years)
Cleveland had an NFL-low five players it drafted in the fourth round or later on its Week 1 roster last season. That trend might turn around quickly. After their trade with the Eagles, the Browns have 12 picks in the 2016 draft (tied for the most), including eight picks in the fourth round or later. If they hit on only a few of those late-round picks, it could be a game-changer, given the value of these late-round selections.
---
Ranking late-round drafters from Nos. 1-32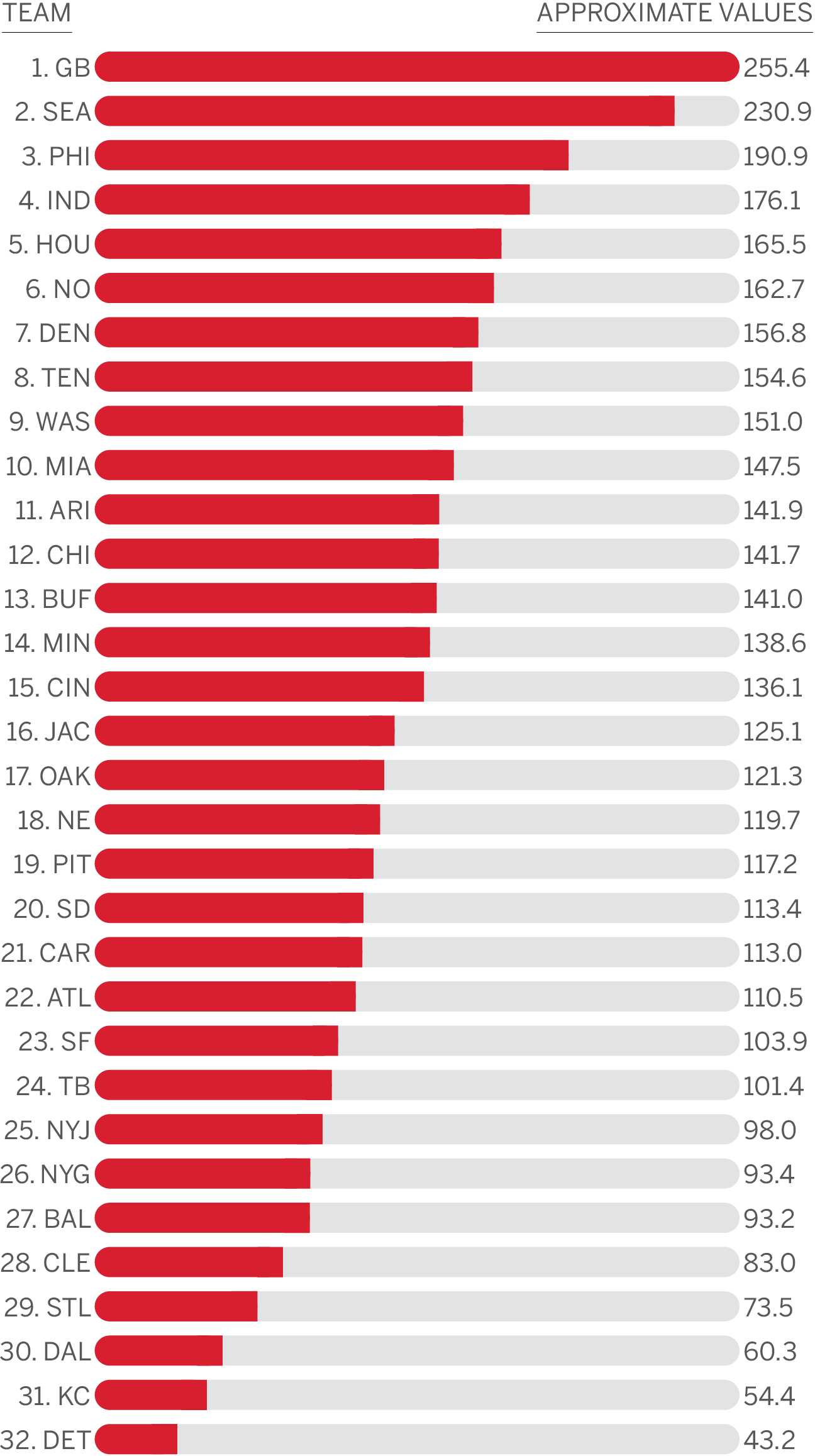 How we came up with the numbers
What is Approximate Value (AV)? Similar to baseball's WAR statistic, AV assigns a single, all-encompassing number to each player's season based on a formula outlined here. AV allows us to compare players across positions and seasons better than base-level statistics, such as snaps and starts.
To determine the best-drafting late-round teams, we compared a player's AV over his first four seasons (approximate length of a rookie contract) to the expected AV of a player selected in his draft slot to determine which players overperformed and underperformed most compared to expectations.
By adding up the AV differences, or surplus AV, for all players drafted in the fourth round or later from 2006 to 2015, we can determine the teams that have been best and worst at finding late-round gems during the past decade.
One thing that might stand out in the list above is that every team has a positive surplus AV. Unlike players drafted in the first few rounds, the expectations for these late-round picks are so low that they really only have upside. The best team will be able to accumulate the most players who convert that upside to on-field production.