This marks my fourth annual NFL QB Tier rankings, featuring an expert panel that was our largest one yet. Fifty league insiders placed 36 QBs into one of five tiers, with Tier 1 reserved for the best and Tier 5 for the worst.
Aaron Rodgers and Tom Brady were again the only unanimous Tier 1 selections, but they had fresh company in the top grouping. Colin Kaepernick, though unsigned, came in ahead of eight potential starters. There was also some drama, as the 49th and 50th ballots collected determined which tiers Matt Ryan and Dak Prescott fell into.
The higher the tier, the less help the quarterback needs to be effective, especially when circumstances inevitably call for him to flourish in pure passing situations -- those highly pressurized times when handing off or running with the ball do not cut it, and the quarterback must win from the pocket for his team to have a chance.
The breakdown of our 50 voters this year: Nine general managers, six pro personnel directors, five other executives, five head coaches, seven offensive coordinators, six defensive coordinators, five defensive assistants, three analytics directors, two quarterbacks coaches and two national scouts.
Rookie quarterbacks have been excluded from this file, due to a lack of information for our panel to judge.
Note: Read through the entire list in order, or navigate the tiers using the following links:
Tier 1 | Tier 2 | Tier 3 | Tier 4


---
A Tier 1 quarterback can carry his team each week. The team wins because of him. Expertly handles pure-pass situations.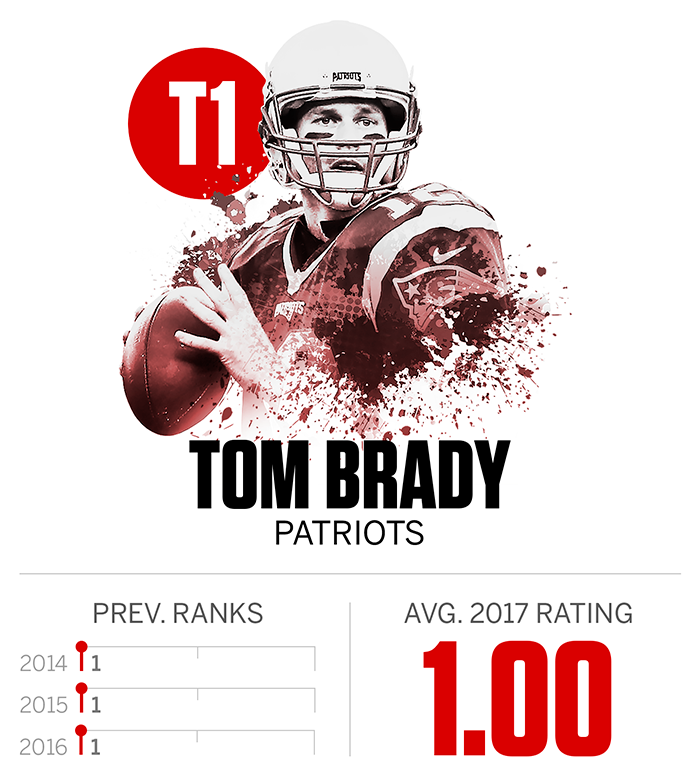 The Atlanta Falcons had just taken a 28-3 lead over the Patriots in the Super Bowl when a text-message reply came through from one of my regular QB Tiers voters.
"Nothing is over!" the text read. "28-3 turns game into pure pass. #12 will close this gap -- may not be enough, but gap will close. Quinn better get his marker board out on the sideline cuz he's gonna run outta pass D calls."
The record-setting comeback Tom Brady led improved his record to 16-12 (.571) during the past five seasons when the Patriots' opponents exceeded 24 points. Teams lose those games 80 percent of the time. Derek Carr (7-15, .318) is second and Matt Ryan (12-26, .316) third among QBs with at least 32 starts since 2012.
"To be honest with you, Brady probably needs to have his own category," a former GM said. "Brady, above the neck, is just way ahead of everybody, and his competitiveness is every bit as good as [Aaron] Rodgers' competitiveness. His toughness is every bit as good, if not better. For all the GQ stuff, the guy is a blue-collar quarterback and his ability to process, his smarts, his poise are just off the charts."
Earlier this summer, a separate poll of 10 longtime NFL coaches and personnel people identified Brady as the NFL's best quarterback of the past 40 years. Rodgers was fifth.
"At one time in the league, I thought I'd never see anybody better than Joe Montana," a QB Tiers voter said. "Joe had his own category. This guy [Brady] is like that, if not better."
The ability to carry their teams and strike fear into opponents when the game becomes pure pass separates Tier 1 quarterbacks from the rest.
"To me, that is the whole deal," a defensive coordinator said. "Some guys are system guys, meaning they have to run their whole offense -- run game and pass game -- to be effective. If you make them one-dimensional and they have to try to win it at the end, to me, that is what separates them."