Play-action is so important in football. It puts defenders in conflict. It creates space. It's also the first answer for offenses when looking for a numbers advantage in the passing game. And when executed on early downs, to mimic the base run game, play-action becomes an aggressive tool in the call sheet.
The routes haven't changed much since I played safety in the league: flood one side of the field, open a window to throw the seam, sneak a running back out on a screen pass, take the deep ball shot over the top to hit the post for six points. But in today's NFL, creative and smart offensive minds have molded those old-school concepts to fit the modern schemes that win with tempo and interchangeable parts in the playbook. More movement, more misdirection and more speed to set the bait, with quick-release QBs who can rip the ball to a manufactured throwing lane.
Let's figure out who is the best in several play-action categories. The best rhythm quarterback out of play-action? I've got that. Best deep ball receiver out of play-action? Check. Best movement tight end out of play-action? I've got that too. I'll even pick out the single best play-action concept I saw in all of 2018.
McVay, Shanahan, Goff, Mahomes, Wilson, Julio, Zeke, Kittle -- these are the NFL's play-action all-stars:
Jump to a play-action award:
Teams
Best overall | Best at screens
Most creative | Team to watch in 2019
Quarterbacks
Best deep ball | Best in red zone | More
Best of the rest
Top WRs | Top TEs | Top RBs

TEAMS
The best play-action team overall

Stat to know: The Rams led the league last season with 124.5 passing yards per game off play-action concepts.
What makes the Rams the best: In Sean McVay's system, L.A. can marry the outside zone run game, screen package and play-action concepts out of its 11 personnel grouping (1 RB, 1 TE, 3 WRs) with wide receivers in reduced sets. This means the Rams can lean on the run action while using pre- and post-snap misdirection to create open-window throws for quarterback Jared Goff -- and an open field for running back Todd Gurley in the screen game. And it all looks the same to a defender. McVay makes it tough to stop.
Runner-up: New England Patriots
---
The best power play-action team
Stat to know: The Patriots led the NFL with 9.9 yards per play off play-action, and that starts with offensive coordinator Josh McDaniels' power concepts. Whether New England pulls a guard to give a false run key to opposing linebackers or shows a wham scheme to influence second-level defenders, this offense can create voids in the coverage. That puts Tom Brady in a position to dice up defenses from under center or out of a shotgun alignment. Check out two examples from NFL Matchup in Atlanta before Super Bowl LIII:
From @NFLMatchup - #Patriots will set up play-pass off downhill run action in #SBLIII. Here, we break down the crossing routes that allow Tom Brady to target open windows. #Rams pic.twitter.com/STA8RExGNI

— Matt Bowen (@MattBowen41) February 3, 2019
Runner-up: Houston Texans
---
The team that best uses play-action screens

What makes them so good: It's the design from coach Andy Reid that pushed me toward the Chiefs here. Sure, the Patriots' screen game is great. Same with the Rams' and Saints'. And don't sleep on the Cowboys. But in K.C., Reid meshes the best of both pre- and post-snap movement to create run-after-the-catch opportunities with the big boys out in front. Here's an example of the screen that set up running back Damien Williams for a 32-yard play against the Chargers, with an animation provided by NFL Next Gen Stats: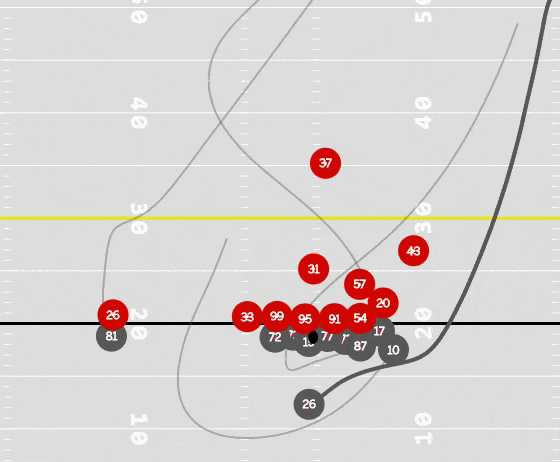 Runner-up: New Orleans Saints
---
The best zone play-action team